Abstract
Significant increases in human and livestock populations coupled with agricultural practices have changed the socioeconomic perspectives of livestock diseases. Evaluating the socioeconomic impact of bovine trypanosomosis and its vectors (Glossina, Tabanus and Stomoxys) from the perspective of the livestock owners is of great significance. Participatory rural appraisal was conducted among 209 livestock owners (focus groups) to determine the behavioural practices of animal husbandary to bovine trypanosomosis. In Nigeria, common Trypanosoma species found in cattle are Trypanosoma vivax, Trypanosoma congolense and Trypanosoma brucei. Trypanosomosis peaks were reported by owners to be in the months of March–August. A total of 70.8% (95%CI 64.32–76.56%) cattle owners perceived trypanosomosis as a major disease in their herd, 13.4% (95%CI 9.43–18.68%) practiced transhumance in the wet season and 93.9% (95%CI 88.58–96.92%) make use of trypanocides, and approximately US$ 8.4 million is spent annually on trypanocides in southwest Nigeria livestock industry. About 60.5% (95%CI 51.84–68.48) make use of insecticides against transmitting vectors, and only 1.9% (95%CI 0.75–4.82%) have ever heard of any form of government intervention scheme. Estimated losses ≥ US$ 426 (80–100% loss) can be incurred on a single animal depending on the size and market value. There is significant increase (16.2%, 95%CI 11.15–23.00%, P < 0.05) in the mortality rate of bovine trypanosomosis when compared to other livestock diseases. It will therefore be useful to involve the livestock owners with devising new and integrated measures for reducing the impact of this trypanosomosis.
This is a preview of subscription content, log in to check access.
Access options
Buy single article
Instant access to the full article PDF.
US$ 39.95
Tax calculation will be finalised during checkout.
Subscribe to journal
Immediate online access to all issues from 2019. Subscription will auto renew annually.
US$ 99
Tax calculation will be finalised during checkout.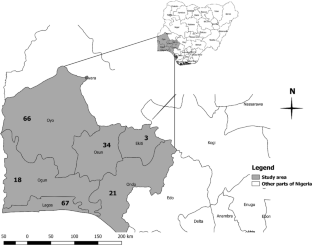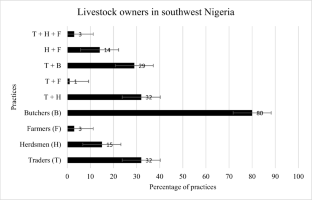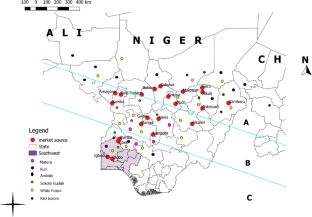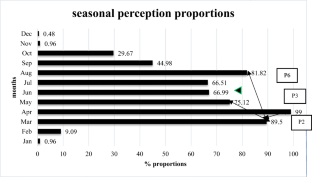 References
Babalobi O.O., Ogundipe G.A.T. and Esuruoso G.O. 2000. Livestock population dynamics and problems in a grazing reserve in northern Nigeria. Proceedings of the 9th International Symposium on Veterinary Epidemiology and Economics.

Bouyer F., Bouyer J., Seck M.T., Sall B., Dicko A.H., Lancelot R. and Chia E. 2015. Importance of vector-borne infections in different production systems: bovine trypanosomosis and the innovation dynamics of livestock producers in Senegal. Revue scientifique et technique (International Office of Epizootics), 34(1), 213–225.

Catley A., Irungu P., Simiyu K., Dadye J., Mwakio W., Kirangu J. and Nyamwaro S.O. 2002. Participatory investigations of bovine trypanosomosis in Tana River district, Kenya. Medical and Veterinary Entomology, 16, 55–66.

Chater S. 2002. Tsetse control; The next 100 years. A report of the meeting organized by DFIDC (Department for International Development) animal health programme, September.

Food and Agriculture Organisation of the United Nations 2011. World livestock 2011: Livestock in Food Security.

Geerts S., Holmes, P.H., Diall, O. and Eisler, M.C. 2001. African bovine trypanosomiasis: the problem of drug resistance. Trends in Parasitology, 17, 25–28.

Grace D., Randolph T., Affognon H., Dramane D., Diall O., Clausen P.H. 2009. Characterization and validation of farmers' knowledge and practice of cattle trypanosomosis management in the cotton zone of West Africa. Acta Tropica, 111, 137–143.

Holmes P.H. 2004. Current chemotherapy of animal trypanosomiasis. In: I. Maudlin, P.H. Holmes and M.A. Miles, Editors, The Trypanosomiasis, CABI Publishing, pp. 431–444.

Ilemobade A.A. 1988. Chemotherapy against African animal trypanosomiasis: Its strengths and limitations. Proceedings of a meeting held in Nairobi, Kenya from the 23rd to 27th November 1987 organized by the International Livestock Centre for Africa and the International Laboratory for Research on Animal Disease, Nairobi, Kenya. Chapter 27.

Kaufmann J., Dwinger R.H., Hallebeek A., van Dijk B. and Pfister K. 1992. The interaction of Trypanosoma congolense and Haemonchus contortus infections in trypanotolerant N'dama cattle. Veterinary Parasitology, 43, 157–170.

Kingsley P. 2015. Inscrutable medicines and marginal markets: tackling substandard veterinary drugs in Nigeria. Pastoralism: Research, Policy and Practices, 5, 2.

Majekodunmi A.O., Fajinmi A., Dongkum C., Picozzi K., MacLeod E., Thrusfield M.V., Shaw A.P.M. and Welburn S.C. 2013. Social factors affecting seasonal variation in bovine trypanosomiasis on the Jos Plateau, Nigeria. Parasites & Vectors, 6, 293.

Odeniran P.O. and Ademola I.O. 2018. A meta-analysis of the prevalence of African animal trypanosomiasis in Nigeria from 1960 to 2017. Parasites & Vectors, 11, 280.

Odeniran P.O., Ademola I.O., Macleod E.T. and Welburn S.C. 2018. Bovine and small ruminant African animal trypanosomiasis in Nigeria- A review. Veterinary Parasitology: Regional Studies and Reports, 13, 5–13.

Oluwafemi R.A., Ilemobade A.A. and Laseinde E.A.O. 2007. The impact of African animal trypanosomosis and tsetse on the livelihood and wellbeing of cattle and their owners in the BICOT study area of Nigeria. Science Research Essay, 2(9), 380–383.

Seyoum Z., Terefe G. and Ashenafi H. 2013. Farmers' perception of impacts of bovine trypanosomosis and tsetse fly in selected districts in Baro-Akobo and Gojeb river basins, Southwestern Ethiopia. Veterinary Research, 9, 214

Shaw A.P.M. 2004. Economics Impacts of African Trypanosomiasis. In: The Trypanosomosis. Edited by Maudlin, et al. Walling ford, UK: CAB International Publishing, pp: 369–402.

Sindato C., Kimbita E.N. and Kibona S.N. 2008. Factors influencing individual and community participation in the control of tsetse flies and human African trypanosomosis in Urambo district, Tanzania. Tanzania Journal of Health Research, 10(1), 20–27.

Vreysen M.J.B. 2006. Prospects for integrated control of Glossinidae in sub-Saharan Africa. Revista de la Sociedad Entomológica Argentina, 65, 1–2.

Welburn S.C. and Maudlin I. 2012. Priorities for the elimination of sleeping sickness. Advances in Parasitology, 79, 299–337.
Funding
This study was supported by the Commonwealth Scholarship Commission and the University of Edinburgh. Paul O. Odeniran is a Commonwealth scholar, funded by the UK government with reference number NGCN-2016-196. The University of Edinburgh is a charitable body, registered in Scotland, with registration number SC005336.
Ethics declarations
The study was conducted with the approval of the University of Ibadan Animal Ethics Committee (UI-ACUREC/App/12/2016/05) and in line with the guidelines of the committee.
About this article
Cite this article
Odeniran, P.O., Macleod, E.T., Ademola, I.O. et al. Practices of cattle keepers of southwest Nigeria in relation to bovine trypanosomosis. Trop Anim Health Prod 51, 2117–2126 (2019). https://doi.org/10.1007/s11250-018-1694-4
Received:

Accepted:

Published:

Issue Date:
Keywords
Trypanosomosis

Livestock owners

Southwestern Nigeria

Transhumance

Insecticides

Trypanocides

Practices

Socioeconomic impact