A study on sheep farming practices in relation to future production strategies in Bensa district of Southern Ethiopia
Abstract
The study was carried out in Bensa district of Sidama zone, Southern Ethiopia. Agro-ecologically, the study sites were classified into highland and mid-altitude. The objective of the study was to identify sheep farming practices in relation to future production strategies in the study area. A total of 128 households from four kebeles (lower administrative structure) were selected purposively based on sheep population and production potential and accessibility. Data was collected through semi-structured questionnaire, focus group discussions, and key informants. The result showed that most of the household heads were male (92.75%) and mixed crop-livestock system was the dominant production system. Among the livestock species, sheep accounted for the largest proportion across the two agro ecologies and the average sheep flock size/household was 4.6 ± 0.33 and 22 4.3 ± 0.213 in highland and in mid-altitude, respectively. The primary reason of keeping sheep was for cash income and saving across the two agro ecologies. The major feed resources for sheep during the wet and dry seasons were natural pasture and crop residues respectively across the two agro ecologies. Feed shortages, disease, parasite prevalence, and market were the major sheep production constraints in highland while feed shortage, genotype, disease, parasite prevalence, and market in mid-altitude. It can be concluded that for enhancing future production from sheep in the area, emphasis is to be given on feed availability, disease management, breeding policy, and marketing strategies.
Keywords
Bensa 
Indigenous sheep 
Production system 
Introduction
Sheep production is a major component of livestock farming in Ethiopia. About 31–38% and 21–33% of the Ethiopian smallholder farmers own sheep and goat, respectively (Asfaw and Jabbar 2008). In 2009, the official estimate of the livestock contribution to agricultural GDP was slightly more than 32 billion Ethiopian birr or $3.2 billion US dollars (IGAD 2013). Small ruminants account for about 40% of the cash income earned by farm households, 19% of the total value of subsistence food derived from all livestock production, and 25% of total domestic meat consumption (Adane and Girma 2008). Sheep contributes close to 30% of the total ruminant livestock meat output and 14% of the total domestic meat production (Workneh et al. 2004). The sheep enterprise in the Ethiopian highland, where crop and livestock production are integrated, is the most important form of investment and cash income and provides social security in bad crop years.
Local breeds contribute a cross-breed genetic diversity to global animal genetic resources (AnGR). Unfortunately, many local breeds have a small population size which puts them at risk of extinction, according to the FAO (2013) system of categorization. The study by Helen et al. (2015) in Ethiopia explained that significant difference among production systems in most sheep production and reproduction parameters was observed and this indicates the need for specific interventions with respect to the production systems. As the authors concluded the relatively large sheep flock size and higher contribution of sheep to the livelihood suggests that introduction of carefully planned and pertinent genetic improvement strategy through the involvement of the community is likely to have good chances of success. Another study by FAO (2013) indicated that application of a series of genetic tools, along with close cooperation with breeders and utilization of other tools such as innovative product marketing, may allow small breeds to not only survive, but also thrive.
Bensa district is one of the PLDs (Pilot Learning district) of Livestock and Irrigation Value Chain of Ethiopian Smallholders (LIVES) project of ILRI in Sidama highlands of Southern Ethiopia. It is one of the leading districts in terms of sheep population from Sidama zone. However, a few efforts were made to characterize the indigenous sheep production system of the district. Hence, the objective of the study was to identify sheep farming practices in relation to future production strategies in the study area.
Materials and methods
Description study of the area
This study was conducted in Bensa district of Sidama zone in Southern Nations Nationalities and Peoples' Region (SNNPR) of Ethiopia. Bensa district is one of the 19 districts in Sidama zone that extends into the Oromia region of Bale Zone or Borana-like peninsula. Bensa district is bordered on the south and north by the Oromia Region, with Bona Zuria on the west, Arbegona district on the northwest, Chere district on the east, and Aroresa district on the southeast. Daye, the capital of Bensa district, is located at 420 km southeast of Addis Ababa and 135 km northeast of Hawassa city, the SNNPR capital city.
Bensa district is located at altitude which ranges from 1452 to 3129 m above sea level (m.a.s.l.). The two rainy seasons are the belg (short rainy season), which covers from late February to May, and the kremt (main rainy season), which extends from late June to early October. The average annual rainfall of the area is 1208.5 mm. The average annual temperature of the district is 19 οC. The district has three major agro ecologies where 50, 36, and 14% of moist weyna dega (mid-altitude), moist dega (highland), and moist kola (lowland) (LIVES 2012).
The district has a population size of 342,545, of which 147,471 are men and 195,074 women. The district has an estimated numbers of 377,867, 124,021, 25,852, 231,081, 12,377, 2474, and 870 cattle, sheep, goat, chicken, horse, donkey, and mule, respectively (Bensa District of Livestock and Fishery Office
2015
). Geographical location of the study area is indicated in Fig. 
1
.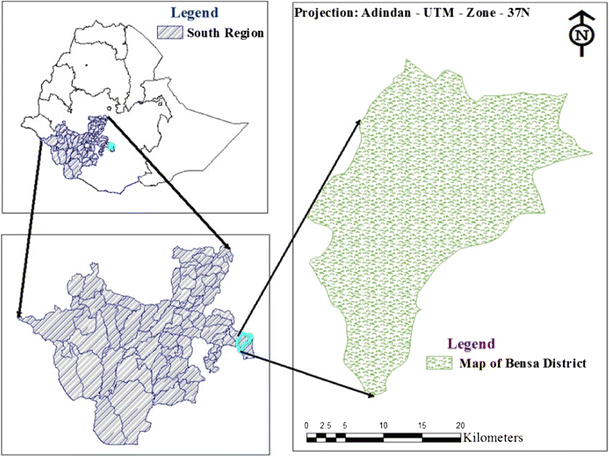 Sampling techniques
Bensa district was selected purposively based on the high activities of livestock and irrigation commodities including sheep by the Livestock and Irrigation Value Chain for Ethiopian Smallholders (LIVES) project (www.lives-ethiopia.org). Before deciding on the target kebeles, a preliminary survey discussions were held with the district experts, development agents, elders, and the farmers' representatives about the local sheep types and the current production systems of the study area. The district was stratified into two categories based on sheep-dominant agro ecologies (highland and mid-altitude). From each agro ecology, two rural kebeles were selected based on the sheep population and accessibility for transportation. Then after, the list of households with minimum number of two sheep and had prior experience in sheep production was collected. This was followed by random selection of 32 households from each rural kebele. The total numbers of randomly selected sampled households were 128 from the study area.
Data collection
Data were collected by administering a semi-structured questionnaire, individual interview, and field observations and organizing group discussions and from secondary sources. The study was undertaken from December 2015 to June 2016.
Questionnaire and focus group discussion
A modified questionnaire was prepared by adopting a questionnaire prepared by ILRI (International Livestock Research Institute) for survey of livestock population. It was used to collect information on socio-economic characteristics, reproductive performances (age at first lambing, lambing interval, litter size, and lambing pattern), flock structure, feeds and feeding management, disease prevalence, and production constraints. Sets of open-ended questions were used to guide focus group discussions.
One key informant discussion was held with representatives of farmer groups, elders, and development agents from four kebeles. The main points for discussion included indigenous knowledge of the community about history and introduction of existing sheep type in the study area, distinctive features of the sheep type as well as their desirable and undesirable characteristics, utility and status of the existing sheep population, and other information related to indigenous sheep in the study area. Semi-structured questionnaires were also administered to the respondents of the study area.
Data managements and analysis
The collected data was checked for any inconsistency and analyzed using SPSS (2009). Indices were calculated to provide ranking of the reasons of keeping sheep, importance of major farming activities to the family food source and income, selection criteria, and major constraints of sheep production according to the following formula: Index = Σ of [3 for rank 1 + 2 for rank 2 + 1 for rank 3] given for particular qualitative variables divided by Σ of [3 for rank 1 + 2 for rank 2 + 1 for rank 3] for all qualitative variables considered.
Conclusion and recommendations
It was observed from the above study that the sheep production system in the study area was more of extensive production system. Hence, for enhancing future production from sheep in the area, emphasis is to be given on feed availability, disease management, breeding policy, and marketing strategies.
Based on the current study, the following recommendations have been made:
Since feed shortage in terms of quantity and quality is among the leading constraints limiting sheep value chain development in the study area, efforts should be made to improve grazing land through top dressing with urea and controlled grazing, introduction of improved fodder grasses and legumes consistent with the respective farming system, and enhancement of the nutritive value of crop residues through urea treatment.

Prevalence of disease and parasites and poor health management negatively influenced productivity of sheep flock in the study area. Hence, the type, seasonal occurrence, and economic loose due to the diseases and parasites should be documented and pertinent control measure should be introduced.
Notes
Acknowledgements
We would like to acknowledge the LIVES (Livestock and Irrigation Value Chain for Ethiopian Smallholders) project of ILRI (International Livestock Research Institute) for financial support. We would like to express our gratitude to Gonjebe community-based sheep breeding cooperative of Bensa district, Sidama zone, for allowing us to use their animals and providing the required information through the designed questionnaire.
Compliance with ethical standards
Conflict of interest
The authors declare that they have no conflict of interests.
Copyright information
© The Author(s) 2018
Open Access This article is distributed under the terms of the Creative Commons Attribution 4.0 International License (http://creativecommons.org/licenses/by/4.0/), which permits unrestricted use, distribution, and reproduction in any medium, provided you give appropriate credit to the original author(s) and the source, provide a link to the Creative Commons license, and indicate if changes were made.