Abstract
Public engagement in science with diverse cross-sections of the community is considered a critical aspect of responsible biotechnological innovation. While the research community shows willingness to engage with both ambivalent and supportive audiences about potentially disruptive technological advances, there is less enthusiasm for engaging with groups who hold deeply opposing views to such advances. 'Playing God' and 'tampering with nature' are popular examples of intrinsic objections often made in opposition to the development or use of novel genetic technologies. Historically appearing in arguments against the pursuit of genetically modified organisms in agriculture and food industries, intrinsic objections have previously been labelled by the science community as inconsistent, non-scientific, and vague. Now found in a range of innovation contexts, the domain of synthetic biology appears to attract such objections consistently. We present the findings from a large Australian study (N = 4593) which suggests 'playing God' objections and their variants can be multilayered and, at times, accompanied by meaningful information about risk perceptions. We use qualitative analysis of open-ended responses from an online survey to show how these objections are articulated in response to selected synthetic biology applications across environmental and health domains. Our research invites a rethink of how the synthetic biology community perceives, and engages with, people who express intrinsic objections. These people may additionally hold extrinsic concerns that may be potentially addressed, or at least reasonably considered, through dialogue. We offer some concluding remarks for engaging with publics who employ these types of arguments to communicate unease with aspects of technology development and use.
Access options
Buy single article
Instant access to the full article PDF.
US$ 39.95
Tax calculation will be finalised during checkout.
Subscribe to journal
Immediate online access to all issues from 2019. Subscription will auto renew annually.
US$ 119
Tax calculation will be finalised during checkout.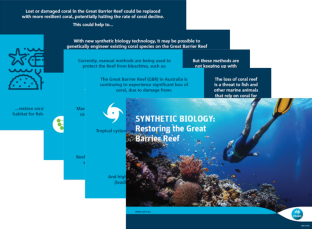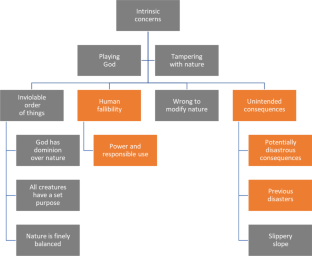 Notes
1.

Pseudo-organism is a colloquial label to describe, in lay terms, a tissue-engineered self-limiting organism—in this case jellyfish—designed to target, breakdown and remove pollution from water bodies. While not a term commonly used in the scientific literature, papers which best describe the pseudo-organism concept include: Nawroth et al. (2012) and Park et al. (2016).

2.

A pop-up box also provided a definition of DNA: DNA are molecules that carry genetic instructions used in development, general functioning and reproduction in all living things.
References
Akbari OS, Bellen HJ, Bier E et al (2015) Safeguarding gene drive experiments in the laboratory. Science 349:927–929

Böhm G, Pfister HR (2000) Action tendencies and characteristics of environmental risks. ActaPsycholigica 104(3):317–337

Braun M, Starkbaum J, Dabrock P (2015) Safe and sound? Scientists understandings of pubic engagement in emerging technologies. PLoS ONE 10(12):e0145033. https://doi.org/10.1371/journal.pone.0145033

Brown ZS, Carter L, Gould F (2018) An introduction to the Proceedings of the Environmental Release of Engineered Pests: An International Governance Framework. BMC Proc. https://doi.org/10.1186/s12919-018-0105-1

Brunk CG (2006) Pubic knowledge, public trust: understanding the 'knowledge deficit.' Community Genetics 9:178–183. https://doi.org/10.1159/000092654

Calvert J, Martin P (2009) The role of social scientists in synthetic biology. Science and society series on convergence research. EMBO Rep 10(3):201–204. https://doi.org/10.1038/embor.2009.15

Carter L (2004) Reinterpreting some common objections to three transgenic applications: GM foods, xenotransplantation and germ line gene modification (GLGM). Transgenic Res 16(6):583–591

Carter L, Mankad A, Zhang A, Curnock MI, Pollard CRJ (2020) A multidimensional framework to inform stakeholder engagement in the science and management of invasive and pest animal species. Biol Invasions. https://doi.org/10.1007/s10530-020-02391-6

Comstock GL (2000) Vexing nature? On the ethical case against agricultural biotechnology. Springer, Boston. https://doi.org/10.1007/978-1-4615-1397-1

Cormick C, Hunter S (2014) Valuing values: better public engagement on nanotechnology demands a better understanding of the diversity of publics. NanoEthics 8:57–71

Dabrock P (2009) Playing God? Synthetic biology as a theological and ethical challenge. Syst Synth Biol 3:47–54

Degeling C, Irvine R, Kerridge I (2014) Faith-based perspectives on the use of chimeric organisms for medical research. Transgenic Res 23:265–279

Delborne JA, Kokotovich AE, Lunshof JE (2020) Social license and synthetic biology: the trouble with mining terms. J Responsible Innov. https://doi.org/10.1080/23299460.2020.1738023

Doorn N, Schuurbiers D, van de Poel I, Gorman ME (2013) (eds) Early engagement and new technologies: opening up the laboratory. Springer, Dordecht. https://doi.org/10.1007/978-94-007-7844-3

Douglas T, Savulescu J (2010) Synthetic biology and the ethics of knowledge. J Med Ethics 36:687–693

Dragojlovic N, Einsiedel E (2012) Playing God or just unnatural? Religious beliefs and approval of synthetic biology. Public UnderstSci 22(7):869–885

Dressel (2019) (ed) Gene Drives. A report on their science, applications, social aspects, ethics and regulations. Critical Scientists Switzerland (CSS), European network of scientists for social and environmental responsibility (ENSSER). Vereinigung Deutscher Wissenschaftler (VDW), Berlin

Druckman JN, Bolsen T (2011) Framing, motivated reasoning, and opinions about emerging technologies. J Commun 61(4):659–688. https://doi.org/10.1111/j.1460-2466.2011.01562.x

Gilfedder M, Robinson CJ, Watson JEM, Campbell TG, Sullivan BL, Possingham HP (2019) Brokering trust in citizen science. Soc Nat Resour. https://doi.org/10.1080/08941920.2018.1518507

Gott M, Monamy V (2004) Ethics and transgenesis: toward a policy framework incorporating intrinsic objections and societal perceptions. Altern Lab Anim 32 Supp 1:391–396

Gray P, Meek S, Griffiths P, Trapani J, Vickers C, Waldby C, Wood, R (2018) Synthetic biology in Australia: an outlook to 2030. Report for the Australian Council of Learned Academies

Ho M-W (1999) Genetic engineering: dream or nightmare? Gateway Books, Bath

Kaebnick GE (2009) Should moral objections to synthetic biology affect public policy? Nat Biotechnol 27(12):1106–1108

Kirk N, Kannemeyer R, Greenaway A, MacDonald E, Stronge D (2020) Understanding attitudes on new technologies to manage invasive species. Pac ConservBiol 26:35–44

Lacey J, Howden M, Cvitanovic C, Colvin RM (2018) Understanding and managing trust at the climate science-policy interface. Nat Climate Chang 8:22–38

Lamont J, Lacey J (2013) Genetically modified organisms. In: LaFollette H (ed) The international encyclopedia of ethics. Blackwell Publishing, Oxford, pp 2117–2123

Link HJ (2013) Playing God and the intrinsic value of life: moral problems for synthetic biology? SciEng Ethics 19:435–448

Llorente C, Revuelta G, Carrió M, Porta M (2019) Scientist's opinions and attitudes towards citizens' understanding of science and their role in public engagement activities. PLoS ONE 14(11):e0224262. https://doi.org/10.1371/journal.pone.0224262

MacDonald EA, Balanovic J, Edwards ED, Abrahamse W, Frame B, Greenaway A, Kannemeyer R, Kirk N, Medvecky F, Milfont TL, Russell JC, Tompkins DM (2020) Public opinion towards gene drive as a pest control approach for biodiversity conservation and the association of underlying worldviews. Environ Commun. https://doi.org/10.1080/17524032.2019.1702568

MacKeracher T, Diedrick A, Gurney G, Marshall N (2018) Who trusts whom in the Great Barrier Reef? Exploring trust and communication in natural resource management. Environ Sci Policy 88:24–31. https://doi.org/10.1016/j.envsci.2018.06.010

Mankad A, Walton A, Gardner J (2019) Psychological predictors of public acceptance for urban stormwater reuse. J Hydrol 572:414–421. https://doi.org/10.1016/j.jhydrol.2019.03.018

Mankad A, Hobman EV, Carter L (2020) Effects of knowledge and emotion on support for novel synthetic biology applications. ConserBiol. https://doi.org/10.1111/cobi.13637

Marris C (2015) The construction of imaginaries of the public as a threat to synthetic biology. Sci Cult 24(1):83–98

National Academies of Sciences, Engineering, and Medicine (NASEM) (2016) Gene drives on the horizon: advancing science, navigating uncertainty, and aligning research with public values. The National Academies Press, Washington, DC. https://doi.org/https://doi.org/10.17226/23405

Nawroth JC, Lee H, Feinberg AW, Ripplinger CM, McCain ML, Grosberg A, Dabiri JO, Parker KK (2012) A tissue-engineered jellyfish with biomimetic propulsion. Nat Biotechnol 30:792–797. https://doi.org/10.1038/nbt.2269

O'Brien L, Marzano M, White RM (2013) Participatory interdisciplinarity: towards the integration of disciplinary diversity with stakeholder engagement for new models of knowledge production. Sci Public Policy 40:51–61. https://doi.org/10.1093/scipol/scs120

Park SJ, Gazzola M, Park KS, Park S, Di Santo V, Blevins EL, Lind JU, Campbell PH, Dauth S, Capulli AK et al (2016) Phototactic guidance of a tissue-engineered soft-robotic ray. Science 353(6295):158–162. https://doi.org/10.1126/science.aaf4292

Pauwels E (2009) Review of quantitative and qualitative studies on U.S. public perceptions of synthetic biology. Syst Synth Biol 3:37–46. https://doi.org/10.1007/s11693-009-9035-6

Raho JA (2014) Rethinking nature through synthetic biology. Teoria 1:93–111

Raimi KT, Wolske KS, Sol Hart P, Campbell-Arvai V (2019) The aversion to tampering with nature (ATN) scale: Individual differences in (dis)comfort with altering the natural world. Risk Anal. https://doi.org/10.1111/risa.13414

Renn O (2008) Risk governance: coping with uncertainty in a complex world. Routledge, London

Renn O, Klinke A, van Asselt M (2011) Coping with complexity, uncertainty and ambiguity in risk governance: a synthesis. Ambio 40(2):231–246

Rowe G, Frewer LJ (2005) A typology of public engagement mechanisms. SciTechnol Hum Values 30(2):251–290

Salles A, de Melo-Martin I (2012) Disgust in bioethics. Camb Q Healthc Ethics 21(2):267–280. https://doi.org/10.1017/S0963180111000776

Schmidt CW (2008) The yuk factor: When disgust meets discovery. Environ Health Perspect 116(12):A525–A527. https://doi.org/10.1289/ehp.116-a524

Simis MJ, Madden H, Cacciatore MA, Yeo SK (2016) The lure of rationality: why does the deficit model persist in science communication? Public UnderstSci 25(4):400–414. https://doi.org/10.1177/0963662516629749

Taylor K, Woods S (2020) Reflections on the practice of responsible (research and) innovation in synthetic biology. New Genetics Soc 39(2):127–147. https://doi.org/10.1080/14636778.2019.1709431

Thompson PB (2007) Biotechnology policy and the problem of unintended consequences. In: Food biotechnology in ethical perspective, Chapter 3. Springer, Dordrecht, pp 73–89. https://doi.org/https://doi.org/10.1007/1-4020-5791-1

van Asselt MBA, Renn O (2011) Risk governance. J Risk Res 14(4):431–449

van den Hoven J, Doorn N, Swierstra T, Koops B-J, Romjin H (2014) Responsible innovation 1: innovative solutions for global issues. Springer, Dordrecht

Walton AM, McCrea R, Leonard R, Williams R (2013) Resilience in a changing community landscape of coal seam gas: Chinchilla in Southern Queensland. J Econ Soc Policy 15(3), Article 2. http://epubs.scu.edu.au/jesp/vol15/iss3/2. Accessed 26 June 2020

Ward AI, Richardson S, Macarthur R, Mill AC (2020) Using and communicating uncertainty for the effective control of invasive non-native species. Mammal Rev 50(2):211–220. https://doi.org/10.1111/mam.12188

Webber B, Sathyamurthy R, Edwards O (2015) Opinion: Is CRISPR-based gene drive a biocontrol silver bullet or global conservation threat? ProcNatlAcadSci USA 112(34):10565–10567. https://doi.org/10.1073/pnas.1514258112

Zhang A, Carter L, Curnock M, Mankad A (2019) Biocontrol of European carp: ecological and social risk assessment for the release of cyprinid herpesvirus 3 (CyHV-3) for Carp Biocontrol in Australia (vol 3). A report for the national carp control plan (Fisheries Research and Development Corporation). In: Assessment of social risks of Biocontrol of European carp, vol 3. http://www.frdc.com.au/Archived-Reports/FRDC%20Projects/2017-054%20vol%203%20of%203%20-%20DLD.pdf. Accessed 19 May 2020
Additional information
Publisher's Note
Springer Nature remains neutral with regard to jurisdictional claims in published maps and institutional affiliations.
About this article
Cite this article
Carter, L., Mankad, A., Hobman, E.V. et al. Playing God and tampering with nature: popular labels for real concerns in synthetic biology. Transgenic Res (2021). https://doi.org/10.1007/s11248-021-00233-2
Received:

Accepted:

Published:
Keywords
Biotechnology

Bioethics

Social science

Genetic technologies

Technology adoption