Abstract
Downy mildew is one of the most serious diseases threatening grapevine cultivation. The PYR/PYL/RCAR proteins, which act as abscisic acid (ABA) receptors, are multifunctional, highly conserved, and reportedly play a crucial role in plant stress resistance in the ABA signaling pathway. In this study, we cloned a putative abscisic acid receptor gene, VvPYL4, from the 'Beta' grapevine cultivar. An analysis of the subcellular localization demonstrated that overexpressed VvPYL4 was localized in both the cytoplasm and the nucleus. The resistance of grapevine cultivars to downy mildew increased after the application of the exogenous hormones MeJA and ABA. The expression of VvPYL4 was significantly induced when exposed to Plasmopara viticola, MeJA, and ABA. The transcript of the VvPYL4 gene in 'Beta' grapevine leaves treated with tobacco rattle virus-induced gene silencing (VIGS) was significantly down-regulated. Silencing VvPYL4 had a slight effect on P. viticola resistance. Furthermore, silencing VvPYL4 significantly altered the transcripts of ABA and JA responsive genes, including the ABA signaling pathway-related genes ABF1, SnRK2.2, and PP2C2, as well as the genes related to the JA signaling pathway, MYC2, JAR1, and JAZ. Altogether, the data provide new evidence that VvPYL4 positively regulates grapevine response to downy mildew. This study also discusses the regulation mechanism of VvPYL4 on ABA and JA signaling transduction. Finally, these results provide a basis for additional research on the mechanisms behind grapevine resistance to downy mildew.
Key message
Silencing VvPYL4 impaired resistance to P. viticola, and this was associated with inhibited the expression of the ABA and JA signaling pathway-related genes. P. viticola, MeJA, and ABA induced the up-regulated expression of VvPYL4.
This is a preview of subscription content, log in to check access.
Access options
Buy single article
Instant access to the full article PDF.
US$ 39.95
Price includes VAT for USA
Subscribe to journal
Immediate online access to all issues from 2019. Subscription will auto renew annually.
US$ 199
This is the net price. Taxes to be calculated in checkout.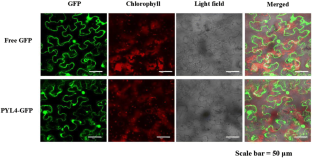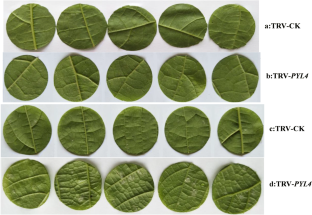 References
Adie BAT, Perez-Perez J, Perez-Perez MM, Godoy M, Sanchez-Serrano JJ, Schmelz EA, Solano R (2007) ABA is an essential signal for plant resistance to pathogens affecting JA biosynthesis and the activation of defenses in Arabidopsis. Plant Cell 19(5):1665–1681. https://doi.org/10.1105/tpc.106.048041

Allègre M, Daire X, Héloir MC, Trouvelot S, Mercier L, Marielle A, Pugin A (2007) Stomatal deregulation in Plasmopara viticola-infected grapevine leaves. New Phytol 173(4):832–840. https://doi.org/10.1111/j.1469-8137.2006.01959.x

Anderson JP, Badruzsaufari E, Schenk PM, Manners JM, Desmond OJ, Ehlert C, Maclean DJ, Ebert PR, Kazan K (2004) Antagonistic interaction between abscisic acid and jasmonate-ethylene signaling pathways modulates defense gene expression and disease resistance in Arabidopsis. Plant Cell 16:3460–3479. https://doi.org/10.1105/tpc.104.025833

Bai G, Yang DH, Zhao Y, Ha S, Yang F, Ma J, Zhu JK (2013) Interactions between soybean ABA receptors and type 2C protein phosphatases. Plant Mol Biol 83(6):651–664. https://doi.org/10.1007/s11103-013-0114-4

Bai S, Tuan PA, Tatsuki M, Yaegaki H, Ohmiya A, Yamamizo C, Moriguchi T (2016) Knockdown of carotenoid cleavage dioxygenase 4 (CCD4) via virus-induced gene silencing confers yellow coloration in peach fruit: evaluation of gene function related to fruit traits. Plant Mol Biol Rep 34(1):257–264. https://doi.org/10.1007/s11105-015-0920-8

Bari R, Jones JDG (2009) Role of plant hormones in plant defence responses. Plant Mol Biol 69(4):473–488. https://doi.org/10.1007/s11103-008-9435-0

Belhadj A, Telef N, Saigne C, Cluzet S, Barrieu F, Hamdi S, Mérillon J (2008) Effect of methyl jasmonate in combination with carbohydrates on gene expression of PR proteins, stilbene and anthocyanin accumulation in grapevine cell cultures. Plant Physiol Biochem 46(4):493–499. https://doi.org/10.1016/j.plaphy.2007.12.001

Cao F, Yoshioka K, Desveaux D (2011) The roles of ABA in plant-pathogen interactions. J Plant Res 124(4):489–499. https://doi.org/10.1007/s10265-011-0409-y

Chai YM, Jia HF, Li CL, Dong QH, Shen YY (2011) FaPYR1is involved in strawberry fruit ripening. J Exp Bot 62(14):5079–5089. https://doi.org/10.1093/jxb/err207

Feng DX, Tasset C, Hanemian M, Barlet X, Hu J, Trémousaygue D, Deslandes L, Marco Y (2012) Biological control of bacterial wilt in Arabidopsis thaliana involves abscisic acid signalling. New Phytol 194(4):1035–1045. https://doi.org/10.1111/j.1469-8137.2012.04113.x

Fujita M, Fujita Y, Noutoshi Y, Takahashi F, Narusaka Y, Yamaguchi-Shinozaki K, Shinozaki K (2006) Crosstalk between abiotic and biotic stress responses: a current view from the points of convergence in the stress signaling networks. Curr Opin Plant Biol 9:436–442. https://doi.org/10.1016/j.pbi.2006.05.014

Gessler C, Pertot I, Perazzolli M (2011) Plasmopara viticola: a review of knowledge on downy mildew of grapevine and effective disease management. Phytopathol Mediterr 50:3–44. https://doi.org/10.14601/Phytopathol_Mediterr-9360

Goldy RG, Onokpise OU (2001) Genetics and breeding. Muscadine grapes. ASHS Press, Alexandria, pp 51–90

Gonzalez-Guzman M, Pizzio GA, Antoni R, Vera-Sirera F, Merilo E, Bassel GW, Fernández MA, Holdsworth MJ, Perez-Amador MA, Kollist H, Rodriguez PL (2012) Arabidopsis PYR/PYL/RCAR receptors play a major role in quantitative regulation of stomatal aperture and transcriptional response to abscisic acid. Plant Cell 24:2483–2496. https://doi.org/10.1105/tpc.112.098574

Grant M, Lamb C (2006) Systemic immunity. Curr Opin Plant Biol 9(4):414–420. https://doi.org/10.1016/j.pbi.2006.05.013

Hernández-Blanco C, Feng DX, Hu J, Sánchez-Vallet A, Deslandes L, Llorente F, Berrocal-Lobo M, Keller H, Barlet X, Sánchez-Rodríguez C, Anderson LK, Somerville S, Marco Y, Molina A (2007) Impairment of cellulose synthases required for Arabidopsis secondary cell wall formation enhances disease resistance. Plant Cell 19(3):890–903. https://doi.org/10.1105/tpc.106.048058

Hu S, Wang FZ, Liu ZN, Liu YP, Yu XL (2012) ABA signaling mediated by PYR/PYL/RCAR in plants. Hereditas 34(5):560–572. https://doi.org/10.3724/SP.J.1005.2012.00560(In Chinese)

Kaliff M, Staal J, Myrenas M, Dixelius C (2007) ABA is required for Leptosphaeria maculans resistance via ABI1-and ABI4-dependent signaling. Mol Plant Microbe Interact 20(4):335–345. https://doi.org/10.1094/MPMI-20-4-0335

Kazan K, Manners JM (2008) Jasmonate signaling: toward an integrated view. Plant Physiol 146:1459–1468. https://doi.org/10.1104/pp.107.115717

Kilian J, Whitehead D, Horak J, Wanke D, Weinl S, Batistic O, Di'Angelo C, Bornberg-Bauer E, Kudla J, Harter K (2007) The AtGenExpress global stress expression data set: protocols, evaluation and model data analysis of UV-B light, drought and cold stress responses. Plant J 50(2):347–363. https://doi.org/10.1111/j.1365-313X.2007.03052.x

Kim H, Hwang H, Hong JW, Lee YN, Ahn IP, Yoon IS, Kim BG (2011) A rice orthologue of the ABA receptor, OsPYL/RCAR5, is a positive regulator of the ABA signal transduction pathway in seed germination and early seedling growth. J Exp Bot 63(2):1013–1024. https://doi.org/10.1093/jxb/err338

Kim H, Lee K, Hwang H, Bhatnagar N, Kim DY, Yoon IS, Byun MO, Kim ST, Jung KH, Kim BG (2014) Overexpression of PYL5 in rice enhances drought tolerance, inhibits growth, and modulates gene expression. J Exp Bot 65(2):453–464. https://doi.org/10.1093/jxb/ert397

Kolkman JA, Stemmer WP (2001) Directed evolution of proteins by exon shuffling. Nat Biotechnol 19(5):423–428. https://doi.org/10.1038/88084

Lackman P, González-Guzmán M, Tilleman S et al (2011) Jasmonate signaling involves the abscisic acid receptor PYL4 to regulate metabolic reprogramming in Arabidopsis and tobacco. Proc Natl Acad Sci 108(14):5891–5896. https://doi.org/10.1073/pnas.1103010108

La Torre A, Mandala C, Pezza L, Caradonia F, Battaglia V (2014) Evaluation of essential plant oils for the control of Plasmopara viticola. J Essent Oil Res 26:282–291. https://doi.org/10.1080/10412905.2014.889049

Lee SC, Luan S (2012) ABA signal transduction at the crossroad of biotic and abiotic stress responses. Plant Cell Environ 35(1):53–60. https://doi.org/10.1111/j.1365-3040.2011.02426.x

Li G, Xin H, Zheng XF, Li S, Hu Z (2012) Identification of the abscisic acid receptor VvPYL1 in Vitis vinifera. Plant Biol 14(1):244–248. https://doi.org/10.1111/j.1438-8677.2011.00504.x

Liang C, Liu L, Zang C, Zhao K, Liu C (2015) Characterization and induction kinetics of a putative candidate gene associated with downy mildew resistance in grapevine. Eur J Hortic Sci 80(5):216–224. https://doi.org/10.17660/eJHS.2015/80.5.3

Lim CW, Baek W, Jung J, Kim JH, Lee SC (2015) Function of ABA in stomatal defense against biotic and drought stresses. Int J Mol Sci 16(7):15251–15270. https://doi.org/10.3390/ijms160715251

Liu L, Liu CY, Wang H, Guan TS, Yu SY, Li BH (2017) Resistance of different grape cultivars to downy mildew. Plant Protect. https://doi.org/10.3969/j.issn.05291542.2017.02.031(In Chinese)

Liu L, Zhang B, Wang H, Yu SY, Guan TS, Huang YF, Liu CY (2020) Candidate resistance genes selection and transcriptome analysis for the early responses to Plasmopara viticola infection in grape cultivars. J Plant Pathol. https://doi.org/10.1007/s42161-020-00546-x

Liu J, Zhao FL, Guo Y, Fan XC, Wang YJ, Wen YQ (2019) The ABA receptor-like gene VyPYL9 from drought-resistance wild grapevine confers drought tolerance and ABA hypersensitivity in Arabidopsis. Plant Cell Tissue Organ Cult 138(3):543–558. https://doi.org/10.1007/s11240-019-01650-2

Livak KJ, Schmittgen TD (2001) Analysis of relative gene expression data using real-time quantitative PCR and the 2(-Delta Delta C(T)) Method. Methods 25:402–408. https://doi.org/10.1006/meth.2001.1262

Ma Y, Szostkiewicz I, Korte A, Moes D, Yang Y, Christmann A, Grill E (2009) Regulators of PP2C phosphatase activity function as abscisic acid sensors. Science 324(5930):1064–1068. https://doi.org/10.1126/science.1172408

Miyazono KI, Miyakawa T, Sawano Y et al (2009) Structural basis of abscisic acid signalling. Nature 462:609–614. https://doi.org/10.1038/nature08583

Monteiro F, Sebastiana M, Pais MS, Figueiredo A (2013) Reference gene selection and validation for the early responses to downy mildew infection in susceptible and resistant Vitis vinifera cultivars. PLoS ONE 8(9):e72998. https://doi.org/10.1371/journal.pone.0072998

Mosher S, Moeder W, Nishimura N, Jikumaru Y, Joo SH, Urquhart W, Klessig DF, Kim SK, Nambara E, Yoshioka K (2010) The lesion-mimic mutant cpr22 shows alterations in abscisic acid signaling and abscisic acid insensitivity in a salicylic acid-dependent manner. Plant Physiol 152:1901–1913. https://doi.org/10.1104/pp.109.152603

Park SY, Fung P, Nishimura N et al (2009) Abscisic acid inhibits type 2C protein phosphatases via the PYR/PYL family of START proteins. Science 324(5930):1068–1071. https://doi.org/10.1126/science.1173041

Pauwels L, Inzé D, Goossens A (2009) Jasmonate-inducible gene: what does it mean? Trends Plant Sci 14(2):87–91. https://doi.org/10.1016/j.tplants.2008.11.005

Perchepied L, Balagué C, Riou C, Claudel-Renard C, Rivière N, Grezes-BessetB RD (2010) Nitric oxide participates in the complex interplay of defense-related signaling pathways controlling disease resistance to Sclerotinia sclerotiorum in Arabidopsis thaliana. Mol Plant Microbe Interact 23(7):846–860. https://doi.org/10.1094/MPMI-23-7-0846

Pizzio GA, Rodriguez L, Antoni R, Gonzalez-Guzman M, Yunta C, Merilo E, Kollist H, Albert A, Rodriguez PL (2013) The PYL4 A 194 T mutant uncovers a key role of PYR1-LIKE4/PROTEIN PHOSPHATASE 2CA interaction for abscisic acid signaling and plant drought resistance. Plant Physiol 163(1):441–455. https://doi.org/10.1104/pp.113.224162

Reuveni M (1998) Relationships between leaf age, peroxidase and β-1,3-glucanase activity, and resistance to downy mildew in grapevines. J Phytopathol 146:525–530. https://doi.org/10.1111/j.1439-0434.1998.tb04615.x

Saavedra X, Modrego A, Rodriguez D, Gonzalez-Garcia MP, Sanz L, Nicolas G, Lorenzo O (2010) The nuclear interactor PYL8⁄RCAR3 of Fagus sylvatica FsPP2C1 is a positive regulator of abscisic acid signaling in seeds and stress. Plant Physiol 152(1):133–150. https://doi.org/10.1104/pp.109.146381

Santiago J, Rodrigues A, Saez A, Rubio S, Antoni R, Dupeux F, Park SY, Márquez JA, Cutler SR, Rodriguez PL (2009) Modulation of drought resistance by the abscisic acid receptor PYL5 through inhibition of clade A PP2Cs. Plant J 60:575–588. https://doi.org/10.1111/j.1365-313X.2009.03981.x

Shen YY, Wang XF, Wu FQ, Du SY, Cao Z, Shang Y, Wang XL, Peng CC, Yu XC, Zhu SY, Fan RC, Xu YH, Zhang DP (2006) The Mg-chelatase H subunit is an abscisic acid receptor. Nature 443:823–826. https://doi.org/10.1038/nature05176

Singh RS (2000) Diseases of fruit crops. Science Publishers, Amsterdam, pp 151–183

Szostkiewicz I, Richter K, Kepka M, Demmel S, Ma Y, Korte A, Assaad FF, Christmann A, Grill E (2010) Closely related receptor complexes differ in their ABA selectivity and sensitivity. Plant J 61:25–35. https://doi.org/10.1111/j.1365-313X.2009.04025.x

Tian J, Cheng L, Han ZY, Yao YC (2015) Tobacco rattle virus mediated gene silencing in strawberry plants. Plant Cell Tissue Organ Cult 120(3):1131–1138. https://doi.org/10.1007/s11240-014-0669-z

Vlad F, Rubio S, Rodrigues A, Sirichandra C, Belin C, Robert N, Leung J, Rodriguez PL, Lauriere C, Merlot S (2009) Protein phosphatases 2C regulate the activation of the Snf1-related kinase OST1 by abscisic acid in Arabidopsis. Plant Cell 21:3170–3184. https://doi.org/10.1105/tpc.109.069179

Vlot AC, Dempsey DA, Klessig DF (2009) Salicylicacid, amultifaceted hormonetocombat disease. Annu Rev Phytopathol 47:177–206. https://doi.org/10.1146/annurev.phyto.050908.135202

Vos IA, Verhage A, Schuurink RC, Watt LG, Pieterse CM, van Wees SC (2013) Onset of herbivore-induced resistance in systemic tissue primed for jasmonate-dependent defenses is activated by abscisic acid. Front Plant Sci 4:539. https://doi.org/10.3389/fpls.2013.00539

Wan H, Zhao Z, Malik AA, Qian C, Chen J (2010) Identification and characterization of potential NBS-encoding resistance genes and induction kinetics of a putative candidate gene associated with downy mildew resistance in Cucumis. BMC Plant Biol 10:186. https://doi.org/10.1186/1471-2229-10-186

Wu J, Zhang YL, Zhang HQ, Huang H, Folta KM, Lu J (2010) Whole genome wide expression profiles of Vitis amurensis grape responding to downy mildew by using Solexa sequencing technology. BMC Plant Biol 10:234. https://doi.org/10.1186/1471-2229-10-234

Yu Y, Zhang Y, Yin L, Lu J (2012) The mode of host resistance to Plasmopara viticola infection of grapevies. Phytopathology 102:1094–1101. https://doi.org/10.1094/PHYTO-02-12-0028-R

Zhang F, Lu X, Lv Z, Zhang L, Zhu M, Jiang W, Tang K (2013) Overexpression of the Artemisia orthologue of ABA receptor, AaPYL9, enhances ABA sensitivity and improves artemisinin content in Artemisia annua L. PLoS ONE 8(2):e56697. https://doi.org/10.1371/journal.pone.0056697

Zhao FX, Chen SW, Perl A, Dai R, Xu HY, Ma HQ (2011) The establishment of an Agrobacterium-mediated transformation platform for the non-embryogenic calli of Vitis vinifera L. Agric Sci China 10(5):686–694. https://doi.org/10.1016/S1671-2927(11)60051-5
Acknowledgements
This research was supported by the Special Fund for AgroScientific Research in the Public Interest of the People's Republic of China (201203035), and Funded Projects for Science and Technology Development Plan of Liaoning Province of China (No. 2018103003). For the technical assistance during the data analysis, we would like to thank Bioeditas Technology Corporation (Shanxi, China).
Ethics declarations
Conflict of interest
The authors declare that they have no conflict of interest.
Additional information
Publisher's Note
Springer Nature remains neutral with regard to jurisdictional claims in published maps and institutional affiliations.
Communicated by Maria Margarida Oliveira.
Electronic supplementary material
Below is the link to the electronic supplementary material.
About this article
Cite this article
Liu, L., Liu, C., Wang, H. et al. The abscisic acid receptor gene VvPYL4 positively regulates grapevine resistance to Plasmopara viticola. Plant Cell Tiss Organ Cult 142, 483–492 (2020). https://doi.org/10.1007/s11240-020-01872-9
Received:

Accepted:

Published:

Issue Date:
Keywords
Plasmopara viticola
Abscisic acid receptor PYL4

ABA signaling pathway

Virus-induced gene silencing

Defense mechanisms