Abstract
Somatic embryogenesis (SE) is a process where somatic embryos can form differentiated tissues and regenerate into new plants. Efficient SE and liquid culture system for large-scale production of banana cv. Chenichampa is presented. The embryo maturation media (M3) was modified with different organic additives and high-frequency somatic embryos were observed in M3 media supplemented with CH: Gln (100:150 mg/L) resulting in a tenfold increase in somatic embryo formation as compared to the control. The generated plantlets were hardened and polymerase chain reaction (PCR) with SSR primers were used to confirm the genetic fidelity of the plantlets. To understand the molecular mechanism of SE, expression patterns of transcript factors (TFs) in respect of embryogenic calli (EC) and embryogenic cell suspension (ECS) was also studied. Transcript factor (TF) such as BBM has been reported to play a significant part in converting explants to EC. The higher expression of TFs MaBBM1, MaBBM2, MaWUS2, and MaVP1 in the EC and MaBBM2 and MaWUS2 in ECS, suggested that these genes could play a crucial role in SE. The protocol developed in this commercially important banana cv. Chenichampa could be highly useful for large-scale micropropagation and genetic manipulation studies which can be adapted to other cultivars lacking in male flowers.
Key message
An efficient micropropagation system using SE for banana cultivar Chenichampa (Musa AAB) is presented. Differential expression profiles of TFs during various stages of SE studied. Organic additives enhanced the SE and this optimized protocol will serve as a platform for developing efficient propagation system for banana cultivars that lack male flowers.
This is a preview of subscription content, log in to check access.
Access options
Buy single article
Instant access to the full article PDF.
US$ 39.95
Price includes VAT for USA
Subscribe to journal
Immediate online access to all issues from 2019. Subscription will auto renew annually.
US$ 199
This is the net price. Taxes to be calculated in checkout.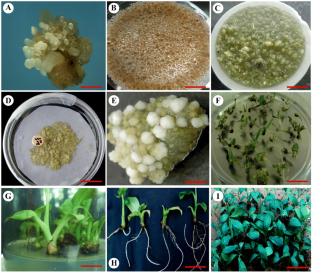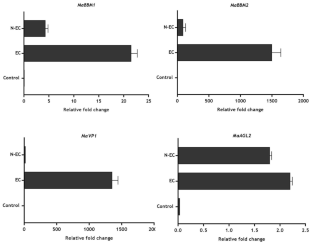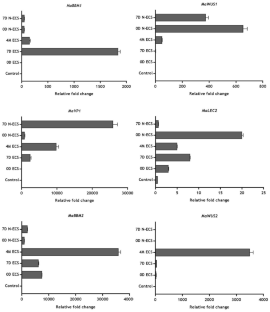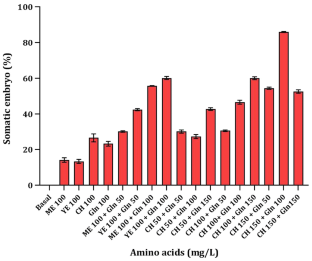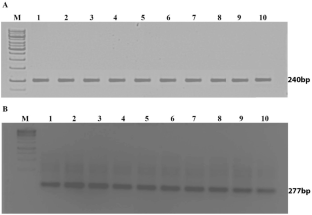 References
Ageel S, Elmeer K (2011) Effects of casein hydrolysates and glutamine on callus and somatic embryogenesis of date palm (Phoenix dactylifera L.). NY Sci J 4:121–125

Bairu MW, Aremu AO, Van Staden J (2011) Somaclonal variation in plants: causes and detection methods. Plant Growth Regul 63:147–173. https://doi.org/10.1007/s10725-010-9554-x

Baker CJ, Mock NM (1994) An improved method for monitoring cell death in cell suspension by leaf disc assays using Evans blue. Plant Cell Tissue Organ Cult 39:7–12. https://doi.org/10.1007/BF00037585

Belide S, Zhou XR, Kennedy Y, Lester G, Shrestha P, Petrie JR, Singh SP (2013) Plant Cell Tissue Organ Cult 113:543–553. https://doi.org/10.1007/s11240-013-0295-1

Boutilier K, Offringa R, Sharma VK, Kieft H, Ouellet T, Zhang L, Custers JB (2002) Ectopic expression of BABY BOOM triggers a conversion from vegetative to embryonic growth.  Plant Cell 14:1737–1749. https://doi.org/10.1105/tpc.001941

Cote FX, Domergue R, Monmarson S, Schwendiman J, Teisson C, Escalant JV (1996) Embryogenic cell suspensions from the male flower of Musa AAA cv. Grand Nain Physiol Plantarum 97(2):285–290. https://doi.org/10.1034/j.1399-3054.1996.970211.x

Damasco OP, Graham GC, Henry RJ, Adkins SW, Smith MK, Godwin ID (1996) Random amplified polymorphic DNA (RAPD) detection of dwarf off-types in micropropagated Cavendish Musa spp. (ABB group). Plant Cell Rep 16:118–123. https://doi.org/10.1007/BF01275464

Daniel MA, David RHA, Caesar SA, Ramakrishnan M, Duraipandiyan V, Ignacimuthu S, Al-Dhabi NA (2018) Effect of l-glutamine and casein hydrolysate in the development of somatic embryos from cotyledonary leaf explants in okra (Abelmoschus esculentus L. monech). South Afr J Bot 114:223–231. https://doi.org/10.1016/j.sajb.2017.11.014

Elmeer KES (2013) Factors regulating somatic embryogenesis in plants somatic embryogenesis and gene expression. Narosa Publishing House, New Delhi, India, pp 56–81

Enríquez-Valencia AJ, Vázquez-Flota FA, Ku-Cauich JR, Escobedo-Gracia Medrano RM (2019) Differentially expressed genes during the transition from early to late development phases in somatic embryo of banana (Musa spp. AAB group, Silk subgroup) cv Manzano. Plant Cell Tissue Organ Cult 136:289–302. https://doi.org/10.1007/s11240-018-1514-6

Escobedo-GraciaMedrano RM, Enríquez-Valencia AJ, Youssef M, López-Gómez P, Cruz Cárdenas CI, Ku-Cauich JR (2016) Somatic embryogenesis in banana, Musa ssp. In: Loyola-Vargas VM, Ochoa-Alejo N (eds) Somatic embryogenesis: fundamental aspects and applications. Springer, Berlin, pp 381–400

Falokun CD, Mavituna F, Markx GH (2003) AC electrokinetic characterization and separation of cells with high and low embryogenic potential in suspension cultures of carrot (Daucus carota). Plant Cell Tissue Organ Cult 75(3):261–272. https://doi.org/10.1023/a:1025860601205

Feher A (2005) Why somatic plant cells start to form embryos? In: Mujib A, Samaj J (eds) Plant cell monographs: somatic embryogenesis. Springer-Verlag, Berlin Germany, pp 85–101

Florez SL, Erwin RL, Maximova SN et al (2015) Enhanced somatic embryogenesis in Theobroma cacao using the homologous BABY BOOM transcription factor. BMC Plant Biol 15:121. https://doi.org/10.1186/s12870-015-0479-4

Ganapathi TR, Suprasanna P, Bapat VA, Kulkarni VM, Rao PS (1999) Somatic embryogenesis and plant regeneration from male flower buds in banana. Curr Sci 76:1228–1231. https://doi.org/10.1007/s11627-001-0031-0

Ge XJ, Chu ZH, Lin YJ, Wang SP (2006) A tissue culture system for different germplasms of indica rice. Plant Cell Rep 25:392–402. https://doi.org/10.1007/s00299-005-0100-7

Grapin A, Ortiz JL, Lescot T, Ferrière N, Côte FX (2000) Recovery and regeneration of embryogenic cultures from female flowers of False Horn Plantain. Plant Cell Tissue Organ Cult 61:237–244. https://doi.org/10.1023/A:1006423304033

Israeli Y, Dahlia BB, Reuveni H (1996) Selection of stable banana clones which do not produce dwarf somaclonal variants during in vitro culture. Sci Hortic 67:197–205. https://doi.org/10.1016/S0304-4238(96)00955-7

Jha P, Kumar V (2018) BABY BOOM (BBM): a candidate transcription factor gene in plant biotechnology. Biotechnol Lett 40:1467–1475. https://doi.org/10.1007/s10529-018-2613-5

Jha P, Ochatt SJ, Kumar V (2020) WUSCHEL: a master regulator in plant growth signaling. Plant Cell Rep 39:431–444. https://doi.org/10.1007/s00299-020-02511-5

Kaur N, Pandey A, Shivani KP, Pandey P, Kesarwani AK, Mantri SS, Awasthi P, Tiwari S (2017) Regulation of banana phytoene synthase (MaPSY) expression, characterization and their modulation under various abiotic stress conditions. Front Plant Sci 8:462. https://doi.org/10.3389/fpls.2017.00462

Kumar V, Jha P, Van Staden J (2020) Leafy cotyledons (LECs): master regulators in plant embryo development. Plant Cell Tissue Organ Cult 140:475–487. https://doi.org/10.1007/s11240-019-01752-x

Lai F, Senaratna T, McKersie BD (1992) Glutamine enhances storage protein synthesis in Medicago sativa L. somatic embryos. Plant Sci 87(1):69–77. https://doi.org/10.1016/0168-9452(92)90194-q

Levine A, Tenhaken R, Dixon R, Lamb C (1994) H2O2 from the oxidative burst orchestrates the plant hypersensitive disease resistance response. Cell 79:583–593. https://doi.org/10.1016/0092-8674(94)90544-4

Mahdavi-Darvari F, Noor NM, Ismanizan I (2015) Epigenetic regulation and gene markers as signals of early somatic embryogenesis. Plant Cell Tissue Organ Cult 120:407–422. https://doi.org/10.1007/s11240-014-0615-0

Marimuthu K, Subbaraya U, Suthanthiram B, Marimuthu SS (2019a) Molecular analysis of somatic embryogenesis through proteomic approach and optimization of protocol in recalcitrant Musa spp. Physiol Plant 167:282–301. https://doi.org/10.1111/ppl.12966

Marimuthu K, Subbaraya U, Suthanthiram B, Somasundaram SM, Gandhi K, Arumugam C (2019b) Differential proteomic analysis of germinating and non-germinating somatic embryo of banana cv. grand naine (AAA). Int J Innov Hortic 8:158–166. https://doi.org/10.1111/ppl.12966

Morais-Lino LS, Santos-Serejo JAL, Amorim EP, de Santana JRF, Pasqual M, de Oliveira e Silva S (2015) Somatic embryogenesis, cell suspension, and genetic stability of banana cultivars. In Vitro Cell Dev Biol Plant 52:99–106. https://doi.org/10.1007/s11627-015-9729-2

Murashige T, Skoog F (1962) A revised medium for rapid growth and bio assays with tobacco tissue cultures. Physiol Plant 15:473–497. https://doi.org/10.1111/j.1399-3054.1962.tb08052.x

Nandhakumar N, Kumar K, Sudhakar D, Soorianathasundaram K (2018) Plant regeneration, developmental pattern formation and genetic fidelity of somatic embryogenesis derived Musa spp. J Genet Eng Biotechnol. https://doi.org/10.1016/j.jgeb.2018.10.001

Nandhakumar N, Sathish S, Sathishkumar R, Suresh CP (2019) Efficient and rapid in-vitro plantlet regeneration via somatic embryogenesis in ornamental bananas (Musa spp). Biologia. https://doi.org/10.2478/s11756-019-00358-0

Nowak K, Wójcikowska B, Gaj MD (2015) ERF022 impacts the induction of somatic embryogenesis in Arabidopsis through the ethylene-related pathway. Planta 241:967–985. https://doi.org/10.1007/s00425-014-2225-9

Pawar B, Kale P, Bahurupe J, Jadhav A, Kale A, Pawar S (2015) Proline and glutamine improve in vitro callus induction and subsequent shooting in rice. Rice Sci 22:283–289. https://doi.org/10.1016/j.rsci.2015.11.001

Ramirez-Villalobos M, de Garcia E (2008) Obtainment of embryogenic cell suspensions from scalps of the banana CIEN-BTA-03 (Musa sp., AAAA) and regeneration of the plants. Electron J Biotechnol. https://doi.org/10.2225/vol11-issue5-fulltext-3

Ray T, Dutta I, Saha P, Das S, Roy SC (2006) Genetic stability of three economically important micropropagated banana (Musa spp.) cultivars of lower Indo-Gangetic plains, as assessed by RAPD and ISSR markers. Plant Cell Tissue Organ 85(1):11–18. https://doi.org/10.1007/s11240-005-9044-4

Sagi L, May GD, Remy S, Swennen R (1998) Recent developments in biotechnological research of banana (Musa spp). In: M.P. Tombs (Eds), England, Biotechnology and Genetic Engineering Reviews 15:313–327 https://doi.org/10.1080/02648725.1998.10647960

Sathish S, Venkatesh R, Safia N, Sathishkumar R (2018) Studies on growth dynamics of embryogenic cell suspension cultures of commercially important Indica rice cultivars ASD16 and Pusa basmati. 3 Biotech 8:194. https://doi.org/10.1007/s13205-018-1213-3

Schmittgen TD, Livak KJ (2008) Analyzing real-time PCR data by the comparative CT method. Nat Protoc 3:1101. https://doi.org/10.1038/nprot.2008.73

Shahsavari E (2011) Impact of tryptophan and glutamine on the tissue culture of upland rice. Plant Soil Environ 57:7–10

Shivani PA, Sharma V, Kaur N, Kaur N, Pandey P, Tiwari S (2017) Genome-wide analysis of transcription factors during somatic embryogenesis in banana (Musa spp.) cv. Grand Naine. PLoS ONE 12:e0182242. https://doi.org/10.1371/journal.pone.0182242

Strosse H, Schoofs H, Panis B, Andre E, Reyniers K, Swennen R (2006) Development of embryogenic cell suspensions from shoot meristematic tissue in bananas and plantains (Musa spp). Plant Sci 170(1):104–112. https://doi.org/10.1016/j.plantsci.2005.08.007

Su YH, Zhao XY, Liu YB, Zhang CL, O'Neill SD, Zhang XS (2009) Auxin‐induced WUS expression is essential for embryonic stem cell renewal during somatic embryogenesis in Arabidopsis. Plant J 59:448–460. https://doi.org/10.1111/j.1365-313X.2009.03880.x

Sun D, Li C, Qin H, Zhang Q, Yang Y, Ai J (2016) Somatic embryos cultures of Vitis amurensis Rupr. in air-lift bioreactors for the production of biomass and resveratrol. J Plant Biol 59:427–434. https://doi.org/10.1007/s12374-016-0022-7

Sundararajan S, Nayeem S, Subiramani S, Rajendran V, Ramalingam S (2019) Optimizing culture conditions for high frequency somatic embryogenesis and plantlet conversion in Daucus carota L. Biologia 74:695–707. https://doi.org/10.2478/s11756-019-00223-0

Thakare D, Tang W, Hill K, Perry SE (2008) The MADS-domain transcriptional regulator AGAMOUS-LIKE15 promotes somatic embryo development in arabidopsis and soybean. Plant Physiol 146:1663–1672. https://doi.org/10.1104/pp.108.115832

Thorat AS, Sonone NA, Choudhari VV, Devarumath RM, Babu KH (2017) Plant regeneration from cell suspension culture in Saccharum officinarum L. and ascertaining of genetic fidelity through RAPD and ISSR markers. 3 Biotech 7:16. https://doi.org/10.1007/s13205-016-0579-3

Tripathi JN, Oduor RO, Tripathi L (2015) A high-throughput regeneration and transformation platform for production of genetically modified banana. Front Plant Sci 6:1025. https://doi.org/10.3389/fpls.2015.01025

Xia Y, Zhang J, Jing D, Kong L, Zhang S, Wang J (2017) Plant regeneration of Picea asperata Mast. by somatic embryogenesis. Trees 31:299–312. https://doi.org/10.1007/s00468-016-1484-4

Youssef M, James A, Mayo-Mosqueda A, Ku-Cauich JR, Grijalva-Arango R, Escobedo-GM RM (2010) Influence of genotype and age of explant source on the capacity for somatic embryogenesis of two Cavendish banana cultivars (Musa acuminata Colla, AAA). Afr J Biotechnol 9:2216–2223

Zhai L, Xu L, Wang Y et al (2016) Transcriptional identification and characterization of differentially expressed genes associated with embryogenesis in radish (Raphanus sativus L). Sci Rep 6:21652

Zheng W, Zhang X, Yang Z et al (2014) At Wuschel promotes formation of the embryogenic callus in Gossypium hirsutum. PLoS ONE 9:e87502

Zuo J, Niu QW, Frugis G, Chua NH (2002) The WUSCHEL gene is required for shoot and floral meristem integrity in Arabidopsis. Plant J 30:349–359. https://doi.org/10.1046/j.1365-313x.2002.01289.x
Acknowledgements
Author Sathish S acknowledges Indian Council for Medical Research (ICMR), New Delhi (No.3/1/2/102/2018-Nut.) for fellowship support.
Ethics declarations
Conflict of interest
All authors read, approved the manuscript, and declare that there is no conflict of interest.
Additional information
Publisher's Note
Springer Nature remains neutral with regard to jurisdictional claims in published maps and institutional affiliations.
Communicated by Manoj Prasad.
About this article
Cite this article
Natarajan, N., Sundararajan, S., Suresh, C.P. et al. In vitro somatic embryogenesis from immature female flower of Musa AAB cv. Chenichampa and molecular analysis of transcript factors (TFs) during somatic embryogenesis. Plant Cell Tiss Organ Cult (2020). https://doi.org/10.1007/s11240-020-01866-7
Received:

Accepted:

Published:
Keywords
Banana

Immature female flower

Organic additives

Somatic embryos

Transcript factors