Abstract
Acclimatization of tissue cultured plants to greenhouse or field conditions is the final and most crucial step of micropropagation. Hydroponic system has the potential to harden in vitro plants in an efficient and convenient way. Herein, in vitro regenerated plants of Trichosanthes kirilowii were cultured in 1/4, 1/2 and full strength Hoagland nutrient solution under a simple hydroponic system during acclimatization, respectively, and soil culture was prepared as a control. Morphological, physiological, anatomical and histochemical alterations of the plants treated by different concentrations of nutrient solution and soil conditions were analyzed after 30 days of growth. Results showed that all the three concentrations of nutrient solution significantly improved the survival rate, plant growth, pigment content, photosynthesis capacity, and stomatal density compared with those grown in soil, and there were no significant differences of the plant morphological parameters and the stomatal characteristics among the three hydroponic treatments. The plants grown in the 1/4 Hoagland solution yielded the highest net photosynthesis rate, transpiration rate and stomatal conductance, as might be attributed to their highest photosynthetic pigment content among the treatments. Anatomical and histochemical studies revealed that enlarged air spaces, multiple lignified Φ thickenings, and heavier suberin and lignin were formed in the cortex of the adventitious roots grown in 1/4 Hoagland nutrient solution as compared with those cultured in soil conditions, indicating that T. kirilowii had enough phenotypic plasticity in the root structure to grow in hydroponic conditions by formation of larger aerenchyma spaces and apoplastic barriers. This study clearly demonstrates that hydroponics is an alternative for the tissue cultured plants of T. kirilowii to adapt to great environmental changes during acclimatization.
Key message
Micropropagated plants of T. kirilowii can adapt to hydroponic conditions through changes in plant morphological, physiological and stomatal characteristics, and anatomical and histochemical features of roots during acclimatization.
This is a preview of subscription content, log in to check access.
Access options
Buy single article
Instant access to the full article PDF.
US$ 39.95
Price includes VAT for USA
Subscribe to journal
Immediate online access to all issues from 2019. Subscription will auto renew annually.
US$ 199
This is the net price. Taxes to be calculated in checkout.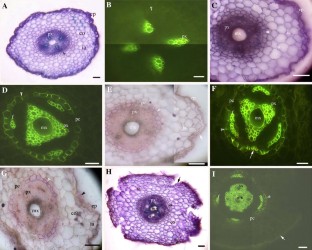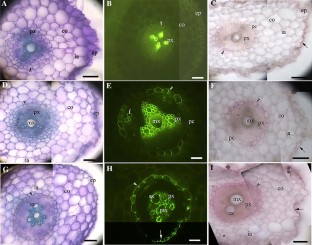 References
Asayesh ZM, Vahdati K, Aliniaeifard S (2017) Investigation of physiological components involved in low water conservation capacity of in vitro walnut plants. Sci Hortic 224:1–7

Bailey S, Horton P, Walters RG (2004) Acclimation of Arabidopsis thaliana to the light environment: the relationship between photosynthetic function and chloroplast composition. Planta 218:793–802

Baťková P, Pospíšilová J, Synkova H (2008) Production of reactive oxygen species and development of antioxidative systems during in vitro growth and ex vitro transfer. Biol Plant 52:413–422

Bradley P, Marulanda C (2001) Simplified hydroponics to reduce global hunger. Acta Hortic 554:289–295

Brundrett MC, Enstone DE, Peterson CA (1988) A berberine-aniline bluefluorescent staining procedure for suberin, lignin and callose in plant tissue. Protoplasma 146:133–142

Brundrett MC, Kendrick B, Peterson CA (1991) Efficient lipid staining in plant material with Sudan red 7B or fluoral yellow 088 in polyethylene glycol-glycerol. Biotech Histochem 66:111–116

Castañeda–Méndez O, Ogawa S, Medina A, Chavarriaga P, Selvaraj MG (2017) A simple hydroponic hardening system and the effect of nitrogen source on the acclimation of in vitro cassava (Manihot esculenta Crantz). In Vitro Cell Dev Biol Plant 53:75–85

Chen JJ, Zhang YS, Cai XD (2019) Optimization of a rapid propagation system for mass production of high–quality plantlets of Trichosanthes kirilowii cv. 'Yuelou–2' via organogenesis. Not Bot Horti Agrobo 47:722–728

Dewir YH, Chakrabarty D, Ali MB, Hahn EJ, Paek KY (2005) Effects of hydroponic solution EC, substrates, PPF and nutrient scheduling on growth and photosynthetic competence during acclimatization of micropropagated Spathiphyllum plantlets. Plant Growth Regul 46(3):241–251

El–Hawaz R, Park D, Bridges WC, Adelberg J (2016) Optimizing in vitro mineral nutrition and plant density increases greenhouse growth of Curcuma longa L. during acclimatization. Plant Cell Tiss Org Cult 126:33–42

Frescura VDS, Boligon AA, Barbosa FM, De Souza JM, Lerner MA, Laughinghouse HD, Da Sliva CD, Andriolo JL, Lopes SJ, Tedesco SB (2018) Nutrient solution concentration and collection time in phytomass production, content, yield and chemical composition of essential oil of rosemary. J Plant Nutr 41:1293–1302

Ha MT, Phan TN, Kim JA et al (2019) Trichosanhemiketal A and B: Two 13, 14-seco-13, 14-epoxyporiferastanes from the root of Trichosanthes kirilowii Maxim. Bioorg Chem 83:105–110

Hazarika BN (2003) Acclimatization of tissue-cultured plants. Curr Sci 85:1704–1712

Hoang NN, Kitaya Y, Shibuya T, Endo R (2019) Development of an in vitro hydroponic culture system for wasabi nursery plant production-Effects of nutrient concentration and supporting material on plantlet growth. Sci Hortic 245:237–243

Hosseinzadeh S, Verheust Y, Bonarrigo G, Hulle S (2017) Closed hydroponic systems: operational parameters, root exudates occurrence and related water treatment. Rev Environ Sci Biol 16:59–79

Huang Y, He P, Bader KP, Radunz A, Schmid GH (2000) Seeds of Trichosanthes kirilowii, an energy–rich diet. Z Naturforsch C 55:189–194

Jackson MB, Colmer TD (2005) Response and adaptation by plants to flooding stress. Ann Bot 96:501–505

Joo SJ, Yoon AR, Kim YG, Moon BC, Komakech R, Kang Y (2019) In vitro propagation of Trichosanthes kirilowii Maxim. through nodal segment shoot proliferation. In Vitro Cell Dev Biol Plant 55:702–709

Jung J, Lee SC, Choi HK (2008) Anatomical patterns of aerenchyma in aquatic and wetland plants. J Plant Biol 51:428–439

Lichtenthaler HK (1987) Chlorophylls and carotenoids: pigments of photosynthetic biomembranes. Method Enzymol 148:350–382

Lo HY, Li TC, Yang TY, Li CC, Chiang JH, Hsiang CY, Ho TY (2017) Hypoglycemic effects of Trichosanthes kirilowii and its protein constituent in diabetic mice: the involvement of insulin receptor pathway. BMC Complement Altern Med 17:53

Murashige T, Skoog FA (1962) A revised medium for rapid growthand bioassays with tobacco tissue cultures. Physiol Plant 15:473–497

O'Brien TP, Feder N, McCully ME (1964) Polychromatic staining of plant cell walls by toluidine blue O. Protoplasma 59:368–373

Osório ML, Gonçalves S, Coelho N, Osório J, RomanoA (2013) Morphological, physiological and oxidative stress markers during acclimatization and field transfer of micropropagated Tuberaria major plants. Plant Cell Tiss Org Cult 115:85–97

Pospóšilová J, TicháI P, Kadleček P, Haisel D, Plzáková Š (1999) Acclimatization of micropropagated plants to ex vitro conditions. Biol Plantarum 42:481–497

Shaw PC, Lee KM, Wong KB (2005) Recent advances in trichosanthin, a ribosome-inactivating protein with multiple pharmacological properties. Toxicon 45:683–689

Tanaka Y, Sugano SS, Shimada T, Hara-Nishimura I (2013) Enhancement of leaf photosynthetic capacity through increased stomatal density in Arabidopsis. New Phytol 198:757–764

Tisarum R, Samphumphung T, Theerawitaya C, Prommee W, Cha-um S (2018) In vitro photoautotrophic acclimatization, direct transplantation and ex vitro adaptation of rubber tree (Hevea brasiliensis). Plant Cell Tiss Org Cult 133:215–223

Uprety DC, Dwivedi N, Jain V, Mohan R (2002) Effect of elevated carbon dioxide concentration on the stomatal parameters of rice cultivars. Photosynthetica 40:315–319

Wang WF, Wang LZ, Jiang JX (2009) Fatty acid profile of Trichosanthes kirilowii Maxim. seed oil. Chem Pap 63:489–492

Yang CD, Zhang X, Wang T, Hu S, Zhou CY, Zhang J, Wang QF (2019) Phenotypic plasticity in the structure of fine adventitious Metasequoia glyptostroboides roots allows adaptation to aquatic and terrestrial environments. Plants 8:501

Yu H, Niu Y, Hu Y, Du D (2014) Photosynthetic response of the floating-leaved macrophyte Nymphoides peltata to a temporary terrestrial habitat and its implications for ecological recovery of Lakeside zones. Knowl Manag Aquat Ecosyst 412:08

Zhang X, Shabala S, Koutoulis A, Shabala L, Johnson P, Hayes D, Nichols D, Zhou M (2015) Waterlogging tolerance in barley is associated with faster aerenchyma formation in adventitious roots. Plant Soil 394:355–372

Zhang YS, Gu SJ, Chen JJ, Cai XD (2019) Effects of different nutrient solutions on the acclimatization of in vitro Caladium plantlets using a simplified hydroponic system. Sains Malays 48:1627–1633

Zhao FL, Wang R, Xue JP, Duan YB (2018) Efficient callus–mediated regeneration and in vitro root tuberization in Trichosanthes kirilowii Maxim, a medicinal plant. In Vitro Cell Dev Biol Plant 54:621–625
Acknowledgements
This study was funded by the Scientific Research Project of Hubei Education Department of China (No. B2018024).
Ethics declarations
Conflict of interest The authors declare no conflicts of interest.
Additional information
Publisher's Note
Springer Nature remains neutral with regard to jurisdictional claims in published maps and institutional affiliations.
Communicated by Maurizio Lambardi.
About this article
Cite this article
Duan, J., Duan, Q., Zhang, S. et al. Morphological, physiological, anatomical and histochemical responses of micropropagated plants of Trichosanthes kirilowii to hydroponic and soil conditions during acclimatization. Plant Cell Tiss Organ Cult 142, 177–186 (2020). https://doi.org/10.1007/s11240-020-01851-0
Received:

Accepted:

Published:

Issue Date:
Keywords
Anatomical structures

Hydroponics

Photosynthesis

Survival rate

Tissue culture