Abstract
To evaluate the efficacy of measuring left coronary artery size to predict deterioration in non-high-risk acute pulmonary embolism (PE) patients. This retrospective study enrolled non-high-risk acute PE patients from January 2011 to December 2019. Patient deterioration was defined as the occurrence of adverse events within 30 days of hospital admission. Patients with adverse events were sex- and age-matched to patients without adverse events. Risk stratification was performed. Cross-sectional areas (CSAs) of the left main and left anterior descending (LAD) coronary artery inlets were measured. The main pulmonary artery (MPA) inlet and outlet and MPA LAD plane, which adjoined the LAD in the MPA, were reconstructed. CSAs, perimeters, and hydraulic diameters were measured to evaluate MPA size and deformation. Cardiac volume was also measured. Quantitative parameters were divided into tertiles. After adjustment by risk stratification, univariate and multivariate analyses were performed. Correlations between different parameters were analysed. Seventy-three patients with adverse events were matched to 73 patients without adverse events. The results of the univariate and multivariate analyses revealed that LAD inlet CSAs (middle and high) predicted adverse events (odds ratio: 0.28 and 0.07, 95% confidence interval: 0.10–0.77 and 0.02–0.22, p = 0.013 and < 0.0001). LAD inlet CSA was strongly and negatively correlated with MPA LAD hydraulic diameter and CSA (correlation coefficients: − 0.643 and − 0.604, p < 0.001). LAD inlet CSA measurement would facilitate adverse event prediction in non-high-risk acute PE patients on the basis of risk stratification. The dilated MPA may involve the decrease in LAD inlet CSA.
Access options
Buy single article
Instant access to the full article PDF.
US$ 39.95
Tax calculation will be finalised during checkout.
Subscribe to journal
Immediate online access to all issues from 2019. Subscription will auto renew annually.
US$ 79
Tax calculation will be finalised during checkout.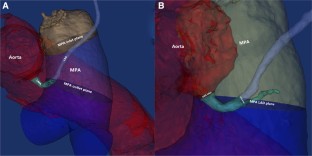 Funding
This study received funding from the 345 Talent Project of Shengjing Hospital of China Medical University.
Ethics declarations
Conflict of interest
All authors have no relevant conflicts of interest to disclose.
Ethical approval
This research was approved by the Institutional Review Board of Shengjing Hospital of China Medical University.
Informed consent
Informed consent was not required for use of medical recording and image data as a retrospective study.
Consent for publication
Written informed consent for publication was obtained from all participants.
Availability of data and material
All data generated or analysed during this study were included in this published article.
Additional information
Publisher's Note
Springer Nature remains neutral with regard to jurisdictional claims in published maps and institutional affiliations.
Electronic supplementary material
Below is the link to the electronic supplementary material.
About this article
Cite this article
Jia, D., Gao, Y. Decreased size of the left anterior descending coronary artery is an independent predictor of deterioration in non-high-risk patients with acute pulmonary embolism. J Thromb Thrombolysis 51, 168–175 (2021). https://doi.org/10.1007/s11239-020-02136-1
Keywords
Pulmonary embolism

Pulmonary artery

Coronary artery

Computed tomography