Abstract
Right ventricular (RV) enlargement, determined via the ratio of the right to left ventricular diameters (RV/LV) by CT imaging is used to classify the severity of acute pulmonary embolism (PE) and impacts treatment decisions. The RV/LV ratio may be an unreliable marker of RV dysfunction, due in part to the complex RV geometry. This study compared the RV/LV ratio to a novel metric, the ratio of the right ventricular to aortic outflow tract diameters (RVOT/Ao) in patients with acute PE treated with catheter-directed therapies (CDT). RVOT/Ao and RV/LV ratios were measured on CT images from 103 patients who received CDT for acute submassive or massive PE and were compared to RV dysfunction severity determined by transthoracic echocardiography. Ratios and biomarkers on admission were assessed for correlation with invasively-measured hemodynamics [right atrial (RA) pressure, mean pulmonary artery (PA) pressure, cardiac output (CO)]. RVOT/Ao but not RV/LV ratios were increased in patients with moderate or severe RV dysfunction compared to those without RV dysfunction (p < 0.05). Neither ratio showed significant correlation with RA (r = 0.09 vs 0.055, p > 0.05), mean PA pressure (r = 0.167 vs 0.146, p > 0.05), or CO (r = 0.021 vs − 0.183, p > 0.05). proBNP correlated with mean PA pressure (r = 0.377, p < 0.05). The RVOT/Ao ratio may be better at assessing RV dysfunction than the RV/LV ratio in patients presenting with acute PE. Although currently accepted protocols rely on the RV/LV ratio in determining when CDT are of benefit, the RVOT/Ao ratio may be a more useful tool in identifying high risk patients.
This is a preview of subscription content, log in to check access.
Access options
Buy single article
Instant access to the full article PDF.
US$ 39.95
Price includes VAT for USA
Subscribe to journal
Immediate online access to all issues from 2019. Subscription will auto renew annually.
US$ 99
This is the net price. Taxes to be calculated in checkout.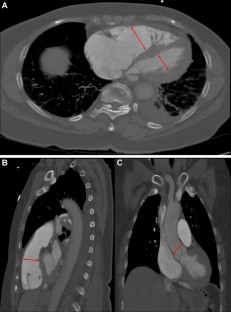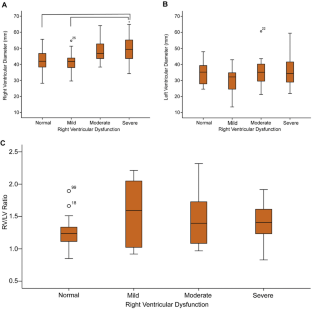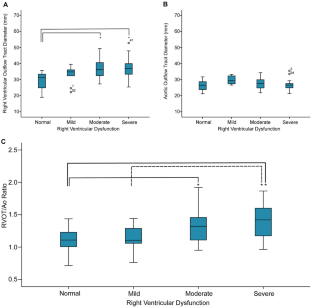 References
1.

Rendina D, De Bonis S, Gallotta G, Piedimonte V, Mossetti G, De Filippo G, Farina F, Vargas G, Barbella MR, Postiglione A, Strazzullo P (2010) Clinical, historical and diagnostic findings associated with right ventricular dysfunction in patients with central and non-massive pulmonary embolism. Intern Emerg Med 5(1):53–59. https://doi.org/10.1007/s11739-009-0330-8

2.

Miller RL, Das S, Anandarangam T, Leibowitz DW, Alderson PO, Thomashow B, Homma S (1998) Associationbetween right ventricular function and perfusion abnormalities in hemodynamically stable patients with acute pulmonary embolism. Chest 113(3):665–670. https://doi.org/10.1378/chest.113.3.665

3.

Burton GHSW, Vernon P (1984) Observations on the mechanism of hypoxaemia in acute minor pulmonary embolism. BMJ 289:276–279

4.

Aujesky D, Obrosky DS, Stone RA, Auble TE, Perrier A, Cornuz J, Roy PM, Fine MJ (2005) Derivation and validation of a prognostic model for pulmonary embolism. Am J Respir Crit Care Med 172(8):1041–1046. https://doi.org/10.1164/rccm.200506-862OC

5.

Jaff MR, McMurtry MS, Archer SL, Cushman M, Goldenberg N, Goldhaber SZ, Jenkins JS, Kline JA, Michaels AD, Thistlethwaite P, Vedantham S, White RJ, Zierler BK, American Heart Association Council on Cardiopulmonary CCP, Resuscitation, American Heart Association Council on Peripheral Vascular D, American Heart Association Council on, Arteriosclerosis T, Vascular B (2011) Management of massive and submassive pulmonary embolism, iliofemoral deep vein thrombosis, and chronic thromboembolic pulmonary hypertension: a scientific statement from the American Heart Association. Circulation 123(16):1788–1830. https://doi.org/10.1161/CIR.0b013e318214914f

6.

Pruszczyk P, Goliszek S, Lichodziejewska B, Kostrubiec M, Ciurzynski M, Kurnicka K, Dzikowska-Diduch O, Palczewski P, Wyzgal A (2014) Prognostic value of echocardiography in normotensive patients with acute pulmonary embolism. JACC Cardiovasc Imaging 7(6):553–560. https://doi.org/10.1016/j.jcmg.2013.11.004

7.

Bagla S, Smirniotopoulos JB, van Breda A, Sheridan MJ, Sterling KM (2015) Ultrasound-accelerated catheter-directed thrombolysis for acute submassive pulmonary embolism. J Vasc Interv Radiol 26(7):1001–1006. https://doi.org/10.1016/j.jvir.2014.12.017

8.

Moorjani N, Price S (2013) Massive pulmonary embolism. Cardiol Clin 31(4):503–518. https://doi.org/10.1016/j.ccl.2013.07.005

9.

Moores L, Zamarro C, Gomez V, Aujesky D, Garcia L, Nieto R, Yusen R, Jimenez D, Instituto Ramon y Cajal de Investigacion Sanitaria Pulmonary Embolism Study G (2013) Changes in PESI scores predict mortality in intermediate-risk patients with acute pulmonary embolism. Eur Respir J 41(2):354–359. https://doi.org/10.1183/09031936.00225011

10.

Jimenez D, Aujesky D, Moores L, Gomez V, Lobo JL, Uresandi F, Otero R, Monreal M, Muriel A, Yusen R (2010) Simplification of the pulmonary embolism severity index for prognostication in patients with acute symptomatic pulmonary embolism. Arch Intern Med 170(15):1383–1389

11.

Konstantinides SV, Torbicki A, Agnelli G, Danchin N, Fitzmaurice D, Galie N, Gibbs JS, Huisman MV, Humbert M, Kucher N, Lang I, Lankeit M, Lekakis J, Maack C, Mayer E, Meneveau N, Perrier A, Pruszczyk P, Rasmussen LH, Schindler TH, Svitil P, Vonk Noordegraaf A, Zamorano JL, Zompatori M, C (2014) Task force for the D, Management of Acute Pulmonary Embolism of the European Society of. Eur Heart J 35(43):3033–3069. https://doi.org/10.1093/eurheartj/ehu283

12.

Becattini C, Agnelli G, Lankeit M, Masotti L, Pruszczyk P, Casazza F, Vanni S, Nitti C, Kamphuisen P, Vedovati MC, De Natale MG, Konstantinides S (2016) Acute pulmonary embolism: mortality prediction by the 2014 European Society of Cardiology risk stratification model. Eur Respir J 48(3):780–786. https://doi.org/10.1183/13993003.00024-2016

13.

Shujaat A, Shapiro JM, Eden E (2013) Utilization of CT pulmonary angiography in suspected pulmonary embolism in a major urban emergency department. Pulm Med 2013:915213. https://doi.org/10.1155/2013/915213

14.

Meinel FG, Nance JW Jr, Schoepf UJ, Hoffmann VS, Thierfelder KM, Costello P, Goldhaber SZ, Bamberg F (2015) Predictive value of computed tomography in acute pulmonary embolism: systematic review and meta-analysis. Am J Med 128(7):747-759 e742. https://doi.org/10.1016/j.amjmed.2015.01.023

15.

Quinlan DJMA, Eikelboom JW (2004) Low-molecular-weight heparin compared with intravenous unfractionated heparin for treatment of pulmonary embolism. Ann Intern Med 140:175–183

16.

Kucher N, Boekstegers P, Muller OJ, Kupatt C, Beyer-Westendorf J, Heitzer T, Tebbe U, Horstkotte J, Muller R, Blessing E, Greif M, Lange P, Hoffmann RT, Werth S, Barmeyer A, Hartel D, Grunwald H, Empen K, Baumgartner I (2014) Randomized, controlled trial of ultrasound-assisted catheter-directed thrombolysis for acute intermediate-risk pulmonary embolism. Circulation 129(4):479–486. https://doi.org/10.1161/CIRCULATIONAHA.113.005544

17.

Piazza G, Hohlfelder B, Jaff MR, Ouriel K, Engelhardt TC, Sterling KM, Jones NJ, Gurley JC, Bhatheja R, Kennedy RJ, Goswami N, Natarajan K, Rundback J, Sadiq IR, Liu SK, Bhalla N, Raja ML, Weinstock BS, Cynamon J, Elmasri FF, Garcia MJ, Kumar M, Ayerdi J, Soukas P, Kuo W, Liu PY, Goldhaber SZ, Investigators SI (2015) A prospective, single-arm, multicenter trial of ultrasound-facilitated, catheter-directed, low-dose fibrinolysis for acute massive and submassive pulmonary embolism: the SEATTLE II study. JACC Cardiovasc Interv 8(10):1382–1392. https://doi.org/10.1016/j.jcin.2015.04.020

18.

Meyer G, Vicaut E, Danays T, Agnelli G, Becattini C, Beyer-Westendorf J, Bluhmki E, Bouvaist H, Brenner B, Couturaud F, Dellas C, Empen K, Franca A, Galie N, Geibel A, Goldhaber SZ, Jimenez D, Kozak M, Kupatt C, Kucher N, Lang IM, Lankeit M, Meneveau N, Pacouret G, Palazzini M, Petris A, Pruszczyk P, Rugolotto M, Salvi A, Schellong S, Sebbane M, Sobkowicz B, Stefanovic BS, Thiele H, Torbicki A, Verschuren F, Konstantinides SV, Investigators P (2014) Fibrinolysis for patients with intermediate-risk pulmonary embolism. N Engl J Med 370(15):1402–1411. https://doi.org/10.1056/NEJMoa1302097

19.

Kesselman A, Kuo WT (2017) Catheter-directed therapy for acute submassive pulmonary embolism: summary of current evidence and protocols. Tech Vasc Interv Radiol 20(3):193–196. https://doi.org/10.1053/j.tvir.2017.07.009

20.

Mertens LL, Friedberg MK (2010) Imaging the right ventricle-current state of the art. Nat Rev Cardiol 7(10):551–563. https://doi.org/10.1038/nrcardio.2010.118

21.

Valsangiacomo Buechel ER, Mertens LL (2012) Imaging the right heart: the use of integrated multimodality imaging. Eur Heart J 33(8):949–960. https://doi.org/10.1093/eurheartj/ehr490

22.

Orde MM, Puranik R, Morrow PL, Duflou J (2011) Myocardial pathology in pulmonary thromboembolism. Heart 97(20):1695–1699. https://doi.org/10.1136/hrt.2011.226209

23.

Cok G, Tasbakan MS, Ceylan N, Bayraktaroglu S, Duman S (2013) Can we use CT pulmonary angiography as an alternative to echocardiography in determining right ventricular dysfunction and its severity in patients with acute pulmonary thromboembolism? Jpn J Radiol 31(3):172–178. https://doi.org/10.1007/s11604-012-0164-6

24.

Contractor SMP, Sharma VK, Gor DM (2002) Role of helical CT in detecting right ventricular dysfunction secondary to acute pulmonary embolism. J Comput Assist Tomogr 26(4):587–591. https://doi.org/10.1097/01.RCT.0000024971.21592.09

25.

Lim K-E, Chan C-Y, Chu P-H, Hsu Y-Y, Hsu W-C (2005) Right ventricular dysfunction secondary to acute massive pulmonary embolism detected by helical computed tomography pulmonary angiography. Clin Imaging 29(1):16–21. https://doi.org/10.1016/j.clinimag.2004.04.023

26.

Cotugno M, Orgaz-Molina J, Rosa-Salazar V, Guirado-Torrecillas L, García-Pérez B (2017) Right ventricular dysfunction in acute pulmonary embolism: NT-proBNP vs. troponin T. Med Clín 148(8):339–344. https://doi.org/10.1016/j.medcle.2017.04.007

27.

Kaczynska A, Kostrubiec M, Ciurzynski M, Pruszczyk P (2008) B-type natriuretic peptide in acute pulmonary embolism. Clin Chim Acta 398(1–2):1–4. https://doi.org/10.1016/j.cca.2008.07.020
Acknowledgements
Alexandru Marginean had access to the full data and takes responsibility for the content of this manuscript, including the data and its analysis. AP, TH, AS, SAB, ML, JF, JB, AS, SN, JC, JP contributed substantially to the study design, data analysis and interpretation, and the writing of this manuscript.
Ethics declarations
Conflict of interest
The authors declare that they have no conflict of interest.
Ethical approval
All procedures performed were in accordance with the ethical standards of the institutional research committee (University of Chicago Biological Sciences Division Institutional Review Board) and with the 1964 Helsinki declaration and its later amendments or comparable ethical standards.
Additional information
Publisher's Note
Springer Nature remains neutral with regard to jurisdictional claims in published maps and institutional affiliations.
Electronic supplementary material
Below is the link to the electronic supplementary material.
Online Resource 3 Three-dimensional detail of right ventricular contraction Three-dimensional rendering of the right ventricle showcasing systole (green) and diastole (white mesh outline). The purple circle represents the tricuspid valve and the blue circle represents the pulmonary valve. Supplementary material 3 (MOV 692.2 kb)
About this article
Cite this article
Marginean, A., Putnam, A., Hirai, T. et al. Performance of the right ventricular outflow tract/aortic diameter as a novel predictor of risk in patients with acute pulmonary embolism. J Thromb Thrombolysis 50, 165–173 (2020). https://doi.org/10.1007/s11239-019-02021-6
Keywords
Pulmonary embolism

Computed tomography

Submassive

Massive

Risk