Abstract
Adult Onset Still's Disease (AOSD) is a systemic inflammatory disease of unknown aetiology. The usual manifestations of AOSD are spiking fevers, arthritis, and an evanescent salmon-pink rash, with neurological manifestations occasionally described. Stroke is a rare manifestation of AOSD and the exact mechanism for stroke in AOSD remains unknown, although it has been hypothesized to be secondary to thrombocytosis or vasculitis. We present a case where acute ischemic stroke secondary to a floating internal carotid artery thrombus was an early manifestation of AOSD. The patient also had prolonged high spiking fevers, significant leucocytosis, arthralgias and transaminitis. He responded well to a high dose of oral corticosteroids and was eventually started on anticoagulation for secondary stroke prevention. To our knowledge, this is the first described case of arterial thrombosis associated with AOSD. We postulate that thrombocytosis, vasculitis and hypercoagulability from the underlying inflammatory state may have contributed to the ischemic stroke.
This is a preview of subscription content, log in to check access.
Access options
Buy single article
Instant access to the full article PDF.
US$ 39.95
Tax calculation will be finalised during checkout.
Subscribe to journal
Immediate online access to all issues from 2019. Subscription will auto renew annually.
US$ 79
Tax calculation will be finalised during checkout.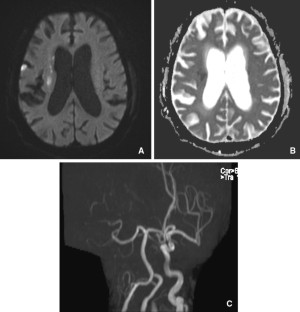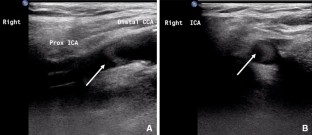 References
1.

Gerfaud-Valentin M, Jamilloux Y, Iwaz J, Sève P (2014) Adult-onset still's disease. Autoimmun Rev 13(7):708–722

2.

Liu Z, Lv X, Tang G (2015) Clinical features and prognosis of adult-onset still's disease: 75 cases from China. Int J Clin Exp Med. 8(9):16634–16639

3.

Ichiki H, Shishido M, Nishiyama S (1992) Two cases of adult onset of Still's disease in the elderly. Nihon Ronen Igakkai Zasshi 29(12):960–964

4.

Kurasawa M, Kotani K, Kurasawa G, Shida K, Yamada S, Tago T (2007) Adult-onset Still's disease in a patient over 80 years old successfully treated with low-dose methotrexate therapy. Age Ageing 36(1):104–106

5.

Giacomelli R, Ruscitti P, Shoenfeld Y (2018) A comprehensive review on adult onset Still's disease. J Autoimmun 93:24–36

6.

Yamaguchi M, Ohta A, Tsunematsu T et al (1992) Preliminary criteria for classification of adult Still's disease. J Rheumatol 19(3):424–430

7.

Desai SS, Allen E, Deodhar A (2002) Miller Fisher syndrome in adult onset Still's disease: case report and review of the literature of other neurological manifestations. Rheumatology 41(2):216–222

8.

Kadavath S, Efthimiou P (2015) Adult-onset Still's disease-pathogenesis, clinical manifestations, and new treatment options. Ann Med 47(1):6–14

9.

Choi JK, Seo YJ, Kim DY (2018) Adult-onset still's disease as the first manifestation of cerebral infarction: a case report. Brain Neurorehabil 11(2):e13

10.

Islam MMSU, Sarker MN, Hossain MI, Hossain MI, Kamruzzaman M (2016) Adult onset still's disease. Faridpur Med Coll J 11(2):86–89

11.

Yanai H, Furutani N, Yoshida H, Tada N (2009) Myositis, vasculitis, hepatic dysfunction in adult-onset still's disease. Case Rep Med 2009:504897

12.

Salamon L, Salamon T, Morovic-Vergles J (2009) Thrombotic microangiopathy in adult-onset still's disease: case report and review of the literature. Wien Klin Wochenschr 121(17–18):583–588

13.

Efthimiou P, Kadavath S, Mehta B (2014) Life-threatening complications of adult-onset Still's disease. Clin Rheumatol 33(3):305–314

14.

Calborean V, Gheorman V, Constantin C, Istrătoaie O (2018) Venous thromboembolism secondary to adult-onset still's disease: a case report. J Cardiovasc Emerg 4(2):101–105

15.

Morita H, Nishiwaki H, Nagayama Y, Yoshimura A (2009) Portal vein thrombosis in adult-onset Still's disease: a case report and literature review. Rheumatol Int 29(12):1515–1518

16.

Gallistl S, Mangge H, Neuwirth G, Muntean W (1998) Activation of the haemostatic system in children with juvenile rheumatoid arthritis correlates with disease activity. Thromb Res 92(6):267–272

17.

Merashli M, Jawad A, Ames PR (2015) Venous thromboembolism as initial manifestation of adult onset Still's disease. Scand J Rheumatol 44(4):340–341
Ethics declarations
Conflict of interest
The authors have no relevant affiliations or financial involvement with any organization or entity with a financial interest in or financial conflict with the subject matter or materials discussed in the manuscript. This includes employment, consultancies, honoraria, stock ownership or options, expert testimony, grants or patents received or pending, or royalties.
Additional information
Publisher's Note
Springer Nature remains neutral with regard to jurisdictional claims in published maps and institutional affiliations.
Electronic supplementary material
Below is the link to the electronic supplementary material.
Supplementary material 1 (MOV 3116 kb)
Extracranial doppler findings showing mobile right internal carotid artery thrombus
Supplementary material 2 (MOV 11720 kb)
About this article
Cite this article
Goh, Y., Wong, V.Y., Tan, W.L. et al. An unusual cause of acute ischemic stroke: Adult Onset Still's Disease. J Thromb Thrombolysis 49, 141–144 (2020). https://doi.org/10.1007/s11239-019-02006-5
Keywords
Adult Onset Still's Disease

Stroke

Arterial thrombosis

Hypercoagulability