Abstract
Chalcone derivatives (7a–k) have been synthesized and characterized by 1H-NMR, 13C-NMR, mass, and elemental analysis. The synthesized compounds 7a, 7d, and 7g have been examined and it is confirmed that the most promising cytotoxicity and also cell morphology analysis exhibited good apoptotic activity against lung cancer A549 cell. The free energy binding of compound 7d exhibits − 8.96 kcal/mol with five hydrogen bonding Asn1254, Arg1253, Asp1249, and Gly1123 amino acids of ALK receptors. The LUMO of the electron density present in α, β-double bond and influence the anticancer activity. The Mulliken atomic charges and MEPs are scrutinizing the ligand interaction with the amino acid binding of ALK receptors. UV-visible and photoluminescence spectra showed that the properties of chalcone derivatives have a significant effect on the visible absorption and emission maxima (531–535 nm) red shift in the emission spectra which also systematically investigated electrochemical in various solvents with increasing solvent polarity.
Access options
Buy single article
Instant access to the full article PDF.
US$ 39.95
Tax calculation will be finalised during checkout.
Subscribe to journal
Immediate online access to all issues from 2019. Subscription will auto renew annually.
US$ 79
Tax calculation will be finalised during checkout.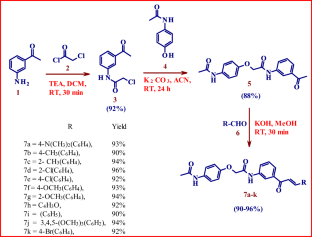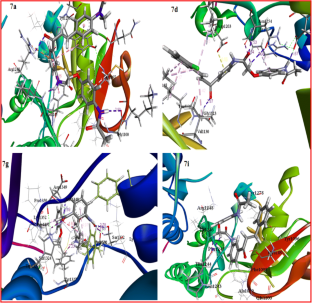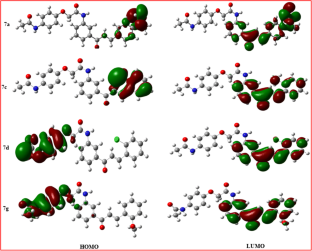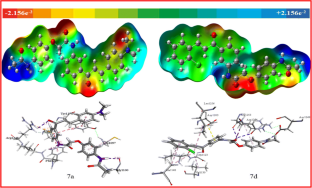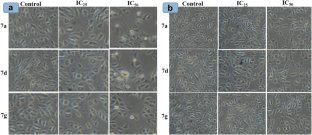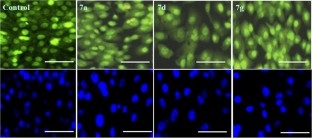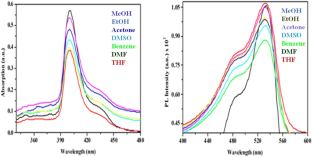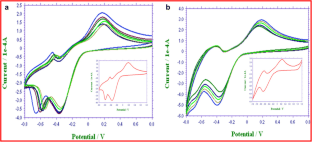 Data availability
All data are included in this published article [supplementary information].
References
1.

Yoon DW, Shin DW, Ho Cho J, Yang JH, Jeong SM, Han K, Park SH (2019). Lung Cancer 136:115–121

2.

Siegel RL, Miller KD, Jemal A (2016). CA Cancer J Clin 66:7–30

3.

Kwak EL, Bang YJ, Camid DR (2010). N Engl J Med 363:1693–1703

4.

Zhao X, Feng Z, Wang G, Pang H, Wang M (2018). Clin Lung Cancer 19:945–956

5.

Mosse YP, Balis FM, Lim MS (2012). Am Soc Clin Oncolo 15:131–161

6.

Kinoshita K, Asoh K, Furuichi N, Ito T, Sousuke Hara HK, Ohwada J, Miyagi T, Kobayashi T, Takanashi K, Tsukaguchi T, Sakamoto H, Tsukuda T, Oikawa N (2012). Bioorg Med Chem 20:1271–1280

7.

Rikova K, Guo A, Zeng Q (2007). Cel 131:1190–1203

8.

Kang CH, Lee DH, Lee CO, Ha JD, Park CH, Hwang JY (2018). Biochem Biophys Res Commun 505:542–547

9.

Camidge DR, Doebele RC (2012). Nat Rev Clin Oncol 9:268–277

10.

Blackhall FH, Peters S, Kerr KM (2012). Ann Oncol 23:73–94

11.

Bray F, Ren JS, Masuyer E, Ferlay J (2013). Int J Cancer 132:1133–1145

12.

Kwak EL, Bang YJ, Camidge DR, Shaw AT (2010). N Engl J Med 363:1693–1703

13.

Wang WC, Shiao HY, Lee CC, Shu Fung K, Hsieh HP (2014). Med Chem Commun 5:1266–1279

14.

Ou SH, Kwak EL, Tapp CS (2011). J Thorac Oncol 6:942–946

15.

Bergethon K, Shaw AT, Ou SH (2012). J Clin Oncol 30:863–870

16.

Cui JJ, Dube MT, Shen H, Nambu M, Kung P, Pairish M, Jia L, Meng J, Funk L, Botrous I, McTigue M, Grodsky N, Ryan K, Padrique E, Alton G, Timofeevski S, Yamazaki S, Li Q, Zou H, Christensen J, Mroczkowski B, Bender S, Kania S, Edwards MP (2011). J Med Chem 54:42–63

17.

Nielsen SF, Christensen SB, Cruciani G, Kharazmi A, Liljefors T (1998). J Med Chem 41:4819–4832

18.

Prakash G, Boopathy M, Selvam R, Kumar SJ, Subramanian K (2018). New J Chem 42:1037–1045

19.

Lopez SN, Castelli MV, Zacchino SA, Dominguez JN, Lobo G, Jaime CC, Cortes CGJ, Ribas JC, Devia C, Ana MR, Ricardo DE (2001). Bioorg Med Chem 9:1999–2013

20.

Li R, Kenyon GL, Cohen FE, Chen X, Gong B, Dominguez JN, Davidson E, Kurzban G, Millar RE, Nuzum EO, Rosenthal PJ, Mckerrow JH (1995). J Med Chem 38:5031–5037

21.

Liu M, Wilairat P, Go ML (2001). J Med Chem 44:4443–4452

22.

Ko HH, Tsao LT, Yu KL, Liu CT, Wang JP, Lin CN (2003). Bioorg Med Chem 11:105–111

23.

Matsuda H, Morikawa T, Ando S, Iwao T, Masayuki Y (2003). Bioorg Med Chem 11:1995–2000

24.

Herencia F, Ferrandiz ML, Ubeda A, Dominguez JN, Charris JE, Lobo GM, Alcaraz M (1998). J Bioorg Med Chem Lett 8:1169–1174

25.

Dias TA, Duarte CL, Lima CF, Proenca MF, Wilson CP (2013). Eur J Med Chem 65:500

26.

Wang Y, Xue S, Li R, Zheng Z, Yi H, Li Z (2018). Bioorg Med Chem 26:8–16

27.

Abonia R, Insuasty D, Castillo J, Insuasty B, Quiroga J, Nogueras M, Cobo J (2012). Eur J Med Chem 57:29–40

28.

Aziz MA, Park SE, Rahma DA, Gemmal EAR, Sayed MA, Kwon Y (2013). Eur J Med Chem 69:427–438

29.

Kim SY, Lee IS, Moon A (2013). Chem Biol Interact 203:565–572

30.

Murthy YLN, Suhasini KP, Pathania AS, Bhushan S, Sastry YN (2013). Eur J Med Chem 62:545–555

31.

Zhou XW, Ma HL, Zhang X, Jing SY, Miao JY, Zhao BX (2014). Eur J Med Chem 79:95–101

32.

Smith NM, Soh P, Asokananthan N, Norret M, Stewart GA, Raston CL (2009). New J Chem 33:1869–1873

33.

Janet Sabina X, Karthikeyan J, Velmurugan G, Muthu Tamizh M, Nityananda Shettyd A (2017). New J Chem 41:4096–4109

34.

Coskun D, Erkisa M, Ulukaya E, Coskun MF, Ari F (2017). Eur J Med Chem 136:212–222

35.

Sujin P, Kim EH, Jinwoo K, Kim SH, Ikyon K (2018). Eur J Med Chem 144:435–443

36.

Adileh A, Rezvan E, Setareh M, Bakhshaiesh TO, Zahra ES, Keivan MA, Maliheh S, Saeed E, Alireza F (2018). Eur J Med Chem 155:483–491

37.

Lakshmanan S, Govindaraj D, Ramalakshmi N, Arul Antony S (2017). J Mol Struct 1150:88–95

38.

Lakshmanan S, Ramalakshmi N (2016). Synth Commun 46:2045–2052

39.

Zhao K, Wang H, Sun H, Tian W, Yang S, Liu J, Peng J, Wang M (2017). New J Chem 41:14610–14617

40.

Arias AC, MacKenzie JD, McCulloch I, Rivnay J, Salleo A (2010). Chem Rev 110:3–24

41.

Sun Y, Chen H, Caoa D, Liu Z, Chen H, Deng Y, Fang Q (2012). J Photochem Photobio A: Chem 244:65–70

42.

Ghate NB, Hazra B, Sarkar R, Mandal N (2014). Cytotechnology 66:209–218

43.

Lee YR, Yu DS, Liang YC, Huang KF, Chou SJ, Chen TC, Lee CC, Chen LC, Chiou SH, Huang HS, In vitro cytotoxicity assay

44.

Denizot F, Lang R (1986). J Immunol Methods 89:271–277

45.

Chen CL, Chang DM, Chen TC, Lee CC, Hsieh HH (2013). Eur J Med Chem 60:29–41

46.

Morris GM, Huey R, Lindstrom W, Sanner MF, Belew RK, Goodsell DS, Olson AJ (2009). J Comput Chem 16:2785–2791

47.

Frisch MJ, Trucks GW, Schlegel HB, Scuseria GE, Robb MA, Cheeseman JR, Scalmani G, Barone V, Mennucci B, Petersson GA, Nakatsuji H, Caricato M, Li X, Hratchian HP, Izmaylov AF, Bloino J, Zheng G, Sonnenberg JL, Hada M, Ehara M, Toyota K, Fukuda R, Hasegawa J, Ishida M, Nakajima T, Honda Y, Kitao O, Nakai H, Vreven T, Montgomery Jr JA, Peralta JE, Ogliaro F, Bearpark M, Heyd JJ, Brothers E, Kudin KN, Staroverov VN, Keith T, Kobayashi R, Normand J, Raghavachari K, Rendell A, Burant JC, Iyengar SS, Tomasi J, Cossi M, Rega N, Millam JM, Klene M, Knox JE, Cross JB, Bakken V, Adamo C, Jaramillo J, Gomperts R, Stratmann RE, Yazyev O, Austin AJ, Cammi R, Pomelli C, Ochterski JW, Martin RL, Morokuma K, Zakrzewski VG, Voth GA, Salvador P, Dannenberg JJ, Dapprich S, Daniels AD, Farkas O, Foresman JB, Ortiz JV, Cioslowski J, Fox DJ (2010) Gaussian 09. Revision B.01. Gaussian, Inc, Wallingford

48.

Keith T, Millam J (2009) Gauss view 5. Semichem Inc Shawnee Mission KS

49.

Sebastian SHR, Alshaikh MAA, Emam AAE, Panicker CY, Zitko J, Dolezal M, Alsenoy CV (2016). J Mol Struct 1119:188–199

50.

Ali A, Asif M, Alam P, Alam MJ, Sherwani MA, Khan RH, Ahmad S (2017) Shamsuzzaman. Bioorg Chem 73:83–99

51.

Bavadi M, Niknam K, Shahraki O (2017). J Mole Struc 1146:242–253

52.

Parr RJ, Szentpaly LV, Liu S (1999). J Am Chem Soc 121:1922–1924

53.

Hosomi A, Fujita M, Tomioka A, Kaji H, Suzuki T (2016). Biochem J 19:3001–3012

54.

Katsori AM, Litina DH (2009). Curr Med Chem 16:1062–1081

55.

Batovski DI, Parushev SP (2010). Int J Curr Chem 1:217–236

56.

Boumendjel A, Boccard J, Carrupt PA, Nicolle E, Blanc M, Geze A, Choisnard L, Wouessidjewe D, Matera EL, Dumontet C (2008). J Med Chem 51:2307–2310

57.

Chang Y, Li Y, Ye N, Guo X, Li Z, Sun G, Sun Y (2016). Apoptosis 21:977

58.

Anandkumar D, Ganesan S, Rajakumar P, Maruthamuthu P (2017). New J Chem 41:11238–11249

59.

Bodapati JB, Icil H (2011). Photochem Photobiol Sci 10:1283–1293

60.

Amiralaei S, Uzun D, Icil H (2008). Photochem Photobiol Sci 7:936–947

61.

Mostafanejad SM, Bodapati JB, Ozkar S, Icil H, (2018). Optic Mate 82: 30–38
Ethics declarations
Conflict of interest
The authors declare that they have no conflict of interest.
Consent to participate
Not applicable.
Consent for publication
Not applicable.
Additional information
Publisher's note
Springer Nature remains neutral with regard to jurisdictional claims in published maps and institutional affiliations.
Supplementary Information
About this article
Cite this article
Lakshmanan, S., Govindaraj, D., Mahalakshmi, K. et al. Synthesis, characterization, and anti-cancer activity of chalcone derivatives as-potent anaplastic lymphoma kinase inhibitors. Struct Chem (2021). https://doi.org/10.1007/s11224-020-01707-5
Received:

Accepted:

Published:
Keywords
Photochemical

Electrochemical

Chalcone

Molecular docking

DFT

Anticancer activity

Apoptosis