Abstract
In clinical field, wide assortments of utilizations can be managed utilizing image handling. Recognition and screening of retinal sicknesses was one such application in picture preparing. Diabetic retinopathy is an inconvenience of diabetes. The ailment influences veins inside the retina. The retina is a region lying at the rear of the eyeball. In the most punctual phase of the infection, the little veins, or vessels, gotten slenderer, more fragile and inevitably they spill blood. A patient's sight at this stage is still acceptable yet an ophthalmologist can identify and see the irregularities in the retina. As the sickness advances, some veins are obstructed. These trigger the retina to develop fresh blood vessels, which are unusual, delicate, and effectively drain. In the later phase of the ailment, fresh blood vessels are developed ceaselessly just as scar tissue. Eventually, retina will be isolates from an eye. Another strategy for removing the retinal veins from the shading fundus retinal picture dependent on include grouping was proposed in this undertaking, to decrease the ophthalmologists' time and vitality for checking the retinal pictures. The veins are separated from the shading fundus picture by applying the preprocessing strategies and division procedures utilizing coordinated channel and adjusted nearby entropy thresholding activity. The preprocessed picture was then utilized for highlight extraction and these highlights were utilized for order reason. At long last, arrangement procedure was utilized for diagnosing the proliferative diabetic retinopathy.
Access options
Buy single article
Instant access to the full article PDF.
US$ 39.95
Tax calculation will be finalised during checkout.
Subscribe to journal
Immediate online access to all issues from 2019. Subscription will auto renew annually.
US$ 79
Tax calculation will be finalised during checkout.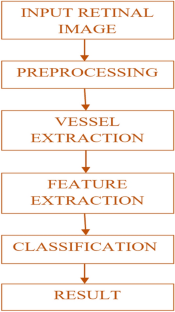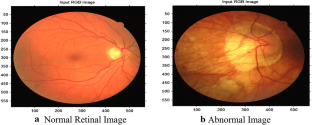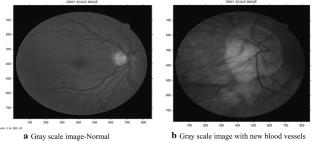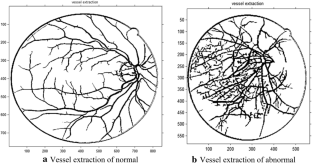 References
1.

Arevalo, J. F., Lasave, A. F., Wu, L., Maia, M., Diaz-Llopis, M., Alezzandrini, A. A., & Brito, M. (2017). Intravitrealbevacizumab for proliferative diabetic retinopathy. Retina, 37(2), 334–343.

2.

Bhaskaran, P. E., Chennippan, M., & Subramaniam, T. (2020). Future prediction & estimation of faults occurrences in oil pipelines by using data clustering with time series forecasting. Journal of Loss Prevention in the Process Industries, 66, 104203.

3.

Bhaskaran, P. E., Maheswari, C., Thangavel, S., Ponnibala, M., Kalavathidevi, T., & Sivakumar, N. S. (2021). IoT Based monitoring and control of fluid transportation using machine learning. Computers & Electrical Engineering, 89, 106899.

4.

Bressler, S. B., Beaulieu, W. T., Glassman, A. R., Gross, J. G., Jampol, L. M., Melia, M., et al. (2017). Factors associated with worsening proliferative diabetic retinopathy in eyes treated with panretinal photocoagulation or ranibizumab. Ophthalmology, 124(4), 431–439.

5.

Gross, J. G., Glassman, A. R., Liu, D., Sun, J. K., Antoszyk, A. N., Baker, C. W., et al. (2018). Five-year outcomes of panretinal photocoagulation vs intravitreousranibizumab for proliferative diabetic retinopathy: A randomized clinical trial. JAMA ophthalmology, 136(10), 1138–1148.

6.

Loukovaara, S., Piippo, N., Kinnunen, K., Hytti, M., Kaarniranta, K., & Kauppinen, A. (2017). NLRP3 inflammasome activation is associated with proliferative diabetic retinopathy. ActaOphthalmologica, 95(8), 803–808.

7.

Maheswari, C., Priyanka, E. B., Thangavel, S., Vignesh, S. R., & Poongodi, C. (2020). Multiple regression analysis for the prediction of extraction efficiency in mining industry with industrial IoT. Production Engineering, 14(4), 457–471.

8.

Obeid, A., Su, D., Patel, S. N., Uhr, J. H., Borkar, D., Gao, X., et al. (2019). Outcomes of eyes lost to follow-up with proliferative diabetic retinopathy that received panretinal photocoagulation versus intravitreal anti-vascular endothelial growth factor. Ophthalmology, 126(3), 407–413.

9.

Park, J. C., Chen, Y. F., Blair, N. P., Chau, F. Y., Lim, J. I., Leiderman, Y. I., et al. (2017). Pupillary responses in non-proliferative diabetic retinopathy. Scientific Reports, 7, 44987.

10.

Pratheep, V. G., Priyanka, E. B., & Prasad, P. H. (2019). Characterization and analysis of natural fibre-rice husk with wood plastic composites. In IOP conference series: materials science and engineering (Vol. 561, No. 1, p. 012066). IOP Publishing.

11.

Priyanka, E. B., Maheswari, C., & Meenakshipriya, B. (2016). Parameter monitoring and control during petrol transportation using PLC based PID controller. Journal of Applied Research and Technology, 14(2), 125–131.

12.

Priyanka, E. B., Maheswari, C., & Thangavel, S. (2018). Proactive decision making based IoT framework for an oil pipeline transportation system. In International conference on computer networks, big data and IoT (pp. 108–119). Cham: Springer.

13.

Priyanka, E. B., Maheswari, C., & Thangavel, S. (2019). Remote monitoring and control of LQR-PI controller parameters for an oil pipeline transport system. Proceedings of the Institution of Mechanical Engineers, Part I: Journal of Systems and Control Engineering, 233(6), 597–608.

14.

Priyanka, E. B., & Thangavel, S. (2020). Influence of internet of things (IoT) in association of data mining towards the development smart cities-a review analysis. Journal of Engineering Science & Technology Review, 13(4), 1–21.

15.

Priyanka, E. B., Thangavel, S., & Gao, X. Z. (2020). Review analysis on cloud computing based smart grid technology in the oil pipeline sensor network system. Petroleum Research.

16.

Priyanka, E. B., Maheswari, C., Thangavel, S., & Bala, M. P. (2020). Integrating IoT with LQR-PID controller for online surveillance and control of flow and pressure in fluid transportation system. Journal of Industrial Information Integration, 17, 100127.

17.

Priyanka, E. B., Thangavel, S., & Pratheep, V. G. (2020). Enhanced digital synthesized phase locked loop with high frequency compensation and clock generation. Sensing and Imaging, 21(1), 1–12.

18.

Sivaprasad, S., Prevost, A. T., Vasconcelos, J. C., Riddell, A., Murphy, C., Kelly, J., et al. (2017). Clinical efficacy of intravitrealaflibercept versus panretinal photocoagulation for best corrected visual acuity in patients with proliferative diabetic retinopathy at 52 weeks (CLARITY): A multicentre, single-blinded, randomised, controlled, phase 2b, non-inferiority trial. The Lancet, 389(10085), 2193–2203.

19.

Solomon, S. D., Chew, E., Duh, E. J., Sobrin, L., Sun, J. K., VanderBeek, B. L., et al. (2017). Diabetic retinopathy: A position statement by the American Diabetes Association. Diabetes Care, 40(3), 412–418.

20.

Sun, J. K., Glassman, A. R., Beaulieu, W. T., Stockdale, C. R., Bressler, N. M., Flaxel, C., et al. (2019). Rationale and application of the Protocol S anti-vascular endothelial growth factor algorithm for proliferative diabetic retinopathy. Ophthalmology, 126(1), 87–95.

21.

Wykoff, C. C., Eichenbaum, D. A., Roth, D. B., Hill, L., Fung, A. E., & Haskova, Z. (2018). Ranibizumab induces regression of diabetic retinopathy in most patients at high risk of progression to proliferative diabetic retinopathy. Ophthalmology Retina, 2(10), 997–1009.

22.

Xie, J., Ikram, M. K., Cotch, M. F., Klein, B., Varma, R., Shaw, J. E., et al. (2017). Association of diabetic macular edema and proliferative diabetic retinopathy with cardiovascular disease: a systematic review and meta-analysis. JAMA Ophthalmology, 135(6), 586–593.
Additional information
Publisher's Note
Springer Nature remains neutral with regard to jurisdictional claims in published maps and institutional affiliations.
About this article
Cite this article
Ponnibala, M., Priyanka, E.B. & Thangavel, S. Proliferative Diabetic Retinopathy Diagnostic Investigation Using Retinal Blood Vessels Mining Technique. Sens Imaging 22, 10 (2021). https://doi.org/10.1007/s11220-021-00331-9
Received:

Revised:

Accepted:

Published:
Keywords
Proliferative diabetic retinopathy

Image processing

Health informatics