Abstract
This paper reports mainland Chinese students' self-appraisals about their psychological dispositions whilst at school. Increasing interest has turned to factors such as resilience, wellbeing, flourishing, happiness and satisfaction, which in turn are predicted to be associated with factors such as emotional stability, achieving personal goals, social fulfilment and quality of life. Such psychological dispositions are developed in conjunction with the influences of social systems such as schools. Although a number of researchers have collaborated with schools to investigate students' dispositions in English speaking countries, similar research in mainland China is in its infancy. This is particularly the case for studies that seek students' own perspectives. We administered a questionnaire about resilience, flourishing, wellbeing, self-concept, school satisfaction, mental health, and happiness at school to 2756 students in Years 5–9 in mainland China. As expected with a non-clinical population, most students reported positively across the various scales. However, dividing the sample into subgroups enabled the creation of stratified visual profiles that showed significant differences between students with different backgrounds, such as gender, age, and mental health. This study illustrates the importance of subgroup analyses to identify potential areas of concern for different types of students, which in turn may inform differentiated school-based intervention programs to support students to flourish.
Access options
Buy single article
Instant access to the full article PDF.
US$ 39.95
Tax calculation will be finalised during checkout.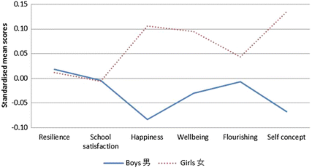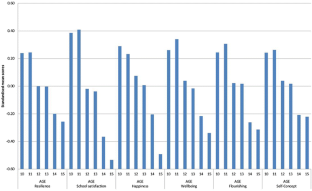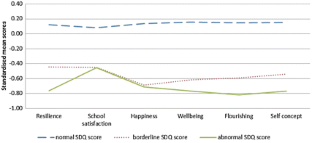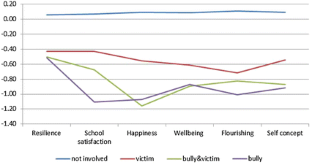 References
ACER. (2015). School Life Questionnaire. Retrieved Dec 28, 2015, from https://www.acer.edu.au/slq.

AIFS. (2009). Growing up in Australia: The Longitudinal Study of Australian Children. Key research questions. Retrieved Jan 4th, 2015, from http://www.growingupinaustralia.gov.au/pubs/reports/krq2009/keyresearchquestions.html.

Andrews, F. M., & Withey, S. B. (1976). Social indicators of well-being. New York: Plenum. doi:10.1007/978-1-4684-2253-5.

Askell-Williams, H., & Lawson, M. (2015). Relationships between students' mental health and their perspectives of life at school. Health Education (Special Edition), 115(3/4), 249–268.

Ben-Arieh, A. (2006). Measuring and monitoring the well-being of young children around the world: Paper commissioned for the Education for All Global Monitoring Report 2007.

Beyondblue. (2015). KidsMatter. Retrieved March 19, 2016, from http://www.beyondblue.org.au/resources/schools-and-universities/early-childhood-and-primary-schools/kidsmatter-primary.

Cefai, C., & Cooper, P. (2011). Nurture groups in Maltese schools: Promoting inclusive education. British Journal of Special Education, 38, 65–72. doi:10.1111/j.1467-8578.2011.00500.x.

Chen, Z., & Davey, G. (2008). Happiness and subjective wellbeing in mainland China. Journal of Happiness Studies, 9(4), 589–600. doi:10.1007/s10902-008-9092-7.

Connor, K. M., & Davidson, R. T. (2003). Development of a new resilience scale: The Connor–Davidson Resilience Scale (CD-RISC). Depression and Anxiety, 18, 76–82. doi:10.1002/da.10113.

Cooper, P., & McIntyre, D. (1996). Effective teaching and learning: Teachers' and students' perspectives. Buckingham: Open University Press.

Diener, E., Oishi, S., & Ryan, K. L. (2013). Universals and cultural differences in the causes and structure of happiness: A multilevel review. In L. M. C. Keyes (Ed.), Mental well-being: International contributions to the study of positive mental health (pp. 153–176). Dordrecht: Springer. doi:10.1007/978-94-007-5195-8_8.

Diener, E., Wirtz, D., Biswas-Diener, R., Tov, W., Kim-Prieto, C., Choi, D., et al. (2009). New measures of well-being. Social Indicators Research, 39, 247–266. doi:10.1007/978-90-481-2354-4_12.

Diener, E., Wirtz, D., Tov, W., Kim-Prieto, C., Choi, D., Oishi, S., et al. (2010). New well-being measures: Short scales to assess flourishing and positive and negative feelings. Social Indicators Research, 97, 143–156. doi:10.1007/s11205-009-9493-y.

Fattore, T., Mason, J., & Watson, E. (2009). When children are asked about their well-being: Towards a framework for guiding policy. Child Indicators Research, 2, 57–77. doi:10.1007/s12187-008-9025-3.

Field, A. (2006). Discovering statistics using SPSS (3rd ed.). London: Sage.

Gilman, R., & Huebner, S. (2003). A review of life satisfaction research with children and adolescents. School Psychology Quarterly, 18(2), 192–205. doi:10.1521/scpq.18.2.192.21858.

Goodman, R. (2005). Strengths and Difficulties Questionnaire (Chinese version). Retrieved Oct 15, 2015, from http://www.sdqinfo.com/py/sdqinfo/b3.py?language=Chinese.

Hancock, G. R., & Mueller, R. O. (2001). Rethinking construct reliability within latent variable systems. In R. Cudeck, S. D. Toit, & D. Soerbom (Eds.), Structural equation modeling: Present and future-A festschrift in honor of Karl Jöreskog (pp. 195–216). Lincolnwood, IL: Scientific Software International.

Helliwell, J. F., Huang, H., & Wang, S. (2015). The geography of world happiness. In J. F. Helliwell, R. Layard, & J. Sachs (Eds.), World happiness report. New York: Sustainable Development Solutions Network.

Kirk, R. E. (1996). Practical significance: A concept whose time has come. Educational and Psychological Measurement, 56(5), 746–759. doi:10.1177/0013164496056005002.

Lanskey, C., & Rudduck, J. (2010). Leadership and student voice. In P. Peterson, E. Baker, & B. McGaw (Eds.), International encyclopedia of education (pp. 803–808). Amsterdam: Elsevier. doi:10.1016/B978-0-08-044894-7.00458-9.

Liddle, I., & Carter, G. F. A. (2010). Emotional and psychological wellbeing in children: The standardisation of the Stirling Children's Wellbeing Scale. Scotland: Stirling Council Educational Psychology Service.

Liddle, I., & Carter, G. F. A. (2015). Emotional and psychological well-being in children: The development and validation of the Stirling Children's Well-being Scale. Educational Psychology in Practice, 31(2), 174–185. doi:10.1080/02667363.2015.1008409.

Marsh, H. W. (1990a). A multidimensional, hierarchical model of self-concept: Theoretical and empirical justification. Educational Psychology Review, 2(2), 77–172. doi:10.1007/BF01322177.

Marsh, H. W. (1990b). SDQ manual: Self-Description Questionnaire. Macarthur: University of Western Sydney, Australia.

Muthén, L. K., & Muthén, B. O. (2007). Mplus user's guide (5th ed.). Los Angeles, CA: Muthén and Muthén.

National Bureau of Statistics of China. (2015). Population and structure [2-1 人口数及构成]. Retrieved 20 May 2016, from http://www.stats.gov.cn/tjsj/ndsj/2015/indexch.htm.

NCVER. (2016). The Longitudinal Surveys of Australian Youth. Retrieved Jan 19, 2017, from http://www.lsay.edu.au/index.html.

Rigby, K., & Slee, P. T. (1991). Bullying among Australian school children: Reported behaviour and attitudes to victims. Journal of Social Psychology, 131(5), 615–627. doi:10.1080/00224545.1991.9924646.

Roeser, R. W., Eccles, J. S., & Strobel, K. R. (1998). Linking the study of schooling and mental health. Educational Psychologist, 33(4), 153–176. doi:10.1207/s15326985ep3304_2.

Rudduck, J., Day, J., & Wallace, G. (1997). Students' perspectives on school improvement. In A. Hargreaves (Ed.), Rethinking educational change with heart and mind (pp. 73–91). Alexandria, VA: ASCD.

Rudduck, J., & Flutter, J. (2000). Pupil participation and pupil perspective: 'Carving a new order of experience'. Cambridge Journal of Education, 30(1), 75–85. doi:10.1080/03057640050005780.

Seligman, M. E. P., & Csikszentimihalyi, M. (2000). Positive psychology: An introduction. American Psychologist, 55, 5–14. doi:10.1037/0003-066X.55.1.5.

Shute, R. H., & Slee, P. T. (2015). Child development: Theories and critical perspectives (2nd ed.). New York: Routledge.

Skrzypiec, G., Askell-Williams, H., Slee, P. T., & Rudzinski, A. (2014). IB middle years programme (MYP): Student social-emotional well-being and school success practices. Adelaide: Centre for Student Well-being and Prevention of Violence, Flinders University.

Skrzypiec, G., Slee, P. T., Askell-Williams, H., & Lawson, M. J. (2012). Associations between types of involvement in bullying, friendships and mental health status. Emotional and Behavioural Difficulties, 17(3–4), 259–272. doi:10.1080/13632752.2012.704312.

Slee, P. T., Murray-Harvey, R., Dix, K. L., Skrzypiec, G., Askell-Williams, H., Lawson, M. J., et al. (2012). KidsMatter early childhood evaluation. Hawthorn, Victoria: Beyondblue. doi:10.1007/s13158-012-0070-1.

Slee, P. T., Murray-Harvey, R., & Wotherspoon, A. (2008). Coping with bullying (DVD and booklet). Adelaide, SA: Flinders University.

Slee, P. T., & Rigby, K. (1993). Australian school children's self-appraisal of interpersonal relations: The bullying experience. Child Psychiatry and Human Development, 23(4), 272–283. doi:10.1007/BF00707680.

Sun, J., Dunne, M. P., & Hou, X.-Y. (2012). Academic stress among adolescents in China. Australasian Epidemiologist, 19(1), 9–12.

Weare, K., & Gray, G. (2003). What works in developing children's emotional and social competence and wellbeing? (RR456). Nottingham: DfES Publications.

Wei, K. (2014). Copying the long Chinese school day could have unintended consequences. The Conversation. Retrieved March 16, 2016, from http://theconversation.com/copying-the-long-chinese-school-day-could-have-unintended-consequences-23398.

WHO. (2014). Mental health: strengthening our response: Fact sheet N°220. Retrieved March 19, 2016, from http://www.who.int/mediacentre/factsheets/fs220/en/index.html.

WHO and Health and Welfare Canada. (1986). Ottawa Charter for Health Promotion. Ottawa: World Health Organisation.

Youth-in-Mind. (2013). Scoring the SDQ. Retrieved March 3, 2017, from http://www.sdqinfo.org/py/sdqinfo/c0.py.

Zeng, H., & Guo, S. P. (2012). "Le": The Chinese subject wellbeing and the view of happiness in China traditional culture. ["乐"—中国人的主观幸福感与传统文化中的幸福观.]. Acta Psychologica Sinica, 44(7), 986–994. doi:10.3724/SP.J.1041.2012.00986.
Appendix
Appendix
Confirmatory factor analyses and reliabilities of scales
Scale
Sample size
Sample clusters
No. of items
Chi-square
DF
p value
CFI
TLI
RMSEA
90% CI
Prob. RMSEA ≤ 0.05
SRMR
Co-efficient H
Items re-tained
Items deleted
Resilience
2189
91
25
1460.599
266
0.000
0.942
0.935
0.045
0.043–0.048
1
0.035
0.898
22
3 (3; 18; 20)
Flourishing
2200
91
8
98.929
19
0.000
0.988
0.982
0.044
0.035–0.052
0.879
0.019
0.918
8
 
Self concept
2200
91
11
213.535
36
0.000
0.983
0.974
0.047
0.041–0.054
0.751
0.032
0.889
11
 
School satisfaction
2200
91
12
199.671
38
0.000
0.986
0.980
0.044
0.038–0.050
0.948
0.020
0.935
11
1 (12)
Children's wellbeing
2201
91
12
192.084
41
0.000
0.983
0.977
0.041
0.035–0.047
0.995
0.022
F1: 0.732
F2: 0.868
11
1 (3)
Strengths and difficulties
2174
91
20
660.169
127
0.000
0.910
0.891
0.044
0.041–0.047
0.999
0.040
F1: 0.663
F2: 0.727
F3: 0.590
F4: 0.514
18
2 (7, 23)
Peer relations
2199
91
16
334.285
98
0.000
0.961
0.953
0.033
0.029–0.037
1
0.036
F1: 0.863
F2: 0.690
F3: 0.745
16
 
About this article
Cite this article
Askell-Williams, H., Skyrzypiec, G., Zhao, X. et al. Mainland Chinese students' self-appraisals of their psychological dispositions at school. Soc Psychol Educ 21, 139–156 (2018). https://doi.org/10.1007/s11218-017-9404-z
Received:

Accepted:

Published:

Issue Date:
Keywords
Mainland Chinese students

Psychological dispositions

Wellbeing and mental health

School satisfaction

Resilience

Happiness