Abstract
Inequity in education is a serious social problem in developing countries. This study aims to explore an integrated model and evaluate the spatial equity of primary school facilities based on GIS technology in terms of three perspectives including accessibility, facility quality and supply–demand relationship. In this study, an integrated equity evaluation was established. Then an ideal spatial distribution of schools was described, and the equity of primary schools in Hangzhou's urban central area was measured. Meanwhile, the relationships among the equity of primary schools and urban population change, urban land expansion, housing price distribution and urban spatial structure were analyzed. The results revealed the spatial inequity of primary schools in Hangzhou. Specifically, (1) the high-quality educational outcome significantly related to student–teacher ratio, per capita financial expenditure for education, and land cost. (2) The accessibility of primary schools did not match the population suburbanization. (3) Inequality in the quality of education worsened social stratification since the quality of primary schools affected regional housing prices. (4) The population flow based on the quality of educational facilities influenced the supply–demand relationship of educational facilities. Our study is believed to deepen the understanding of spatial equity in education based on the urban spatial structure in urban planning. It offers new insights for educational facility planning.
This is a preview of subscription content, log in to check access.
Access options
Buy single article
Instant access to the full article PDF.
US$ 39.95
Price includes VAT for USA
Subscribe to journal
Immediate online access to all issues from 2019. Subscription will auto renew annually.
US$ 199
This is the net price. Taxes to be calculated in checkout.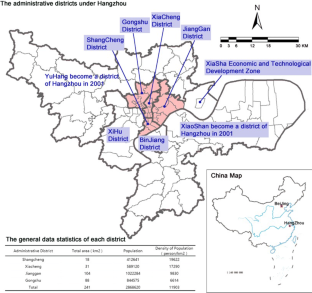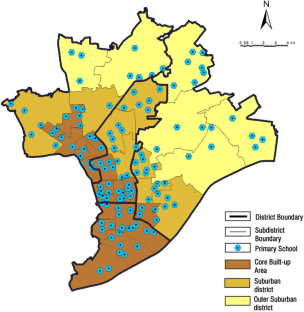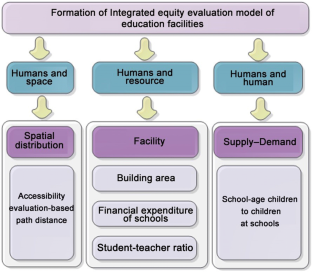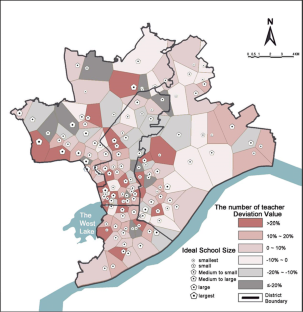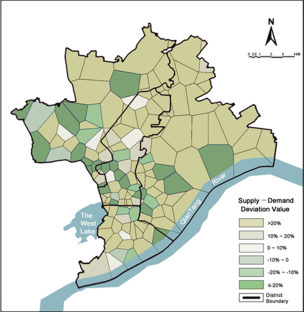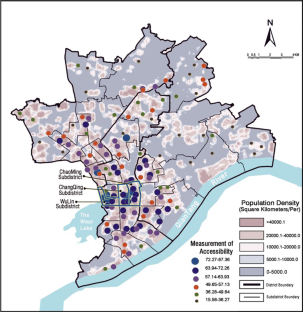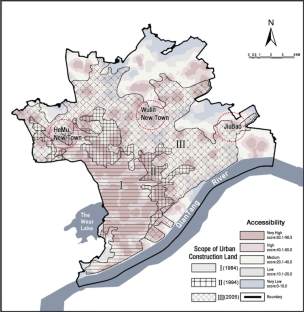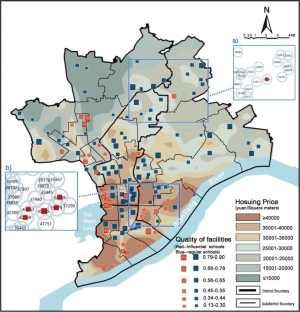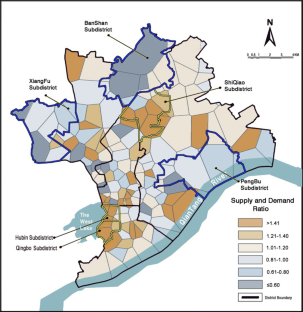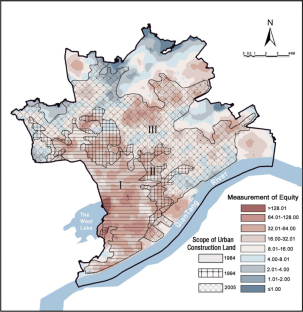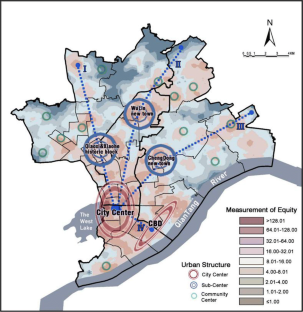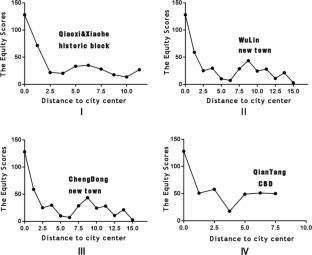 References
Adams, J. E. (1994). Spending school reform dollars in Kentucky: Familiar patterns and new programs, but is this reform? Educational Evaluation & Policy Analysis,16(4), 375–390.

Benson, M., Bridge, G., & Wilson, D. (2015). School choice in London and Paris: A comparison of middle-class strategies. Social Policy & Administration,49(1), 24–43.

Chang, H. S., & Liao, C. H. (2011). Exploring an integrated method for measuring the relative spatial equity in public facilities in the context of urban parks. Cities,28(5), 361–371.

Cheng, J., Bertolini, L., le Clercq, F., & Kapoen, L. (2013). Understanding urban networks: Comparing a node-, a density-and an accessibility-based view. Cities,31, 165–176.

Cohen, B. (2008). Urbanization in developing countries: Current trends, future projections, and key challenges for sustainability. Technology in Society,28(1), 63–80.

Dadashpoor, H., & Rostami, F. (2017). Measuring spatial proportionality between service availability, accessibility and mobility: Empirical evidence using spatial equity approach in Iran. Journal of Transport Geography,65, 44–55.

Earthman, G. I. (2017). The relationship between school building condition and student achievement: A critical examination of the literature. Journal of Ethical Educational Leadership,4(3), 1–16.

Fan, P., Xu, L., Yue, W., & Chen, J. (2017). Accessibility of public urban green space in an urban periphery: The case of Shanghai. Landscape and Urban Planning,165, 177–192.

Feng, H., & Lu, M. (2013). School quality and housing prices: Empirical evidence from a natural experiment in Shanghai. China. Journal of Housing Economics,22(4), 291–307.

Ghiyasvandian, S., Nikbakht-Nasrabadi, A., Mohammadpour, A., Abbasi, M., & Javadi, M. (2014). Iranian nursing students' perspectives of educational equity. Acta Medica Iranica,52, 935–942.

Gibbons, S., & Machin, S. (2006). Paying for primary schools: Admission constraints, school popularity or congestion? The Economic Journal,116(510), C77–C92.

Gobster, P. H. (1995). Perception and use of a metropolitan greenway system for recreation. Landscape & Urban Planning,33(1), 401–413.

Hewko, J., Smoyertomic, K. E., & Hodgson, M. J. (2002). Measuring neighbourhood spatial accessibility to urban amenities: Does aggregation error matter? Environment & Planning A,34(7), 1185–1206.

Hochstenbach, C., & Musterd, S. (2016). Gentrification and the suburbanization of poverty: Changing urban geographies through boom and bust periods. Urban Geography,17(1), 1–28.

Hu, L., He, S., Luo, Y., Su, S., Xin, J., & Weng, M. (2020). A social-media-based approach to assessing the effectiveness of equitable housing policy in mitigating education accessibility induced social inequalities in Shanghai, China. Land Use Policy,94, 104513.

Jian, C., Shengtian, Y., & Hongwei, L. (2013). Research on geographical environment unit division based on the method of natural breaks (Jenks). ISPRS: International Archives of the Photogrammetry. Remote Sensing and Spatial Information Sciences,XL-4/W3, 47–50.

Kelly, A. (2013). Measuring 'equity' and 'equitability' in school effectiveness research. British Educational Research Journal,38(6), 977–1002.

Kunzmann, K. R. (1998). Planning for spatial equity in Europe. International Planning Studies,3(1), 101–120.

OECD (2017). The funding of school education: connecting resources and Learning. Available online at https://www.oecd.org/governance/the-funding-of-school-education-9789264276147-en.htm.

Opoku, A., & Mill, S. A. (2017). Is standardized schools the answer to the shortage of primary school places in the UK? The Business and Management Review,4(8), 281–292.

Partanen, A. (2011). What Americans keep ignoring about Finland's school success. The Atlantic,12, 29.

Perry, L. (2009). Characteristics of equitable systems of education: A cross-national analysis. European Education,41(1), 79–100.

Rigolon, A., Browning, M., & Jennings, V. (2018). Inequities in the quality of urban park systems: An environmental justice investigation of cities in the United States. Landscape & Urban Planning,178, 156–169.

Rodríguez, C., Amador, A., & Tarango, B. A. (2016). Mapping educational equity and reform policy in the borderlands: LatCrit spatial analysis of grade retention. Equity & Excellence in Education,49(2), 228–240.

Rodriguez, R. J., & Elbaum, B. (2014). The role of student–teacher ratio in parents' perceptions of schools' engagement efforts. The Journal of Educational Research,107(1), 69–80.

Rosa, D. L. (2014). Accessibility to greenspaces: GIS based indicators for sustainable planning in a dense urban context. Ecological Indicators,42(7), 122–134.

Taleai, M., Sliuzasb, R., & Flackeb, J. (2014). An integrated framework to evaluate the equity of urban public facilities using spatial multi-criteria analysis. Cites,40, 56–69.

Talen, E. (1997). The social equity of urban service distribution: An exploration of park access in Pueblo, Colorado, and Macon, Georgia. Urban Geography,18(6), 521–541.

Talen, E., & Anselin, L. (1998). Assessing spatial equity: An evaluation of measures of accessibility to public playgrounds. Environment & Planning A,30(4), 595–613.

Torraco, R. (2018). Economic inequality, educational inequity, and reduced career opportunity: A self-perpetuating cycle? New Horizons in Adult Education & Human Resource Development,30(1), 19–29.

Tsou, K. W., Hung, Y. T., & Chang, Y. L. (2005). An accessibility-based integrated measure of relative spatial equity in urban public facilities. Cities,22(6), 424–435.

Wen, H., Xiao, Y., Hui, E. C., & Zhang, L. (2018). Education quality, accessibility, and housing price: Does spatial heterogeneity exist in education capitalization? Habitat International,78, 68–82.

Wood, E., Levinson, M., Postlethwaite, K., & Black, A. E. (2011). Equity matters. Report on a study commissioned by the EI Research Institute. Paris: Education International Research Institute.

Wu, Y., Fan, P., Li, B., Ouyang, Z., Liu, Y., & You, H. (2017). The effectiveness of planning control on urban growth: Evidence from Hangzhou, China. Sustainability,9(5), 855.

Wu, Y., Fan, P., & You, H. (2018). Spatial evolution of producer service sectors and its influencing factors in cities: A case study of Hangzhou, China. Sustainability,10(4), 975.

Wu, Y., Zhang, T., Zhang, H., Pan, T., Ni, X., Grydehøj, A., et al. (2020). Factors influencing the ecological security of island cities: A neighborhood-scale study of Zhoushan Island, China. Sustainable Cities and Society,55, 102029.

You, H. (2016a). Characterizing the inequalities in urban public green space provision in Shenzhen, China. Habitat International,56, 176–180.

You, H. (2016b). Quantifying megacity growth in response to economic transition: A case of Shanghai, China. Habitat International,53, 115–122.

You, H., & Yang, X. (2017). Urban expansion in 30 megacities of China: Categorizing the driving force profiles to inform the urbanization policy. Land Use Policy,68, 531–551.

Ziblatt, D. (2008). Why some cities provide more public goods than others: A subnational comparison of the provision of public goods in German cities in 1912. Studies in Comparative International Development,43(3–4), 273–289.
Acknowledgements
This research received financial support from the National Natural Science Foundation of China (51578507 and 71874151), the National Social Science Fund of China (16ZDA018), the Humanity and Social Science Foundation of Ministry of Education of China (18YJA630134), the Zhejiang Provincial Natural Science Foundation of China (LY18G030031).
Additional information
Publisher's Note
Springer Nature remains neutral with regard to jurisdictional claims in published maps and institutional affiliations.
About this article
Cite this article
Wu, Y., Zheng, X., Sheng, L. et al. Exploring the Equity and Spatial Evidence of Educational Facilities in Hangzhou, China. Soc Indic Res (2020). https://doi.org/10.1007/s11205-020-02417-5
Keywords
Spatial equity

Education facilities

Integrated equity evaluation framework

China