Abstract
An important aspect of the multidimensional perception of poverty phenomenon is the dependence among the underlying indicators. However, the commonly applied approaches to multidimensional poverty assessment do not capture this interdependence. In this paper we propose a new multidimensional poverty index accounting for the dependence and innovate over the weighting approach. The weighting method proposed here incorporates the copula-based rank dependence among well-being dimensions and contains necessary normative parameters. In particular, the latter includes the elasticity of substitution among dimensions and the belief-adjusting parameter, which specifies the direction of relation between the dependence and the weights. The results of poverty evaluation in the selected European countries suggest that multidimensional poverty is driven not only by the individual shortfalls, but also by the degree of interdependence among well-being indicators. Moreover, multidimensional poverty is relatively higher, if dimensional weights are in direct proportion to the dependence compared to the cases of inverse relation and equal weighting. Considering the novel weighting approach, this paper contributes to the literature on composite indicators by suggesting a channel to enclose the dependence structure in the multidimensional poverty index.
This is a preview of subscription content, log in to check access.
Access options
Buy single article
Instant access to the full article PDF.
US$ 39.95
Price includes VAT for USA
Subscribe to journal
Immediate online access to all issues from 2019. Subscription will auto renew annually.
US$ 199
This is the net price. Taxes to be calculated in checkout.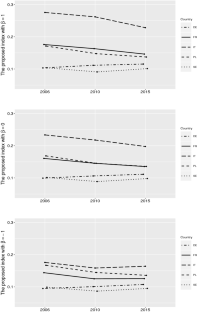 References
Aaberge, R., & Brandolini, A. (2015). Multidimensional poverty and inequality. In A. B. Atkinson & F. Bourguignon (Eds.), Handbook of income distribution (pp. 142–216). Oxford: North-Holland.

Alkire, S., & Foster, J. (2011). Counting and multidimensional poverty measurement. Journal of Public Economics, 95, 476–487.

Alkire, S., & Jahan, S. (2018). The new global MPI 2018: Aligning with the Sustainable Development Goals. HDRO Occasional Paper, United Nations Development Programme (UNDP).

Arcagni, A., di Belgiojoso, E. B., Fattore, M., & Rimoldi, S. M. L. (2019). Multidimensional analysis of deprivation and fragility patterns of migrants in Lombardy, using partially ordered sets and self-organizing maps. Social Indicators Research, 141(2), 551–579.

Atkinson, A., & Bourguignon, F. (1982). The comparison of multidimensional distributions on economic status. Review of Economic Studies, 49, 183–201.

Atkinson, A., & Lugo, M. A. (2010). Growth, poverty and distribution in Tanzania. Working Paper 10/0831. International Growth Centre, United Kingdom.

Blumentritt, T., & Schmid, F. (2014). Nonparametric estimation of copula-based measures of multivariate association from contingency tables. Journal of Statistical Computation and Simulation, 84(4), 781–797.

Bossert, W., Chakravarty, S. R., & D'Ambrosio, C. (2013). Multidimensional poverty and material deprivation with discrete data. Review of Income and Wealth, 59(1), 29–43.

Bourguignon, F., & Chakravarty, S. R. (2003). The measurement of multidimensional poverty. The Journal of Economic Inequality, 1(1), 25–49.

Chakravarty, S. R. (2009). Inequality, polarization and poverty. Advances in distributional analysis. New York: Springer.

Cherubini, U., Luciano, E., & Vecchiato, W. (2004). Copula methods in finance. Chichester: Wiley.

Ciommi, M., Gigliarano, C., Emili, A., Taralli, S., & Chelli, F. M. (2017). A new class of composite indicators for measuring well-being at the local level: An application to the equitable and sustainable well-being (BES) of the Italian provinces. Ecological Indicators, 76, 281–296.

Czado, C., Schepsmeier, U., & Min, A. (2012). Maximum likelihood estimation of mixed C-vines with application to exchange rates. Statistical Modelling, 12(3), 229–255.

Decancq, K. (2014). Copula-based measurement of dependence between dimensions of well-being. Oxford Economic Papers, 66(3), 681–701.

Decancq, K., & Lugo, M. A. (2012). Inequality of well-being: a multidimensional approach. Economica, 79(316), 721–746.

Decancq, K., & Lugo, M. A. (2013). Weights in multidimensional indices of well-being: an overview. Econometric Reviews, 32(1), 7–34.

Decancq, K., Ootegem, L. V., & Verhofstadt, E. (2013). What if we voted on the weights of a multidimensional well-being index? An illustration with Flemish data. Fiscal Studies, 34(3), 315–332.

Deheuvels, P. (2009). A multivariate Bahadur–Kiefer representation for the empirical copula process. Journal of Mathematical Sciences, 164(4), 382–398.

Deutsch, J., & Silber, J. (2005). Measuring multidimensional poverty: An empirical comparison of various approaches. Review of Income and Wealth, 51(1), 145–174.

Duclos, J. Y., Sahn, D. E., & Younger, S. D. (2006). Robust multidimensional poverty comparisons. The Economic Journal, 116(514), 943–968.

Fattore, M. (2016). Partially ordered sets and the measurement of multidimensional ordinal deprivation. Social Indicators Research, 128(2), 835–858.

Ferreira, F. H. G., & Lugo, M. A. (2013). Multidimensional poverty analysis: Looking for a middle ground. The World Bank Research Observer, 28(2), 220–235.

Greco, S., Ishizaka, A., Tasiou, M., & Torrisi, G. (2019). On the methodological framework of composite indices: A review of the issues of weighting, aggregation, and robustness. Social Indicators Research, 141(1), 61–94.

Gudendorf, G., & Segers, J. (2010). Extreme-value copulas. In P. Jaworski, F. Durante, W. Härdle, & T. Rychlik (Eds.), Copula theory and its applications (pp. 127–145). Berlin: Springer.

Guio, A. C., Fusco, A., & Marlier, E. (2009). A European Union approach to material deprivation using EU-SILC and Eurobarometer data. IRISS Working Paper 2009-19. CEPS/INSTEAD, Differdange, Luxembourg.

Joe, H. (2015). Dependence modeling with copulas. New York: CRS Press.

Maasoumi, E., & Lugo, M. A. (2008). The information basis of multivariate poverty assessments. In N. Kakwani & J. Silber (Eds.), Quantitative approaches to multidimensional poverty measurement (pp. 1–29). London: Palgrave Macmillan.

Maggino, F. (2017). Dealing with syntheses in a system of indicators. In F. Maggino (Ed.), Complexity in society: From indicators construction to their synthesis (pp. 115–137). Cham: Springer.

Maricic, M., Egea, J. A., & Jeremic, V. (2019). A hybrid enhanced scatter search–composite I-distance indicator (eSS-CIDI) optimization approach for determining weights within composite indicators. Social Indicators Research, 144(2), 497–537.

Mitra, S., & Brucker, D. L. (2017). Income poverty and multiple deprivations in a high-income country: The case of the United States. Social Science Quarterly, 98(1), 37–56.

Montenegro, C. E., & Patrinos, H. A. (2014). Comparable estimates of returns to schooling around the world. Policy Research Working Paper 7020. Washington, DC: World Bank Group.

Nelsen, R. B. (2006). An introduction to copulas. New York: Springer.

Nilsson, T. (2010). Health, wealth and wisdom: Exploring multidimensional inequality in a developing country. Social Indicators Research, 95(2), 299–323.

Oreopoulos, P., & Salvanes, K. G. (2011). Priceless: The nonpecuniary benefits of schooling. Journal of Economic Perspectives, 25(1), 159–184.

Paruolo, P., Saisana, M., & Saltelli, A. (2013). Ratings and rankings: Voodoo or science? Journal of the Royal Statistical Society, 176(3), 609–634.

Pèrez, A., & Prieto-Alaiz, M. (2016). Measuring the dependence among dimensions of welfare: A study based on Spearman's footrule and Gini's gamma. International Journal of Uncertainty, Fuzziness and Knowledge-Based Systems, 24(1), 87–105.

Pinar, M. (2019). Multidimensional well-being and inequality across the European regions with alternative interactions between the well-being dimensions. Social Indicators Research, 144(1), 31–72.

Saisana, M., & Tarantola, S. (2002). State-of-the-art report on current methodologies and practices for composite indicator development. Institute for the Protection and Security of the Citizen (Joint Research Centre). Retrieved from https://publications.europa.eu/en/publication-detail/-/publication/9253d939-b47b-4428-b792-619e6b6c8645. Accessed 22 June 2019.

Santos, M. E., & Villatoro, P. (2018). A multidimensional poverty index for Latin America. Review of Income and Wealth, 64(1), 52–82.

Schlossarek, M., Syrovátka, M., & Vencálek, O. (2019). The importance of variables in composite indices: A contribution to the methodology and application to development indices. Social Indicators Research, 1–36.

Sklar, A. (1959). Fonctions de répartition à n dimensions et leurs marges. Publications de l'Institut de Statistique de L'Université de Paris, 8, 229–231.

Somarriba, N., & Pena, B. (2009). Synthetic indicators of quality of life in Europe. Social Indicators Research, 94(1), 115–133.

Stiglitz, J. E., Sen, A., & Fitoussi, J. P. (2009). Report by the commission on the measurement of economic performance and social progress. www.stiglitz-sen-fitoussi.fr.

Terzi, S., & Moroni, L. (2020). Local concordance and some applications. Social Indicators Research.

Tsui, K. Y. (2002). Multidimensional poverty indices. Social Choice and Welfare, 19(1), 69–93.

UNDP. (2017). Human development report: Human development for everyone. New York: UN.

UNESCO. (2012). International standard classification of education ISCED 2011. Montreal: UNESCO Institute for Statistics.
Acknowledgements
Authors would like to thank the two Reviewers for their careful and insightful comments to the earlier version of our manuscript.
Additional information
Publisher's Note
Springer Nature remains neutral with regard to jurisdictional claims in published maps and institutional affiliations.
Appendix
Appendix
About this article
Cite this article
Tkach, K., Gigliarano, C. Multidimensional Poverty Index with Dependence-Based Weights. Soc Indic Res (2020). https://doi.org/10.1007/s11205-020-02412-w
Keywords
Multidimensional poverty index

Dependence-based weighting

Copula function

Copula-based rank dependence