Abstract
Data sharing by researchers is a centerpiece of Open Science principles and scientific progress. For a sample of 6019 researchers, we analyze the extent/frequency of their data sharing. Specifically, the relationship with the following four variables: how much they value data citations, the extent to which their data-sharing activities are formally recognized, their perceptions of whether sufficient credit is awarded for data sharing, and the reported extent to which data citations motivate their data sharing. In addition, we analyze the extent to which researchers have reused openly accessible data, as well as how data sharing varies by professional age-cohort, and its relationship to the value they place on data citations. Furthermore, we consider most of the explanatory variables simultaneously by estimating a multiple linear regression that predicts the extent/frequency of their data sharing. We use the dataset of the State of Open Data Survey 2019 by Springer Nature and Digital Science. Results do allow us to conclude that a desire for recognition/credit is a major incentive for data sharing. Thus, the possibility of receiving data citations is highly valued when sharing data, especially among younger researchers, irrespective of the frequency with which it is practiced. Finally, the practice of data sharing was found to be more prevalent at late research career stages, despite this being when citations are less valued and have a lower motivational impact. This could be due to the fact that later-career researchers may benefit less from keeping their data private.
Access options
Buy single article
Instant access to the full article PDF.
US$ 39.95
Tax calculation will be finalised during checkout.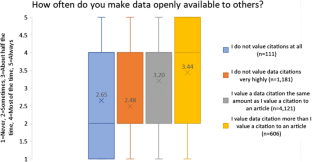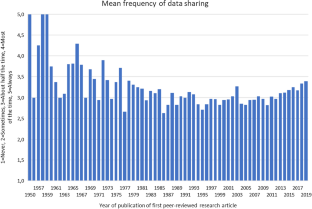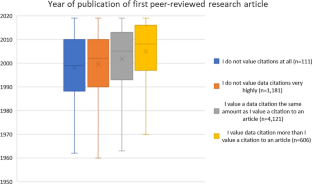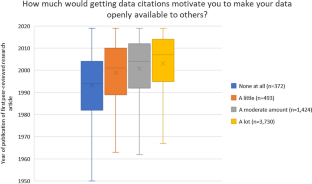 References
Buneman, P., Christie, G., Davies, J. A., Dimitrellou, R., Harding, S. D., Pawson, A. J., Sharman, J. L., & Wu, Y. (2020) Why data citation isn't working, and what to do about it. Database, 2020, baaa022.

Candela, L., Castelli, D., Manghi, P., & Tani, A. (2015). Data journals: a survey. Journal of the Association for Information Science and Technology, 66(9), 1747–1762.

Colavizza, G., Hrynaszkiewicz, I., Staden, I., Whitaker, K., & McGillivray, B. (2020). The citation advantage of linking publications to research data. PLoS ONE, 15(4), e0230416.

Cousijn, H., Feeney, P., Lowenberg, D., Presani, E., & Simons, N. (2019). Bringing citations and usage metrics together to make data count. Data Science Journal, 18(9), 1–7.

Critchlow, T., & Van Dam, K. K. (2016). Data-intensive science. Boca Raton: CRC Press.

Curty, R. G., Crowston, K., Specht, A., Grant, B. W., & Dalton, E. D. (2017). Attitudes and norms affecting scientists' data reuse. PLoS ONE, 12(12), e0189288.

Dorta-González, P., & Santana-Jiménez, Y. (2018). Prevalence and citation advantage of gold open access in the subject areas of the Scopus database. Research Evaluation, 27(1), 1–15.

Downey, A. S., & Olson, S. (2013). Sharing clinical research data: workshop summary. Washington: National Academies Press.

Fane, B., Ayris, P., Hahnel, M., Hrynaszkiewicz, I., Baynes, G., et al. (2019). The state of open data report 2019. Digital Science: Report. https://doi.org/10.6084/m9.figshare.9980783.v2.

González-Betancor, S. M., & Dorta-González, P. (2019). Publication modalities 'article in press' and 'open access' in relation to journal average citation. Scientometrics, 120(3), 1209–1223.

Gorgolewski, K., Margulies, D. S., & Milham, M. P. (2013). Making data sharing count: a publication-based solution. Frontiers in Neuroscience, 7, 9.

Kim, Y., & Stanton, J. M. (2012). Institutional and individual influences on scientists' data sharing practices. Journal of Computational Science Education, 3(1), 47–56.

Kim, Y., & Stanton, J. M. (2016). Institutional and individual factors affecting scientists' data-sharing behaviors: a multilevel analysis. Journal of the Association for Information Science and Technology, 67(4), 776–799.

Lowndes, J. S. S., Best, B. D., Scarborough, C., Afflerbach, J. C., Frazier, M. R., O'Hara, C. C., et al. (2017). Our path to better science in less time using open data science tools. Nature Ecology and Evolution, 1(6), 1–7.

Martone, M. (2014) Data citation synthesis group: joint declaration of data citation principles. FORCE11. doi:https://doi.org/10.25490/a97f-egyk

Nature Research, Penny, D., Fane, B., Goodey, G., & Baynes, G. (2019) Raw data and questionnaire from the Springer Nature-Digital Science collaboration of an annual survey of research authors on their attitudes and behaviour around research data. https://figshare.com/articles/State_of_Open_Data_2019/10011788

Sayogo, D. S., & Pardo, T. A. (2013). Exploring the determinants of scientific data sharing: Understanding the motivation to publish research data. Government Information Quarterly, 30, S19–S31.

Schmidt, B., Gemeinholzer, B., & Treloar, A. (2016). Open data in global environmental research: The Belmont Forum's open data survey. PLoS ONE, 11(1), e0146695.

Silvello, G. (2018). Theory and practice of data citation. Journal of the Association for Information Science and Technology, 69(1), 6–20.

Tenopir, C., Allard, S., Douglass, K., Aydinoglu, A. U., Wu, L., Read, E., et al. (2011). Data sharing by scientists: practices and perceptions. PLoS ONE, 6(6), e21101.

Tenopir, C., Rice, N. M., Allard, S., Baird, L., Borycz, J., Christian, L., et al. (2020). Data sharing, management, use, and reuse: practices and perceptions of scientists worldwide. PLoS ONE, 15(3), e0229003.

Vicente-Sáez, R., & Martínez-Fuentes, C. (2018). Open science now: a systematic literature review for an integrated definition. Journal of Business Research, 88, 428–436.

Volk, C. J., Lucero, Y., & Barnas, K. (2014). Why is data sharing in collaborative natural resource efforts so hard and what can we do to improve it? Environmental Management, 53(5), 883–893.

Walters, W. H. (2020). Data journals: incentivizing data access and documentation within the scholarly communication system. Insights, 33(1), 18.
About this article
Cite this article
Dorta-González, P., González-Betancor, S.M. & Dorta-González, M.I. To what extent is researchers' data-sharing motivated by formal mechanisms of recognition and credit?. Scientometrics (2021). https://doi.org/10.1007/s11192-021-03869-3
Received:

Accepted:

Published:
Keywords
Data sharing

Data reuse

Data citation

Professional age-cohort differences

Open data

Open science