Abstract
In social sciences and humanities, a two-tier journal classification is currently used in Italy in the context of the National Habilitation programme; peer review is also available for a large number of articles published in the same journals, in the framework of the last national evaluation exercise (VQR 2011–2014). We take advantage of these combined two rich datasets in order to check if journals classified as top class by scientific experts show higher impact and if articles published in those journals receive higher marks in peer-reviewed evaluation exercises with respect to other journals. Our main result is that ANVUR classification offers on average a reliable proxy for the quality of journals, as measured by journal indicators and by the assessments of independent experts evaluating individual articles published in those journals. While peer review is still to be considered as the main method for evaluation in Humanities and Social sciences, our analysis supports the view that journal classification can be a useful tool to support peer review even in SSH.
This is a preview of subscription content, log in to check access.
Access options
Buy single article
Instant access to the full article PDF.
US$ 39.95
Price includes VAT for USA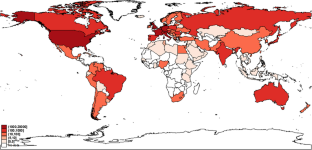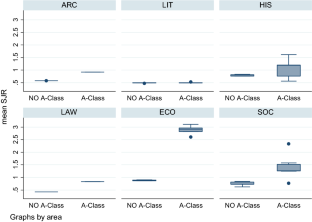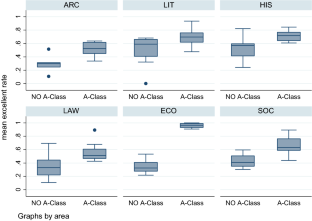 Notes
1.

For a more complete discussion on the various methods of journal rating and ranking, see Ferrara and Bonaccorsi (2016).

2.

In Italy, each professor is bound to a specific academic discipline, which corresponds to a scientific field of study. Academic disciplines are organized in main groups, defined as area of research. In SSH there are 78 academic disciplines grouped in 6 areas of research; the list is available at http://attiministeriali.miur.it/media/265754/allegato_a.pdf.

3.

4.

VQR and the National Scientific Habilitation are two distinct procedures that are not bind by the same rules. So it is possible that an article submitted for evaluation in VQR is not published in the ANVUR list of scientific journals: it may be the case, for instance, for articles published in recently-founded journals that are not yet classified by ANVUR, or for scientific articles which are indeed published in journals that are considered as catering for a professional rather than an academic public, and as such are not admitted in the ANVUR list.

5.

We prefer to use the SJR indicator with respect to possible alternatives like the impact factor or the h index because SJR allows to consider the importance or prestige of the journals from which citations come from.

6.

As stated above, the list of scientific journals also includes A-Class journals; in the remainder of the paper, we compare A-Class journals only with the scientific journals that are not also comprised in the A-Class list.

7.

An ideal logistic model has 100% sensitivity (or the proportion of truly positive observations which is classified as such by the model) and 100% specificity (or the proportion of truly negative observations which is classified as such by the model). ROC curve is a plot of the values of sensitivity against one minus specificity. A good discrimination is considered when the value under the curve is almost 0.80.
References
Ancaiani, A., et al. (2015). Evaluating scientific research in Italy: The 2004–10 research evaluation exercise. Research Evaluation,24(3), 242–255.

Anfossi, A., Ciolfi, A., Costa, F., Parisi, G., & Benedetto, S. (2016). Large-scale assessment of research outputs through a weighted combination of bibliometric indicators. Scientometrics,107(2), 671–683.

ANVUR. (2017a). Regolamento per la classificazione delle riviste nelle aree non bibliometriche. http://www.anvur.it/wp-content/uploads/2017/10/RegolamClassificazRiviste.pdf.

ANVUR. (2017b). Evaluation of research quality 2011–14, ANVUR final report. http://www.anvur.it/wp-content/uploads/2017/06/VQR2011-2014_Final%20Report.pdf.

Bonaccorsi, A., Ferrara, A., & Malgarini, M. (2018). Journal ratings as predictors of article quality in arts, humanities and social sciences: An analysis based on the Italian research evaluation exercise. In A. Bonaccorsi (Ed.), The evaluation of research in social sciences and humanities. Berlin: Springer.

Cicero, T., & Malgarini, M. (2019). Robustness of journal classifications in SSH: An empirical analysis from Italy. In 17th International conference on scientometrics and informetrics (ISSI 2019). 2–5 September 2019, Rome, Italy.

Ferrara, A., & Bonaccorsi, A. (2016). How robust is journal ratings in humanities and social sciences? Evidence from a large-scale, multi-method exercise. Research Evaluation,25(3), 279–291.

Franssen, T., & Wouters, P. (2019). Science and its significant other: Representing the humanities in bibliometric scholarship. Journal of the Association for Information Science and Technology,70, 1124–1137. https://doi.org/10.1002/asi.24206.

Hix, S. (2004). A global ranking of political science departments. Political Studies,2, 293–313.

Hogler, R., & Gross, M. A. (2009). Journal rankings and academic research: Two discourses about the quality of faculty work. Management Communication Quarterly,23(1), 107–126.

Kalaitzidakis, P., Mamuneas, T. P., & Stengos, T. (1999). European economics: An analysis based on publications in the core journals. European Economic Review,43, 1150–1168.

Lavik, G. A. V., & Sivertsen, G. (2017). ERIH PLUS making the SSH visible, searchable and available. Procedia Computer Science,106, 61–65.

Lee, C. J., Sugimoto, C. R., Zhang, G., & Cronin, B. (2013). Bias in Peer Review. Advances in Information Science,64(1), 2–17.

Moed, H. F. (2008). Research assessment in social sciences and humanities. In ECOOM Colloquium Antwerp. December 12–13.

Pontille, D., & Torny, D. (2010). The controversial policies of journal ratings: Evaluating social sciences and humanities. Research Evaluation,19(5), 347–360.

Sivertsen G. (2014). Scholarly publication patterns in the social sciences and humanities and their coverage in Scopus and Web of Science. In Proceedings of the science and technology indicators conference (pp. 598–604).

Walker, J., Fenton, E., Salandra, R., & Salter, A. (2018). What influences business academics' use of the Association of Business Schools' (ABS) list? Evidence from a survey of UK academics. British Journal of Management. https://doi.org/10.1111/1467-8551.12294.

Williams, R. (2012). Using the margins command to estimate and interpret adjusted predictions and marginal effects. The Stata Journal,12(2), 308–331.
Appendices
Appendix 1: Statistical test (test t) between average SJR 2018 of A-Class journals and no A-Class journals in the 78 academic disciplines of interest
| SC | NO A-Class | A-Class | test t | p value |
| --- | --- | --- | --- | --- |
| 0.580 | 0.919 | 2.844 | 0.002 | 0.580 |
| 0.580 | 0.919 | 2.844 | 0.002 | 0.580 |
| 0.580 | 0.919 | 2.844 | 0.002 | 0.580 |
| 0.580 | 0.919 | 2.844 | 0.002 | 0.580 |
| 0.580 | 0.919 | 2.844 | 0.002 | 0.580 |
| 0.492 | 0.493 | 0.015 | 0.494 | 0.492 |
| 0.492 | 0.493 | 0.015 | 0.494 | 0.492 |
| 0.492 | 0.493 | 0.015 | 0.494 | 0.492 |
| 0.472 | 0.534 | 0.825 | 0.205 | 0.472 |
| 0.492 | 0.493 | 0.015 | 0.494 | 0.492 |
| 0.492 | 0.493 | 0.015 | 0.494 | 0.492 |
| 0.492 | 0.493 | 0.015 | 0.494 | 0.492 |
| 0.492 | 0.493 | 0.015 | 0.494 | 0.492 |
| 0.492 | 0.493 | 0.015 | 0.494 | 0.492 |
| 0.492 | 0.493 | 0.015 | 0.494 | 0.492 |
| 0.492 | 0.493 | 0.015 | 0.494 | 0.492 |
| 0.492 | 0.493 | 0.015 | 0.494 | 0.492 |
| 0.492 | 0.493 | 0.015 | 0.494 | 0.492 |
| 0.491 | 0.494 | 0.045 | 0.482 | 0.491 |
| 0.491 | 0.494 | 0.045 | 0.482 | 0.491 |
| 0.491 | 0.494 | 0.045 | 0.482 | 0.491 |
| 0.492 | 0.493 | 0.015 | 0.494 | 0.492 |
| 0.491 | 0.494 | 0.045 | 0.482 | 0.491 |
| 0.492 | 0.493 | 0.015 | 0.494 | 0.492 |
| 0.492 | 0.493 | 0.015 | 0.494 | 0.492 |
| 0.821 | 0.700 | − 0.647 | 0.741 | 0.821 |
| 0.830 | 0.572 | − 1.613 | 0.946 | 0.830 |
| 0.834 | 0.560 | − 1.885 | 0.970 | 0.834 |
| 0.818 | 0.762 | − 0.267 | 0.605 | 0.818 |
| 0.804 | 1.355 | 2.232 | 0.013 | 0.804 |
| 0.771 | 1.617 | 5.335 | 0.000 | 0.771 |
| 0.763 | 1.201 | 4.036 | 0.000 | 0.763 |
| 0.763 | 1.192 | 3.961 | 0.000 | 0.763 |
| 0.763 | 1.199 | 4.003 | 0.000 | 0.763 |
| 0.763 | 1.192 | 3.958 | 0.000 | 0.763 |
| 0.763 | 1.199 | 4.003 | 0.000 | 0.763 |
| 0.780 | 1.171 | 3.192 | 0.001 | 0.780 |
| 0.759 | 1.284 | 4.581 | 0.000 | 0.759 |
| 0.424 | 0.836 | 2.716 | 0.003 | 0.424 |
| 0.424 | 0.836 | 2.716 | 0.003 | 0.424 |
| 0.424 | 0.836 | 2.716 | 0.003 | 0.424 |
| 0.424 | 0.836 | 2.716 | 0.003 | 0.424 |
| 0.424 | 0.836 | 2.716 | 0.003 | 0.424 |
| 0.424 | 0.836 | 2.716 | 0.003 | 0.424 |
| 0.424 | 0.836 | 2.716 | 0.003 | 0.424 |
| 0.424 | 0.836 | 2.716 | 0.003 | 0.424 |
| 0.424 | 0.836 | 2.716 | 0.003 | 0.424 |
| 0.424 | 0.836 | 2.716 | 0.003 | 0.424 |
| 0.424 | 0.836 | 2.716 | 0.003 | 0.424 |
| 0.424 | 0.836 | 2.716 | 0.003 | 0.424 |
| 0.424 | 0.836 | 2.716 | 0.003 | 0.424 |
| 0.424 | 0.836 | 2.716 | 0.003 | 0.424 |
| 0.424 | 0.836 | 2.716 | 0.003 | 0.424 |
| 0.424 | 0.836 | 2.716 | 0.003 | 0.424 |
| 0.424 | 0.836 | 2.716 | 0.003 | 0.424 |
| 0.889 | 2.922 | 21.078 | 0.000 | 0.889 |
| 0.889 | 2.922 | 21.078 | 0.000 | 0.889 |
| 0.889 | 2.922 | 21.078 | 0.000 | 0.889 |
| 0.889 | 2.922 | 21.078 | 0.000 | 0.889 |
| 0.889 | 2.922 | 21.078 | 0.000 | 0.889 |
| 0.868 | 2.820 | 21.202 | 0.000 | 0.868 |
| 0.868 | 2.820 | 21.202 | 0.000 | 0.868 |
| 0.868 | 2.820 | 21.202 | 0.000 | 0.868 |
| 0.868 | 2.820 | 21.202 | 0.000 | 0.868 |
| 0.868 | 2.820 | 21.202 | 0.000 | 0.868 |
| 0.875 | 2.604 | 19.279 | 0.000 | 0.875 |
| 0.898 | 2.964 | 20.939 | 0.000 | 0.898 |
| 0.898 | 2.964 | 20.939 | 0.000 | 0.898 |
| 0.898 | 2.964 | 20.939 | 0.000 | 0.898 |
| 0.908 | 3.112 | 21.481 | 0.000 | 0.908 |
| 0.819 | 1.575 | 2.596 | 0.005 | 0.819 |
| 0.624 | 1.458 | 9.396 | 0.000 | 0.624 |
| 0.818 | 2.337 | 3.794 | 0.000 | 0.818 |
| 0.838 | 0.766 | − 0.476 | 0.683 | 0.838 |
| 0.727 | 1.267 | 5.439 | 0.000 | 0.727 |
| 0.728 | 1.251 | 5.327 | 0.000 | 0.728 |
| 0.727 | 1.267 | 5.447 | 0.000 | 0.727 |
| 0.728 | 1.267 | 5.430 | 0.000 | 0.728 |
Appendix 2: Statistical test (test t) between VQR average scores of A-Class journals and no A-Class journals in the 78 academic disciplines of interest
| SC | NO A-Class | A-Class | test t | p value |
| --- | --- | --- | --- | --- |
| 08/C1 | 0.298 | 0.618 | 3.742 | 0.000 |
| 08/D1 | 0.313 | 0.338 | 0.214 | 0.416 |
| 08/E1 | 0.109 | 0.451 | 2.588 | 0.007 |
| 08/E2 | 0.515 | 0.637 | 1.161 | 0.125 |
| 08/F1 | 0.248 | 0.525 | 2.782 | 0.003 |
| 10/A1 | 0.524 | 0.724 | 2.541 | 0.006 |
| 10/B1 | 0.395 | 0.614 | 2.170 | 0.017 |
| 10/C1 | 0.682 | 0.633 | − 0.497 | 0.690 |
| 10/D1 | 0.667 | 0.646 | − 0.166 | 0.566 |
| 10/D2 | 0.417 | 0.755 | 3.040 | 0.002 |
| 10/D3 | 0.423 | 0.766 | 2.686 | 0.005 |
| 10/D4 | 0.654 | 0.821 | 1.347 | 0.092 |
| 10/E1 | 0.667 | 0.694 | 0.194 | 0.423 |
| 10/F1 | 0.609 | 0.601 | − 0.072 | 0.528 |
| 10/F2 | 0.400 | 0.477 | 0.354 | 0.363 |
| 10/F3 | 0.667 | 0.762 | 0.730 | 0.234 |
| 10/F4 | 0.000 | 0.575 | 2.346 | 0.014 |
| 10/G1 | 0.600 | 0.778 | 2.119 | 0.018 |
| 10/H1 | 0.594 | 0.633 | 0.363 | 0.359 |
| 10/I1 | 0.324 | 0.541 | 2.166 | 0.017 |
| 10/L1 | 0.586 | 0.757 | 2.593 | 0.005 |
| 10/M1 | 0.401 | 0.624 | 2.089 | 0.020 |
| 10/M2 | 0.643 | 0.747 | 0.720 | 0.238 |
| 10/N1 | 0.675 | 0.702 | 0.239 | 0.406 |
| 10/N3 | 0.500 | 0.935 | 4.211 | 0.000 |
| 11/A1 | 0.273 | 0.645 | 2.885 | 0.003 |
| 11/A2 | 0.572 | 0.718 | 1.277 | 0.103 |
| 11/A3 | 0.243 | 0.629 | 4.715 | 0.000 |
| 11/A4 | 0.821 | 0.774 | − 0.542 | 0.705 |
| 11/A5 | 0.571 | 0.644 | 0.586 | 0.280 |
| 11/B1 | 0.514 | 0.737 | 1.928 | 0.029 |
| 11/C1 | 0.732 | 0.769 | 0.317 | 0.376 |
| 11/C2 | 0.353 | 0.811 | 5.235 | 0.000 |
| 11/C3 | 0.414 | 0.607 | 1.535 | 0.065 |
| 11/C4 | 0.605 | 0.663 | 0.558 | 0.289 |
| 11/C5 | 0.596 | 0.732 | 1.451 | 0.075 |
| 11/D1 | 0.545 | 0.846 | 3.475 | 0.000 |
| 11/D2 | 0.588 | 0.654 | 0.744 | 0.229 |
| 12/A1 | 0.302 | 0.459 | 1.937 | 0.028 |
| 12/B1 | 0.329 | 0.427 | 0.854 | 0.198 |
| 12/B2 | 0.107 | 0.531 | 3.516 | 0.001 |
| 12/C1 | 0.452 | 0.513 | 0.480 | 0.317 |
| 12/C2 | 0.250 | 0.608 | 1.409 | 0.090 |
| 12/D1 | 0.190 | 0.508 | 4.490 | 0.000 |
| 12/D2 | 0.120 | 0.484 | 2.476 | 0.011 |
| 12/E1 | 0.461 | 0.639 | 1.456 | 0.075 |
| 12/E2 | 0.448 | 0.566 | 1.201 | 0.117 |
| 12/E3 | 0.375 | 0.490 | 0.838 | 0.203 |
| 12/E4 | 0.444 | 0.458 | 0.072 | 0.471 |
| 12/F1 | 0.167 | 0.433 | 1.929 | 0.031 |
| 12/G1 | 0.220 | 0.467 | 2.068 | 0.022 |
| 12/G2 | 0.417 | 0.678 | 1.560 | 0.065 |
| 12/H1 | 0.335 | 0.669 | 2.607 | 0.007 |
| 12/H2 | 0.692 | 0.893 | 1.585 | 0.062 |
| 12/H3 | 0.240 | 0.582 | 3.404 | 0.001 |
| 13/A1 | 0.306 | 0.938 | 16.940 | 0.000 |
| 13/A2 | 0.333 | 0.955 | 13.556 | 0.000 |
| 13/A3 | 0.278 | 0.965 | 11.581 | 0.000 |
| 13/A4 | 0.386 | 0.947 | 8.088 | 0.000 |
| 13/A5 | 0.533 | 0.991 | 5.548 | 0.000 |
| 13/B1 | 0.225 | 0.986 | 16.351 | 0.000 |
| 13/B2 | 0.295 | 0.971 | 15.535 | 0.000 |
| 13/B3 | 0.325 | 1.000 | 10.902 | 0.000 |
| 13/B4 | 0.291 | 1.000 | 8.962 | 0.000 |
| 13/B5 | 0.500 | 1.000 | 2.192 | 0.017 |
| 13/C1 | 0.225 | 0.917 | 6.546 | 0.000 |
| 13/D1 | 0.453 | 0.930 | 8.213 | 0.000 |
| 13/D2 | 0.324 | 0.907 | 8.069 | 0.000 |
| 13/D3 | 0.218 | 0.914 | 8.673 | 0.000 |
| 13/D4 | 0.408 | 0.975 | 9.906 | 0.000 |
| 14/A1 | 0.474 | 0.893 | 2.871 | 0.003 |
| 14/A2 | 0.414 | 0.703 | 3.234 | 0.001 |
| 14/B1 | 0.535 | 0.821 | 1.758 | 0.043 |
| 14/B2 | 0.594 | 0.614 | 0.149 | 0.441 |
| 14/C1 | 0.303 | 0.645 | 4.706 | 0.000 |
| 14/C2 | 0.403 | 0.438 | 0.408 | 0.342 |
| 14/C3 | 0.333 | 0.566 | 1.575 | 0.062 |
| 14/D1 | 0.367 | 0.617 | 2.578 | 0.006 |
About this article
Cite this article
Cicero, T., Malgarini, M. On the use of journal classification in social sciences and humanities: evidence from an Italian database. Scientometrics (2020). https://doi.org/10.1007/s11192-020-03581-8
Keywords
Journal classification

Social sciences and humanities

Peer review

Italy
Mathematics Subject Classification
JEL Classification