Abstract
Recent years have witnessed an incipient shift in science policy from a focus mainly on academic excellence to a focus that also takes into account "societal impact". This shift raises the question as to whether medical research has given proper attention to the diseases imposing the greatest burden on society. Therefore, with the aim of identifying correlations between research funding priorities and public demand in health, we examine grants issued by the major medical research funding bodies of China and the UK during 2006–2017 and compare the focus of their funded projects with the diseases that carry the highest burden of death, risk, or loss of health. The results indicate that the funding decisions of both nations do correspond to the illnesses with the highest health impact on their citizens. For both regions, the greatest health concerns surround non-communicable diseases, and neoplasms and cardiovascular disease in particular. In China, national health priorities have remained focused on these illnesses for the benefit of its own population, whereas the UK has funded a wider variety of research, extending to projects with impacts outside its borders to some developing countries. Additionally, despite an increased incidence of mental illness and HIV/AIDs in China, there is evidence that less priority has been given to these conditions. Both of these health areas seem to require more attention from China's national funding agencies and the society in general. Methodologically, this study can serve as an example of how to conduct analyses related to public health issues by combining informetric methods and data with the tools and data from other fields, thereby inspiring other scientometrics studies.
This is a preview of subscription content, log in to check access.
Access options
Buy single article
Instant access to the full article PDF.
US$ 39.95
Price includes VAT for USA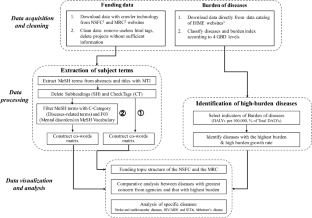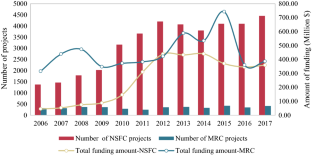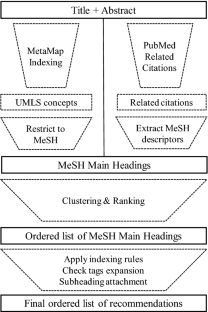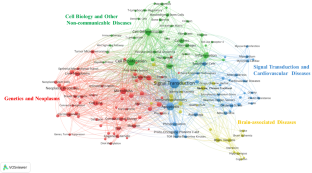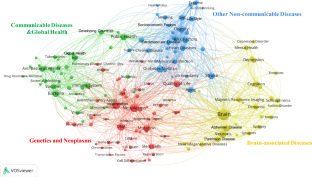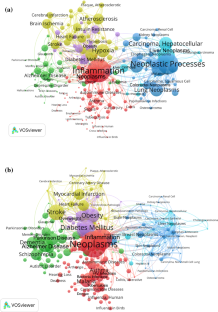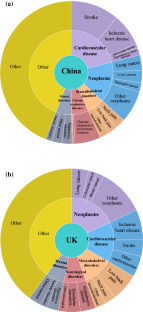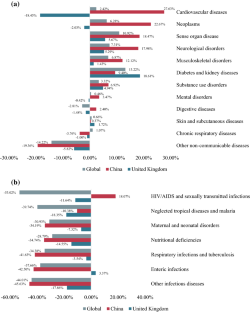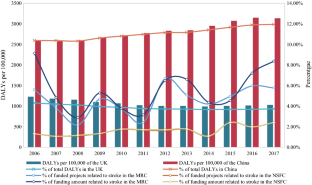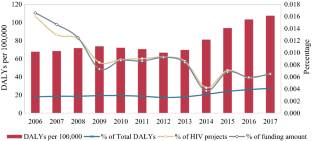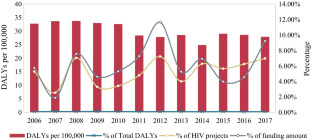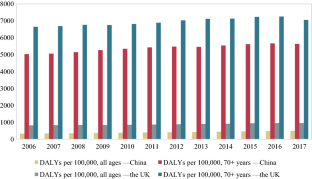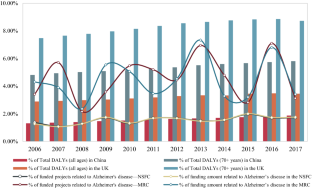 References
Agarwal, P., & Searls, D. B. (2009). Can literature analysis identify innovation drivers in drug discovery? Nature Reviews Drug Discovery,8, 865–878.

Anderson, R. S. (1999). Patrick Blackett in India: Military consultant and scientific intervenor, 1947–72. Part two. Notes and Records of the Royal Society,53(3), 345–359.

Atala, I., Trinquart, L., Ravaud, P., et al. (2018). A mapping of 115,000 randomized trials revealed a mismatch between research effort and health needs in non-high. Journal of Clinical Epidemiology,98, 123–132.

Begum, M., Lewison, G., Jassem, J., et al. (2018). Mapping cancer research across Central and Eastern Europe, the Russian Federation and Central Asia: Implications for future national cancer control planning. European Journal of Cancer,104, 127–136.

Begum, M., Lewison, G., Wright, J. S. F., et al. (2016). European non-communicable respiratory disease research, 2002–13: Bibliometric study of outputs and funding. PLoS ONE,11(4), e0154197.

Blackett, P. M. S. (1971). Report to the Leverhulme Trust.

Cassi, L., Lahatte, A., Rafols, I., et al. (2017). Improving fitness: Mapping research priorities against societal needs on obesity. Journal of Informetrics,11(4), 1095–1113.

China News Service (CNS) (Producer). (2014). 87,000 new HIV/AIDs cases were report from January to October in 2014 in China, more than 90% of new HIV/AIDs infections incidences were transmitted through sex (in Chinese). Retrieved August 2, 2019, from https://www.chinanews.com/gn/2014/12-01/6832929.shtml.

Chow, E. P. F., Lau, J. T. F., Zhuang, X., et al. (2014). HIV prevalence trends, risky behaviours, and governmental and community responses to the epidemic among men who have sex with men in China. BioMed Research International,2014, 1–19.

Ciarli, T., & Ràfols, I. (2019). The relation between research priorities and societal demands: The case of rice. Research Policy,48(8), 949–967.

Cui, Y., Guo, W., Li, D., et al. (2016). Estimating HIV incidence among key affected populations in China from serial cross-sectional surveys in 2010–2014. Journal of the International AIDS Society,19(1), 20609.

Ding, Y., Chowdhury, G. G., & Foo, S. (2001). Bibliometric cartography of information retrieval research by using co-word analysis. Information Processing and Management,37(6), 817–842.

Ebadi, A., & Schiffauerova, A. (2016). How to boost scientific production? A statistical analysis of research funding and other influencing factors. Scientometrics,106(3), 1093–1116.

Evans, J. A., Shim, J.-M., & Ioannidis, J. P. A. (2014). Attention to local health burden and the global disparity of health research. PLoS ONE,9(4), e90147.

Gakidou, E., Cowling, K., Lozano, R., et al. (2010). Increased educational attainment and its effect on child mortality in 175 countries between 1970 and 2009: A systematic analysis. Lancet,376(9745), 959–974.

Gao, J., Su, C., Wang, H., et al. (2019). Research fund evaluation based on academic publication output analysis: The case of Chinese research fund evaluation. Scientometrics,119(2), 959–972.

GBD 2017 Causes of Death Collaborators. (2018). Global, regional, and national age-sex-specific mortality for 282 causes of death in 195 countries and territories, 1980–2017: A systematic analysis for the Global Burden of Disease Study 2017. Lancet,392(10159), 1736–1788.

Gillum, L. A., Gouveia, C., Dorsey, E. R., et al. (2011). NIH disease funding levels and burden of disease. PLoS ONE,6(2), e16837.

Gross, C. P., Anderson, G. F., & Powe, N. R. (1999). The relation between funding by the National Institutes of Health and the burden of disease. New England Journal of Medicine,340(24), 1881–1887.

Hagenaars, N., de Kruif, T., van de Laar, L., et al. (2019). The relationship between publication volume of biomedical research and burden of disease. OSF Preprint. https://doi.org/10.31219/osf.io/jeuar.

Halffman, W., & Leydesdorff, L. (2010). Is inequality among universities increasing? Gini coefficients and the elusive rise of elite universities. Minerva,48(1), 55–72.

Hicks, D. J., Stahmer, C., & Smith, M. (2018). Impacting capabilities: A conceptual framework for the social value of research. Frontiers in Research Metrics and Analytics,3, 24.

Hicks, D. J., & Stapleford, T. A. (2016). The virtues of scientific practice: MacIntyre, virtue ethics, and the historiography of science. Isis,107(3), 449–472.

Kalita, A., Shinde, S., & Patel, V. (2015). Public health research in India in the new millennium: A bibliometric analysis. Global Health Action,8(1), 27576.

Kinge, J. M., Roxrud, I., Vollset, S. E., et al. (2014). Are the Norwegian health research investments in line with the disease burden? Health Research Policy and Systems,12(64), 1–8.

Klavans, R., & Boyack, K. W. (2017). The research focus of nations: Economic vs. altruistic motivations. PLoS ONE,12(1), e0169383.

Mitchell, R. J., McClure, R. J., Olivier, J., et al. (2009). Rational allocation of Australia's research dollars: Does the distribution of NHMRC funding by National Health Priority Area reflect actual disease burden? Medical Journal of Australia,191(11–12), 648–652.

Morillo, F. (2019). Collaboration and impact of research in different disciplines with international funding (from the EU and other foreign sources). Scientometrics,120(2), 807–823.

Mork, J. G., Aronson, A., & Demner-Fushman, D. (2017). 12 years on—Is the NLM medical text indexer still useful and relevant? Journal of Biomedical Semantics,8(1), 1–10. https://doi.org/10.1186/s13326-017-0113-5.

Mork, J. G., Yepes, A. J. J., & Aronson, A. R. (2013). The NLM Medical Text Indexer System for indexing biomedical literature. BioASQ@ CLEF.

Murray, C. J. L. (2007). Good practices for health statistics: Lessons from the Millennium Development Goal health indicators. Lancet,369(9564), 826–873.

Murray, C. J. L., & Frenk, J. (2008). Health metrics and evaluation: Strengthening the science. Lancet,371(9619), 1191–1199.

Mutapi, F. (2019). Africa should set its own health-research agenda. Nature,575(7784), 567.

National Natural Science Foundation of China. (2019). National natural science fund guide to programs 2019. Retrieved August 27, 2019, from https://www.nsfc.gov.cn/english/site_1/pdf/NationalNaturalScienceFundGuidetoPrograms2019.pdf.

National Science Foundation. (2018). Proposal & award policies & procedures guide. Retrieved Feburary 21, 2020, from https://www.nsf.gov/pubs/policydocs/pappg18_1/pappg_3.jsp#IIIA2.

Prüss-Üstün, A., Mathers, C., Corvalán, C., et al. (2003) Introduction and methods: Assessing the environmental burden of disease at national and local levels. In Environmental burden of disease series No. 1. Geneva: World Health Organization (WHO).

Ràfols, I., & Yegros, A. (2017). Is research responding to health needs? Available at SSRN. https://doi.org/10.2139/ssrn.3106713.

Røttingen, J.-A., Regmi, S., Eide, M., et al. (2013). Mapping of available health research and development data: What's there, what's missing, and what role is there for a global observatory? Lancet,382(9900), 1286–1307.

ScienceDaily (Producer). (2011). How inflammation can lead to cancer. Science News. Retrieved July 7, 2019, from https://www.sciencedaily.com/releases/2011/04/110419091159.htm.

Shaw, J. (2019). Raw and Red-Hot: Could inflammation be the cause of myriad chronic conditions? Harvard Magazine. Retrieved July 13, 2019, from https://harvardmagazine.com/2019/05/inflammation-disease-diet.

Shibayama, S. (2011). Distribution of academic research funds: A case of Japanese national research grant. Scientometrics,88(1), 43–60.

Stilgoe, J., Owen, R., & Macnaghten, P. (2013). Developing a framework for responsible innovation. Research Policy,42(9), 1568–1580.

Tang, L., Hu, G., & Liu, W. (2017). Funding acknowledgment analysis: Queries and caveats. Journal of the Association for Information Science and Technology,68(3), 790–794.

The World Bank (Ed.). (1993). World development report, 1993. Investing in health. New York: Oxford University Press for the World Bank.

The World Bank. (2017). Population ages 65 and above (% of total population). Retrieved June 16, 2019, from https://data.worldbank.org/indicator/SP.POP.65UP.TO.ZS?end=2017&locations=CNGB&start=1960&view=chart.

Viergever, R. F., Olifson, S., Ghaffar, A., et al. (2010). A checklist for health research priority setting: Nine common themes of good practice. Health Research Policy and Systems,8(1), 36.

Wallace, M. L., & Ràfols, I. (2018). Institutional shaping of research priorities: A case study on avian influenza. Research Policy,47(10), 1975–1989.

Wang, L., Guo, W., Li, D., et al. (2015). HIV epidemic among drug users in China: 1995–2011. Addiction,110(01), 20–28.

Wang, L., Tang, W., Wang, L., et al. (2014). The HIV, syphilis, and HCV epidemics among female sex workers in China: Results from a serial cross-sectional study between 2008 and 2012. Clinical Infectious Diseases,59(1), 1–9.

Wang, X., Liu, D., Ding, K., et al. (2012). Science funding and research output: A study on 10 countries. Scientometrics,91(2), 591–599.

Wang, Y., Li, X., Zhou, M., et al. (2016). Under-5 mortality in 2851 Chinese counties, 1996–2012: A subnational assessment of achieving MDG 4 goals in China. Lancet,387(10015), 273–283.

World Health Organization (WHO). (2012a). Background document provided by the WHO Secretariat-Defining disease types I, II and III. Retrieved June 16, 2019, from https://www.who.int/phi/3-background_cewg_agenda_item5_disease_types_final.pdf.

World Health Organization (WHO). (2012b). Research and development to meet health needs in developing countries: Strengthening global financing and coordination. Retrieved July 23, 2019, from https://www.who.int/phi/cewg_report/en/.

World Health Organization (WHO). (2017). WHO global observatory on health research and development (R&D)—Terms and conditions of use. Retrieved April 14, 2019, from https://www.who.int/research-observatory/portal/Global_RD_Observatory_Conditions_of_Use.pdf?ua=1.

Xie, Y., Zhang, C., & Lai, Q. (2014). China's rise as a major contributor to science and technology. Proceedings of the National Academy of Sciences of the United States of America,111(26), 9437–9442.

Yegros, A., Van de Klippe, W., Abad-Garcia, M. F., et al. (2019). Exploring why global health needs are unmet by research efforts: The potential influences of geography, industry, and publication incentives. Available at SSRN: https://ssrn.com/abstract=3459230. https://doi.org/10.2139/ssrn.3459230.

Zhang, L., Zhao, W., Liu, J., et al. (2019). Do national funding organizations address the diseases with the highest burden adequately?—Observations from China and the UK. In Proceedings of ISSI 2019—The 17th international conference on scientometrics and informetrics (pp. 826–837). Rome: Sapienza University.

Zhao, X., Gao, X., & Pe, H. (2009). The h-index of science funding: Comprehensive characterization of the quantity and impact of funded papers. Bulletin National Nature Science Foundation of China,23(1), 15–18.

Zhou, P., & Tian, H. (2014). Funded collaboration research in mathematics in China. Scientometrics,99(3), 695–715.

Zhu, X. (2012). Understanding China's growth: Past, present, and future. Journal of Economic Perspectives,26(4), 103–124.
Acknowledgements
The present study is an extended version of an article presented at the 17th International Conference on Scientometrics and Informetrics, Rome (Italy), 2–5 September 2019 (Zhang et al. 2019). The authors would like to acknowledge support from the National Natural Science Foundation of China (Grant Nos. 71573085; 71974150), the National Social Science Foundation of China (Grant No. 18VSJ087) and the National Laboratory Center for Library and Information Science in Wuhan University. We thank Ismael Rafols (Ingenio (CSIC-UPV), Universitat Politècnica València) for inspiring discussions.
About this article
Cite this article
Zhang, L., Zhao, W., Liu, J. et al. Do national funding organizations properly address the diseases with the highest burden?: Observations from China and the UK. Scientometrics (2020). https://doi.org/10.1007/s11192-020-03572-9
Keywords
Funding

Burden of disease

NSFC

MRC

Data visualization