Abstract
Nature and Science are two major multidisciplinary journals, well-known among the general public and highly-cited by scholarly communities. This article presents Google Trends, a web service providing detailed information on the Google search behavior of Internet users from all countries during the period 2004–2019 and illustrates the preference between Nature and Science. The research shows a general decrease of the demand for both journals and reveals a substantial growth in demand for Nature in some geographic regions and a decline of the interest to Science in many regions. We also found a better affinity to Nature by the general audience and a better affinity to Science in former USSR scholarly allies. This situation is explained on one hand by the editorial policy of the two journals and on the other hand by the influence of the cold war and its aftermath on worldwide scientific societies and the ongoing interest in research areas in different geographic regions.
This is a preview of subscription content, log in to check access.
Access options
Buy single article
Instant access to the full article PDF.
US$ 39.95
Price includes VAT for USA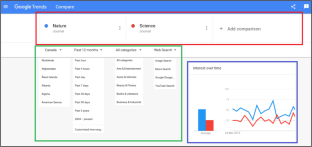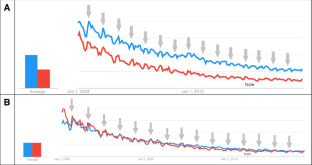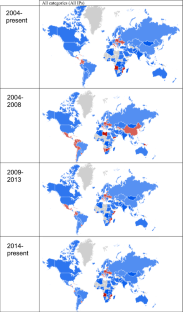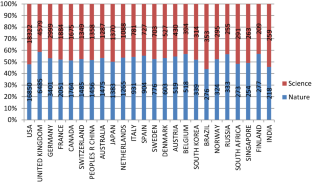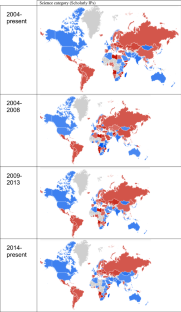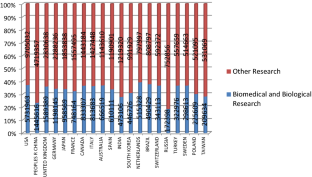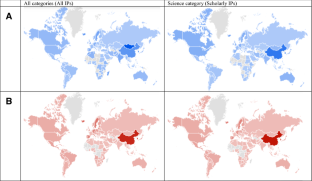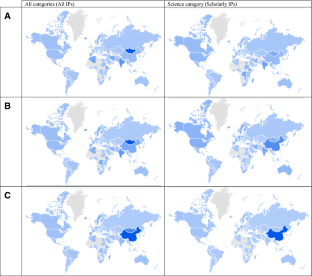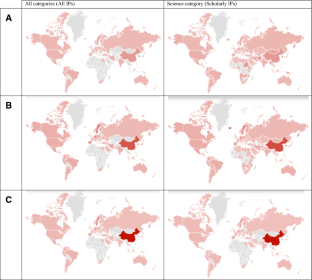 Notes
1.

ASEAN: Association of Southeast Asian Nations. Its members are Brunei, Cambodia, Indonesia, Laos, Malaysia, Myanmar, Philippines, Singapore, Thailand and Vietnam.

2.

BRICS: Brazil, Russian Federation, India, China and South Africa.

3.

CIVETS: Colombia, Indonesia, Vietnam, Egypt, Turkey and South Africa.

4.

D-8: D-8 Organization for Economic Cooperation (Developing-8). Its members are Bangladesh, Egypt, Nigeria, Indonesia, Iran, Malaysia, Pakistan and Turkey.

5.

The rate of Google search queries related to the two journals have mainly decreased from quite important to averagefrom 2004 to present in Iran, Russian Federation, India and Pakistan.

6.

Saudi Arabia, Qatar, United Arab Emirates, Lebanon, Syria, Jordan, Palestine, Iraq, Kuwait, Bahrain, and Oman.
References
Ahmed, M. O., Daw, M. A., & van Velkinburgh, J. C. (2017). An evolving research culture: Analysis of biomedical publications from Libya, 2003–13. Research Evaluation,26(4), 284–291.

Alberts, B., Kirschner, M. W., Tilghman, S., & Varmus, H. (2014). Rescuing US biomedical research from its systemic flaws. Proceedings of the National Academy of Sciences,111(16), 5773–5777.

Alexiev, A. R. (1983). The new soviet strategy in the third world. Santa Monica, CAs: RAND Corporation.

Analytics, C. (2020). Web of science. Philadelphia, PA: Clarivate Analytics.

Arkhipov, D. B. (1999). Scientometric analysis of Nature, the journal. Scientometrics,46(1), 51–72.

Bajwa, R. S., & Yaldram, K. (2013). Bibliometric analysis of biotechnology research in Pakistan. Scientometrics,95(2), 529–540.

Benamer, H. T., & Bakoush, O. (2009). Medical education in Libya: the challenges. Medical Teacher,31(6), 493–496.

Bhattacharjee, Y. (2011). Saudi universities offer cash in exchange for academic prestige. Science,334(6061), 1344–1345.

Björk, B. C. (2015). Have the "mega-journals" reached the limits to growth? PeerJ,3, e981.

Bornmann, L., Wagner, C., & Leydesdorff, L. (2015). BRICS countries and scientific excellence: A bibliometric analysis of frequently cited papers. Journal of the Association for Information Science and Technology,66(7), 1507–1513.

Bornmann, L., Leydesdorff, L., Walch-Solimena, C., & Ettl, C. (2011). Mapping excellence in the geography of science: An approach based on Scopus data. Journal of Informetrics,5(4), 537–546.

Braun, T., Glänzel, W., & Schubert, A. (1989). National publication patterns and citation impact in the multidisciplinary journals Nature and Science. Scientometrics,17(1–2), 11–14.

Campanario, J. M. (2009). Rejecting and resisting Nobel class discoveries: accounts by Nobel Laureates. Scientometrics,81(2), 549–565.

Campanario, M. (1993). Consolation for the scientist: Sometimes it is hard to publish papers that are later highly-cited. Social Studies of Science,23(2), 342–362.

Cao, C. (2004). Chinese science and the 'Nobel Prize complex'. Minerva,42(2), 151–172.

Castellacci, F., & Pons, S. (2016). Towards a new innovation policy in Cuba: Proposal for the introduction of a R&D fiscal incentive program. Science and Public Policy,43(5), 680–689.

Cimini, G., Gabrielli, A., & Labini, F. S. (2014). The scientific competitiveness of nations. PLoS ONE,9(12), e113470.

Csomós, G. (2018). A spatial scientometric analysis of the publication output of cities worldwide. Journal of Informetrics,12(2), 547–566.

Davies, R. W., & Amann, R. (1969). Science policy in the USSR. Scientific American,220(6), 19–29.

Emmer, A. (2019). The careers behind and the impact of solo author articles in Nature and Science. Scientometrics,120(2), 825–840.

Eno, M. A., Eno, O. A., & Mweseli, M. N. (2015). The revival of higher education in Somalia: prospects and challenges. Journal of Somali Studies,2(1–2), 9–45.

Erdle, S. (2011). Industrial policy in Tunisia. Bonn: German Development Institute.

Fuyuno, I., & Cyranoski, D. (2006). Cash for papers: Putting a premium on publication. Nature,441(7095), 792.

Gates, A. J., Ke, Q., Varol, O., & Barabási, A.-L. (2019). Nature's reach: Narrow work has broad impact. Nature,575(7781), 32–34.

Gonzalez-Brambila, C. N., Reyes-Gonzalez, L., Veloso, F., & Prerez Angón, M. A. (2016). The scientific impact of developing countries. PLoS ONE,11(3), e0151328.

Harzing, A. W. (2013). A preliminary test of Google Scholar as a source for citation data: A longitudinal study of Nobel prize winners. Scientometrics,94(3), 1057–1075.

Hassan, S. U., Haddawy, P., Kuinkel, P., Degelsegger, A., & Blasy, C. (2012). A bibliometric study of research activity in ASEAN related to the EU in FP7 priority areas. Scientometrics,91(3), 1035–1051.

Hossain, M. D., Moon, J., Kang, H. G., Lee, S. C., & Choe, Y. C. (2012). Mapping the dynamics of knowledge base of innovations of R&D in Bangladesh: Triple helix perspective. Scientometrics,90(1), 57–83.

Ibrahim, B. (2018). Arab Spring's effect on scientific productivity and research performance in Arab countries. Scientometrics,117(3), 1555–1586.

Ioannidis, J. P. (2006). Concentration of the most-cited papers in the scientific literature: Analysis of journal ecosystems. PLoS ONE,1(1), e5.

Jun, S. P., Yoo, H. S., & Choi, S. (2018). Ten years of research change using Google Trends: From the perspective of big data utilizations and applications. Technological Forecasting and Social Change,130, 69–87.

Kalita, D. (2016). The scientometrics of nature. Journal of Scientometric Research,5(2), 123–134.

Kaneiwa, K., Adachi, J., Aoki, M., Masuda, T., Midorikawa, A., Tanimura, A., et al. (1988). A comparison between the journals Nature and Science. Scientometrics,13(3–4), 125–133.

Kato, M., & Ando, A. (2017). National ties of international scientific collaboration and research mobility found in Nature and Science. Scientometrics,110(2), 673–694.

King, D. A. (2004). The scientific impact of nations. Nature,430(6997), 311–316.

Kunavut, K., Okuda, A., & Lee, D. (2018). Belt and road initiative (BRI): enhancing ICT connectivity in China-Central Asia corridor. Journal of Infrastructure, Policy and Development,2(1), 116–141.

Liang, L., & Rousseau, R. (2008). Yield sequences as journal attractivity indicators: "Payback times" for Science and Nature. Journal of Documentation,64(2), 229–245.

Lin, Z., Hou, S., & Wu, J. (2016). The correlation between editorial delay and the ratio of highly cited papers in Nature Science and Physical Review Letters. Scientometrics,107(3), 1457–1464.

Liu, N. C., Cheng, Y., & Liu, L. (2005). Academic ranking of world universities using scientometrics-A comment to the "Fatal Attraction". Scientometrics,64(1), 101–109.

Liu, Y., Lin, D., Xu, X., Shan, S., & Sheng, Q. Z. (2018). Multi-views on nature index of Chinese academic institutions. Scientometrics,114(3), 823–837.

Lubrano, L. L. (1981). National and international politics in US-USSR scientific cooperation. Social Studies of Science,11(4), 451–480.

Markusova, V. A., Jansz, M., Libkind, A. N., Libkind, I., & Varshavsky, A. (2009). Trends in Russian research output in post-soviet era. Scientometrics,79(2), 249–260.

Moin, M., Mahmoudi, M., & Rezaei, N. (2005). Scientific output of Iran at the threshold of the 21st century. Scientometrics,62(2), 239–248.

Mola, E. L., Silva, R., Acevedo, B., Boxadó, J. A., Aguilera, A., & Herrera, L. (2006). Biotechnology in Cuba: 20 years of scientific, social and economic progress. Journal of Commercial Biotechnology,13(1), 1–11.

Monastersky, R., & Van Noorden, R. (2019). 150 years of Nature: A data graphic charts our evolution. Nature,575(7781), 22–23.

Nyirenda-Jere, T., & Biru, T. (2015). Internet development and Internet governance in Africa. ISOC Report , 17–53.

Omar, M., Mehmood, A., Choi, G. S., & Park, H. W. (2017). Global mapping of artificial intelligence in Google and Google Scholar. Scientometrics,113(3), 1269–1305.

Papavlasopoulos, S. (2019). Scientometrics analysis in google trends. Journal of Scientometric Research,8(1), 27–37.

Piwowar, H. (2013). Altmetrics: Value all research products. Nature,493(7431), 159.

Pouris, A. (2010). A scientometric assessment of the Southern African development community: Science in the tip of Africa. Scientometrics,85(1), 145–154.

Quan, W., Chen, B., & Shu, F. (2017). Publish or impoverish: An investigation of the monetary reward system of science in China (1999–2016). Aslib Journal of Information Management,69(5), 486–502.

Reich, E. S. (2013). Science publishing: The golden club. Nature News,502(7471), 291–293.

Rodríguez-Pose, A. (2001). Is R&D investment in lagging areas of Europe worthwhile? Theory and empirical evidence. Papers in Regional Science,80(3), 275–295.

Sample, I. (2013). Nobel winner declares boycott of top science journals. London: The Guardian.

Schekman, R. (2013). How journals like Nature. The Guardian, London: Cell and Science are damaging science.

Schubert, A., & Braun, T. (1990). International collaboration in the sciences, 1981–1985. Scientometrics,19(1–2), 3–10.

Schubert, A., Glänzel, W., & Braun, T. (1989). Scientometric datafiles. A comprehensive set of indicators on 2649 journals and 96 countries in all major science fields and subfields 1981–1985. Scientometrics,16(1–6), 3–478.

Scimago Lab. (2018). International Science Ranking. Retrieved October 26, 2019, from Scimago Journal & Country Rank: https://www.scimagojr.com/countryrank.php

Selye, H. (1936). A syndrome produced by diverse nocuous agents. Nature,138(3479), 32.

Shasnov, S., & Kotsemir, M. (2018). Research landscape of the BRICS countries: Current trends in research output, thematic structures of publications, and the relative influence of partners. Scientometrics,117(2), 1115–1155.

Shen, S., Rousseau, R., Wang, D., Zhu, D., Liu, H., & Liu, R. (2015). Editorial delay and its relation to subsequent citations: The journals Nature Science and Cell. Scientometrics,105(3), 1867–1873.

Siliverstovs, B., & Wochner, D. S. (2018). Google Trends and reality: Do the proportions match? Appraising the informational value of online search behavior: Evidence from Swiss tourism regions. Journal of Economic Behavior & Organization,145, 1–23.

Solomon, G. E., Carley, S., & Porter, A. L. (2016). How multidisciplinary are the multidisciplinary journals Science and Nature? PLoS ONE,11(4), e0152637.

Sooryamoorthy, R. (2018). The production of science in Africa: An analysis of publications in the science disciplines, 2000–2015. Scientometrics,115(1), 317–349.

Sugimoto, C. R., Larivière, V., Ni, C., & Cronin, B. (2013). Journal acceptance rates: A cross-disciplinary analysis of variability and relationships with journal measures. Journal of Informetrics,7(4), 897–906.

Szabo, S., Tache, Y., & Somogyi, A. (2012). The legacy of Hans Selye and the origins of stress research: A retrospective 75 years after his landmark brief "letter" to the editor of nature. Stress,15(5), 472–478.

Thelwall, M., Tsou, A., Weingart, S., Holmberg, K., & Haustein, S. (2013). Tweeting links to academic articles. Cybermetrics: International Journal of Scientometrics, Informetrics and Bibliometrics,17(1), 1–8.

Tobenkin, D. (2014). Revitalizing education in Afghanistan: Overcoming decades of devastation. International Educator,23(4), 22.

Trueger, N. S., Thoma, B., Hsu, C. H., Sullivan, D., Peters, L., & Lin, M. (2015). The altmetric score: A new measure for article-level dissemination and impact. Annals of Emergency Medicine,66(5), 549–553.

Turki, H., Hadj Taieb, M. A., & Ben Aouicha, M. (2018). The value of letters to the editor. Scientometrics,117(2), 1285–1287.

Turki, H., Ben Aouicha, M., & Hadj Taieb, M. A. (2019). Discussing Arab Spring's effect on scientific productivity and research performance in Arab countries. Scientometrics,120(1), 337–339.

University of Oxford. (2019). Your academic year. Retrieved October 23, 2019, from https://www.ox.ac.uk/admissions/undergraduate/courses/academic-year

Vainio, J., & Holmberg, K. (2017). Highly tweeted science articles: who tweets them? An analysis of Twitter user profile descriptions. Scientometrics,112(1), 345–366.

Van Noorden, R., Maher, B., & Nuzzo, R. (2014). The top 100 papers. Nature News,514(7524), 550–553.

Vaughan, L., & Chen, Y. (2015). Data mining from web search queries: a comparison of google trends and baidu index. Journal of the Association for Information Science and Technology,66(1), 13–22.

Waaijer, C. J. (2013). Careers in science: Policy issues according to Nature or Science editorials. Scientometrics,96(2), 485–495.

Waaijer, C. J., van Bochove, C. A., & van Eck, N. J. (2010). Journal Editorials give indication of driving science issues. Nature,463(7278), 157.

Waaijer, C. J., van Bochove, C. A., & van Eck, N. J. (2011). On the map: Nature and Science editorials. Scientometrics,86(1), 99–112.

Walter, B. F. (2017). The new new civil wars. Annual Review of Political Science,20, 469–486.

Wang, X., Liu, D., Ding, K., & Wang, X. (2012). Science funding and research output: A study on 10 countries. Scientometrics,91(2), 591–599.

Wang, X., Mao, W., Xu, S., & Zhang, C. (2014). Usage history of scientific literature: Nature metrics and metrics of Nature publications. Scientometrics,98(3), 1923–1933.

Xia, F., Su, X., Wang, W., Zhang, C., Ning, Z., & Lee, I. (2016). Bibliographic analysis of nature based on twitter and facebook altmetrics data. PLoS ONE,11(12), e0165997.

Yang, F. (2016). Rethinking China's Internet censorship: The practice of recoding and the politics of visibility. New Media & Society,18(7), 1364–1381.

Yi, Y., Qi, W., & Wu, D. (2013). Are CIVETS the next BRICs? A comparative analysis from scientometrics perspective. Scientometrics,94(2), 615–628.

Zagrovic, B., & Dikic, I. (2008). Childhood of a phoenix: Modern biology in Eastern and South-Eastern Europe. Nature Reviews Molecular Cell Biology,9(4), 333–336.

Zhang, L., Xu, K., & Zhao, J. (2017). Sleeping beauties in meme diffusion. Scientometrics,112(1), 383–402.
Acknowledgements
We thank Dr. Ronald Rousseau (KU Leuven, Belgium) for providing useful comments and discussions related to this research work.
About this article
Cite this article
Turki, H., Hadj Taieb, M., Ben Aouicha, M. et al. Nature or Science: what Google Trends says. Scientometrics (2020). https://doi.org/10.1007/s11192-020-03511-8
Keywords
Google trends

Nature journal

Science journal