Abstract
This study aimed to investigate the topical areas and collaboration patterns of North Korean researchers. To conduct this study, bibliographic records of researchers affiliated with institutions in the city of Pyongyang for the years from 2002 to 2018 were retrieved from the Scopus database. The results showed disproportional levels of collaboration with China and the marginal level of research papers. North Korean researchers seemed to have worked on labor-intensive subject areas that have both civilian and military applications. The results implied that North Korea is only making modest levels of contributions to the global academic community. The increase in the number of international journal papers authored by North Korean researchers can be considered as a side benefit of maintaining a close relationship with China. The collaboration patterns of North Korea and China seemed to reflect China's engagement policy toward North Korea and the rapid rise of China's scientific research production in recent years. The results of this study should be taken into consideration in the design of national policies that tolerate or inhibit collaboration with North Korean researchers.
This is a preview of subscription content, log in to check access.
Access options
Buy single article
Instant access to the full article PDF.
US$ 39.95
Price includes VAT for USA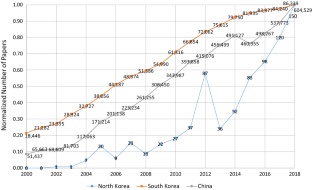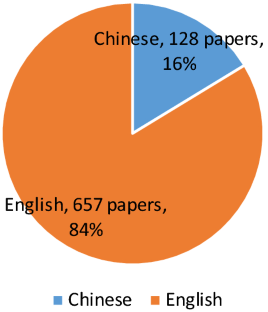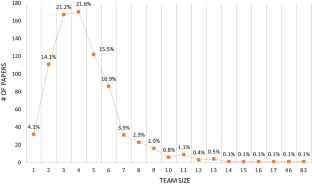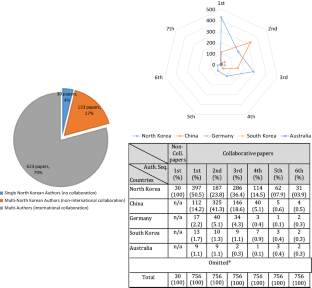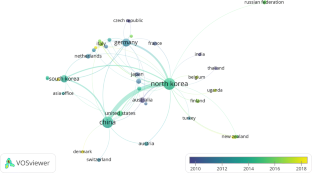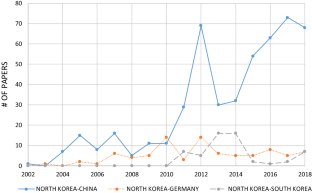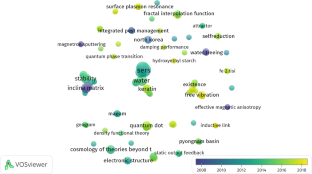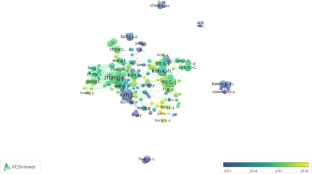 References
Abbasi, A., Hossain, L., & Leydesdorff, L. (2012). Betweenness centrality as a driver of preferential attachment in the evolution of research collaboration networks. Journal of Informetrics,6(3), 403–412.

Aria, M., & Cuccurullo, C. (2017). Bibliometrix: An R-tool for comprehensive science mapping analysis. Journal of Informetrics,11(4), 959–975.

Bozeman, B., Fay, D., & Slade, C. P. (2013). Research collaboration in universities and academic entrepreneurship: The-state-of-the-art. The Journal of Technology Transfer,38(1), 1–67.

Campbell, C. (2012). A consortium model for science engagement: Lessons from the US-DPRK experience. Science & Diplomacy, 1(2), 1–9.

Campion, A., & Kambhampati, P. (1998). Surface-enhanced Raman scattering. Chemical Society Reviews,27(4), 241–250.

Chen, S. (2017). Chinese universities 'limiting admission of North Korean students' as nuclear crisis escalates. South China Morning Post. Retrieved October 5, 2019, from https://www.scmp.com/news/china/policies-politics/article/2111763/chinese-universities-limiting-admission-north-korean.

Chinchilla-Rodríguez, Z., Miao, L., Murray, D., Robinson-García, N., Costas, R., & Sugimoto, C. R. (2018). A global comparison of scientific mobility and collaboration according to national scientific capacities. Frontiers in Research Metrics and Analytics,3, 17.

Choi, Hyung. Wook., Choi, Ye. Jin., & Kim, Soon. (2019). Network analysis of scientific collaboration in North Korea. Science Editing,6(1), 25–34.

Davenport, K. (2019). Trump, Kim raise conditions for third summit. Arms Control Today,49(4), 27–28.

Demirel, G., Usta, H., Yilmaz, M., Celik, M., Alidagi, H. A., & Buyukserin, F. (2018). Surface-enhanced Raman spectroscopy (SERS): An adventure from plasmonic metals to organic semiconductors as SERS platforms. Journal of Materials Chemistry C,6(20), 5314–5335.

Elango, B., & Ho, Y. S. (2017). A bibliometric analysis of highly cited papers from India in Science Citation Index Expanded. Current Science,112(8), 1653–1658.

Elango, B., & Rajendran, P. (2012). Authorship trends and collaboration pattern in the marine sciences literature: A scientometric study. International Journal of Information Dissemination and Technology,2(3), 166–169.

Gauffriau, M., & Larsen, P. O. (2005). Counting methods are decisive for rankings based on publication and citation studies. Scientometrics,64(1), 85–93.

Glänzel, W. (2001). National characteristics in international scientific co-authorship relations. Scientometrics,51(1), 69–115.

Ha, S., & Lee, Y. H. (2019). Frequently covered diseases in North Korean internal medicine journal Internal Medicine [Naegwa]—Secondary publication. Science Editing,6(2), 99–105. https://doi.org/10.6087/kcse.169.

Ha, S., Yoon, S. J., Chun, B. C., Kim, K. J., Roh, S. Y., Lee, E. J., et al. (2018). Bibliographical characteristics of North Korean medical journals and articles. Journal of Korean Medical Science, 33(27), e185.

Jeong, G. H., & Huh, S. (2017). Bibliometric and content analysis of medical articles in the PubMed database published by North Korean authors from 1997 to July 2017. Science Editing,4(2), 70–75. https://doi.org/10.6087/kcse.98.

Jeong, G. H., & Huh, S. (2018). Update: Bibliometric analysis of publications from North Korea indexed in the Web of Science Core Collection from 1978 to July 2018. Science Editing,5(2), 119–123. https://doi.org/10.6087/kcse.135.

Jin, J. (2019). Political news discourse analysis based on an attitudinal perspective of the appraisal theory—Taking the New York Times' Report China-DPRK relations as an example. Theory and Practice in Language Studies,9(10), 1357–1361.

Kim, E. (2017). Team size patterns of Korean and international journal articles in library and information science. Journal of Korean Library and Information Science Society,48(2), 429–447.

Kim, K., & Chung, Y. (2019). Bibliographic and content analysis of physics papers from North Korea indexed in the Scopus from 2005 to 2018. Science Editing,6(1), 35–40.

Kong, T. Y. (2018). China's engagement-oriented strategy towards North Korea: Achievements and limitations. The Pacific Review,31(1), 76–95.

Kumar, G. Y., & Kumar, K. S. (2017). Free vibration analysis of smart composite beam. Materials Today: Proceedings,2(4), 2487–2491.

Kumar, S., & Kumar, S. (2018). Publication productivity of scientists of ICAR-Indian Institute of Oilseeds Research: A scientometrics study. BS Publications, 294–308.

Larivière, V., Gingras, Y., Sugimoto, C. R., & Tsou, A. (2015). Team size matters: Collaboration and scientific impact since 1900. Journal of the Association for Information Science and Technology,66(7), 1323–1332.

Lee, Y. S. (2018). International isolation and regional inequality: Evidence from sanctions on North Korea. Journal of Urban Economics,103, 34–51.

Lu, H., & Feng, Y. (2009). A measure of authors' centrality in co-authorship networks based on the distribution of collaborative relationships. Scientometrics,81(2), 499.

Mariani, L. (2017). Assessing North Korea's nuclear and missile programmes: Implications for Seoul and Washington. Istituto Affari Internazionali.

Moed, H. F. (2005). Citation analysis in research evaluation (Vol. 9). Berlin: Springer.

Mongeon, P., & Paul-Hus, A. (2016). The journal coverage of Web of Science and Scopus: A comparative analysis. Scientometrics,106(1), 213–228.

Nakashina, E., Shih, G., & Hudson, J. (2019). Leaked documents reveal Huawei's secret operations to build North Korea's wireless network. Washington Post. https://www.washingtonpost.com/world/national-security/leaked-documents-reveal-huaweis-secret-operations-to-build-north-koreas-wireless-network/2019/07/22/583430fe-8d12-11e9-adf3-f70f78c156e8_story.html?noredirect=on&utm_term=.b2590c190979.

Newman, M. E. (2004). Coauthorship networks and patterns of scientific collaboration. Proceedings of the National Academy of Sciences,101(suppl 1), 5200–5205.

Noland, M. (2019). North Korea: Sanctions, engagement, and strategic reorientation. Asian Economic Policy Review,14(2), 189–209.

Oh, D. G., Kim, E., Yeo, J., Yang, K., & Lee, J. (2019). A comparison of editorial board members of non-western journals and core LIS journals. In 2019 International conference on library and information science (pp. 383–394). Taipei, Taiwan.

Olson, G. M., Zimmerman, A., Bos, N., & Wulf, W. A. (2008). How collaboratories affect scientists from developing countries. In G. Olson, A. Zimmerman, & N. Bos (Eds.), Scientific collaboration on the Internet (pp. 355–376). Cambridge: MIT Press. https://doi.org/10.7551/mitpress/9780262151207.003.0021.

Page, J., & Gale, A. (2017). Behind North Korea's nuclear advance: Scientists who bring technology home. Wall Street Journal. Retrieved October 30, 2019, from https://www.wsj.com/articles/behind-north-koreas-nuclear-advance-scientists-who-bring-technology-home-1504711605.

Park, S. C., Choi, J., Lee, D. W., & Park, Y. C. (2019). Psychiatric research in North Korea in the 21st century. American Journal of Psychiatry,176(2), 96–97.

Park, D. H., Choi, M. H., Lim, A. Y., & Shin, H. Y. (2018). An analysis of infectious disease research trends in medical journals from North Korea. Journal of Preventive Medicine and Public Health,51(2), 109.

Park, H. W., & Yoon, J. (2019). Structural characteristics of institutional collaboration in North Korea analyzed through domestic publications. Scientometrics,119(2), 771–787.

Pilot, R., Signorini, R., Durante, C., Orian, L., Bhamidipati, M., & Fabris, L. (2019). A review on surface-enhanced Raman scattering. Biosensors,9(2), 57.

Pollack, J. H., & LaFoy, S. (2018). North Korea's international scientific collaborations: Their scope, scale, and potential dual-use and military significance, CNS Occasional Paper #43, The President and Trustees of Middlebury College. Retrieved October 30, 2019, from https://www.nonproliferation.org/wp-content/uploads/2018/12/op43-dprk-international-scientific-collaborations.pdf.

Ramanavièius, A., Herberg, F. W., Hutschenreiter, S., Zimmermann, B., Lapënaitë, I., Kaušaitë, A., et al. (2005). Biomedical application of surface plasmon resonance biosensors. Acta Medica Lituanica, 12(3), 1–9.

Reality Check Team. (2018). Kim Jong-un visit: What else crosses the China-North Korea border? BBC News. Retrieved October 30, 2019, from http://www.bbc.com/news/world-asia-china-43561325.

Shelton, R. D., & Lewison, G. (2013). Scientific collaboration as a window and a door into North Korea. Scientometrics,97(1), 3–11.

Song, Y. S. (2019). A glimpse into academic and research libraries in North Korea: Collaboration to bridge societies. College & Research Libraries News,80(2), 82.

Song, W., & Lee, S. (2016). China's engagement patterns towards North Korea. Pacific Focus,31(1), 5–30.

Song, S. T., Su, K. H., Thorson, S. J., Harblin, T. D., Gregg, D. P., Carriere, F. F., et al. (2003). Bilateral research collaboration between Kim Chaek University of Technology (DPRK) and Syracuse University (US) in the area of integrated information technology. Unpublished paper, presented at Asian Studies on the Pacific Coast meetings at East-West Center, Honolulu.

Su, P., & Saalman, L. (2017). China's engagement of North Korea: challenges and opportunities for Europe. SIPRI. Retrieved October 30, 2019, from http://www.sipri.org/sites/default/files/Chinas-engagement-North-Korea.pdf.

Thorson, S., & Seo, H. (2014). Building partners through academic science. Asian Perspective,38(1), 137–161.

Tollerfson, J. (2018). China declared world's largest producer of scientific articles. Nature, 553(7689), 390.

Uddin, S., Hossain, L., & Rasmussen, K. (2013). Network effects on scientific collaborations. PLoS ONE,8(2), e57546.

Van Eck, N., & Waltman, L. (2010). Software survey: VOSviewer, a computer program for bibliometric mapping. Scientometrics,84(2), 523–538.

Waltman, L. (2016). A review of the literature on citation impact indicators. Journal of Informetrics,10(2), 365–391.

Warf, B. (2015). The Hermit Kingdom in cyberspace: Unveiling the North Korean internet. Information, Communication & Society,18(1), 109–120.

Watterson, C. J. (2019). What next for sanctions against North Korea? Bulletin of the Atomic Scientists,75(5), 247–251.

Yang, W. (2016). National Natural Science Foundation of China: Funding excellent basic research for 30 years. Retrieved October 30, 2019, from http://s3-service-broker-live-19ea8b98-4d41-4cb4-be4c-d68f4963b7dd.s3.amazonaws.com/uploads/ckeditor/attachments/8485/nsfc.pdf.

Yonhap News Agency. (2019). N. Korean leader promotes scientists for contribution to national defense. Yonhap News Agency. Retrieved October 30, 2019, from https://en.yna.co.kr/view/AEN20190813001000325.
About this article
Cite this article
Kim, E., Kim, E.S. A critical examination of international research conducted by North Korean authors: Increasing trends of collaborative research between China and North Korea. Scientometrics 124, 429–450 (2020). https://doi.org/10.1007/s11192-020-03461-1
Received:

Published:

Issue Date:
Keywords
North Korea

Pyongyang

International collaboration

Highly cited papers

Keyword analysis

Civilian and military applications

Engagement policy