Abstract
Today, university ranking has turned into a critical issue in the world. Each university is identified with a surface form under which the whole performance of that university is assessed. This article intends to provide a clear picture of the inconsistencies observed in recording Iranian university titles by their affiliated authors and to clarify the negative impact of such inconsistencies in positioning Iranian universities in global university ranking systems. To collect various surface forms of Iranian university names, use was made of ISI Web of Science through keywords Cu = Iran and py = 2000–2009. Only MSRT universities were considered. Two M.A. experts listed all variant forms of a single university under that name. The form publicized in a university's website was considered as its entry name. The major sources of variation identified were as follows: Acronyms, misspellings, abbreviations, space variations, syntactic permutation, application of vowels/consonants and vowel/consonant combinations, /a/vs./aa/, Tashdid, Kasra ezafe, redundancy, downcasing, voiceless glottal stop sound /?/, shortening and deletion of titles. It was found that at its present shape Iranian universities are not receiving the rank they really deserve simply because authors affiliated to a university use university title forms inconsistently. It was recommended that authors follow the surface form publicized by universities in their websites, use the help of an editor in their works, and not be credited for their articles in case the forms deviate from those publicized through the websites. A spell checker, as an add-ins software is highly needed to homogenize Iranian university surface forms by replacing the variants by the dominant form proposed.
Access options
Buy single article
Instant access to the full article PDF.
USD 39.95
Price includes VAT (USA)
Tax calculation will be finalised during checkout.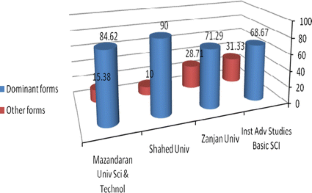 References
Ahmadi-Birjandi, A. (1973). Ghesse-ye por ghosse-ye ettesal va enfesal [The sorrowful story of joining and disjoining]. Yaghma, 26(7), 473–475.

Akbarnejad, S. (1997). Fasele-ye khali miyan-e vajeha dar zakhire va bazyabi-ye rayane'i-ye ettela'at [The issue of inner and outer word spaces in information storage and retrieval]. Faslname-ye Ketab (pp. 49–56). Berlin: Spring and Summer Issue.

Behzadi, M. (1996). Shive-ye zabt-e a'lam-e engelisi dar Farsi [A method for recording English proper nouns in Persian]. Tehran: Markaz-e Nashr-e Daneshgahi, Ketabkhane-ye melli-ye jomhoori-ye eslami-ye Iran.

Chung, C.J., & Park, H.W. (2012). Web visibility of scholars in media and communication journals. Scientometrics. doi:10.1007/s11192-012-0707-8, pp. 1–9.

Emami, K. (1992). Lozoom-e baznegari dar shive-ye khatt-e Farsi [The need to revise Persian writing system]. Adine, 73(74), 18–19.

Falahati Qadimi Fumani, M. R. (2010). Proposing a model of automatic key phrase indexing for a specific type of persian scientific articles based on a linguistically enriched statistical approach. India: Kuvempu Institute of Kannada Studies, University of Mysore.

Falahati Qadimi Fumani, M. R. (2011). The Persian Agrovoc in an indexing context. Int. J. Index. (The Indexing), 29, 23–29.

Falahati Qadimi Fumani, M. R., & Ramachandra, C. S. (2008). The concept of stopwords in Persian chemistry articles: A discussion in automatic indexing. Glossa, 4(1), 146–164.

Feng, L., Yong, Y., Xiaolong, G., & Wei, Q. (2012). Performance evaluation of research universities in Mainland China, Hong Kong and Taiwan: based on a two-dimensional approach. Scientometrics, 90, 531–542. doi:10.1007/s11192-011-0544-1.

Goltaji, M., & Alinejad Chamazkoti, F. (2011). Motale'e-ye 'ashoftegi-ye negaresh-e nam-e daneshgahha-ye vezarat-e 'olum, tahqiqat va fannavari dar paygah-e tamson roiterz va yekdast sazi-ye nam-e 'anha [Iran's MSRT university title variations in ISI Web of Science: The need for consistency]. Shiraz: Takht-e Jamshid Publications.

Hendi, S. (2002). Dastoor-e khatt-e Farsi: shive'i dar negaresh-e kalameha-ye morakkab [Persian writing system grammar: a method to write compound terms]. Aamoozesh-e Zaban va Adab-e Farsi, 16(63), 27–31.

Horri, A. (1993). Kampiyuter va rasm-ol-khatt-e Farsi [Computer and Persian writing system]. Payam-e Ketabkhane, 3(1), 6–11.

IAPLL. (2007). Dastoor-e khatt-e Farsi [Persian writing system grammar] (7th ed.). Tehran: Farhangestan Publications.

Jahanshahi, (1981). Rahnamay-e nevisande va virayesh [A guide for writers and editing]. Tehran: Shooray-e Ketab-e Koodak. Farhangname-ye Koodakan va Nojavanan.

Kaboli, I. (1995). Vajesazi va bifasele nevisi [Word formation and joining of compound term elements]. Adine, 97, 56–59.

Mar'ashi, A.A. (2002). Chegoone ba doshvarihay-e khatt-e farsi kenar biya'im? [How to deal with the difficulties in Persian writing system?] Technoloji-ye Amoozeshi, 17(137), 28–32.

Ma'soumi-Hamadani, H. (2002). Khatt-e Farsi va rayane [Persian writing system and computer]. Nashr-e Danesh, 19(2), 2–6.

Morteza'i, L. (2001). Masaa'ele zabaan va khatt-e Faarsi dar zakhire va baazyaabi-ye ettelaa'aat [The problems with Persian orthography in information retrieval and storage]. Faslnaame-ye Ettelaa'resaani [Ettelaa'resaani Quarterly], 17(1,2), 24–29.

Najafi, A. (2005). Ghalat Nanevisim. Farhang-e doshvarihay-e zaban-e Farsi [Let's write correct Persian. A dictionary of difficulties in Persian writing] (14th ed.). Tehran: Markaz-e Nashr-e Daneshgahi.

Naseh, M. A. (2004). Negahi be Payannamehay-e daneshgahi dar zamine-ye khatte Farsi (1974–2003) [An overview of academic theses on Persian writing system (1974–2003)]. Name-ye Farhangestan, 6(3), 47–50.

Pourjavadi, N. A. (2003). Dar jabolsay-e internet: zaroorat-e khatt-e latini baray-e Farsi [In the Internet: the need for the Penglish]. Nashr-e Danesh, 20(2), 2–5.

Saffarpour, A. (2001). Olgoohaa-ye yaaddehi-yaadgiri- ye gaam be gaam-e enshaa-ye Faarsi [Teaching and learning step-wise patterns of Persian spelling]. Tehran: Mo'asese

Sama'i, S. M. (2004). Karbord-e neshaneha dar khatt-e Farsi [Use of punctuation marks in Persian orthography]. Oloom-e Ettela' Resani, 19(1/2), 8–12.

Sami'i-Gilani, A. (2000). Negaresh va virayesh [Writing and editting] (2nd ed.). Tehran: SAMT Publications.

San'ati, M. (1992). Doshvariha-ye zaban-e Farsi ba kampiyuter [Difficulties in Persian computing]. Adine, 72, 56–57.

Schulz, P.A., & Manganote, E.J.T. (2012). Revisiting country research profiles: learning about the scientific cultures. Scientometrics. doi:10.1007/s11192-012-0696-7, pp. 1–15.

Tayyeb, (1992). Homography in Persian. Res. J. Isfahan Univ. (Humanities), 4, 15–38.

Yahaghi, M. J., & Naseh, M. M. (1992). Rahnamay-e negaresh va virayesh [A guide to writing and editing]. Tehran: Astan-e Ghods-e Razavi Publications.
About this article
Cite this article
Falahati Qadimi Fumani, M.R., Goltaji, M. & Parto, P. Inconsistent transliteration of Iranian university names: a hazard to Iran's ranking in ISI Web of Science. Scientometrics 95, 371–384 (2013). https://doi.org/10.1007/s11192-012-0818-2
Received:

Published:

Issue Date:
Keywords
University ranking systems

Iranian universities

ISI Web of Science

Persian-English transliteration

Misspellings

Information retrieval

Persian orthography

Downcasing