Abstract
Using the World Bank Enterprise Survey data, we analyze performance gaps between male- and female-owned companies in three regions—Eastern Europe and Central Asia (ECA), Latin America (LA), and Sub-Saharan Africa (SSA). Among our findings are significant gender gaps between male- and female-owned companies in terms of firm size, but much smaller gaps in terms of firm efficiency and growth (except in LA). Part of the reason women run smaller firms is that they tend to concentrate in sectors in which firms are smaller and less efficient (in ECA and SSA). By contrast, we find no evidence of gender discrimination in access to formal finance in any of the three regions, although in ECA women are less likely than men to seek formal finance. Finally, while female entrepreneurs receive smaller loans than their male counterparts, the returns from each dollar they receive is no lower in terms of overall sales revenue.
This is a preview of subscription content,
to check access.
Access this article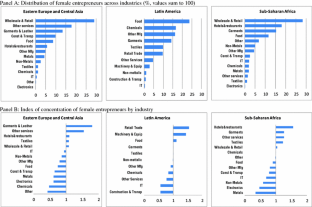 Similar content being viewed by others
Notes
The 27 ECA countries include 16 from Central and Eastern Europe (Albania, Bosnia and Herzegovina, Bulgaria, Croatia, Czech Republic, Estonia, Former Yugoslavia, the former Yugoslav Republic of Macedonia, Hungary, Latvia, Lithuania, Poland, Romania, Slovak Republic, Slovenia, and Turkey) and 11 from the Commonwealth of Independent States (Armenia, Azerbaijan, Belarus, Georgia, Kazakhstan, Kyrgyzstan, Moldova, Russia, Tajikistan, Ukraine and Uzbekistan). The 13 countries in LA are: Argentina, Bolivia, Chile, Colombia, Ecuador, Guatemala, Honduras, Mexico, Nicaragua, Panama, Paraguay, Peru and Uruguay. The 22 SSA countries are: Angola, Botswana, Burundi, Burkina Faso, Cameroon, Cape Verde, Gambia, Ghana, Guinea, Guinea Bissau, DRC, Ethiopia, Kenya, Mali, Namibia, Nigeria, Rwanda, Senegal, Swaziland, Tanzania, Uganda, and Zambia.

We acknowledge that there are important differences across countries within each region and that ECA, in particular, is a rather artificial construct. However, these regions are those formally recognized by the World Bank Group and data, analytical work, and policy recommendations are routinely collected, produced, and disseminated for each region as a whole, as well as for individual countries (including, for example, in the Doing Business report).

There is a question as to whether the sample should be weighted to be representative of the relative sizes of these economies or populations. Since the distribution of firms across countries in the pooled analytical sample corresponds quite closely to the countries' relative size within the region in terms of GDP and population, we do not re-weight our dataset.

In the case of Sub-Saharan Africa, two observations with extremely high values for fixed assets are also dropped.

We decided to discard the oldest, 'historical' firms because their performance may be disproportionately affected by brand recognition rather than by the ability of the (current) entrepreneur. This selection, moreover, increases the samples' comparability across regions.

We are not too concerned about some of the sample selections made, which purely affect the interpretation of the coefficients—for example, our results are only valid for domestic firms that are privately held shareholding companies, partnerships and sole proprietorships, and are younger than 75 years of age. In Sect. 4, we discuss the implications of not being able to determine the owner's level of involvement in managerial decisions, and we propose a robustness test to explore this issue. In the conclusions we discuss the implications of pooling countries at the regional level. More of concern are the missing data on sex and capital in the relevant sample, whose presence can bias the results in ways that are hard to gauge, a priori. Out of the relevant sample (firms with privately held shareholding companies, sole proprietorship and partnership), those firms with missing data on the gender of the entrepreneur are 1.2% in LA, 1.5% in SSA, and 17.6% in ECA. Firms with missing data on capital are generally a larger portion of the sample, 33.9% in ECA, 37% in LA, and 5% in SSA. Missing data are of concern if the process that generates them is correlated with the dependent variables of interest. We run descriptive and basic regressions (not including capital among the explanatory variables) for the broader sample, and we run the same analysis for the restricted sample with full information on capital. The results remain qualitatively unchanged.

Notice that the percentage change in a dependent variable that has been log-transformed due to a dummy switching from 0 to 1 is 100*[exp(β) − 1].

The latter formulation allows for the inclusion of new firms (those for which Xt−3 = 0); moreover, it "compresses" the very large growth rates that tend to be associated with small firms (because they typically start from a very low amount of sales). Notice that g varies between −2 and +2 and it is monotonically related to G. The two growth rate measures are linked by the identity G = 2g/(2 − g) and are approximately equal for small growth rates. When using g instead of G, the results are essentially the same in terms of significance, but the gap is smaller in LA, −0.067 for sales growth and −0.025 for employment growth, both significant at the 1% confidence level.

Equation 1 can also be interpreted as a first order approximation of more complicated revenue (production) functions. Notice that the production function can be alternatively specified with the dependent variable expressed as total revenue (as in 1) or as value added (i.e. ln(V i) = ln(Y i − M i)), with labor and capital (and not intermediate material) included on the right-hand side.

Whether it is the sex of the owner or of the manager that matters for firm's performance remains an open question that can only be answered with more detailed data on the ownership and management structure as well as on the sex of owners and managers. Moreover, the sample should include enough variation in ownership (and management) types to be able to disentangle the two effects.

This argument is reminiscent of the "occupational crowding" literature, arguing that women being crowded into a relatively small number of occupations results in them earning lower wages than men.

In the case of LA, industrial sectors, such as garments, food, and textiles drive this result.

Some researchers suggest that women entrepreneurs choose sectors with either of the following characteristics: (1) where it is easier to combine work with household responsibilities; (2) where women can utilize skills they have mastered as part of their socialization process; (3) which require a small initial investment; (4) where women can easily get credit from suppliers, and (5) sectors for which there is a readily tested, and large market.

Some authors have suggested that entrepreneurs from ethnic minorities and other demographic groups are discouraged from applying for a loan because they fear that their application will be turned down because of poor credit history, prejudice, etc. (Cavalluzzo et al. 2002). Our results for ECA are also coherent with this explanation.

Robustness tests have been carried out running richer specifications of the regressions presented in Table 5, including also variables for the degree of competition in the industrial sector and capacity utilization for ECA and manager experience for SSA; since the results are virtually the same, the more parsimonious specification is presented in Table 5.
References
Aidis, R., Welter, F., Smallbone, D., & Isakova, N. (2007). Female entrepreneurship in transition economies: The case of Lithuania and Ukraine. Feminist Economics, 13(2), 157–183.

Anna, A. L., Chandler, G. N., Jansen, E., & Mero, N. P. (2000). Women business owners in traditional and non-traditional industries. Journal of Business Venturing, 15(3), 279–303.

Barber, B. M., & Odean, T. (2001). Boys will be boys: Gender, overconfidence, and common stock investment. The Quarterly Journal of Economics, 116(1), 261–292.

Bardasi, E., & A. Getahun. (2009). Unlocking the power of women. Chapter prepared for the Ethiopia ICA. In: Toward the competitive frontier: Strategies for improving Ethiopia's investment climate. Washington, DC: World Bank.

Bardasi, E., Blackden, C. M., & Guzman, J. C. (2007). Gender, entrepreneurship, and competitiveness in Africa. In World Economic Forum, World Bank, and African Development Bank. Africa Competitiveness Report, 2007, 69–85.

Bates, T. (1995). Self-employment entry across industry groups. Journal of Business Venturing, 10, 143–156.

Blanchflower, D. G., Levine, P. B., & Zimmerman, D. J. (2003). Discrimination in the small-business credit market. Review of Economics and Statistics, 85(4), 930–943.

Boden, R. J., Jr. (1999). Flexible working hours, family responsibilities and female self-employment: Gender differences in self-employment selection. American Journal of Economics and Sociology, 58(1), 71–84.

Bosma, N., van Praag, M., Thurik, R., & de Wit, G. (2004). The value of human and social capital investments for the business performance of startups. Small Business Economics, 23, 227–236.

Bourguignon, F., Fournier, M., & Gurgand, M. (2007). Selection bias correction based on multinomial logit model: Monte Carlo comparisons. Journal of Economic Surveys, 21(1), 174–205.

Bruderl, J., & Preisendorfer, P. (1998). Network support and success of newly founded businesses. Small Business Economics, 10, 213–225.

Brush, C. G. (1992). Research on women business owners: Past trends: A new perspective and future directions. Entrepreneurship. Theory & Practice, 16(Summer), 5–30.

Carter, S. (2000). Gender and enterprise. In S. Carter & D. Jones-Evans (Eds.), Enterprise and small business: Principles, practice and policy. Harlow: Prentice Hall/Pearson Education Limited.

Carter, S., & Cannon, T. (1992). Women as entrepreneurs. London: Academic Press.

Carter, S., & Rosa, P. (1998). The financing of male and female-owned businesses. Entrepreneurship and Regional Development, 10(3), 225–241.

Cavalluzzo, K. S., & Cavalluzzo, L. C. (1998). Market structure and discrimination: The case of small business. Journal of Money, Credit, and Banking, 30(4), 771–792.

Cavalluzzo, K., Cavalluzzo, L., & Wolken, J. (2002). Competition, small business financing, and discrimination: Evidence from a new survey. Journal of Business, 75(4), 641–679.

Cavalluzzo, K. S., & Wolken, J. D. (2005). Small business loan turndowns, personal wealth and discrimination. Journal of Business, 78(6), 2153–2177.

Chaganti, R., & Parasuraman, S. (1996). A study of the impacts of gender on business performance and management patterns in small business. Entrepreneurship Theory and Practice, 21(2), 73–75.

Coate, S., & Tennyson, S. (1992). Labor market discrimination, imperfect information and self employment. Oxford Economic Papers, 44(2), 272–288.

Coleman, S. (2007). The role of human and financial capital in the profitability and growth of women-owned small firms. Journal of Small Business Management, 45(3), 303–319.

Cressy, R. (1996). Are business startups debt-rationed? Economic Journal, 106(438), 1253–1270.

Davis, S. J., & Haltiwanger, J. (1992). Gross job creation and destruction, and employment reallocation. Quarterly Journal of Economics, 104(4), 671–698.

Delmar, F., & Davidsson, P. (2000). Where do they come from? Prevalence and characteristics of nascent entrepreneurs. Entrepreneurship & Regional Development, 12(1), 1–23.

Devine, T. J. (1994). Characteristics of self-employed women in the United States. Monthly Labor Review, 117(3), 20–34.

Dohmen, T. J., Falk, A., Huffman, D., Schupp, J., Sunde, U., & Wagner, G. G. (2006). Individual risk attitudes: New evidence from a large, representative, experimentally-validated survey. CEPR discussion paper no. 5517. SSRN, http://ssrn.com/abstract=906866. Accessed 30 September 2011.

Du Rietz, A., & Henrekson, M. (2000). Testing the female underperformance hypothesis. Small Business Economics, 14(1), 1–10.

Dubin, J. A., & McFadden, D. L. (1984). An econometric analysis of residential electric appliance holdings and consumption. Econometrica, 52, 345–362.

Earle, J. S., & Sakova, Z. (2000). Business start-ups or disguised unemployment? Evidence on the character of self-employment from transition economies. Labor Economics, 7(5), 575–601.

Evans, D., & Leighton, L. S. (1989). Some empirical aspects of entrepreneurship. American Economic Review, 79(3), 519–535.

Fischer, E. M., Reuber, R. A., & Dyke, L. S. (1993). A theoretical overview and extension of research on sex, gender, and entrepreneurship. Journal of Business Venturing, 8(2), 151–168.

Heckman, J. (1979). Sample selection bias as a specification error. Econometrica, 51, 153–161.

Hundley, G. (2001). Why women earn less than men in self-employment. Journal of Labor Research, 22, 817–829.

Jianakoplos, N. A., & Bernasek, A. (1998). Are women more risk averse? Economic Inquiry, 36(4), 620–630.

Kalleberg, A., & Leicht, K. (1991). Gender and organizational performance: Determinants of small business survival and success. Academy of Management Journal, 34, 136–161.

Kepler, E., & Shane, S. (2007). Are male and female entrepreneurs really that different? U.S. Small Business Administration. http://www.sba.gov/advo/research/rs309tot.pdf. Accessed 20 September 2011.

Klapper, L., & Parker, S. C. (2010). Gender and the business environment for new firm creation. World Bank Research Observer. doi:10.1093/wbro/lkp032.

Kon, Y., & Storey, D. J. (2003). A theory of discouraged borrowers. Small Business Economics, 21(1), 37–49.

Kovalainen, A., Arenius, P., & Galloway, L. (2002). Entrepreneurial activity of women in the global economy: analysis of data from 29 countries. Paper presented at the Babson Kauffman Entrepreneurship Research Conference, Boulder, Colorado.

Lohmann, H., & Luber, S. (2004). Trends in self-employment in Germany: Different types, different outcomes? In W. Muller & R. Arum (Eds.), The reemergence of self-employment. Princeton, NJ: Princeton University Press.

Lombard, K. V. (2001). Female self-employment and demand for flexible, nonstandard work schedules. Economic Inquiry, 39, 214–237.

Loscocco, K., & Robinson, J. (1991). Barriers to women's small-business success in the United States. Gender & Society, 5, 511–532.

Masters, R., & Meier, R. (1988). Sex differences and risk-taking propensity of entrepreneurs. Journal of Small Business Management, 26(1), 31–35.

Mayoux, L. (1995). From vicious to virtuous circles? Gender and micro-enterprise development. Occasional paper 3rd ed. Geneva: United Nations Research Institute for Social Development, UNDP.

Minniti, M. (2009). Gender issues in entrepreneurship. Foundations and Trends in Entrepreneurship, 5(7–8), 497–621.

Muravyev, A., Schafer, D., & Talavera, O. (2009). Entrepreneurs' gender and financial constraints: Evidence from international data. Journal of Comparative Economics, 37(2), 270–286.

Robb, A., & Wolken, J. (2002). Firm, owner and financing characteristics: Differences between female and male-owned small businesses. Federal reserve working paper series: 2002-18.

Rosa, P., Carter, S., & Hamilton, D. (1996). Gender as a determinant of small business performance: Insights from a British study. Small Business Economics, 8, 463–478.

Rosti, L., & Chelli, F. (2005). Gender discrimination, entrepreneurial talent and self-employment in Italy. Small Business Economics, 24(2), 131–142.

Schumpeter, J. (1939). Business cycles: A theoretical, historical and statistical analysis of the capitalist process. New-York: McGraw-Hill.

Shane, S., Kolvereid, L., & Westhead, P. (1991). An exploratory examination of the reasons leading to new firm formation across country and gender. Journal of Business Venturing, 6(6), 431–446.

Storey, D. (2004). Racial and gender discrimination in the micro firms credit market?: Evidence from Trinidad and Tobago. Small Business Economics, 23(5), 401–422.

Verheul, I., & Thurik, R. (2001). Start-up capital: Does gender matter? Small Business Economics, 16(4), 329–345.

Verheul, I., van Stel, A., & Thurik, R. (2004). Explaining female and male entrepreneurship across 29 countries. SCALES-paper N200403. The Netherlands: EIM Business and Policy Research and SCALES.

Watkins, J., & Watkins, D. (1984). The female entrepreneur: Background and determinants of business choice-Some British Data. International Small Business Journal, 2(4), 21–31.

Watson, J. (2002). Comparing the performance of male- and female-controlled businesses: Relating outputs to inputs. Entrepreneurship Theory and Practice, 26(3), 91–100.
Acknowledgments
We acknowledge the support of the PREM Gender group at the World Bank for funding this research. We would like to thank Andrew Morrison, John Jackson, and Jan Svejnar for discussions that significantly improved the paper. Thanks are also due to two anonymous referees and the participants to the Workshop 'Female Entrepreneurship: Constraints and Opportunities,' which was organized by the World Bank in Washington D.C. on June 2 and 3, 2009, and to the '5th IZA/World Bank Conference: Employment and Development,' May 3–5, 2010, Cape Town, South Africa, for useful comments and suggestions.
Additional information
This paper is dedicated to the memory of Katherine Terrell.
About this article
Cite this article
Bardasi, E., Sabarwal, S. & Terrell, K. How do female entrepreneurs perform? Evidence from three developing regions. Small Bus Econ 37, 417–441 (2011). https://doi.org/10.1007/s11187-011-9374-z
Accepted:

Published:

Issue Date:

DOI: https://doi.org/10.1007/s11187-011-9374-z
Keywords
JEL Classifications