Abstract
Cashew nut shell liquid (CNSL) is a natural aromatic organic oil consisting of phenolic compounds with interesting structures. Extraction of CNSL was performed in a Soxhlet apparatus. The major (90 %) component of CNSL is anacardic acid, which is easily decarboxylated to cardanol (10 %) by use of conventional methods. In this paper we describe a three-step synthesis of Mannich polyols for rigid foams. The first step is synthesis of N-(2-hydroxyethyl)-1,3-oxazolidine (the Mannich precursor) by condensation of paraformaldehyde and diethanolamine. The second step involves synthesis of the Mannich base phenolic ring of cardanol by reaction with N-(2-hydroxyethyl)-1,3-oxazolidine. The third step is alkoxylation. The synthesized polyols were characterized by FTIR and 1H NMR spectroscopy and thin-layer chromatography.
Access options
Buy single article
Instant access to the full article PDF.
US$ 39.95
Tax calculation will be finalised during checkout.
Subscribe to journal
Immediate online access to all issues from 2019. Subscription will auto renew annually.
US$ 119
Tax calculation will be finalised during checkout.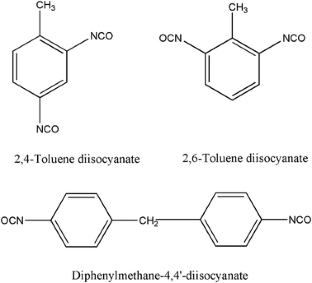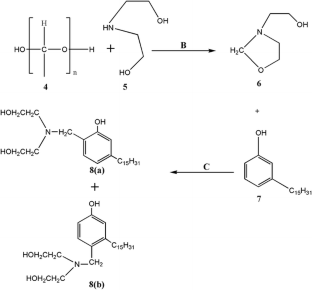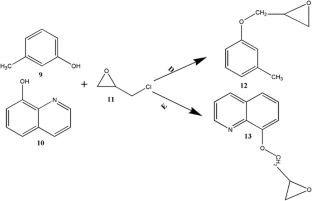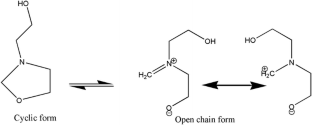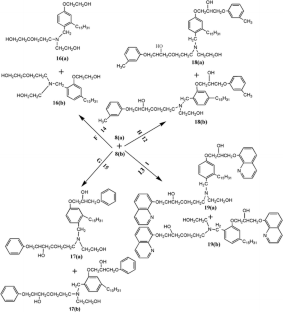 References
1.

P. Phani Kumar, J.R.P. Paramashivappa, J. Vithayathil, P.V. Subba, A.S. Rao, J. Agric. Food Chem. 50, 47 (2002)

2.

P. Das, T. Sreelatha, A. Ganesh, J. Biomass Bioenerg. 27, 265 (2004)

3.

T. Gandhi, M. Patel, B. Dholakiya, J. Nat. Prod. Plant Resour. 2(1), 135 (2012)

4.

J.H.P. Tyman, I.E. Bruce, J. Surfactants Deterg. 6, 291 (2003)

5.

E.L. Short, V. Tychopoulos, J.H.P. Tyman, Long chain phenols—part 30. J. Chem. Technol. Biotechnol. 53, 389 (1992)

6.

R. Ikeda, H. Tanaka, H. Uyama, A.S. Kobayashi, J. Macromol. Rapid Commun. 21, 496 (2000)

7.

P. Campaner, D. Amico, L. Longo, C. Stifani, A. Tarzia, J. Appl. Polym. Sci. 114, 35 (2009)

8.

T.D. Thien, N. Vankhoi, Q.D. Khang, D. Vanluyen, J. Macromol. Sci. A 33, 19 (1996)

9.

H.P. Bhunia, N.R. Jana, A. Basak, S. Lenka, G.B. Nando, J. Polym. Sci. A. Chem. 36, 391 (1998)

10.

I. K. Suresh, S.V. Kishanprasad, US Pat. 7, 244, 772

11.

I.K. Suresh, S.V. Kishanprasad, Ind. Eng. Chem. Res. 44, 45 (2005)

12.

M. Ionescu, S. Fu, N. Bilic, I. Javni, S.Z. Petrovic, in CPI Polyurethane Technical Conference, Houston, Texas, 11–13 October (2010)

13.

M. Ionescu, X. Wan, S. Petrovic Z, Cashew Nut Oil Polyols for Polyurethanes, International Chemical Congress of Pacific Basin Societies-PACIFICHEM. Honolulu, Hawaii, Dec 15–20 (2010)

14.

M. Ionescu, Chemistry and technology of polyols for polyurethanes (Rapra Technology Ltd, Shropshire, 2005), pp. 381–400

15.

M. Ionescu, V. Zugravu, I. Mihalache, S. Mihai, Synthesis of New Aromatic Mannich Polyols for Rigid Polyurethane Foams Advances in Urethane Science & Technology, vol 14 (Technomic Publishing Company, Lancaster, 1998), pp. 151–217

16.

M. Ionescu, Chemistry and Technology of Polyols for Polyurethanes, vol 13, 15 (RAPRA, Anglia, 2006)

17.

B. Reichert, Die Mannich-Reaction (Springer, Verlag, Berlin, 1959), p. 8

18.

E. C. Britton, G. H. Coleman, US Pat. 2,022,182

19.

M. Ionescu, I. Mihalache, V. Zugravu, S. Mihai, J. Cell. Polym. 13(1), 57–68 (1994)

20.

C.K. Frish, L.S. Reegen, J. Mater. Sci. 2, 128 (1969)

21.

ASTM E222 Standard test methods for hydroxyl groups using acetic anhydride acetylation. (2000)

22.

M. Ionescu, S. Mihai, L. Dumitrache, I. Enache, J. Mater. Plast. 1, 45 (2008)
Acknowledgments
The author wish to thank the Department of Applied Chemistry, SVNIT, Surat, for providing laboratory facilities, and Gujarat Cashew Industrial (Kutch, Gujarat, India), for providing the initial product. Analytical facilities provided by the Centre of Excellence, Vapi, Gujarat, India, and Punjab University, Chandigarh, India, are gratefully acknowledged.
About this article
Cite this article
Gandhi, T.S., Patel, M.R. & Dholakiya, B.Z. Synthesis and characterization of different types of epoxide-based Mannich polyols from low-cost cashew nut shell liquid. Res Chem Intermed 40, 1223–1232 (2014). https://doi.org/10.1007/s11164-013-1034-2
Received:

Accepted:

Published:

Issue Date:
Keywords
Cashew nut shell liquid

Mannich precursor

Mannich base

Mannich polyols