Abstract
We test for the signaling hypothesis versus the human capital theory using the Wiles test in a country which has experienced a dramatic increase in the supply of skills in a relatively short period of time. For this purpose, we construct a job match index based on the usefulness of school-provided skills and the relevance of the job performed to the field of study. Then, we regress the first earnings of graduates on this index using OLS. The data we use come from a representative tracer survey of Poles who left secondary schools or graduated from higher education institutions over the period of 1998–2005. We find that only the graduates from higher education institutions obtain a wage premium from skills acquired in the course of formal education. This finding is robust to a number of robustness checks with different indicators of educational mismatch and instrumental variables.
Access options
Buy single article
Instant access to the full article PDF.
US$ 39.95
Tax calculation will be finalised during checkout.
Subscribe to journal
Immediate online access to all issues from 2019. Subscription will auto renew annually.
US$ 79
Tax calculation will be finalised during checkout.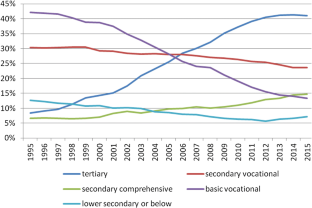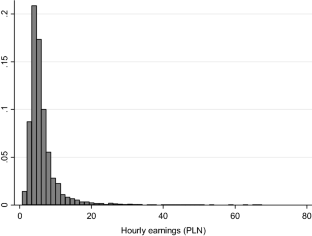 Notes
1.

Wincenciak (2016) computed the dominant level of education for each 3-digit level (ISCO 08) occupation group and assumed that respondents with higher than the dominant level of education are overeducated, while those with a lower level of education than the dominant one are undereducated.

2.

At the same time, the fraction of individuals with basic vocational education decreased from 42 to 13% (author's analyses based on data from the Polish labor force survey (LFS), 1995–2015). For a description of the Polish education system, see: Eurydice (2006).

3.

Zhu and Zhu (2011) focus on one type of post-secondary diploma.

4.

The survey was conducted as part of the project commissioned by the Polish Ministry of Labour entitled: "The analysis of labour market activity of graduates in the context of the implementation of The First Job Program." The aims of the project were to assess the effects of the nationwide active labour market program "The First Job" addressed to the secondary school leavers and graduates of higher education institutions and to identify the factors causing their unemployment.

5.

A description of the system of education in Poland can be found in Eurydice (2006).

6.

For the sake of comparability of the initial earnings of graduates who started their first job in different years (1998–2005), initial hourly rates were adjusted by the Consumer Price Index, with 2005 as the base year.

7.

The authors gratefully acknowledge the suggestion of one of the anonymous referees of the Journal to run separate estimates.

8.

The results are available from the authors on request.
References
Arabsheibani, G. (1989). The Wiles test revisited. Economics Letters, 29(4), 361–364.

Arrow, K. J. (1973). Higher education as a filter. Journal of Public Economics, 2(3), 193–216.

Arteaga, C. (2018). The effect of human capital on earnings: Evidence from a reform at Colombia's top university. Journal of Public Economics, 157(C), 212–225.

Becker, G. S. (1964). Human capital: A theoretical and empirical analysis with special reference to education. New York: National Bureau of Economic Research.

Biglan, A. (1973). The characteristics of subject matter in different academic areas. Journal of Applied Psychology, 57(3), 195–203.

Blaug, M. (1976). The empirical status of human capital theory: a slightly jaundiced survey. Journal of Economic Literature, 14(3), 827–855.

Blaug, M. (1995). The wage contract and education. In M. Carnoy (Ed.), International encyclopedia of economics of education (2nd ed., pp. 42–52). Oxford: Pergamon Press/Elsevier Science.

Brown, S., & Sessions, J. G. (2004). Signalling and screening. In G. Johnes & J. Johnes (Eds.), International handbook on the economics of education (pp. 58–100). Cheltenham: Edward Elgar.

Brown, S., & Sessions, J. G. (2006). Evidence on the relationship between firm-based screening and the returns to education. Economics of Education Review, 25(5), 498–509.

Caroleo, F. E., & Pastore, F. (2018). Overeducation at a glance: Determinants and wage effects of the educational mismatch, looking at the AlmaLaurea data. Social Indicators Research, 137(3), 999–1032.

Clark, D., & Martorell, P. (2014). The signaling value of a high school diploma. Journal of Political Economy, 122(2), 282–318.

Dolton, P. J. (1985). Signalling and screening in the graduate labour market. Hull Economic Research Paper No. 123.

Eurydice. (2006). The system of education in Poland. Warsaw: Foundation for the Development of the Education System.

FengLiang, L., Xiaohao, D., & Morgan, W. J. (2009). Higher education and the starting wages of graduates in China. International Journal of Educational Development, 29(4), 374–381.

Groot, W., & Hartog, J. (1995). Screening models and education. In M. Carnoy (Ed.), International encyclopedia of economics of education (2nd ed., pp. 34–38). Oxford: Pergamon Press/Elsevier Science.

Heckman, J. (1979). Sample selection bias as a specification error. Econometrica, 47(1), 153–161.

Jakubowski, M. (2015). Opening up opportunities: Education reforms in Poland. IBS Policy Paper 01/2015.

Liwiński, J. (2018). The impact of compulsory schooling on earnings. Evidence from the 1999 Education Reform in Poland. GLO Discussion Paper Series 253, Global Labor Organization (GLO).

Miller, P. W., & Volker, P. A. (1984). The screening hypothesis: An application of the Wiles test. Economic Inquiry, 22(1), 121–127.

Richards, E. (1984). Early employment situations and work role satisfaction among recent college graduates. Journal of Vocational Behavior, 24(3), 305–318.

Riley, J. G. (1979). Testing the educational screening hypothesis. Journal of Political Economy, 87(5), S227–S251.

Rosen, S. (1972). Learning and experience in the labour market. Journal of Human Resources, 12(3), 326–342.

Spence, A. M. (1973). Job market signaling. Quarterly Journal of Economics, 87(3), 355–374.

Stiglitz, J. E. (1975). The theory of "screening", education, and the distribution of income. The American Economic Review, 65(3), 283–300.

van der Merwe, A. (2010). Does human capital theory explain the value of higher education? A South African case study. American Journal of Business Education, 3(1), 107–118.

Wiles, P. (1974). The correlation between education and earnings: The External-Test-Not-Content hypothesis. Higher Education, 3(1), 43–58.

Wincenciak, L. (2016). Educational mismatches and earnings in Poland: Are graduates penalised for being overeducated? Ekonomia. Rynek, gospodarka, społeczeństwo, 46, 145–167.

Zhu, X., & Zhu, Z. (2011). An application of the Wiles test in the formulation of education strategy for the newly-upgraded colleges of China. International Journal of Modern Education and Computer Science, 3(2), 15–21.
Acknowledgements
This paper has been presented on several occasions: XXVI Meeting of the Economics of Education Association (29–30.06.2017, Murcia, Spain); XII Jornadas de Economia Laboral (06–07.07.2017, Valladolid, Spain). We thank all seminar participants for useful comments and in particular: Margarida Rodrigues, Geraint Johnes and Antonio Di Paolo. We thank two anonymous referees for very insightful comments. Nonetheless, the usual disclaimer applies.
Additional information
Publisher's Note
Springer Nature remains neutral with regard to jurisdictional claims in published maps and institutional affiliations.
Appendix
Appendix
See Table 15.
About this article
Cite this article
Liwiński, J., Pastore, F. Are School-Provided Skills Useful at Work? Results of the Wiles Test. Res High Educ 62, 72–97 (2021). https://doi.org/10.1007/s11162-019-09569-5
Received:

Published:

Issue Date:
Keywords
Education

Skills

Signaling

Job matching

Wages

Wiles test

Poland