Intracohort cannibalism and methods for its mitigation in cultured freshwater fish
Abstract
Cannibalism is a common phenomenon that occurs in over 30 fish families. Most of the species are valuable objects of aquaculture and cannibalism is highly undesirable. Cannibalism is an aggressive behaviour, which can be caused by stress induced by various population and environmental factors and can occur in two main forms: early larval and late juvenile (or adult). Each of these forms can lead to severe losses of stock. Losses are caused not only by fish eating each other, but also by an increase in the number of infections (the result of body surface damage). It is important to understand the phenomenon of cannibalism in order to properly prevent, diagnose and reduce it. The main aim of this study was to present and examine some of the well-examined methods of cannibalism mitigation. Most of the methods consist of creating rearing conditions similar to natural conditions and to reduce stress. Moreover, because of large interspecies differences, similar methods can result in different effects depending on the species. Additional studies are needed to better understand the biology of each cultured species with particular emphasis on the impact of domestication, as well as to improve fish rearing conditions.
Keywords
Cannibalism 
Cultured fish 
Aquaculture 
Fish rearing conditions 
Introduction
Cannibalism is a predatory feeding strategy that involves killing and eating individuals of the same species. In nature, this phenomenon can occur between parents and offspring, in a given age group between siblings or between individuals from separate populations (regardless of the kinship) (Smith and Reay
1991
; Baras and Jobling
2002
; Qin et al.
2004
and see Table 
1
). This behaviour represents a specific protective measure against an excessive density of a given population and an alternative source of food when other food resources become scarce (van den Bosch et al.
1988
).
Table 1
Types of cannibalism occurring in the natural environment (from Smith and Reay 1991)
Criterion

Term

Definition

Developmental stage of prey

Egg cannibalism

Cannibalism of unhatched fertilized ova

Larval, juvenile and adult cannibalism (post-hatching cannibalism)

Cannibalism of the post-hatching stages

Genetic relationship of cannibal to prey

Filial cannibalism

Cannibalism by parents of offspring

Sibling cannibalism

Cannibalism of full siblings

Non-kin cannibalism

Cannibalism of presumably unrelated individuals

Age relationship of cannibal and prey

Intracohort cannibalism

Cannibalism of members of the same age cohort

Intercohort cannibalism

Cannibalism of members of a younger age cohort
Cannibalism is reported in both wild and farmed fish, particularly in aquaculture of predatory fish. This behaviour may reflect disrupted welfare, poorly adapted rearing conditions (especially with regard to feeding schedules or modes of food distribution), or unmet behavioural needs in recently domesticated species (Kaleta 2013). Another possible cause of cannibalism may be the establishment of the group hierarchy among old larvae and subsequent stages of ontogeny (Smith and Reay 1991). This phenomenon is associated not only with a dramatic decline in fish survival, but also in injuries in situations when the prey is too large to be totally consumed by a cannibal. Furthermore, cannibalism generates substantial economic losses (Baras and Jobling 2002; Kestemont et al. 2003; Qin et al. 2004; Król and Zieliński 2015).
The objective of this paper was to review the current knowledge of cannibalism in freshwater fish reared in aquaculture, including clinical aspects for veterinarians involved in the examination of fish. We also review the methods applied to mitigate the prevalence of cannibalism.
Causes, occurrence and development
Cannibalism in cultured fish occurs in different age groups and its type and development depend mostly on the species and production technology. It represents a major problem in the commercial production of many fish species (especially predatory species) and ranges from 15% to over 90% of individuals (Hecht and Appelbaum 1988). This phenomenon is mainly observed in fish from the following families: airbreathing catfish (Clariidae), pikes (Esocidae), percids (Percidae), characids (Characidae), latids (Latidae), gadids (Gadidae) and in over 30 other families, including cyprinids (Cyprinidae) and salmonids (Salmonidae), (Smith and Reay 1991; Hecht and Pienaar 1993; Qin et al. 2004).
Under rearing conditions, the intensity of cannibalism is directly influenced by population and abiotic factors, along with genetic predispositions (Fig. 
1
). However, the extent to which cannibalistic behaviour is genetically controlled in fish remains controversial, and it is still unclear if cannibals in many species are "natural born killers" or just "lottery winners" (Baras and Jobling
2002
; Król et al.
2013
; Yang et al.
2015
). Some studies have demonstrated that this phenomenon is to some extent genetically determined (Thibault
1974
; Ferguson and Noakes
1983
; van Damme et al.
1989
; Amundsen et al.
1999
; Yang et al.
2015
). However, the interactions between genotype and environment play a major role in the expression of cannibalism (Baras and Jobling
2002
; Yang et al.
2015
). Intracohort cannibalism may also be sex-based, especially in species that show sexual growth dimorphism during early ontogeny, e.g. Vundu catfish (
Heterobranchus longifilis
) (Baras
1999a
), or in species with diet dimorphism, e.g. old hake females (family
Gadidae
) (Garrison and Link
2000
). Moreover, the influence of the genotype of a maternal parent on cannibalism in progeny is higher than the paternal one (Mousseau
1998
; Yang et al.
2015
).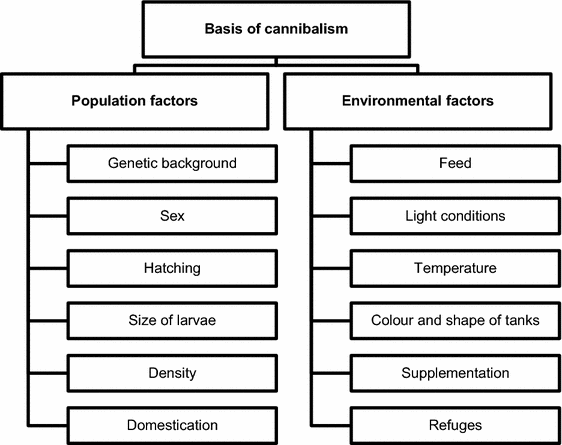 Population factors that influence cannibalism include the size and density of larvae, with both being positively correlated with the incidence of cannibalistic behaviour. Abiotic factors mainly encompass the availability and energy value of feed, diet supplementation, feeding schedule, temperature and clarity of water, light intensity, photoperiod, shape and colour of internal walls of rearing tanks or the lack of refuges for small-sized individuals (Smith and Reay 1991; Britz and Pienaar 1992; Hecht and Pienaar 1993; Folkvord and Otterå 1993; Baras et al. 2000a; Baras and Jobling 2002; Kestemont et al. 2003; Szczepkowski 2009; Król and Zieliński 2015). As all factors interact with each other, they should be approached holistically (Hecht and Pienaar 1993; Kestemont et al. 2003) in order to mitigate cannibalism. These factors are discussed further in "Methods used to mitigate cannibalistic behaviour" section.
Intracohort cannibalism is typical of farming conditions and is divided into two types: type I, the so-called "early" type, which occurs in the larval phase and is independent of a diversity in fish sizes, where the victim is not completely ingested or consumed; and type II, a later form associated with heterogeneous growth, when the victim is consumed whole (Hecht and Appelbaum 1988; Smith and Reay 1991; Baras and Jobling 2002). A potential type I cannibal mostly attacks its prey from the tail end, eats only a damaged part of the tail and disgorges the rest of the larva as it is unable to swallow it due to the lack of difference in size. This does not affect some species, i.e. those with very large mouth dimensions or sharp oral teeth in the early ontogenetic stage—in such situations, cannibals can attack siblings' heads or trunks (Hecht and Appelbaum 1988; Baras 1999b; Baras and Jobling 2002). Type II cannibalism is determined by the mouth dimensions of a potential cannibal in relation to a potential prey, particularly to its body depth (Hecht and Appelbaum 1988; Smith and Reay 1991; Sogard and Olla 1994). The gape size limitations differ between species and ontogenetic stages, owing to the allometric growth of mouthparts (Baras and Jobling 2002). For type II cannibalism, prey is attacked from the head end or from the side and usually swallowed whole (Baras and Jobling 2002; Kestemont et al. 2003). However, because of a large predator-to-prey ratio, in type II cannibalism the mode of ingestion may be of little importance (Baras and Jobling 2002). An exception for this is Acanthopterygians, where prey is eaten head first as a cannibal then avoids the spiny fin rays of the dorsal or pectoral fins which threaten a predator. Otherwise, the erected rays may cause the death of the cannibal and its prey (Brabrand 1995; Qin et al. 2004). In most fish species, type I cannibalism is replaced by type II together with increasing gape size limitations, heterogeneity of a stock and growing chances of swallowing a potential prey. Type I cannibalism may trigger growth heterogeneity because digestible nutrients are often higher in fish than in plankton prey, which leads to the growth advantage of cannibals and, in effect, to the occurrence of type II cannibalism (Baras and Jobling 2002; Król and Zieliński 2015).
The outcomes of these two types of cannibalism differ in the level of mortality. In the case of type I, it ranges between 1.5 and 12.0% of the initial stock of European perch (Perca fluviatilis) larvae (Baras et al. 2003; Babiak et al. 2004; Król and Zieliński 2015) and from 10 to 17% in the stock of pikeperch (Sander lucioperca) larvae (Zakęś and Demska-Zakęś 1996; Zakęś 2012; Król and Zakęś 2016) or even 40% in dorada (Brycon moorei) (Baras et al. 2000b). Type II usually generates significantly higher losses and is mainly reported in a stock characterised by a large heterogeneity in size (Król and Zieliński 2015).
Hormonal background
Intracohort aggression has often been linked to the mortality of aquaculture organisms (Manley et al.
2015
). It is hormonally regulated via different modulators (Table 
2
), and is the basis of cannibalistic behaviour (Hecht and Appelbaum
1988
; Folkvord
1997
; Yang et al.
2015
; Vallon et al.
2016
).
Table 2
The impact of neuromodulators on aggressive behaviour in fish (own compilation based on Kania et al. 2012)
Modulator

Physiological role

Impact on aggressive behaviour

Vasotocin

Ionoregulation

Osmoregulation

Gregarious fish: enhancement of aggressive behaviour; territorial fish: attenuation of aggressive behaviour

Isotocin

IT peptide

A role in reproductive physiology (the exact impact still unknown)

Gregarious and monogamous fish: enhanced aggressive behaviour (directed at individuals that disrupt social relations)

Serotonin

Immunomodulation; regulation of glucose metabolism

Mitigation of aggressive behaviour

Dopamine

A role in reproductive physiology

Enhancement of aggressive behaviour

Testosterone

Regulation of spermatogenesis; enhancement of the secondary sexual traits

Enhancement of aggressive behaviour (aiming at protecting the territory)

Oestrogens

Regulation of oogenesis; enhancement of the secondary sexual traits; stimulation of vitellogenin synthesis in the liver

Enhancement of aggressive behaviour

Glucocorticoids

Regulation of metabolism; contribution in adaptive responses to stressors

A high, persistent level in subordinates—an increase in serotonergic transmission in the brain resulting in a reduction of aggressive behaviour; reduced motor activity

CRH (corticotrophin-releasing hormone)

Regulation of the anterior pituitary lobe; regulation of TSH secretion

Mitigation of aggressive behaviour; increased motor activity

Neuropeptide Y

Regulation of blood pressure; circadian rhythm; food ingestion; pituitary hormone secretion

Mitigation of aggressive behaviour
In some species or life stages, an organism also may be aggressive or cannibalistic toward a conspecific when defending its own space (Hecht and Pienaar 1993; Baras and Jobling 2002), fighting for food during low feeding frequency and periods of low food availability, when conspecifics offer the only type of alternative prey (Hecht and Pienaar 1993; Baras and Jobling 2002; Kestemont et al. 2003). However, there are also exceptions, for example, in Vundu catfish, type II cannibalism requires no preliminary aggression or chase, or even contact with the prey, suggesting that cannibalism can be independent of aggressive behaviour (Baras 1999b).
Diagnostics
Due to the complex causes of cannibalism, diagnostics should always start with case history—gathering information from the owner of the fish farm, which should be as extensive as possible. The questions should include the exact percentage of losses with a particular interest in the age of fish and the diversity in growth. It is important to consider how the losses were spread among a given age group and individual tanks. In order to rule out welfare issues, water parameters should be analysed in the preceding period (at least 2 weeks). Such a procedure enables detection of possible situations, which may trigger stress and behavioural changes, for example, alterations in temperature, oxygen or pH level, power outages, bio-filter faults or excessive waste. The owner should also be asked about situations that may have disrupted the established hierarchy, namely, transfer or sorting fish and tank cleaning. Data on nutrition is equally important; they refer to both feed types and feeding strategies.
The next step is a physical examination which includes a thorough inspection of fish with special attention paid to any injuries (inspection with a magnifying glass, a microscopic examination under a small magnification) and their localization. This should help to exclude the injuries caused by handling, tank design or coexisting diseases. In the case of tail injuries, type I cannibalism is suspected while the wounds to the head and body sides may indicate type II cannibalism. In addition, the gastrointestinal content of a potential cannibal may be examined. In most species, fish of different sizes are differentially sensitive to handling, but handling generally has no significant effect on fish survival (Baras et al. 2011a). However, special attention is needed when very small and fragile Percids larvae are examined, as they are by nature very sensitive to any handling and parameter alterations, which results in deaths (Król and Zieliński 2015) and may be mistaken for an outcome of cannibalism.
Methods used to mitigate cannibalistic behaviour
Different approaches may be implemented to reduce the incidence of cannibalistic behaviour and resulting mortality. Previous research suggests that applying different methods simultaneously will produce a synergistic effect (Qin et al. 2004) and that methods should be adjusted according to a given species and its biology.
Summary
Cannibalism represents a problem under intensive commercial production of different fish species and is impossible to manage without understanding the factors impacting its occurrence and degree of severity. It is thus necessary to constantly expand the knowledge of biology and natural habitats of reared species and species which have been newly introduced to aquaculture. This is becoming even more important as aquaculture is continuously developing and an increasing number of species are being adapted to intensive rearing and breeding. The key is to include consideration of the phenomenon of cannibalism in selection and breeding programmes.
Each case of cannibalism should be considered in the context of biology and specificity of a given species. There is not a single, universal preventive measure that would be equally effective in all species and for all types of cannibalism. In addition, a reduction in cannibalistic behaviour is not necessarily correlated with the best outcomes in production and, hence, the parameters should be carefully selected. Furthermore, there may need to be decisions made between fish survival and the final fish biomass.
Copyright information
© The Author(s) 2017
Open AccessThis article is distributed under the terms of the Creative Commons Attribution 4.0 International License (http://creativecommons.org/licenses/by/4.0/), which permits unrestricted use, distribution, and reproduction in any medium, provided you give appropriate credit to the original author(s) and the source, provide a link to the Creative Commons license, and indicate if changes were made.