Democratic parenting: paradoxical messages in democratic parent education theories
Abstract
Some prominent parent education theories in the United States and other Western countries base their educational viewpoint explicitly on democratic values, such as mutual respect, equality and personal freedom. These democratic parenting theories advocate sharing power with children and including them in family decision making. This study presents a textual analysis of two such theories, the Adlerian model of parent education and the Parent Effectiveness Training (PET) model, as they are embodied in two original bestselling textbooks. Through content and argumentation analysis of these influential texts, this study examines the paradoxes inherent in these two theories when they articulate how to implement fully democratic principles within the parent-child relationship. We discover that in spite of their democratic rationale, both books offer communication practices that guide the child to modify misbehaviour, enforce parental power, and manipulate the child to make decisions that follow parental judgment, and thus do not endorse the use of a truly democratic parenting style. We suggest, as an alternative to the democratic parenting style, that parents be introduced to a guardianship management style, in which they do not share authority with children, but seek opportunities for enabling children to make more autonomous decisions and participate in more family decision making.
Keywords
Democratic parenting 
Parent education 
Educational paradoxes 
Family decision making 
Adlerian parent education 
Parent effectiveness training 
Education for democracy 
Résumé
Éducation parentale démocratique : les messages contradictoires des théories afférentes – Plusieurs théories prépondérantes aux États-Unis et dans d'autres pays occidentaux sur l'éducation parentale fondent explicitement leur perspective éducative sur les valeurs démocratiques telles que le respect mutuel, l'égalité et la liberté individuelle. Ces théories sur l'éducation parentale démocratique préconisent de partager le pouvoir avec les enfants, et de les inclure dans la prise des décisions familiales. La présente étude procède à une analyse textuelle de deux de ces théories, le modèle adlérien d'éducation parentale et la méthode Gordon Parents efficaces (Parent Effectiveness Training, PET), telles qu'elles figurent dans deux ouvrages originaux à succès. À travers une analyse des contenus et des argumentations de ces textes influents, les auteurs de l'étude examinent les contradictions inhérentes à ces deux théories, lorsqu'elles énoncent les moyens d'appliquer pleinement les principes démocratiques dans la relation parent-enfant. Les auteurs constatent qu'en dépit de leur fondement démocratique, les deux ouvrages recommandent des pratiques de communication qui incitent l'enfant à modifier un comportement inacceptable, renforcent le pouvoir parental, manipulent l'enfant pour qu'il prenne des décisions conformes au jugement parental, et ainsi ne correspondent pas à un style d'éducation parentale véritablement démocratique. En alternative, les auteurs proposent d'initier les parents à un style proche de la gestion de tutelle, dans le cadre duquel ils ne partagent pas l'autorité avec les enfants, mais cherchent les occasions qui permettent à ces derniers de prendre des décisions plus autonomes et de participer davantage aux décisions familiales.
Zusammenfassung
Demokratische Erziehung: Widersprüchliche Botschaften in den Theorien zur demokratischen Erziehung in der Familie – Einige der renommiertesten pädagogischen Theorien in den Vereinigten Staaten und anderen westlichen Ländern gründen ihren Erziehungsstandpunkt ausdrücklich auf demokratische Werte, wie zum Beispiel gegenseitigen Respekt, Gleichberechtigung und persönliche Freiheit. Die Vertreter dieser demokratischen Erziehungstheorien plädieren dafür, die Macht mit den Kindern zu teilen und sie in familiäre Entscheidungsprozesse mit einzubeziehen. In der vorliegenden Untersuchung werden zwei derartige Theorien, das Adlersche Erziehungsmodell und das Gordon-Modell (P.E.T. = Parent Effectiveness Training), anhand ihrer Darstellung in zwei Fachbuch-Bestsellern analysiert. Dazu werden Inhalt und Argumentation dieser einflussreichen Texte analysiert und daraufhin untersucht, welche inneren Widersprüche in den beiden Theorien erkennbar werden, wenn es um die Frage geht, wie in der Eltern-Kind-Beziehung uneingeschränkt demokratische Prinzipien praktisch umgesetzt werden sollen. Die Autoren finden heraus, dass in beiden Büchern – ungeachtet ihrer demokratischen Grundsätze – Kommunikationsmethoden unterbreitet werden, mit denen das Kind dazu gebracht werden soll, unerwünschtes Verhalten zu ändern, mit denen die elterliche Macht durchgesetzt und das Kind in einer Weise manipuliert werden soll, dass seine Entscheidungen mit den Ansichten der Eltern konform gehen. Das ist nicht gerade das, was man unter einem wirklich demokratischen Erziehungsstil versteht. Als Alternative zum demokratischen Erziehungsstil in der Familie schlagen die Autoren vor, Eltern einen vormundschaftlichen Führungsstil nahezubringen, bei dem sie nicht die Autorität mit ihren Kindern teilen, sondern ihnen Hilfestellungen geben, damit die Kinder selbstständigere Entscheidungen treffen und sich bei familiären Entscheidungsprozessen stärker einbringen können.
Resumen
Crianza parental democrática: mensajes paradójicos en las teorías de educación democrática por parte de los padres –Algunas teorías prominentes sobre educación parental de los Estados Unidos y otros países occidentales basan su punto de vista educativo explícitamente en valores democráticos, tales como respeto mutuo, igualdad de derechos y libertad personal. Estas teorías de educación democrática por parte de los padres recomiendan compartir el poder con los niños e incluirlos en las tomas de decisiones de la familia. El presente estudio presenta un análisis textual de dos de estas teorías, el modelo adleriano de educación parental y el modelo de Técnicas Eficaces para Padres (TEP), ambos incorporados en dos libros de texto que han sido verdaderos éxitos de venta. Mediante el análisis de contenido y argumentación de estos textos influyentes, en este estudio se examinan las paradojas inherentes a estas dos teorías, cuando articulan cómo implementar principios plenamente democráticos dentro de la relación padres-hijos. Descubrimos que, pese a su planteamiento democrático, ambos libros ofrecen prácticas de comunicación que guían al niño a modificar un comportamiento incorrecto, refuerzan el poder parental y manipulan al niño para que tome decisiones acordes con la opinión de los padres; y que, por lo tanto, no apoyan el uso de un estilo parental verdaderamente democrático. Sugerimos, como alternativa al estilo de crianza parental democrática, que los padres sean conducidos hacia un estilo de gestión protectora donde ellos no compartan la autoridad con los niños, pero sí busquen oportunidades que les permitan a los niños tomar decisiones más autónomas y participar en mayor grado en las tomas de decisiones familiares.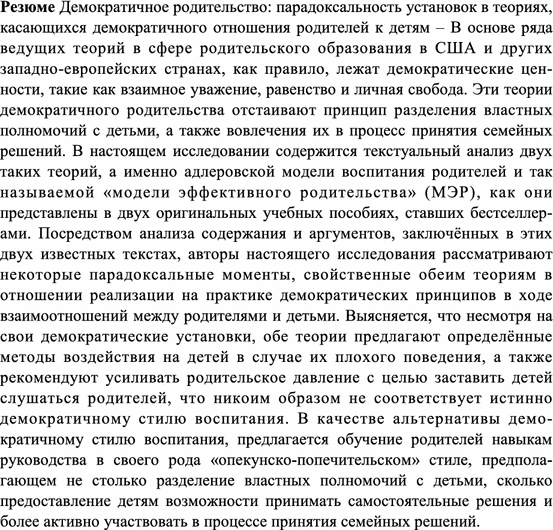 Copyright information
© Springer Science+Business Media Dordrecht 2013