Globalisation, transnational policies and adult education
Abstract
Globalisation, transnational policies and adult education – This paper examines policy documents produced by the United Nations Educational, Scientific and Cultural Organization (UNESCO) and the European Union (EU) in the field of adult education and learning. Both these entities address adult education as an explicit object of policy. This paper investigates how globalisation processes are constructed as policy problems when these transnational political agents propose adult education as a response. The author's main argument is that while UNESCO presents the provision of adult education as a means for governments worldwide to overcome disadvantages experienced by their own citizenry, the EU institutionalises learning experiences as a means for governments to sustain regional economic growth and political expansion. After reviewing the literature on globalisation to elucidate the theories that inform current understanding of contemporary economic, political, cultural and ecological changes as political problems, she presents the conceptual and methodological framework of her analysis. The author then examines the active role played by UNESCO and the EU in promoting adult education as a policy objective at transnational level, and unpacks the specific problem "representations" that are substantiated by these organisations. She argues that UNESCO and EU processes assign specific values and meanings to globalisation, and that these reflect a limited understanding of the complexity of globalisation. Finally, she considers two of the effects produced by these problem representations.
Keywords
Adult education 
Transnational policy 
Globalisation 
UNESCO 
European Union 
Résumé
Mondialisation, politiques transnationales et éducation des adultes – Cet article examine les documents directifs émis par l'Organisation des Nations Unies pour l'éducation, la science et la culture (UNESCO) et par l'Union européenne (UE) dans le domaine de l'éducation et de l'apprentissage des adultes. Ces deux organismes considèrent l'éducation des adultes comme un sujet explicite de politique. L'auteure analyse que les processus de mondialisation sont échafaudés comme problèmes de politique quand ces agents de politiques transnationales proposent l'éducation des adultes comme une réponse. Elle prend pour argument principal que l'UNESCO présente l'offre d'éducation des adultes comme un moyen pour tous les gouvernements de la planète de surmonter les obstacles que rencontrent leurs citoyens, alors que l'UE institutionnalise les expériences d'apprentissage comme un moyen pour les gouvernements de soutenir la croissance économique régionale et l'expansion politique. Après avoir étudié la documentation sur la mondialisation afin d'éclairer les théories permettant d'appréhender comme problèmes politiques les défis économiques, politiques, culturels et écologiques d'aujourd'hui, l'auteure présente le cadre conceptuel et méthodologique de son analyse. Elle examine ensuite le rôle actif de l'UNESCO et de l'UE dans la promotion de l'éducation des adultes traitée comme objectif de politique transnationale, et analyse la question spécifique des « représentations » soutenues par ces organismes. Elle avance que dans leurs démarches, l'UNESCO et l'UE attribuent des valeurs et significations spécifiques à la mondialisation, qui reflètent une interprétation limitée de la complexité de la mondialisation. Enfin, elle dégage deux des effets produits par ces représentations de problèmes.
Zusammenfassung
Globalisierung, transnationale Politik und Erwachsenenbildung – In diesem Beitrag geht es um Strategiepapiere, die von der Organisation der Vereinten Nationen für Bildung, Wissenschaft und Kultur (UNESCO) und der Europäischen Union (EU) im Erwachsenenbildungsbereich erarbeitet wurden. Beide Organisationen haben die Erwachsenenbildung ausdrücklich zu einem politischen Ziel erklärt. Der Aufsatz untersucht, wie diese transnationalen politischen Akteure Globalisierungsprozesse als politische Problemstellungen ausdeuten, die sie dann mit dem Mittel der Erwachsenenbildung zu lösen versuchen. Die zentrale These der Autorin lautet, dass die UNESCO die Erwachsenenbildung als Instrument für Staaten in aller Welt darstelle, mit dem sich Benachteiligungen ihrer eigenen Bürgerinnen und Bürger überwinden lassen. Die EU institutionalisiere hingegen Lernerfahrungen, um den Regierungen ein Mittel an die Hand zu geben, das regionale Wirtschaftswachstum zu stärken und ihren politischen Einfluss auszubauen. Die Autorin gibt zunächst einen Überblick über die Veröffentlichungen zum Thema Globalisierung und erläutert die Theorien, auf deren Grundlage aktuelle wirtschaftliche, politische, kulturelle und ökologische Veränderungen als politische Problemstellungen interpretiert werden. Sodann stellt sie den konzeptionellen und methodischen Rahmen ihrer Analyse dar. Anschließend untersucht die Autorin die aktive Rolle der UNESCO und der EU hinsichtlich der Propagierung der Erwachsenenbildung als politisches Ziel auf transnationaler Ebene und fächert die spezifischen Problemrepräsentationen auf, die von diesen Organisationen untermauert werden. Sie vertritt die Auffassung, dass der Globalisierung durch die Prozesse der UNESCO und der EU bestimmte Werte und Bedeutungen zugeschrieben werden und dass sich in diesen Werten und Bedeutungen ein eingeschränktes Verständnis für die Komplexität der Globalisierung widerspiegelt. Zwei spezifische Auswirkungen dieser Problemrepräsentationen werden zum Abschluss des Beitrags genauer erläutert.
Resumen
Globalización, políticas transnacionales y educación de personas adultas – Este trabajo examina los documentos estratégicos producidos por la Organización de las Naciones Unidas para la Ciencia, la Educación y la Cultura (UNESCO) y la Unión Europea (UE) en el área de la educación y el aprendizaje. Ambas entidades enfocan la educación de adultos como objeto explícito de sus políticas. En este trabajo, la autora investiga cómo los procesos de globalización se desarrollan como problemas de políticas cuando estas entidades transnacionales proponen como respuesta la educación de las personas adultas. El argumento principal de la autora es el siguiente: mientras que la UNESCO presenta la oferta de educación de personas adultas como un modo con el que los gobiernos pueden superar mundialmente las desventajas que experimenta su propia ciudadanía, la UE institucionaliza las experiencias de aprendizaje como un camino con el cual los gobiernos pueden sostener el crecimiento económico regional y la expansión política. Luego de pasar revista a la literatura sobre globalización con el fin de clarificar las teorías que comunican el entendimiento actual de los cambios contemporáneos económicos, políticos, culturales y ecológicos como problemas políticos, ella presenta el marco conceptual y metodológico de su análisis. Luego, la autora examina el papel activo desempeñado por la UNESCO y la UE en la promoción de la educación de personas adultas como un objeto estratégico a nivel transnacional y desglosa las "representaciones" específicas de los problemas tal como los fundamentan estas organizaciones. La autora sostiene que los procesos de la UNESCO y la UE adjudican valores y significados específicos a la globalización, y que éstos reflejan una comprensión limitada de la complejidad insertada en los procesos de globalización contemporáneos. Finalmente, hace resaltar dos de los efectos que producen esas representaciones de los problemas.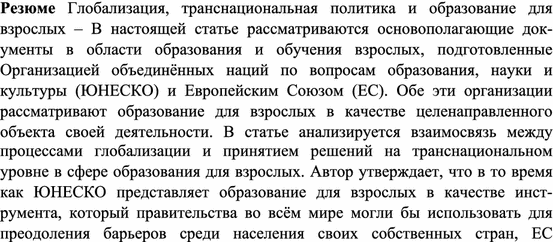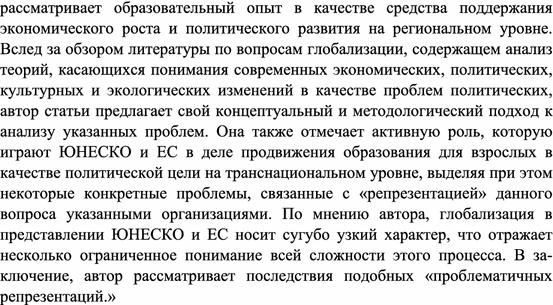 Copyright information
© Springer Science+Business Media Dordrecht 2012