LITERACY IN BRAZIL: FROM RIGHTS TO REALITY
Abstract
At a time when some 24% of the Brazilian population of 182 million are functionally illiterate, the author shows how illiteracy is concentrated in traditionally poor and disadvantaged social and ethnic groups as well as in certain regions of the country. He surveys the changes in legislation, policies and attitudes relating to literacy over the past few decades and describes how literacy is increasingly seen as a continuous process rather than a short-term, low-cost intervention. While there is still a lack of a broad, coordinated policy and adequate funding in this area, and while the challenges remain formidable, the author concludes that Brazil is moving slowly in the right direction.
Keywords
Civil Society 
Primary Education 
Adult Literacy 
Adult Education 
Literacy Programme 
These keywords were added by machine and not by the authors. This process is experimental and the keywords may be updated as the learning algorithm improves.
Résumé
ALPHABÉTISATION AU BRÉSIL: DES DROITS À LA RÉALITÉ – À une Époque où quelques 24% de la population brÉsilienne de 182 millions sont fonctionnellement analphabètes, l'auteur montre comment l'analphabÉtisme se concentre dans les groupes sociaux et ethniques traditionnellement pauvres et dÉsavantagÉs, aussi bien que dans certaines rÉgions du pays. Il examine les changements de la lÉgislation, des politiques et des attitudes concernant l'alphabÉtisation au cours des dernières dÉcennies, et dÉcrit comment l'alphabÉtisation est vue de plus en plus comme un processus continu plutôt que comme une intervention À court terme et peu coûteuse. Alors qu'une politique large et coordonnÉe et un financement adÉquat dans ce secteur continuent de faire dÉfaut, et alors que les dÉfis demeurent formidables, l'auteur conclut que le BrÉsil se dÉplace lentement dans la bonne direction.
Zusammenfassung
ALPHABETISIERUNG IN BRASILIEN: VOM RECHT ZUR REALITÄT – In einer Zeit, in der etwa 24% der 182 Millionen umfassenden brasilianischen Bevölkerung praktisch Analphabeten sind, weist der Autor darauf hin, dass sich das Analphabetentum nicht nur auf traditionell arme und benachteiligte soziale und ethnische Gruppen konzentriert, sondern auch in bestimmten Landesteilen vermehrt auftritt. Er gibt einen Überblick Über die in den letzten Jahrzehnten erfolgten VerÄnderungen in der Gesetzgebung, der Politik und der allgemeinen Haltung gegenÜber Alphabetisierungsmaßnahmen und beschreibt, dass die Alphabetisierung mehr und mehr als kontinuierlicher Prozesses wahrgenommen wird und nicht mehr als BeschrÄnkung auf kurzfristige, preisgÜnstige Interventionen. Trotz des Mangels an großrÄumig koordinierten Programmen und angemessener Finanzierung und trotz der nach wie vor betrÄchtlichen Schwierigkeiten in diesem Bereich kommt der Autor zu dem Schluss, dass sich die Entwicklung in Brasilien langsam in die richtige Richtung bewegt.
Resumen
LA CAPACIDAD DE LECTOESCRITURA EN BRASIL: DE UN DERECHO A UNA REALIDAD – En tiempos donde el 24% de los 182 millones de habitantes de Brasil presentan un analfabetismo funcional, el autor muestra cómo el analfabetismo está concentrado en grupos sociales y étnicos tradicionalmente pobres y desaventajados, al igual que en determinadas regiones del país. El autor analiza los cambios que se han producido en la legislación, en las políticas y en las actitudes relacionadas con la alfabetización a lo largo de las décadas más recientes y describe cómo esta capacidad de lectoescritura está siendo considerada más bien un proceso continuo y no tanto una intervención a corto plazo y a bajo costo. Aunque sigan faltando en este sentido una política amplia y coordinada y una financiación adecuada, y aunque los retos a enfrentar sigan siendo enormes, el autor concluye que Brasil está caminando lentamente hacia la dirección correcta.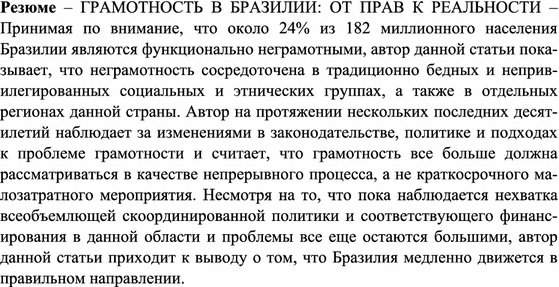 Copyright information
© Springer Science+Business Media B.V. 2008