Literacy and Communication Technologies: Distance Education Strategies for Literacy Delivery
Abstract
This article examines the promotion of literacy through information and communication technologies (ICTs) and through various modes of distance learning. After a general discussion of these approaches, the article focuses on efforts towards reducing illiteracy in Nigeria through integrated strategies for literacy delivery and especially through distance learning. After highlighting the strengths and weaknesses of these measures, the author makes some suggestions on how to maximize their effectiveness in helping Nigeria to achieve the targets of the Education for All agenda and the Millennium Development Goals.
Keywords
Basic Education 
Adult Literacy 
Literacy Programme 
Capacity Building Programme 
UNESCO Institute 
These keywords were added by machine and not by the authors. This process is experimental and the keywords may be updated as the learning algorithm improves.
Résumé
ALPHABÉTISATION ET TECHNOLOGIE DE COMMUNICATIONS: STRATÉGIES DE L'ÉDUCATION À DISTANCE POUR LA DÉLIVRANCE DE L'ALPHABÉTISATION – Cet article examine la promotion de l'alphabÉtisation À travers les technologies d'information et de communication (TIC) et À travers des mÉthodes variÉes d'enseignement À distance. Après une discussion gÉnÉrale de ces approches, l'article se concentre sur les efforts en vue de rÉduire l'analphabÉtisme au NigÉria À travers des stratÉgies intÉgrÉes pour la dÉlivrance de l'alphabÉtisation et plus spÉcialement À travers l'enseignement À distance. Après avoir mis en avant les points forts et les points faibles de ces mesures, l'auteur fait des suggestions quant À la maximisation de leur effectivitÉ pour aider le NigÉria À accomplir les buts de l'Agenda de l'Éducation Pour Tous et les Objectifs du MillÉnaire pour le DÉveloppement.
Zusammenfassung
ALPHABETISIERUNG UND KOMMUNIKATIONSTECHNOLOGIE: STRATEGIEN FÜR DEN FERNUNTERRICHT IN ALPHABETISIERUNGSKAMPAGNEN – Dieser Artikel beschäftigt sich mit der Verwendung von Informations- und Kommunikationstechnologien (ICTs) und verschiedener Arten von Fernunterricht in der Alphabetisierungsförderung. Der Artikel diskutiert zunächst diese Ansätze im allgemeinen und konzentriert sich dann auf Maßnahmen zur Reduktion des Analphabetismus in Nigeria durch integrative Alphabetisierungsstrategien und besonders durch Fernunterricht. Der Autor wirft ein Schlaglicht auf die Stärken und Schwächen dieser Maßnahmen und gibt Empfehlungen zur Maximierung ihrer Effektivität, damit Nigeria auf diese Weise in die Lage versetzt wird, die Ziele der Agenda ‹Bildung fÜr alle' sowie die Millenniumsentwicklungsziele erreichen zu können.
Resumen
LECTOESCRITURA Y TECNOLOGÍAS DE LA COMMUNICACIÓN: ESTRATEGIAS DE EDUCACIÓN A DISTANCIA PARA PROVEER LA ALFABETIZACIÓN – Este artÍculo examina la promociÓn de la lectoescritura a través de las tecnologÍas de la informaciÓn y la comunicaciÓn (ICT) y a través de diferentes modos de aprendizaje a distancia. Luego de un comentario general sobre estos enfoques, el artÍculo se concentra en los esfuerzos realizados para reducir el analfabetismo en Nigeria a través de estrategias integradas destinadas a proveer alfabetizaciÓn, particularmente a través del aprendizaje a distancia. Una vez contemplados los puntos fuertes y débiles de estas medidas, aporta algunas sugerencias para maximizar su eficacia y ayudar asÍ a Nigeria a alcanzar las metas de la agenda de EducaciÓn para Todos y los Objetivos de Desarrollo del Milenio.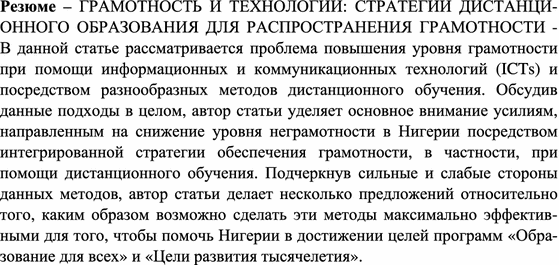 Copyright information
© Springer Science+Business Media B.V. 2008