Abstract
We perform a microstructure analysis of trading activities pre- and post-class period end-dates of securities class action lawsuits. We posit that these events are likely to significantly impact the spreads of affected firms, in addition to the well documented market capitalization loss that spurs the legal action. We detect neither meaningful widening of spreads nor change in put-call ratios ahead of the class period end-date, suggesting no microstructure or option open interest signal of the upcoming event. However, we present strong evidence of a significant degradation in market quality post the class period end-date based on widening spreads lasting for at least 60 trading days. We also document a trading volume spike and share price decline around the event date. Our research shows the impact on shareholders extends beyond the capitalization loss through wider spreads for defendant firms, while the same is not true for a control sample.
We're sorry, something doesn't seem to be working properly.
Please try refreshing the page. If that doesn't work, please contact support so we can address the problem.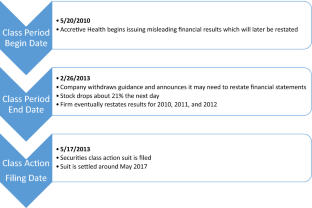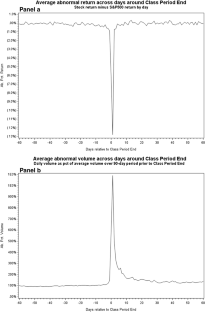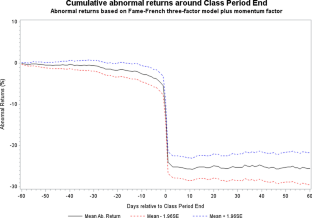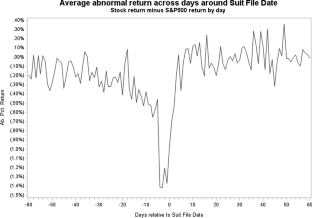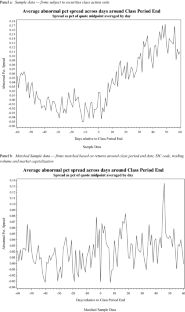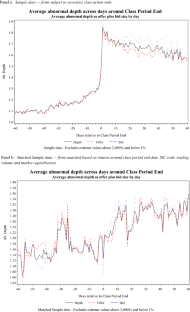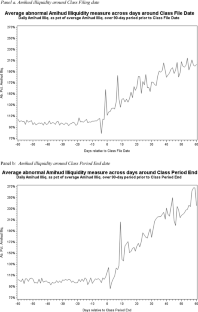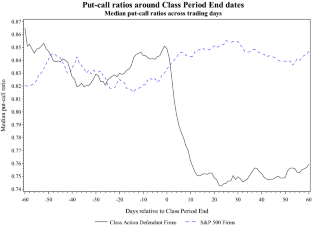 Notes
1.

D&O insurance indemnifies officers and directors of a corporation, or the corporation itself, for defense costs and potential losses a policy holder suffers related to legal action in connection with alleged acts or omissions pertaining to their actions in their capacity as directors and officers. Class action lawsuits under Rule 10b-5 of the Securities Exchange Act of 1934 are normally covered under these policies.

2.

Note that even a $30 million market capitalization loss would not necessarily mean the entire amount is potentially recoverable via litigation. That would only be the case if ALL investors had purchased the shares at peak prices during the class period. In practice, only a small number of investors are eligible to participate in securities class action lawsuits thus the potential settlement is often a small fraction of the overall market capitalization loss.

3.

§ 240.10b-5 Employment of manipulative and deceptive devices. It shall be unlawful for any person, directly or indirectly, by the use of any means or instrumentality of interstate commerce, or of the mails or of any facility of any national securities exchange, (a) To employ any device, scheme, or artifice to defraud, (b) To make any untrue statement of a material fact or to omit to state a material fact necessary in order to make the statements made, in the light of the circumstances under which they were made, not misleading, or (c) To engage in any act, practice, or course of business which operates or would operate as a fraud or deceit upon any person, in connection with the purchase or sale of any security. (Sec. 10; 48 Stat. 891; 15 U.S.C. 78j) [13 FR 8183, Dec. 22, 1948, as amended at 16 FR 7928, Aug. 11, 1951].

4.

5.

We calculate abnormal return as the difference between the daily return for each stock and the return of the S&P500 index. The returns were averaged for each day relative to the reference date (class period end or filing date) and then summed in order to obtain cumulative returns for a given period.
References
Amihud Y (2002) Illiquidity and stock returns: cross-section and time-series effects. J Financ Mark 5:31–56

Bauer R, Braun R (2010) Misdeeds matter: long-term stock price performance after the filing of class-action lawsuits. Financ Anal J 66:275–334

Beneish MD (1999) The detection of earnings manipulation. Financ Anal J 55:24–36

Boehmer E, Masumeci J, Poulsen A (1991) Event study methodology under conditions of event-induced variance. J Financ Econ 30(2):253–272

Bradley D, Cline BN, Lian Q (2014) Class action lawsuits and executive stock option exercise. J Corp Finance 27:157–172

Carhart MM (1997) On persistence in mutual fund performance. J Finance 52(1):57–82

Chalmers K, Naiker V, Navissi F (2012) Earnings quality and Rule 10b–5 securities class action lawsuits. J Account Public Policy 31(1):22–43

Chordia T, Huh SW, Subrahmanyan A (2009) Theory-based illiquidity and asset pricing. Rev Financ Stud 22(9):3629–3668

Dechow PM, Ge W, Larson CR, Sloan RG (2011) Predicting material accounting misstatements. Contemp Account Res 28(1):17–82

Dechow PM, Hutton AP, Kim JH, Sloan RG (2012) Detecting earnings management: a new approach. J Account Res 50(2):275–334

Fama EF, French KR (1992) The cross-section of expected stock returns. J Finance 47(2):427–465

Field L, Lowry M, Shu S (2005) Does disclosure deter or trigger litigation? J Account Econ 39(3):487–507

Fodor A, Krieger K, Doran JS (2011) Do option open-interest changes foreshadow future equity returns? Financial Mark Portf Manag 25(3):265

Gande A, Lewis CM (2009) Shareholder-initiated class action lawsuits: shareholder wealth effects and industry spillovers. J Financ Quant Anal 44(4):823–850

Glosten LR, Milgrom PR (1985) Bid, ask, and transaction prices in a specialist market with heterogeneously informed traders. J Financ Econ 14(1):71–100

Gong G, Louis H, Sun AX (2008) Earnings management, lawsuits, and stock-for-stock acquirers' market performance. J Acc Econ 46(1):62–77

Griffin PA, Grundfest JA, Perino MA (2004) Stock price response to news of securities fraud litigation: an analysis of sequential and conditional information. Abacus 40(1):21–48

Hasbrouck J (1993) Assessing the quality of a security market: a new approach to transaction-cost measurement. Rev Financ Stud 6(1):191–212

Jin W, Livnat J, Zhang Y (2012) Option prices leading equity prices: do option traders have an information advantage? J Acc Res 50(2):401–432

Johnson MF, Kasznik R, Nelson KK (2000) Shareholder wealth effects of the Private Securities Litigation Reform Act of 1995. Rev Account Stud 5(3):217–233

Johnson MF, Kasznik R, Nelson KK (2001) The impact of securities litigation reform on the disclosure of forward-looking information by high technology firms. J Account Res 39(2):297–327

Johnson MF, Nelson KK, Pritchard AC (2007) Do the merits matter more? The impact of the Private Securities Litigation Reform Act. J Law Econ Organ 23(3):627–652

Jones RA, Wu YW (2010) Executive compensation, earnings management and shareholder litigation. Rev Quant Financ Acc 35(1):1–20

Ke B, Huddart S, Petroni K (2003) What insiders know about future earnings and how they use it: evidence from insider trades. J Account Econ 35(3):315–346

Klock M (2015) Do class action filings affect stock prices? The stock market reaction to securities class actions post PSLRA. J Bus Secur Law 15(2):109

Larcker DF, Zakolyukina AA (2012) Detecting deceptive discussions in conference calls. J Acc Res 50(2):495–540

Lee CMC, Mucklow B, Ready MJ (1993) Spreads, depths, and the impact of earnings information: an intraday analysis. Rev Financ Stud 6(2):345–374

Loh C, Rathinasamy RS (2003) Do all securities class actions have the same merit? A stock market perspective. Rev Pac Basin Financ Mark Policies 6(2):167–178

McTier BC, Wald JK (2011) The causes and consequences of securities class action litigation. J Corp Financ 17(3):649–665

Peng L, Rӧell A (2008) Executive pay and shareholder litigation. Rev Financ 12(1):141–184

Pukthuanthong K, Turtle H, Walker T, Wang J (2017) Litigation risk and institutional monitoring. J Corp Financ 45:342–359

Rogers JL, Van Buskirk A (2009) Shareholder litigation and changes in disclosure behavior. J Acc Econ 47(1–2):136–156

Schwartz RA (1988) Equity markets: structure, trading and performance. Harper and Row, New York

Sloan RG (1996) Do stock prices fully reflect information in accruals and cash flows about future earnings? Acc Rev 71(3):289–315
Acknowledgements
All authors contributed to the study conception and design. Material preparation and data collection were performed by Antonio Figueiredo and Richard Holowczak. Analysis and study design were performed by Antonio Figueiredo, Shahid Hamid, and Richard Holowczak. The first draft of the manuscript was written by Antonio Figueiredo with contributions by Shahid Hamid, and all authors commented on previous versions of the manuscript. All authors read and approved the final manuscript.
Additional information
Publisher's Note
Springer Nature remains neutral with regard to jurisdictional claims in published maps and institutional affiliations.
About this article
Cite this article
Figueiredo, A., Hamid, S.S. & Holowczak, R. Stock market signals and consequences of securities class actions lawsuits: a microstructure perspective. Rev Quant Finan Acc (2021). https://doi.org/10.1007/s11156-021-00957-6
Keywords
Market quality

Microstructure

Liquidity

Spread

Litigation
JEL Classification