Abstract
Departing from the existing literature, which associates credit information sharing with improved access to credit in advanced economies, we examine whether credit information sharing can also reduce loan default rate for banks domiciled in developing countries. Using a large dataset covering 879 unique banks from 87 developing countries from every continent, over a 9-year period (i.e., over 6300 observations), we uncover three new findings. First, we find that credit information sharing reduces loan default rate. Second, we show that the relationship between credit information sharing and loan default rate is conditional on banking market concentration. Third, our findings suggest that governance quality at the country level does not have a strong moderating role on the effect of credit information sharing on loan default rate.
This is a preview of subscription content, log in to check access.
Access options
Buy single article
Instant access to the full article PDF.
US$ 39.95
Price includes VAT for USA
Subscribe to journal
Immediate online access to all issues from 2019. Subscription will auto renew annually.
US$ 199
This is the net price. Taxes to be calculated in checkout.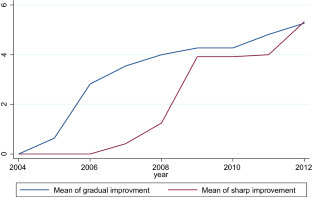 Notes
1.

These statistics are based on our own computations using the relevant World Bank Doing Business (2016) data for our sampled countries over the period of investigation.

2.

We are grateful to an anonymous reviewer for suggesting this argument.

3.

Our sample period starts from 2004 because the World Bank Doing Business (WBDB) database on credit information sharing starts from 2004. There was a methodological change in the construction of the credit information sharing index in 2012. The index, therefore, now ranged from 0 to 8 instead of 0 to 6. To avoid the potential confounding effects of this methodological change, as well as to be consistent with prior studies (e.g., Kalyvas and Mamatzakis 2017), we decided to employ 2012 as our cut-off period. We also note that our sample period covers the period of the recent global financial crisis (2007–2009) which affected the level of bank loans and default rates. In unreported robustness analysis, which excludes the crisis period, our main results reported in this study and the conclusions drawn from them are not affected. These results are available upon request.

4.

5.

A more detailed description of the information sharing measures can be found at World Bank, Doing Business project (http://www.doingbusiness.org/).

6.

The list of countries showing major improvements in information sharing include: Costa Rica, Croatia, Kazakhstan, Lithuania, Macedonia (Fyrom), Mauritius, Mongolia, Oman, Romania, Saudi Arabia, Serbia,Albania, Armenia, Azerbaijan, Belarus, Egypt, Georgia, Ghana, Latvia, Morocco, Rwanda, United Arab Emirates, Zambia. Please note that the countries in italics (bold) experienced gradual (sharp) improvements in information sharing during the sample period.

7.

Note that the most recent lagged differences are used in order to avoid redundant moment conditions (see Arellano and Bover 1995).

8.

The correlation among the governance indicators is at least 0.83 and this could cause multicollinearity problems when they are included in the model together. On the contrary, the correlations among the other country-level variables (Depth, Concentration, Governance, GDP Growth, and Inflation) are moderate (less than 0.21) and could thus be included together in the model without serious econometric concerns. The results remain qualitatively similar when the country-level variables (other than the governance indicators) are also included alternately in the model. These results are available upon request.

9.

The magnitude of the economic significance that we find is similar to the findings of Vazquez et al. (2012) who examine the impact of GDP on default rate in Brazil (see page 76 of their paper).

10.

A separate table for the marginal effect of concentration is not reported for brevity but is available upon request.

11.

When we utilise Principal Component Analysis to construct a single composite governance quality measure from the three governance variables (rule of law, regulatory quality, and the control of corruption) and re-run regressions with the composite measure of governance quality, the results remain mixed. These results are untabulated to save space. We are grateful to an anonymous reviewer for suggesting this robustness testing.
References
Acemoglu D, Johnson S (2005) Unbundling institutions. J Polit Econ 113:949–995

Acharya VV, Anginer D, Warburton AJ (2013) The end of market discipline? Investor expectations of implicit state guarantees. Working paper, New York University Stern School of Business

Agyei-Boapeah H, Machokoto M (2018) Allocation of internally generated corporate cash flow in Africa. J Account Emerg Econ 8(4):495–513

Alonso-Borrego C, Arellano M (1999) Symmetrically normalized instrumental-variable estimation using panel data. J Bus Econ Stat 17:36–49

Altunbas Y, Gambacorta L, Marques-Ibanez D (2009) Securitisation and the bank lending channel. Eur Econ Rev 53:996–1009

Amaeshi K, Adegbite E, Rajwani T (2016) Corporate social responsibility in challenging and non-enabling institutional contexts do institutional voids matter? J Bus Ethics 134(1):135–153

Andrianova S, Baltagi B, Demetriades P, Fielding D (2015) Why do African banks lend so little? Oxf Bull Econ Stat 77:339–359

Arellano M, Bond S (1991) Some tests of specification for panel data: Monte Carlo evidence and an application to employment equations. Rev Econ Stud 58:277–297

Arellano M, Bover O (1995) Another look at the instrumental variable estimation of error-components models. J Econom 68:29–51

Baltagi BH, Demetriades PO, Law SH (2009) Financial development and openness: evidence from panel data. J Dev Econ 89(2):285–296

Barley SR, Tolbet PS (1997) Institutionalization and structuration: studying the links between action and institution. Organ Stud 18(1):93–117

Barth JR, Lin C, Lin P, Song FM (2009) Corruption in bank lending to firms: cross-country micro evidence on the beneficial role of competition and information sharing. J Financ Econ 91(3):361–388

Barth JR, Caprio G Jr, Levine R (2013) Bank regulation and supervision in 180 countries from 1999 to 2011. J Financ Econ Policy 5(2):111–219

Beck T, Demirgüç-Kunt A, Levine R (2006) Bank concentration, competition, and crises: first results. J Bank Finance 30:1581–1603

Beck T, Demirgüç-Kunt A, Levine R (2009) Financial institutions and markets across countries and over time—data and analysis. Policy research working paper series 4943. World Bank, Washington

Beck T, De Jonghe O, Schepens G (2013) Bank competition and stability: cross-country heterogeneity. J Financ Intermediation 22:218–244

Behr P, Sonnekalb S (2012) The effect of information sharing between lenders on access to credit, cost of credit, and loan performance—evidence from a credit registry introduction. J Bank Finance 36:3017–3032

Bennardo A, Pagano M, Piccolo S (2015) Multiple bank lending, creditor rights, and information sharing. Rev Finance 19:519–570

Berger AN, DeYoung R (1997) Problem loans and cost efficiency in commercial banks. J Bank Finance 21(6):849–870

Berger AN, Hannan TH (1998) The efficiency cost of market power in the banking industry: a test of the "quiet life" and related hypotheses. Rev Econ Stat 80(3):454–465

Berger AN, Klapper LF, Turk-Ariss R (2009) Bank competition and financial stability. J Financ Serv Res 35(2):99–118

Bhattacharya K (2003) How good is the BankScope database? A cross-validation exercise with correlation factors and market concentration measures. Bank for International Settlements (BIS) Working Papers No. 133, ISSN 1682-7678 (online)

Blundell R, Bond S (1998) Initial conditions and moment restrictions in dynamic panel data models. J Econom 87:115–143

Bonaccorsi di Patti E, Dell'Ariccia G (2004) Bank competition and firm creation.  J Money Credit Bank 36:225–252

Bond SR, Hoeffler A, Temple JR (2001) GMM estimation of empirical growth models. Centre for Economic Policy Research (London) Discussion Paper No. 3048. SSRN: https://ssrn.com/abstract=290522

Bos JWB, de Haas R, Millone M (2016) Show me yours and I'll show you mine: sharing borrower information in a competitive credit market. BAFFI CAREFIN Centre Research Paper No. 2015-8. SSRN: https://ssrn.com/abstract=2609271, https://doi.org/10.2139/ssrn.2609271

Brown M, Jappelli T, Pagano M (2009) Information sharing and credit: firm-level evidence from transition countries. J Financ Intermediation 18:151–172

Buncic D, Melecky M (2013) Macroprudential stress testing of credit risk: a practical approach for policy makers. J Financ Stab 9(3):347–370

Büyükkarabacak B, Valev N (2012) Credit information sharing and banking crises: an empirical investigation. J Macroecon 34:788–800

Cetorelli N, Peretto PF (2000) Oligopoly banking and capital accumulation. Working paper series WP-00-12. Federal Reserve Bank of Chicago

Chen K-Y, Shen C-H, Kao L, Yeh C-Y (2018) Bank liquidity risk and performance. Rev Pac Basin Financ Mark Policies 21:1850007-1–1850007-40  

Chu L, Mathieu R, Robb S, Zhang P (2007) Bank capitalization and lending behavior after the introduction of the Basle Accord. Rev Quant Finance Account 28(2):147–162

De Janvry A, McIntosh C, Sadoulet E (2010) The supply-and demand-side impacts of credit market information. J Dev Econ 93(2):173–188

Demirgüç-Kunt A, Laeven L, Levine R (2003) Regulations, market structure, institutions, and the cost of financial intermediation. J Money Credit Bank 36:593–622

Diamond DW (1984) Financial intermediation and delegated monitoring. Rev Econ Stud 51:393–414

Diamond DW, Dybvig PH (1983) Bank runs, deposit insurance, and liquidity. J Polit Econ 91(3):401–419

Dietrich A (2016) What drives the gross margins of mortgage loans? Evidence from Switzerland. J Financ Serv Res 50:341–362

Djankov S, McLiesh C, Shleifer A (2007) Private credit in 129 countries. J Financ Econ 84:299–329

Dodd O, Gilbert A (2016) The impact of cross-listing on the home market's information environment and stock price efficiency. Financ Rev 51:299–328

Fosu S (2013) Banking competition in Africa: subregional comparative studies. Emerg Mark Rev 15:233–254

Fosu S (2014) Credit information, consolidation and credit market performance: bank-level evidence from developing countries. Int Rev Financ Anal 32:23–36

Fosu S, Danso A, Agyei-Boapeah H, Ntim CG, Murinde V (2018) How does banking market power affect bank opacity? Evidence from analysts' forecast. Int Rev Financ Anal 60:38–52

Furlong FT, Keeley M (1989) Capital regulation and bank risk-taking: a note. J Bank Finance 13(6):883–891

Ghosh A (2015) Banking-industry specific and regional economic determinants of non-performing loans: evidence from US states. J Financ Stab 20:93–104

Giannetti M, Liberti JM, Sturgess J (2017) Information sharing and rating manipulation. Rev Financ Stud 30(9):3269–3304

Gietzen T (2017) Credit information sharing and hold-up. University of St. Gallen, School of Finance Research Paper No. 2016/12. SSRN: https://ssrn.com/abstract=2798531, http://dx.doi.org/10.2139/ssrn.2798531

Goenner CF (2018) The market for private student loans: an analysis of credit union exposure, risk, and returns. Rev Quant Finance Account 50(4):1227–1251

Gwatidzo T, Ojah K (2014) Firms' debt choice in Africa: are institutional infrastructure and non-traditional determinants important? Int Rev Financ Anal 31:152–166

Hanousek J, Kochanova A (2016) Bribery environments and firm performance: evidence from CEE countries. Eur J Polit Econ 43:14–28

Hauswald R, Marquez R (2006) Competition and strategic information acquisition in credit markets. Rev Financ Stud 19:967–1000

Hearn B, Strange R, Piesse J (2017) Social elites on the board and executive pay in developing countries: evidence from Africa. J World Bus 52:230–243

Houston JF, Lin C, Lin P, Ma Y (2010) Creditor rights, information sharing, and bank risk taking. J Financ Econ 96:485–512

Hu Y, Mao C (2017) Accounting quality, bank monitoring, and performance pricing loans. Rev Quant Financ Account 49(3):569–597

Jappelli T, Pagano M (2002) Information sharing, lending and defaults: cross-country evidence. J Bank Finance 26:2017–2045

Jiménez G, Lopez JA, Saurina J (2013) How does competition affect bank risk-taking? J Financ Stab 9(2):185–195

Kallberg JG, Udell GF (2003) The value of private sector business credit information sharing: the US case. J Bank Finance 27(3):449–469

Kalyvas AN, Mamatzakis E (2017) Do creditor rights and information sharing affect the performance of foreign banks? J Int Financ Mark Inst Money 50:13–35

Kane EJ (2010) Redefining and containing systemic risk. Atl Econ J 38(3):251–264

Kaufmann D, Kraay A, Mastruzzi M (2011) The worldwide governance indicators: methodology and analytical issues. Hague J Rule Law 3:220–246

Keeton WR (1999) Does faster loan growth lead to higher loan losses? Federal Reserve Bank of Kansas City. Econ Rev 84(2):57–75

Klein DB (1992) Promise keeping in the great society: a model of credit information sharing. Econ Politics 4:117–136

La Porta R, Lopez-de-Silanes F, Shleifer A, Vishny RW (1997) Legal determinants of external finance. J Finance 52(3):1131–1150

Lepetit L, Nys E, Rous P, Tarazi A (2008) The expansion of services in European banking: implications for loan pricing and interest margins. J Bank Finance 32:2325–2335

Li D, Moshirian F, Peter KP, Jason Z (2006) When financial institutions are large shareholders: the role of macro corporate governance environments. J Finance 61:2975–3007

Lian Y (2018) Bank competition and the cost of bank loans. Rev Quant Finance Account 51:253–282

Louzis DP, Vouldis AT, Metaxas VL (2012) Macroeconomic and bank-specific determinants of non-performing loans in Greece: a comparative study of mortgage, business and consumer loan portfolios. J Bank Finance 36(4):1012–1027

Love I, Mylenko N (2003) Credit reporting and financing constraints. World Bank Policy Research Working Paper 3142. World Bank, Washington

Marquez R (2002) Competition, adverse selection, and information dispersion in the banking industry. Rev Financ Stud 15:901–926

Martins HC, Schiehll E, Terra P (2017) Country-level governance quality, ownership concentration, and debt maturity: a comparative study of Brazil and Chile. Corp Gov Int Rev 25:236–254

Nana PN (2014) Legal rights, information sharing, and private credit: new cross-country evidence. Q Rev Econ Finance 54:315–323

Padilla AJ, Pagano M (1997) Endogenous communication among lenders and entrepreneurial incentives. Rev Financ Stud 10:205–236

Padilla AJ, Pagano M (2000) Sharing default information as a borrower discipline device. Eur Econ Rev 44:1951–1980

Pagano M, Jappelli T (1993) Information sharing in credit markets. J Finance 48:1693–1718

Petersen MA, Rajan RG (1995) The effect of credit market competition on lending relationships. Q J Econ 110:407–443

Rajan RG (1994) Why bank credit policies fluctuate: a theory and some evidence. Q J Econ 109(2):399–441

Roodman D (2009) How to do xtabond2: an introduction to difference and system GMM in Stata. Stata J 9:86–136

Sharma P, Gounder N, Xiang D (2015) Level and determinants of foreign bank efficiency in a pacific island country. Rev Pac Basin Financ Mark Policies 18(01):1550005-1–1550005-26

Sharpe WF (1978) Bank capital adequacy, deposit insurance and security values. J Financ Quant Anal 13(4):701

Stiglitz JE, Weiss A (1981) Credit rationing in markets with imperfect information. Am Econ Rev 71:393–410

Tunyi AA, Ntim CG (2016) Location advantages, governance quality, stock market development and firm characteristics as antecedents of African M&As. J Int Manag 22(2):147–167

Vazquez F, Tabak BM, Souto M (2012) A macro stress test model of credit risk for the Brazilian banking sector. J Financ Stab 8(2):69–83

Vercammen JA (1995) Credit bureau policy and sustainable reputation effects in credit markets. Economica 62:461–478

Windmeijer F (2005) A finite sample correction for the variance of linear efficient two-step GMM estimators. J Econom 126:25–51

World Bank Doing Business (2016) Getting credit methodology. http://www.doingbusiness.com. Accessed 1 Oct 2016
Acknowledgements
We thank Cheng-Few Lee (the Editor) and two anonymous referees for their invaluable comments. Samuel Fosu acknowledges, without implication, funding by the UK Economic and Social Research Council (ESRC) and the UK Department for International Development (DFID) under a research Grant, ESRC Reference: ES/N013344/2, on 'Delivering inclusive financial development and growth'.
Additional information
Publisher's Note
Springer Nature remains neutral with regard to jurisdictional claims in published maps and institutional affiliations.
About this article
Cite this article
Fosu, S., Danso, A., Agyei-Boapeah, H. et al. Credit information sharing and loan default in developing countries: the moderating effect of banking market concentration and national governance quality. Rev Quant Finan Acc 55, 55–103 (2020). https://doi.org/10.1007/s11156-019-00836-1
Keywords
Credit information sharing

Developing countries

Banking market concentration

Governance quality
JEL Classification