Abstract
This paper attempts to quantify the impact of economic policy uncertainty on overall trade and trade linked to global value chains. Using new data on policy uncertainty for 18 countries and 24 years, it finds a statistically significant negative impact of policy uncertainty on overall trade growth. A 1% increase in uncertainty is associated with a 0.02% point reduction in the growth of goods and services trade—which implies that the increase in policy uncertainty since mid-2018 may have caused a 1% point decline in world trade growth. The paper also finds that the impact of policy uncertainty on trade that is linked to global value chains is similar to overall trade. This is likely to be the result of two opposing forces: Global value chains are more dependent on relation-specific investments that are sensitive to policy uncertainty; but these investments also make trade patterns sticky. More research and better data are needed to disentangle these different effects empirically.
This is a preview of subscription content, log in to check access.
Access options
Buy single article
Instant access to the full article PDF.
US$ 39.95
Price includes VAT for USA
Subscribe to journal
Immediate online access to all issues from 2019. Subscription will auto renew annually.
US$ 99
This is the net price. Taxes to be calculated in checkout.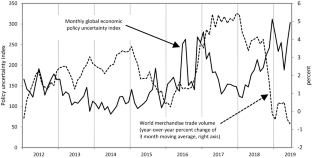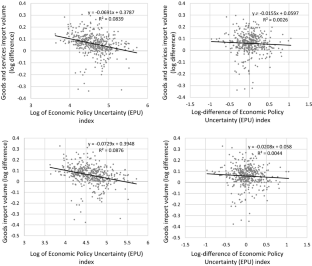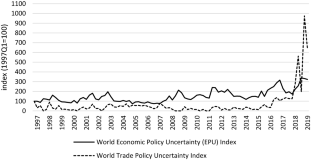 Notes
1.

The Russian Federation and Mexico behave as outliers; therefore, we exclude them from all specifications. We also exclude India and the Republic of Korea, for which we do not have data on the REER.

2.

Data on services import volumes are not reported separately by any international organization. Therefore, we do not run a separate regression for services import volumes.

3.

The intensity of impact may, of course, differ across sectors depending on the importance of up-front investments, but we have little data on these differences.
References
Ahir, H., Bloom, N., & Furceri, D. (2018). World uncertainty index (Unpublished).

Ahir, H., Bloom, N., & Furceri, D. (2019). Caution: Trade uncertainty is rising and can harm the global economy. VoxEU.org, July 4.

Baker, S. R., Bloom, N., & Davis, S. J. (2016). Measuring economic policy uncertainty. Quarterly Journal of Economics,131(4), 1593–1636.

Bernanke, B. S. (1983). Irreversibility, uncertainty and cyclical investment. Quarterly Journal of Economics,97(1), 85–106.

Constantinescu, C., Mattoo, A., & Ruta, M. (2015). The global trade slowdown: Cyclical or structural? World Bank Policy Research Working Paper No. 7158.

Crowley, M., Song, H., & Meng, N. (2016). Tariff scares: trade policy uncertainty and foreign market entry by Chinese firms. CEPR Discussion Paper No. 11722.

Ebeke, C., & Siminitz, J. (2018). Trade uncertainty and investment in the Euro Area. IMF Working Paper. WB/18/281.

Handley, K. (2014). Exporting under trade policy uncertainty: Theory and evidence. Journal of International Economics,94(1), 50–66.

Handley, K., & Limao, N. (2015). Trade and investment under policy uncertainty: Theory and firm evidence. American Economic Journal: Economic Policy,7(4), 189–222.

Handley, K., & Limao, N. (2017). Policy uncertainty, trade and welfare: Theory and evidence for China and the US. American Economic Review,107(9), 2731–2783.

Haugh, D., Kopoin, A., Rusticelli, E., Turner, D., & Dutu, R. (2016). Cardiac arrest or dizzy spell: Why is world trade so weak and what can policy do about it? OECD Economic Policy Paper No. 18, September.

Hlatshwayo, S. (2017). Unpacking policy uncertainty: Evidence from European firms. In New perspectives on policy uncertainty. Dissertation. University of California, Berkeley.

Hoekman, B. (2015). The global trade slowdown: A new normal? VoxEU.org eBook, June.

IMF. (2016). World economic outlook: Subdued demand: Symptoms and remedies. Washington, October.

Pastor, L., & Veronesi, P. (2013). Political uncertainty and risk premia. Journal of Financial Economics,110(3), 520–545.

Timmer, M., Los, B., Stehrer, R., & De Vries, G. (2016). An anatomy of the global trade slowdown based on the WIOD 2016 release. GGDC Research Memorandum 162.

World Bank Group. (2017). Global economic prospects: Weak investment in uncertain times. Washington, D.C.: World Bank.
Additional information
Publisher's Note
Springer Nature remains neutral with regard to jurisdictional claims in published maps and institutional affiliations.
We would like to thank Bernard Hoekman and Lawrence J. White for detailed comments. The findings, interpretations, and the conclusions that are expressed in this paper are entirely those of the authors. They do not necessarily represent the views of the International Bank for Reconstruction and Development/World Bank and its affiliated organizations, or those of the Executive Directors of the World Bank or the governments they represent.
About this article
Cite this article
Constantinescu, C., Mattoo, A. & Ruta, M. Policy Uncertainty, Trade and Global Value Chains: Some Facts, Many Questions. Rev Ind Organ (2020). https://doi.org/10.1007/s11151-020-09772-0
Keywords
Economic policy uncertainty

Trade growth

Global value chains
JEL Classification