Abstract
In this study, taking into account the principles of green chemistry and extension of economical and industrials catalysts (as the heart of the chemical processes), copper-grafted zagrosian natural asphalt sulfonate (Cu-Zagronas) was synthesized, identified and introduced as a new efficient heterogeneous nanocatalyst for the synthesis of phenols and anilines. For preparation of the Cu-Zagronas nanocatalyst, we transform Iranian natural asphalt as a green, cheap and available mineral material into a support for organic transformations. The Cu-Zagronas nanocatalyst was characterized by various techniques such as Fourier transform infrared spectroscopy, scanning electron microscopy, transmission electron microscope, energy-dispersive X-ray spectroscopy, thermogravimetric analysis, X-ray diffraction, inductively coupled plasma and N2 adsorption–desorption measurement. Some advantages of this heterogeneous nanocatalyst include: simple preparation from commercially available materials, simple operation, high catalytic activity, high yields, easy work-up and recyclability of the catalyst up to 6 times without significant loss in catalytic activity.
Access options
Buy single article
Instant access to the full article PDF.
US$ 39.95
Tax calculation will be finalised during checkout.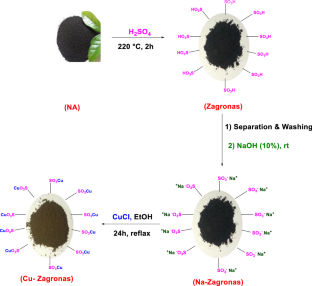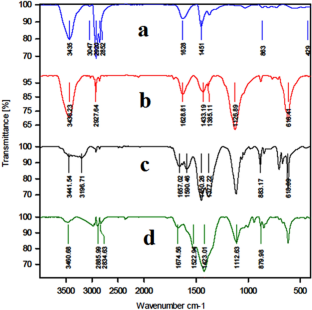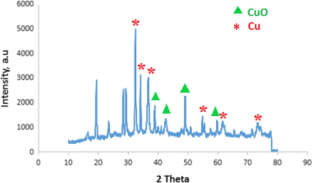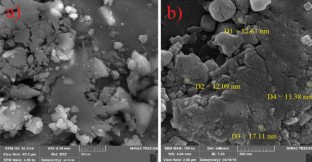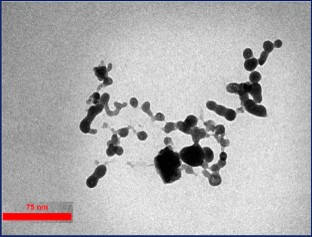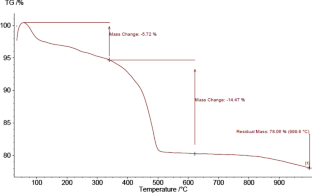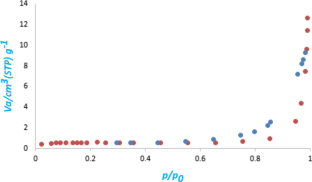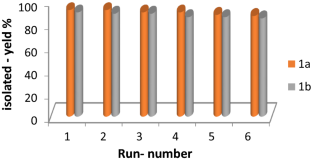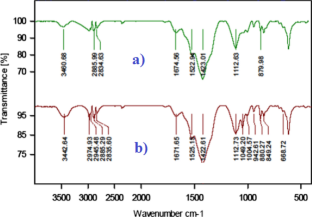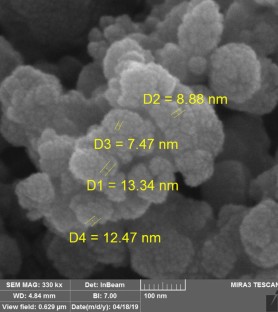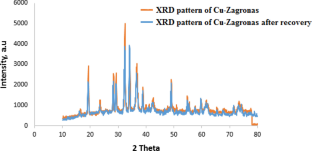 References
1.

Xue X, Zhao Z, Wang Y (2018) Org Chem Front 4:3585

2.

Motahharifar N, Nasrollahzadeh M, Taheri-Kafrani A, Varma RS, Shokouhimehr M (2020) Carbohydr Polym 232:115819

3.

Singhania A, Gupta SM (2018) Mater Res Express 1:946

4.

Latos P, Szelwicka A, Boncel S, Jurczyk S, Swadzba-Kwasny M, Chrobok A (2019) ACS Sustain Chem Eng 8:5184

5.

Konwar LJ, Maki-Arvela P, Mikkola JP (2019) Chem Rev 119:11576

6.

Fernandes RA, Sampaio MJ, Da Silva ES, Serp P, Farias JL, Silva CG (2019) Catal Today 15:286

7.

Tokdemir E, Sakioglu E, Guzel A (2016) U.S. Patent. No. 15/115,072.

8.

Abiola OS, Wilson R, Barnard A, Hattingh S, Kupolati WK, Odunfa SO (2019) Eng Technol 4:22

9.

Kane M, Edmondson V (2018) Wear 400:100

10.

Kohzadi H, Soleiman- Beigi M (2020) New J Chem 44:12134

11.

Falah S, Soleiman-Beigi M, Kohzadi H (2020) Appl Organomet Chem 34:e5840

12.

Movassagh B, Soleiman-Beigi M (2009) Monatsh Chem 140:409

13.

Soleiman-Beigi M, Arzehgar Z (2015) Heteroatom Chem 26:355

14.

Roughley SD, Jordan AM (2011) J Med Chem 54:3451

15.

Cooper TW, Campbell IB, Macdonald SJF (2010) Angew Chem Int Ed 49:8082

16.

Buchwald SL, Mauger C, Mignani G, Scholz U (2006) Adv Synth Catal 348:23

17.

Magano J, Dunetz JR (2011) Chem Rev 111:2177

18.

Thaku KG, Sekar G (2011) ChemComm 23:6692

19.

Paul R, Ali MA, Punniyamurthy T (2010) Synthesis 24:4268

20.

Wu XF, Darcel C (2009) Eur J Org Chem 28:4753

21.

Neetha M, Saranya S, Ann Harry N, Anilkumar G (2020) ChemistrySelect 5:736

22.

Ghiasbeigi E, Soleiman-Beigi M (2019) ChemistrySelect 4:3611

23.

Henam SD, Ahmad F, Shah MA, Parveen S, Wane AH (2019) Spectrochim Acta A 15:337

24.

Reddy SK, Swamy B, Jayadevappa H (2012) Electrochim Acta 1:78

25.

Borah R, Saikia E, Bora SJ, Chetia B (2017) Tetrahedron Lett 58:1211

26.

Huang H, Wu Y, Zhang W, Feng C, Wang BQ, Cai WF, Hu P, Zhao KQ, Xiang SK (2017) J Org Chem 82:3094

27.

Jin Z, Xu D, Pan Y, Xu Y, Chiang MYN (2001) Mol Struct 559:1

28.

Sideri IK, Voutyritsa E, Kokotos CG (2018) Synlett 14:1324

29.

Xu HJ, Liang YF, Cai ZY, Qi HX, Yang CY, Feng YS (2011) Org Chem 76:2296

30.

Molander GA, Cavalcanti LN (2010) J Org Chem 76:623

31.

Xu J, Wang X, Shao C, Su D, Cheng D, Hu Y (2010) Org Lett 12:1964

32.

Keenan CS, Murphree SS (2017) Synth Commun 47:1085

33.

Wang AP, Li L (1992) Anal Chem 64:769

34.

Maejima T, Shimoda Y, Nozaki K, Mori S, Sawama Y, Monguchi Y, Sajiki H (2012) Tetrahedron 68:1712

35.

Aksenov AV, Lyakhovnenko AS, Kugutov MM (2011) Chem Heterocycl Compd 46:1262

36.

Kim J, Chang S (2008) ChemComm 3052

37.

Cheung CW, Surry DS, Buchwald SL (2013) Org Lett 15:3734

38.

Jorgensen EC, Berteau PE (1971) J Med Chem 14:1199
Acknowledgements
We thank the Iranian National Science Foundation (INSF, Grant No. 97017223), and Ilam University for their financial support.
Additional information
Publisher's Note
Springer Nature remains neutral with regard to jurisdictional claims in published maps and institutional affiliations.
Supplementary Information
Below is the link to the electronic supplementary material.
About this article
Cite this article
Kohzadi, H., Soleiman-Beigi, M. Copper-grafted Zagrousian natural asphalt sulfonate (Cu-Zagronas): as a novel heterogeneous carbonious nanocatalyst for the synthesis of anilines and phenols. Reac Kinet Mech Cat 132, 261–277 (2021). https://doi.org/10.1007/s11144-020-01918-1
Received:

Accepted:

Published:

Issue Date:
Keyword
Amines

Heterogeneous catalysis

Natural

Phenols