Abstract
Purpose
Studies have shown that spirituality plays an important role in enhancing the quality of life of stroke survivors and their caregivers. Spirituality has been associated with positive patient and caregiver outcomes, so a valid, reliable measure of spirituality is important. It has not been tested with stroke survivors and their caregivers, so the aim of this study was to evaluate the validity and reliability of the World Health Organization Quality of Life Spiritual Religious and Personal Belief (WHOQOL-SRPB) scale for stroke survivors and their caregivers.
Methods
In this cross-sectional study, 414 stroke survivors at 10 rehabilitation hospitals and 244 caregivers completed the WHOQOL-SRPB. The WHOQOL-SRPB's factorial structure was assessed with confirmatory factor analysis (CFA), criterion-related validity was evaluated with the WHOQOL-BREF, and internal consistency reliability was assessed with Cronbach's α and ordinal α.
Results
The CFA results supported the hypothesized eight-factor structure. The stroke survivor and the caregiver versions of the model both had excellent fit indices. The factor loadings for the final models were strong: 0.78–0.98 for stroke survivors and caregivers (p < 0.001). The criterion-related validity for the WHOQOL-SRPB showed weak to moderate correlations with all the WHOQOL-BREF dimensions. Both ordinal α and Cronbach's α had values more than 0.70.
Conclusions
The WHOQOL-SRPB scale is a valid, reliable instrument for measuring spirituality in stroke survivors and caregivers. Given the importance of spirituality for stroke survivors and caregivers, the WHOQOL-SRPB scale is recommended as an important tool for clinical practice and research.
This is a preview of subscription content, log in to check access.
Access options
Buy single article
Instant access to the full article PDF.
US$ 39.95
Price includes VAT for USA
Subscribe to journal
Immediate online access to all issues from 2019. Subscription will auto renew annually.
US$ 199
This is the net price. Taxes to be calculated in checkout.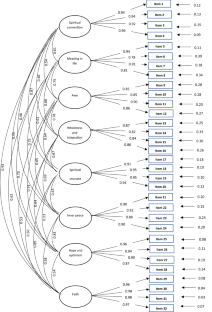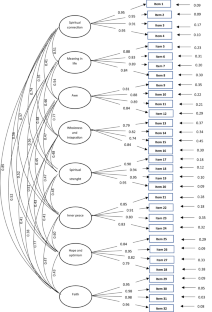 References
1.

King, M. B., & Koenig, H. G. (2009). Conceptualising spirituality for medical research and health service provision. BMC Health Services Research,9, 116.

2.

Taylor, E. J. (2008). What is spiritual care in nursing? Findings from an exercise in content validity. Holistic Nursing Practice,22(3), 154–159.

3.

Pesut, B., Fowler, M., Reimer-Kirkham, S., Taylor, E. J., & Sawatzky, R. (2009). Particularizing spirituality in points of tension: Enriching the discourse. Nursing Inquiry,16(4), 337–346.

4.

Sessanna, L., Finnell, D., & Jezewski, M. A. (2007). Spirituality in nursing and health-related literature: A concept analysis. Journal of Holistic Nursing, 25(4), 252–262; discussion 263–254.

5.

Memaryan, N., Rassouli, M., & Mehrabi, M. (2016). Spirituality concept by health professionals in Iran: A qualitative study. Evidence Based Complementary and Alternative Medicine,2016, 8913870.

6.

Tanyi, R. A. (2002). Towards clarification of the meaning of spirituality. Journal of Advanced Nursing,39(5), 500–509.

7.

Omu, O., & Reynolds, F. (2014). Religious faith and self-efficacy among stroke patients in Kuwait: Health professionals' views. Disability and Rehabilitation,36(18), 1529–1535.

8.

Skolarus, L. E., Lisabeth, L. D., Sanchez, B. N., Smith, M. A., Garcia, N. M., Risser, J. M., et al. (2012). The prevalence of spirituality, optimism, depression, and fatalism in a bi-ethnic stroke population. Journal of Religion and Health,51(4), 1293–1305.

9.

Torabi Chafjiri, R., Navabi, N., Shamsalinia, A., & Ghaffari, F. (2017). The relationship between the spiritual attitude of the family caregivers of older patients with stroke and their burden. Clinical Interventions in Aging,12, 453–458.

10.

Giaquinto, S., Sarno, S., Dall'Armi, V., & Spiridigliozzi, C. (2010). Religious and spiritual beliefs in stroke rehabilitation. Clinical and Experimental Hypertension,32(6), 329–334.

11.

Morgenstern, L. B., Sanchez, B. N., Skolarus, L. E., Garcia, N., Risser, J. M., Wing, J. J., et al. (2011). Fatalism, optimism, spirituality, depressive symptoms, and stroke outcome: A population-based analysis. Stroke,42(12), 3518–3523.…

12.

Koenig, H. G. (2012). Religion, spirituality, and health: The research and clinical implications. ISRN Psychiatry,2012, 278730.

13.

Bussing, A., Baumann, K., Hvidt, N. C., Koenig, H. G., Puchalski, C. M., & Swinton, J. (2014). Spirituality and health. Evidence Based Complementary and Alternative Medicine,2014, 682817.

14.

Gholamzadeh, S., Hamid, T. A., Basri, H., Sharif, F., & Ibrahim, R. (2014). Religious coping and psychological well-being among Iranian stroke caregivers. Iranian Journal of Nursing and Midwifery Research,19(5), 478–484.

15.

Pierce, L. L., Steiner, V., Havens, H., & Tormoehlen, K. (2008). Spirituality expressed by caregivers of stroke survivors. Western Journal of Nursing Research,30(5), 606–619.

16.

Skevington, S. M., Gunson, K. S., & O'Connell K. A. (2013). Introducing the WHOQOL-SRPB BREF: Developing a short-form instrument for assessing spiritual, religious and personal beliefs within quality of life. Quality of Life Research,22(5), 1073–1083.

17.

Whoqol, SRPB Group. (2006). A cross-cultural study of spirituality, religion, and personal beliefs as components of quality of life. Social Science and Medicine,62(6), 1486–1497.

18.

Fleck, M. P., & Skevington, S. (2007). Explaining the meaning of the WHOQOL-SRPB. Archives of Clinical Psychiatry,34(1), 67–69.

19.

Krageloh, C. U., Billington, D. R., Henning, M. A., & Chai, P. P. (2015). Spiritual quality of life and spiritual coping: Evidence for a two-factor structure of the WHOQOL spirituality, religiousness, and personal beliefs module. Health and Quality of Life Outcomes,13, 26.

20.

Mandhouj, O., Etter, J. F., Courvoisier, D., & Aubin, H. J. (2012). French-language version of the World Health Organization quality of life spirituality, religiousness and personal beliefs instrument. Health and Quality of Life Outcomes,10, 39.

21.

Panzini, R. G., Maganha, C., Rocha, N. S., Bandeira, D. R., & Fleck, M. P. (2011). Brazilian validation of the Quality of Life Instrument/spirituality, religion and personal beliefs. Revista de Saúde Pública,45(1), 153–165.

22.

De Girolamo, G., Becchi, A., Coppa, F. S., De Leo, D., Neri, G., Rucci, P., et al. (2001). Whoqol e salute e qualità della vita. Torino: Centro Scientifico Editore.

23.

The_WHOQOL_Group. (1998). Development of the World Health Organization WHOQOL-BREF quality of life assessment. The WHOQOL Group. Psychological Medicine,28(3), 551–558.

24.

Savini, S., Buck, H. G., Dickson, V. V., Simeone, S., Pucciarelli, G., Fida, R., et al. (2015). Quality of life in stroke survivor–caregiver dyads: A new conceptual framework and longitudinal study protocol. Journal of Advanced Nursing,71(3), 676–687.…

25.

Hobart, J., & Cano, S. (2009). Improving the evaluation of therapeutic interventions in multiple sclerosis: The role of new psychometric methods. Health Technology Assessment, 13(12), iii, ix–x, 1–177.

26.

Brown, T. A. (2015). Confirmatory factor analysis for applied research (2nd ed.). New York: Guilford Press.

27.

Hagell, P., Alvariza, A., Westergren, A., & Arestedt, K. (2017). Assessment of burden among family caregivers of people with Parkinson's disease using the Zarit Burden Interview. Journal of Pain and Symptom Management,53(2), 272–278.

28.

Gadermann, A. M., Guhn, M., & Zumbo, B. D. (2012). Estimating ordinal reliability for Likert-type and ordinal item response data: A conceptual, empirical, and practical guide. Practical Assessment, Research and Evaluation,17(3), 1–13.

29.

Affan, M., Mahajan, A., Modi, S., Schultz, L., Katramados, A., Mayer, S. A., et al. (2019). Atrial fibrillation, not atrial cardiopathy, is associated with stroke: A single center retrospective study. Journal of Neurological Science,402, 69–73.

30.

Kenny, D. A., Kashy, D. A., & Cook, W. L. (2006). Dyadic data analysis. New York: Guilford Press.

31.

Alferes, V. R., & Kenny, D. A. (2009). SPSS programs for the measurement of nonindependence in standard dyadic designs. Behavior Research Methods,41(1), 47–54.

32.

Hatch, R. L., Burg, M. A., Naberhaus, D. S., & Hellmich, L. K. (1998). The Spiritual Involvement and Beliefs Scale. Development and testing of a new instrument. Journal of Family Practice,46(6), 476–486.

33.

Daaleman, T. P., Frey, B. B., Wallace, D., & Studenski, S. A. (2002). Spirituality Index of Well-Being Scale: Development and testing of a new measure. Journal of Family Practice,51(11), 952.

34.

Bryson, K. (2015). Guidelines for conducting a spiritual assessment. Palliative and Supportive Care,13(1), 91–98.

35.

Rieg, L. S., Mason, C. H., & Preston, K. (2006). Spiritual care: Practical guidelines for rehabilitation nurses. Rehabilitation Nursing,31(6), 249–256.

36.

Sajadi, M., Niazi, N., Khosravi, S., Yaghobi, A., Rezaei, M., & Koenig, H. G. (2018). Effect of spiritual counseling on spiritual well-being in Iranian women with cancer: A randomized clinical trial. Complementary Therapies in Clinical Practice,30, 79–84.

37.

Sankhe, A., Dalal, K., Save, D., & Sarve, P. (2017). Evaluation of the effect of Spiritual care on patients with generalized anxiety and depression: A randomized controlled study. Psychology, Health and Medicine,22(10), 1186–1191.

38.

Carneiro, E. M., Barbosa, L. P., Marson, J. M., Terra, J. A. J., Martins, C. J., Modesto, D., et al. (2017). Effectiveness of Spiritist "passe" (Spiritual healing) for anxiety levels, depression, pain, muscle tension, well-being, and physiological parameters in cardiovascular inpatients: A randomized controlled trial. Complementary Therapies in Medicine,30, 73–78.…

39.

Ledermann, T., & Kenny, D. A. (2017). Analyzing dyadic data with multilevel modeling versus structural equation modeling: A tale of two methods. Journal of Family Psychology,31(4), 442–452.

40.

Kenny, D. A., & Judd, C. M. (1986). Consequences of violating the independence assumption in analysis of variance. Psychological Bulletin,99(3), 422–431.
Acknowledgements
We thank Dr. Sofia Colaceci for her contribution during the review process of this paper.
Funding
This study was funded by the Center of Excellence for Nursing Scholarship, Rome, Italy.
Ethics declarations
Conflicts of interest
The authors declare that they have no conflicts of interest.
Ethical approval
The Institutional Review Board at all the hospitals where stroke survivors and caregivers were enrolled approved this study. All the stroke survivors and caregivers provided written informed consent. All procedures performed in the study involving human participants were in accordance with the Ethical Standards of the Institutional and/or National Research Committee and with the 1964 Helsinki Declaration and its later amendments or comparable ethical standards.
Informed consent
Informed consent was obtained from all individual participants included in the study.
Additional information
Publisher's Note
Springer Nature remains neutral with regard to jurisdictional claims in published maps and institutional affiliations.
About this article
Cite this article
Pucciarelli, G., Årestedt, K., Simeone, S. et al. Psychometric characteristics of the WHOQOL-SRPB Scale in a population of stroke survivors and caregivers. Qual Life Res 29, 1973–1985 (2020). https://doi.org/10.1007/s11136-020-02446-0
Accepted:

Published:

Issue Date:
Keywords
Stroke

Patient

Caregiver

Psychometrics

Reliability

Validity

WHOQOL-SRPB