Abstract
Tart cherries are particularly high in anthocyanins and are believed to have many health benefits, including reducing inflammation and oxidative stress. However, comparison between dosages and formulations are lacking. Forty-eight participants were randomly allocated to one of six experimental treatment groups where they ingested tart cherry or placebo in either juice (240 ml per bottle) or powdered capsule form (480 mg per capsule) once or twice daily for 48 h and markers of inflammation (uric acid (UA), high-sensitivity C-reactive protein (hsCRP)) and oxidative capacity (plasma oxygen radical absorbance capacity (ORAC)) were measured. There was a group x time interaction for UA (p = 0.02), which declined up to 24 h post ingestion for a single capsule dose, up to 8 h for a two capsule dose, and up to 2 h for a single juice dose. There was an increase in UA from 8 h until 48 h post ingestion in a single juice dose. Overall, there was an average 8% decrease in UA. There was no significant change over time in hsCRP (p = 0.64) or ORAC (p = 0.42) or between groups in hsCRP (p = 0.47) or ORAC (p = 0.21). Our data indicates tart cherry ingestion can transiently decrease UA and not maintained with continued supplementation. Additionally, there were differences in formulations and doses indicating a single powdered capsule is most effective for lowering UA suggesting capsules may be used by those who do not enjoy the taste of tart cherry juice. This study was registered at ClinicalTrials.gov, NCT04497077, 7/29/2020, retrospectively registered.
Access options
Buy single article
Instant access to the full article PDF.
US$ 39.95
Tax calculation will be finalised during checkout.
Subscribe to journal
Immediate online access to all issues from 2019. Subscription will auto renew annually.
US$ 79
Tax calculation will be finalised during checkout.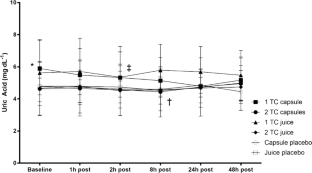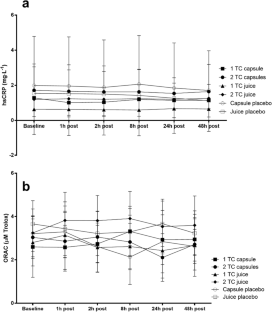 Data Availability
Data is available upon request.
Acknowledgements
We would like to thank the volunteers for their enthusiastic participation. We would also like to thank Michael Joyce and Michael Boylan for their assistance with data collection.
Code Availability
Not applicable.
Funding
This study was funded by the Marywood University Murray Award for Research and Development.
Ethics declarations
Ethics Approval
Ethical approval was provided by the Marywood University Institutional Review Board (protocol 801,765).
Consent to Participate
Participants provided written informed consent to participate.
Consent for Publication
All authors approve this manuscript for publication.
Conflicts of Interest/Competing Interests
The authors declare no conflicts of interest or competing interest.
Additional information
Publisher's Note
Springer Nature remains neutral with regard to jurisdictional claims in published maps and institutional affiliations.
About this article
Cite this article
Hillman, A.R., Uhranowsky, K. Acute Ingestion of Montmorency Tart Cherry Reduces Serum Uric Acid but Has no Impact on High Sensitivity C-Reactive Protein or Oxidative Capacity. Plant Foods Hum Nutr (2021). https://doi.org/10.1007/s11130-021-00879-7
Keywords
Montmorency tart cherry

Uric

Gout

Inflammation