Abstract
The definition of adjustment disorder (AjD) was recently revised by the 11th version of the International Classification of Diseases. Thus far, only two studies explored stressors associated with symptoms of AjD according to the new definition, revealing that there might be a difference in associations with daily stressors compared to traumatic events. The present study aims at examining the associations of AjD with both types of stressors as well as the mediating role of psychological well-being that was previously suggested as a buffer against mental illness. Four hundred and 19 participants completed questionnaires assessing the prevalence of daily stressors and traumatic events experienced in the last 2 years, psychological well-being and the diagnostic criteria of AjD. Results revealed a direct effect of the prevalence of daily stressors on the diagnosis of AjD as well as the mediating effect of psychological well-being of this association. However, no effect was found for traumatic events on AjD or psychological well-being. Given these findings, psychological well-being should be regarded as a means to reduce the prevalence of AjD among individuals coping with multiple and continuous daily stressors.
This is a preview of subscription content, log in to check access.
Access options
Buy single article
Instant access to the full article PDF.
US$ 39.95
Price includes VAT for USA
Subscribe to journal
Immediate online access to all issues from 2019. Subscription will auto renew annually.
US$ 99
This is the net price. Taxes to be calculated in checkout.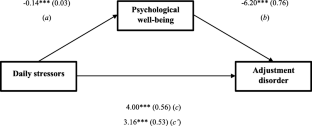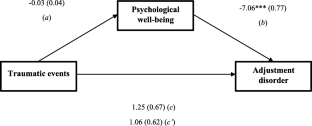 References
1.

Zelviene P, Kazlauskas E. Adjustment disorder: current perspectives. Neuropsychiatr Dis Treat. 2018;14:375–81.

2.

Ali I. Adjustment disorders (stress related or psychiatric disorder). Psychiatry. 2015;18:5.

3.

Maercker A, Brewin CR, Bryant RA, Cloitre M, Ommeren M, Jones LM, et al. Diagnosis and classification of disorders specifically associated with stress: proposals for ICD-11. World Psychiatry. 2013;12:198–206.

4.

Maercker A, Forstmeier S, Pielmaier L, Spangenberg L, Brahler E, Brähler E, et al. Adjustment disorders: prevalence in a representative nationwide survey in Germany. Soc Psychiatr Psychiatr Epid. 2012;47:1745–52.

5.

Dobricki M, Komproe IH, De Jong JTVM, Maercker A. Adjustment disorders after severe life-events in four post conflict settings. Soc Psych Psych Epid. 2010;45:39–46.

6.

Kazlauskas E, Zelviene P, Lorenz L, Quero S, Aercker A. A scoping review of ICD-11 adjustment disorder research. Eur J Psychotraumatol. 2018;8(sup7):1421819.

7.

Horn AB, Maercker A. Intra-and interpersonal emotion regulation and adjustment symptoms in couples: the role of co-brooding and co-reappraisal. BMC psychology. 2016;4(1):51.

8.

Mahat-Shamir M, Ring L, Hamama-Raz Y, Ben-Ezra M, Pitcho-Prelorentzos S, David UY, Zaken A, Lavenda O. Do previous experience and geographic proximity matter? Possible predictors for diagnosing adjustment disorder vs PTSD. Psychiat Res. 2017;258:438–43.

9.

Kanner AD, Coyne JC, Schaefter C, Lazarus R. Comparison of two models of stress measurement: daily hassles and uplifts versus major life events. J Behav Med. 1981;4:1–39.

10.

Ho J, Ngai SPC, Wu WKK, Hou WK. Association between daily life experience and psychological well-being in people living with nonpsychotic mental disorders: protocol for a systematic review and meta-analysis. Medicine. 2018;97(4):e9733.

11.

Almeida DM. Resilience and vulnerability to daily stressors assessed via diary methods. Curr Dir Psychol Sci. 2005;14(2):64–8.

12.

Newnham EA, Pearson RM, Stein A, Betancourt TS. Youth mental health after civil war: the importance of daily stressors. Br J Psych. 2015;206(2):116–21.

13.

D'Angelo B, Wierzbicki M. Relations of daily hassles with both anxious and depressed mood in students. Psychol Rep. 2003;92(2):416–8.

14.

Parrish BP, Cohen LH, Laurenceau JP. Prospective relationship between negative affective reactivity to daily stress and depressive symptoms. J Soc Clinic Psychol. 2011;30(3):270–96.

15.

Wheaton B, Young M, Montazer S, Stuart-Lahman K. Social stress in the twenty-first century. In: Aneshensel CS, Phelan JC, Bierman A, editors. Handbook of the sociology of mental health. New York: Springer; 2013. p. 299–323.

16.

Briere J, Scott C. Principles of trauma therapy: a guide to symptoms, evaluation, and treatment. Thousand Oaks: Sage Publications, Inc; 2012.

17.

Contractor AA, Caldas S, Fletcher S, Shea MT, Armour C. Empirically derived lifespan polytraumatization typologies: a systematic review. J Clin Psychol. 2018:1–23.

18.

Gerber MM, Frankfurt SB, Contractor AA, Oudshoorn K, Dranger P, Brown LA. Influence of multiple traumatic event types on mental health outcomes: does count matter? J Psychopathol Behav. 2018;40(4):645–54.

19.

American Psychiatric Association. Diagnostic and statistical manual of mental disorders. 5th ed. Arlington: American Psychiatric Publishing; 2013.

20.

Jowett S, Karatzias T, Shevlin M, Albert I. Differentiating symptom profiles of ICD-11 PTSD, complex PTSD, and borderline personality disorder: a latent class analysis in a multiply traumatized sample. Personal Disord. 2019; https://doi.org/10.1037/per0000346.

21.

Antonovsky A. The salutogenic model as a theory to guide health promotion. Health Promot Int. 1996;11(1):11–8.

22.

Ryff CD, Keyes CLM. The structure of psychological well-being revisited. J Pers Soc Psychol. 1995;69:719–27.

23.

Ryan RM, Deci EL. On happiness and human potentials: a review of research on hedonic and eudaimonic well-being. Annu Rev Psychol. 2001;52:141–66.

24.

Grant F, Guille C, Sen S. Well-being and the risk of depression under stress. PLoS One. 2013;8(7):e67395.

25.

Keyes CLM, Dhingra SS, Simoes EJ. Change in level of positive mental health as a predictor of future risk of mental illness. Am J Public Health. 2010;100:2366–71.

26.

Lamers SMA, Westerhof GJ, Glas CAW, Bohlmeijer ET. The bidirectional relation between positive mental health and psychopathology in a longitudinal representative panel study. J Posit Psychol. 2015;10:1–8.

27.

Wood AM, Joseph S. The absence of positive psychological (eudemonic) well-being as a risk factor for depression: A ten-year cohort study. J Affect Disord. 2010;122:213–7.

28.

Einsle F, Kollner V, Dannemann S, Maercker A. Development and validation of a self-report for the assessment of adjustment disorders. Psychol Health Med. 2010;15(5):584–55.

29.

Ben-Ezra M, Mahat-Shmair M, Lorenz L, Lavenda O, Maercker A. Screening of Adjustment disorder: scale based on the ICD-11 and the adjustment disorder new module. J Psychiatr Res. 2018;103:91–6.

30.

Lavenda O, Mahat-Shamir M, Lorenz L, Hamama-Raz Y, Greenblatt-Kimron L, Pitcho-Prelorentzos S, et al. Revalidation of adjustment disorder–New Module-4 screening of adjustment disorder in a non-clinical sample: psychometric reevaluation and correlates with other ICD-11 mental disorders. Psych J. 2019;8:378–85.

31.

World Health Organization, WHO (Five) well-being index (1998 version). Available at: www.who-5.org; 1998.

32.

Topp CW, Østergaard SD, Søndergaard S, Bech P. The WHO-5 well-being index: a systematic review of the literature. Psychother Psychosom. 2015;84(3):167–76.

33.

Awata S, Bech P, Koizumi Y, Seki T, Kuriyama S, Hozawa A. Validity and utility of the Japanese version of the WHO-five well-being index in the context of detecting suicidal ideation in elderly community residents. Int Psychogeriatr. 2007;19:77–88.

34.

Gray MJ, Litz BT, Hsu JL, Lombardo TW. Psychometric properties of the life events checklist. Assessment. 2004;11(4):330–41.

35.

O'Brien RM. A caution regarding rules of thumb for variance inflation factors. Qual Quant. 2007;41:673–90.

36.

Hayes AF. An introduction to mediation, moderation, and conditional process analysis: a regression-based approach. New York: Guilford Press; 2018.

37.

Schönfeld P, Brailovskaia J, Bieda A, Chi Zhang X, Margraf J. The effects of daily stress on positive and negative mental health: mediation through self-efficacy. Int J Clin Health Psychol. 2016;16(1):1–10.

38.

Hobfoll SE. Conservation of resources: a new attempt at conceptualizing stress. Am Psychol. 1989;44(3):513–24.

39.

Hobfoll SE. The influence of culture, community, and the nested self in the stress process: advancing conservation of resources theory. Appl Psychol. 2001;50(3):337–421.

40.

Hobfoll SE. Social and psychological resources and adaptation. Rev Gen Psychol. 2002;6(4):307–24.

41.

Westman M, Hobfoll SE, Chen S, Davidson OB, Laski S. Organizational stress through the lens of conservation of resources (COR) theory. In: Perrewe PL, Ganster DC, editors. Exploring interpersonal dynamics. London: Emerald Group Publishing Limited, Bingley; 2004. pp. 167–220.

42.

Janoff-Bulman R. Shattered assumptions: towards a new psychology of trauma. New York: Free Press; 1992.

43.

Chida Y, Steptoe A. Positive psychological well-being and mortality: a quantitative review of prospective observational studies. Psychosom Med. 2008;70:741–56.

44.

Robertson I, Cooper C. For individuals. In: Well-Being. Palgrave Macmillan, London; 2011.

45.

Ryff CD, Singer BH. Know thyself and become what you are: a eudaimonic approach to psychological well-being. J Happiness Stud. 2008;9:13–39.

46.

Wersebe H, Lieb R, Meyer AH, Hofer P, Gloster AT. The link between stress, well-being, and psychological flexibility during an acceptance and commitment therapy self-help intervention. Int J Clin Health Psychol. 2018;18(1):60–8.

47.

Bohlmeijer ET, Lamers SMA, Fledderus M. Flourishing in people with depressive symptomatology increases with acceptance and commitment therapy. Post-hoc analyses of a randomized controlled trial. Behav Res Ther. 2015;65:101–6.

48.

Ruini C, Belaise C, Brombin C, Caffo E, Fava GA. Well-being therapy in school settings: a pilot study. Psychother Psychosom. 2006;75:331–6.

49.

Linely SC, Joseph MC. Emotion regulation. J Pers Soc Psychol. 2002;45:839–50.

50.

Foa EB, Gillihan SJ, Bryant RA. Challenges and successes in dissemination of evidence-based treatments for posttraumatic stress: lessons learned from prolonged exposure therapy for PTSD. Psychol Sci Publ Int. 2013;14(2):65–111.
Informed Consent
All procedures followed were in accordance with the ethical standards of the responsible committee on human experimentation (institutional and national) and with the Helsinki Declaration of 1975, as revised in 2000. Informed consent was obtained from all patients for being included in the study.
Ethical Approval
All procedures performed in studies involving human participants were in accordance with the ethical standards of the institutional and/or national research committee and with the 1964 Helsinki declaration and its later amendments or comparable ethical standards.
Data Availability Statement
The data that support the findings of this study are available from the corresponding author upon reasonable request.
Ethics declarations
Conflict of Interest
Authors have no potential conflicts of interest to disclose.
Additional information
Publisher's Note
Springer Nature remains neutral with regard to jurisdictional claims in published maps and institutional affiliations.
Publisher's Note
Springer Nature remains neutral with regard to jurisdictional claims in published maps and institutional affiliations.
About this article
Cite this article
Hamama-Raz, Y., Ben-Ezra, M. & Lavenda, O. Factors Associated with Adjustment Disorder – the Different Contribution of Daily Stressors and Traumatic Events and the Mediating Role of Psychological Well-Being.. Psychiatr Q (2020). https://doi.org/10.1007/s11126-020-09779-6
Keywords
Adjustment disorder

Psychological well-being

Daily stressors

Traumatic events