Abstract
Phycobilisomes (PBSs) are supramolecular pigment–protein complexes that serve as light-harvesting antennae in cyanobacteria. They are built up by phycobiliproteins assembled into allophycocyanin core cylinders (ensuring the physical interaction with the photosystems) and phycocyanin rods (protruding from the cores and having light-harvesting function), the whole PBSs structure being maintained by linker proteins. PBSs play major role in light-harvesting optimization in cyanobacteria; therefore, the characterization of their structural integrity in intact cells is of great importance. The present study utilizes differential scanning calorimetry and spectroscopy techniques to explore for the first time, the thermodynamic stability of PBSs in intact Synechocystis sp. PCC 6803 cells and to probe its alteration as a result of mutations or under different growth conditions. As a first step, we characterize the thermodynamic behavior of intact and dismantled PBSs isolated from wild-type cells (having fully assembled PBSs) and from CK mutant cells (that lack phycocyanin rods and contain only allophycocyanin cores), and identified the thermal transitions of phycocyanin and allophycocyanin units in vitro. Next, we demonstrate that in intact cells PBSs exhibit sharp, high amplitude thermal transition at about 63 °C that strongly depends on the structural integrity of the PBSs supercomplex. Our findings implicate that calorimetry could offer a valuable approach for the assessment of the influence of variety of factors affecting the stability and structural organization of phycobilisomes in intact cyanobacterial cells.
Access options
Buy single article
Instant access to the full article PDF.
US$ 39.95
Tax calculation will be finalised during checkout.
Subscribe to journal
Immediate online access to all issues from 2019. Subscription will auto renew annually.
US$ 119
Tax calculation will be finalised during checkout.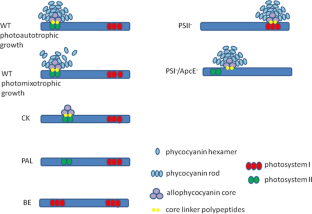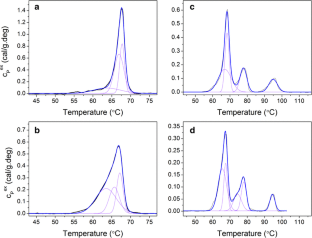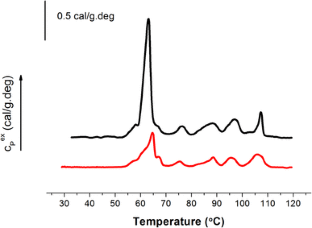 References
Adir N, Zer H, Shochat S, Ohad I (2003) Photoinhibition—a historical perspective. Photosynth Res 76(1–3):343–370. https://doi.org/10.1023/A:1024969518145

Ajlani G, Vernotte C (1998) Construction and characterization of a phycobiliprotein-less mutant of Synechocystis sp. PCC 6803. Plant Mol Biol 37(3):577–580

Allen MM (1968) Simple conditions for growth of unicellular blue-green algae on plates. J Phycol 4(1):1–4

Arteni AA, Ajlani G, Boekema EJ (2009) Structural organisation of phycobilisomes from Synechocystis sp. strain PCC6803 and their interaction with the membrane. Biochim Biochys Acta-Bioenergetics 1787(4):272–279. https://doi.org/10.1016/j.bbabio.2009.01.009

Bittersmann E, Vermaas W (1991) Fluorescence lifetime studies of cyanobacterial photosystem II mutants. Biochim Biophys Acta-Bioenergetics 1098(1):105–116

Boulay C, Abasova L, Six C, Vass I, Kirilovsky D (2008) Occurrence and function of the orange carotenoid protein in photoprotective mechanisms in various cyanobacteria. Biochim Biophys Acta-Bioenergetics 1777(10):1344–1354. https://doi.org/10.1016/j.bbabio.2008.07.002

Bryant DA, de Lorimier R, Lambert DH, Dubbs JM, Stirewalt VL, Stevens SE Jr, Porter RD, Tam J, Jay E (1985) Molecular cloning and nucleotide sequence of the alpha and beta subunits of allophycocyanin from the cyanelle genome of Cyanophora paradoxa. Proc Natl Acad Sci USA 82(10):3242–3246

Chang L, Liu X, Li Y, Liu CC, Yang F, Zhao J, Sui SF (2015) Structural organization of an intact phycobilisome and its association with photosystem II. Cell Res 25(6):726–737. https://doi.org/10.1038/cr.2015.59

Collins AM, Liberton M, Jones HDT, Garcia OF, Pakrasi HB, Timlin JA (2012) Photosynthetic pigment localization and thylakoid membrane morphology are altered in Synechocystis 6803 phycobilisome mutants. Plant Physiol 158(4):1600–1609. https://doi.org/10.1104/pp.111.192849

de Marsac NT, Cohen-Bazire G (1977) Molecular composition of cyanobacterial phycobilisomes. Proc Natl Acad Sci USA 74(4):1635–1639

Dobrikova AG, Várkonyi Z, Krumova SB, Kovács L, Kostov GK, Todinova SJ, Busheva MC, Taneva SG, Garab G (2003) Structural rearrangements in chloroplast thylakoid membranes revealed by differential scanning calorimetry and circular dichroism spectroscopy. Thermo-optic effect. Biochemistry 42(38):11272–11280

Dobrikova AG, Vladkova RS, Rashkov GD, Todinova SJ, Krumova SB, Apostolova EL (2014) Effects of exogenous 24-epibrassinolide on the photosynthetic membranes under non-stress conditions. Plant Physiol Biochem 80:75–82. https://doi.org/10.1016/j.plaphy.2014.03.022

Elmorjani K, Thomas JC, Sebban P (1986) Phycobilisomes of wild-type and pigment mutants of the cyanobacterium Synechocystis PCC 6803. Arch Microbiol 146(2):186–191. doi:https://doi.org/10.1007/Bf00402349

Galisteo ML, Sanchez-Ruiz JM (1993) Kinetic study into the irreversible thermal denaturation of bacteriorhodopsin. Eur Biophys J 22(1):25–30

Gantt E (1981) Phycobilisomes. Annu Rev Plant Physiol 32:327–347

Garnier F, Dubacq J-P, Thomas J-C (1994) Evidence for a transient association of new proteins with the Spirulina maxima phycobilisome in relation to light intensity. Plant Physiol 106(2):747–754

Glazer AN (1988) Phycobilisomes Meth Enzymol 167:304–312

Glazer AN, Stryer L (1984) Phycofluor Probes. Trends Biochem Sci 9(10):423–427. https://doi.org/10.1016/0968-0004(84)90146-4

Grossman AR, Schaefer MR, Chiang GG, Collier JL (1993) The phycobilisome, a light-harvesting complex responsive to environmental conditions. Microbiol Rev 57(3):725–749

Harris D, Tal O, Jallet D, Wilson A, Kirilovsky D, Adir N (2016) Orange carotenoid protein burrows into the phycobilisome to provide photoprotection. Proc Natl Acad Sci USA 113(12):E1655–E1662. https://doi.org/10.1073/pnas.1523680113

Joshua S, Mullineaux CW (2004) Phycobilisome diffusion is required for light-state transitions in cyanobacteria. Plant Physiol 135(4):2112–2119

Krumova SB, Todinova SJ, Busheva MC, Taneva SG (2005) Kinetic nature of the thermal destabilization of LHCII macroaggregates. J Photochem Photobiol B 78(2):165–170

Krumova SB, Laptenok SP, Borst JW, Ughy B, Gombos Z, Ajlani G, van Amerongen H (2010) Monitoring photosynthesis in individual cells of Synechocystis sp. PCC 6803 on a picosecond timescale. Biophys J 99(6):2006–2015. https://doi.org/10.1016/j.bpj.2010.07.015

Krumova SB, Todinova SJ, Dobrikova AG, Taneva SG (2011) Differential scanning calorimetry of photosynthetic membranes: resolving contributions of the major photosynthetic complexes to the sequential thermal transitions. Trends Photochem Photobiol 12:37–51

Laczko-Dobos H, Todinova SJ, Sozer O, Komenda J, Kis M, Sallai A, Dobrikova AG, Ughy B, Debreczeny M, Gombos Z, Apostolova EL, Domonkos I (2011) Identification of thylakoid membrane thermal transitions in Synechocystis sp. PCC6803 photosynthetic mutants. Photosynth Res 107(3):237–246. https://doi.org/10.1007/s11120-011-9627-3

Liberton M, Chrisler WB, Nicora CD, Moore RJ, Smith RD, Koppenaal DW, Pakrasi HB, Jacobs JM (2017) Phycobilisome truncation causes widespread proteome changes in Synechocystis sp. PCC 6803. Plos One 12(3):e0173251. https://doi.org/10.1371/journal.pone.0173251

MacColl R (1998) Cyanobacterial phycobilisomes. J Struct Biol 124:311–334

MacColl R (2004) Allophycocyanin and energy transfer. Biochim Biophys Acta 1657(2–3):73–81

McGregor A, Klartag M, David L, Adir N (2008) Allophycocyanin trimer stability and functionality are primarily due to polar enhanced hydrophobicity of the phycocyanobilin binding pocket. J Mol Biol 384(2):406–421. https://doi.org/10.1016/j.jmb.2008.09.018

Scott M, McCollum C, Vasil'ev S, Crozier C, Espie GS, Krol M, Huner NPA, Bruce D (2006) Mechanism of the down regulation of photosynthesis by blue light in the cyanobacterium Synechocystis sp. PCC 6803. Biochemistry 45(29):8952–8958. https://doi.org/10.1021/bi060767p

Shen GZ, Boussiba S, Vermaas WFJ (1993)) Synechocystis sp. PCC-6803 strains lacking photosystem-I and phycobilisome function. Plant Cell 5(12):1853–1863

Stoitchkova K, Zsiros O, Javorfi T, Pali T, Andreeva A, Gombos Z, Garab G (2007) Heat- and light-induced reorganizations in the phycobilisome antenna of Synechocystis sp. PCC 6803. Thermo-optic effect. Biochim Biophys Acta-Bioenergetics 1767(6):750–756. https://doi.org/10.1016/j.bbabio.2006.03.002

Thomas JC, Ughy B, Lagoutte B, Ajlani G (2006) A second isoform of the ferredoxin: NADP oxidoreductase generated by an in-frame initiation of translation. Proc Natl Acad Sci USA 103(48):18368–18373. https://doi.org/10.1073/pnas.0607718103

Thoren KL, Connell KB, Robinson TE, Shellhamer DD, Tammaro MS, Gindt YM (2006) The free energy of dissociation of oligomeric structure in phycocyanin is not linear with denaturant. Biochemistry 45 (39):12050–12059. https://doi.org/10.1021/bi061140+

Tian LJ, Farooq S, van Amerongen H (2013) Probing the picosecond kinetics of the photosystem II core complex in vivo. Phys Chem Chem Phys 15(9):3146–3154. https://doi.org/10.1039/c3cp43813a

Tóth TN, Chukhutsina V, Domonkos I, Knoppová J, Komenda J, Kis M, Lénárt Z, Garab G, Kovács L, Gombos Z, van Amerongen H (2015) Carotenoids are essential for the assembly of cyanobacterial photosynthetic complexes. Biochim Biophys Acta-Bioenergetics 1847(10):1153–1165

Wang Q (2013) Three step dissociation and covalent stabilization of phycobilisome. In: Photosynthesis research for food, fuel and the future. Springer, Berlin, pp 156–166

Williams RC, Gingrich JC, Glazer AN (1980) Cyanobacterial phycobilisomes. Particles from Synechocystis 6701 and two pigment mutants. J Cell Biol 85(3):558–566

Yeang HY, Yusof F, Abdullah L (1995) Precipitation of Hevea brasiliensis latex proteins with trichloroacetic-acid and phosphotungstic acid in preparation for the Lowry protein assay. Anal Biochem 226(1):35–43. https://doi.org/10.1006/abio.1995.1188 doi

Zuber H (1983) Photosynthetic prokaryotes. In: Papageorgiou G, Packer L (eds) Cell differentiation and function. Elsevier, New York, pp 23–42
Acknowledgements
The authors are thankful to Mihály Kis for his help with the growing of the cyanobacterial strains and to Miklós Szekeres for critical reading of the manuscript.
Funding
This study was funded by Grants K108411 and PD10855 from the Hungarian Scientific Research Fund, Government Grant GINOP-2.3.2-15-2016-00001, and bilateral collaboration between the Bulgarian and Hungarian Academy of Sciences.
Ethics declarations
Conflict of interest
The authors declare that they have no conflict of interest.
Electronic supplementary material
Below is the link to the electronic supplementary material.
About this article
Cite this article
Petrova, N., Todinova, S., Laczko-Dobos, H. et al. Structural integrity of Synechocystis sp. PCC 6803 phycobilisomes evaluated by means of differential scanning calorimetry. Photosynth Res 137, 95–104 (2018). https://doi.org/10.1007/s11120-018-0481-4
Received:

Accepted:

Published:

Issue Date:
Keywords
Phycobilisomes

Thermal stability

Differential scanning calorimetry

Synechocystis sp. PCC 6803

Cyanobacterial mutants