Abstract
The purpose of this work was to: (i) propose a methodology to infer local estimates of the available water capacity (AWC) at a plot from a few measurements in laboratory of AWC carried out on horizons of a pit on the same plot, (ii) examine the effect of measurement errors on spatial estimates of AWC and the associated uncertainties. For each horizon identified in the pit, the water content was determined at field capacity and at the permanent wilting point, and thus AWC. 47 soundings were carried out on a regular grid covering the plot. For each sounding, an AWC value was estimated by matching sounding horizons to the pit horizons. Laboratory measurements of AWC on 14 sites were used to validate the 47 local estimates. Statistics such as correlation coefficient, mean error and root mean square error are promising at 0.84, 4.0 mm and 17.5 mm, respectively. The spatialization of AWC was carried out by ordinary kriging, considering or ignoring the measurement errors on AWC. The precision of AWC estimates allowed making evident that accounting for measurement errors provided estimates that were more precise. This result, confirmed by the prediction interval coverage probability statistic, underlined that taking into account measurement errors in spatial modeling is an effective way to reduce the confidence interval of any estimate. These results suggest that it would be better to fix the nugget based on a preliminary test on the measurement error rather than to fix it based on the experimental variogram.
Access options
Buy single article
Instant access to the full article PDF.
US$ 39.95
Tax calculation will be finalised during checkout.
Subscribe to journal
Immediate online access to all issues from 2019. Subscription will auto renew annually.
US$ 79
Tax calculation will be finalised during checkout.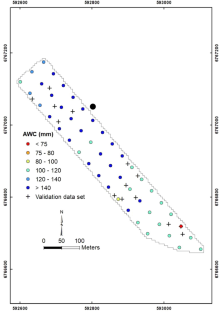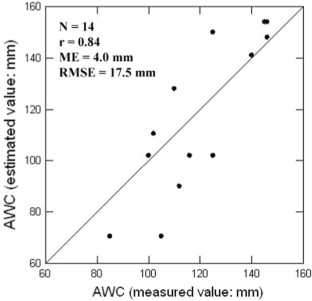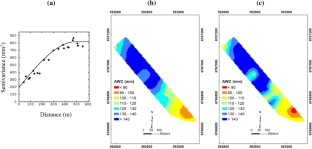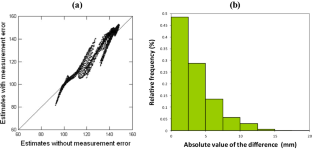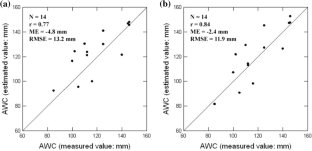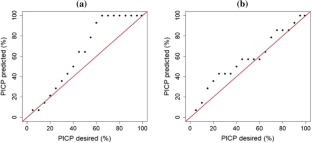 References
Asgarzadeh, H., Mosaddeghi, M. R., Dexter, A. R., Mahboubi, A. A., & Neyshabour, M. R. (2014). Determination of soil available water for plants: Consistency between laboratory and field measurements. Geoderma, 226–227, 8–20. https://doi.org/10.1016/j.geoderma.2014.02.020.

Barker, J. B., Franz, T. E., Heeren, D. M., Neale, C. M. U., & Luck, J. D. (2017). Soil water content monitoring for irrigation management: A geostatistical analysis. Agricultural Water Management, 188, 36–49. https://doi.org/10.1016/j.agwat.2017.03.024.

Bourennane, H., & King, D. (2003). Using multiple external drifts to estimate a soil variable. Geoderma, 114, 1–18. https://doi.org/10.1016/S0016-7061(02)00338-5.

Bourennane, H., King, D., Couturier, A., Nicoullaud, B., Mary, B., & Richard, G. (2007). Uncertainty assessment of soil water content spatial patterns using geostatistical simulations: An empirical comparison of a simulation accounting for single attribute and a simulation accounting for secondary information. Ecological Modelling, 205, 323–335. https://doi.org/10.1016/j.ecolmodel.2007.02.034.

Christensen, W. F. (2011). Filtered kriging for spatial data with heterogeneous measurement error variances. Biometrics, 67, 947–957. https://doi.org/10.1111/j.1541-0420.2011.01563.x.

Cressie, N. A. C. (1993). Statistics for spatial data. New York, USA: Wiley-Blackwell. https://doi.org/10.1002/9781119115151.

Delhomme, J. P. (1978). Kriging in the hydrosciences. Advances in Water Resources, 1, 251–266. https://doi.org/10.1016/0309-1708(78)90039-8.

Duval, O., & Isambert, M. (1992). Notice explicative de la carte pédologique de Villamblain (Beauce) au 1/10 000e (Soils map of Villamblain (Beauce) at 1/10 000) (p. 38). Orléans, France: SESCPF-INRA.

Entin, J. K., Robock, A., Vinnikov, K. Y., Hollinger, S. E., Liu, S. X., & Namkhai, A. (2000). Temporal and spatial scales of observed soil moisture variations in the extratropics. Journal of Geophysical Research, 105, 11865–11877. https://doi.org/10.1029/2000JD900051.

Evett, S. R. (2007). Soil water and monitoring technology Irrigation of agricultural crops, agronomy monograph no. 30 (2nd ed., pp. 25–84). Madison, WI, USA: ASA-CSSA-SSSA. https://doi.org/10.2134/agronmonogr30.2ed.c2.

Givi, J., Prasher, S. O., & Patel, R. M. (2004). Evaluation of pedotransfer functions in predicting the soil water contents at field capacity and wilting point. Agricultural Water Management, 70, 83–96. https://doi.org/10.1016/j.agwat.2004.06.009.

Goovaerts, P. (2001). Geostatistical modeling of uncertainty in soil science. Geoderma, 103, 3–26. https://doi.org/10.1016/S0016-7061(01)00067-2.

de Gruijter, J., Brus, D., Bierkens, M., & Knotters, M. (2006). Sampling for natural resource monitoring (p. 333). Berlin, Germany: Springer. https://doi.org/10.1007/3-540-33161-1.

Hedley, C. B., & Yule, I. J. (2009). Soil water status mapping and two variable-rate irrigation scenarios. Precision Agriculture, 10, 342–355. https://doi.org/10.1007/s11119-009-9119-z.

IUSS Working Group WRB. (2006). World reference base for soil resources. World soil resources report no. 103. Rome, Italy: FAO.

Meylan, P. (1986). Régionalisation de données entachées d'erreurs de mesure par krigeage: Application à la pluviométrie (Kriging used in the regionalization of data affected by measurement errors: Application to rainfall). Hydrologie Continentale, 1, 25–34.

Nicoullaud, B., Darthout, R., & Duval, O. (1995). Etude de l'enracinement du blé tendre d'hivers et du maïs dans les sols argilo-limoneux de Petite Beauce (Vertical distribution of winter wheat and maize roots in loamly clay soils of "Petite Beauce"). Etude et Gestion des Sols, 2(3), 183–200.

Padarian, J., Minasny, B., McBratney, A. B., & Dalgliesh, N. (2014). Predicting and mapping the soil available water capacity of Australian wheatbelt. Geoderma Regional, 2–3, 110–118. https://doi.org/10.1016/j.geodrs.2014.09.005.

R Core Team. (2017). R: A language and environment for statistical computing. Vienna, Austria: R Foundation for Statistical Computing. https://www.R-project.org/.

Robinet, J., von Hebel, Ch., Govers, G., van der Kruk, J., Minella, J. P. G., Schlesner, A., et al. (2018). Spatial variability of soil water content and soil electrical conductivity across scales derived from electromagnetic induction and time domain reflectometry. Geoderma, 314, 160–174. https://doi.org/10.1016/j.geoderma.2017.10.045.

Román Dobarco, M., Bourennane, H., Arrouays, D., Saby, N. P. A., Cousin, I., & Martin, M. P. (2019a). Uncertainty assessment of GlobalSoilMap soil available water capacity products: A French case study. Geoderma, 344, 14–30. https://doi.org/10.1016/j.geoderma.2019.02.036.

Román Dobarco, M., Cousin, I., Le Bas, Ch., & Martin, M. P. (2019b). Pedotransfer functions for predicting available water capacity in French soils, their applicability domain and associated uncertainty. Geoderma, 336, 81–95. https://doi.org/10.1016/j.geoderma.2018.08.022.

Seneviratne, S. I., Corti, T., Davin, E. L., Hirschi, M., Jaeger, E. B., Lehner, I., et al. (2010). Investigating soil moisture-climate interactions in a changing climate: A review. Earth-Science Reviews, 99, 125–161. https://doi.org/10.1016/j.earscirev.2010.02.004.

Shrestha, D. L., & Solomatine, D. P. (2006). Machine learning approaches for estimation of prediction interval for the model output. Neural Networks, 19, 225–235. https://doi.org/10.1016/j.neunet.2006.01.012.

Somarathna, P. D. S. N., Minasny, B., Malone, B. P., Stockmann, U., & McBratney, A. B. (2018). Accounting for the measurement error of spectroscopically inferred soil carbon data for improved precision of spatial predictions. Science of the Total Environment, 631–632, 377–389. https://doi.org/10.1016/j.scitotenv.2018.02.302.

Ströβenreuther, U., Horwath, M., & Schröder, L. (2020). How different analysis and interpolation methods affect the accuracy of ice surface elevation changes inferred from satellite altimetry. Mathematical Geosciences, 52, 499–525. https://doi.org/10.1007/s11004-019-09851-3.

Ugbaje, S. U., & Reuter, H. I. (2013). Functional digital soil mapping for the prediction of available water capacity in Nigeria using legacy data. Vadose Zone Journal 12(4). https://doi.org/10.2136/vzj2013.07.0140.
Acknowledgements
Financial support was provided by the ANR (Agence Nationale de la Recherche) (ANR-14-CE01-0011-01) project RUEdesSOLS and is gratefully acknowledged.
Additional information
Publisher's Note
Springer Nature remains neutral with regard to jurisdictional claims in published maps and institutional affiliations.
About this article
Cite this article
Bourennane, H., Lagacherie, P., Román Dobarco, M. et al. Local estimates of available water capacity and effect of measurement errors on the spatial estimates and their uncertainties. Precision Agric (2021). https://doi.org/10.1007/s11119-021-09794-y
Keywords
Measurement error

Filtered kriging

Soil horizons matching

Soil water capacity

Mapping

Precision