Abstract
Life events, such as childbirth or retirement, provide a crucial opportunity in which an individual's habitual travel routines are disrupted and they may be especially susceptible to changing their travel behaviour. The transition to parenthood is one such period in which numerous life events occur but also in which car orientated travel practices tend to be adopted. While much is known about how travel behaviour changes during this period, there is little research explaining the processes in which car orientated travel practices are adopted. This paper addresses this gap using the results from twenty-five semi-structured interviews with parents of young children. The interviews illuminated that while a general pattern of increasing car orientation was apparent among most participants, five distinct mobility trajectories were evident. These ranged from those who had little change in their car dependent travel behaviour through to respondents from formerly carless households who experienced a dramatic rise in car use. Further, it became apparent that the first few years following the birth of a child is a period in which numerous changes can act to punctuate stable travel routines. Each change represents an opportunity to intervene and encourage the adoption of more sustainable travel behaviour. However, these findings suggest that in order to encourage families to adopt more sustainable travel practices, planners and policymakers would need to address the many transport and housing factors facilitating car orientated travel practices.
Access options
Buy single article
Instant access to the full article PDF.
US$ 39.95
Tax calculation will be finalised during checkout.
Subscribe to journal
Immediate online access to all issues from 2019. Subscription will auto renew annually.
US$ 79
Tax calculation will be finalised during checkout.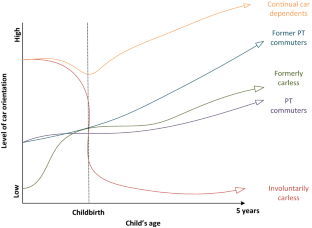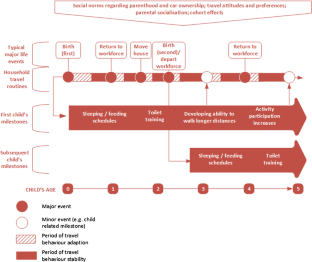 References
Aarts, H., Verplanken, B., Van Knippenberg, A.: Habit and information use in travel mode choices. Acta Physiol 96(1–2), 1–14 (1997)

Ajzen, I.: The theory of planned behavior. Organ. Behav. Hum. Decis. Process. 50(2), 179–211 (1991)

Bamberg, S.: Is a residential relocation a good opportunity to change people's travel behavior? Results from a theory-driven intervention study. Environ. Behav. 38(6), 820–840 (2006)

Banister, D.: Influence of habit formation on modal choice–a heuristic model. Transportation 7(1), 5–18 (1978)

Beige, S., Axhausen, K.W.: Interdependencies between turning points in life and long-term mobility decisions. Transportation 39(4), 857–872 (2012)

Braun, V., Clarke, V.: Using thematic analysis in psychology. Qual. Res. Psychol. 3(2), 77–101 (2006)

Buhr, P., Huinink, J.: Fertility analysis from a life course perspective. Adv. Life Course Res. 21, 1–9 (2014)

Clark, B., Chatterjee, K., Melia, S.: Changes in level of household car ownership: the role of life events and spatial context. Transportation 43, 565–599 (2016)

Craig, L., van Tienoven, T.P.: Gender, mobility and parental shares of daily travel with and for children: a cross-national time use comparison. J. Transp. Geogr. 76, 93–102 (2019)

Crane, R.: Is there a quiet revolution in women's travel? Revisiting the gender gap in commuting. J. Am. Plan. Assoc. 73(3), 298–316 (2007)

de Haas, M.C., Scheepers, C.E., Harms, L.W.J., Kroesen, M.: Travel pattern transitions: applying latent transition analysis within the mobility biographies framework. Transp. Res. Part A Policy Pract. 107, 140–151 (2018)

Delbosc, A.: Delay or forgo? A closer look at youth driver licensing trends in the United States and Australia. Transportation 44, 1–8 (2016)

Delbosc, A., Nakanishi, H.: A life course perspective on the travel of Australian millennials. Transp. Res. Part A Policy Pract. 104, 319–336 (2017)

Dowling, R., Maalsen, S.: Familial mobilities beyond the private car: electric bikes and car sharing in Sydney, Australia. Appl. Mobil. 4, 1–15 (2019)

Fan, Y.: Household structure and gender differences in travel time: spouse/partner presence, parenthood, and breadwinner status. Transportation 44(2), 271–291 (2015)

Gärling, T., Axhausen, K.W.: Introduction: habitual travel choice. Transportation 30(1), 1–11 (2003)

Guest, G., Bunce, A., Johnson, L.: How many interviews are enough? An experiment with data saturation and variability. Field Methods 18(1), 59–82 (2006)

Johnson, R.B., Onwuegbuzie, A.J.: Mixed methods research: a research paradigm whose time has come. Educ. Res. 33(7), 14–26 (2004)

Klein, N.J., Smart, M.: Life events, poverty, and car ownership in the United States: a mobility biography approach. J. Transp. Land Use 12(1), 395–418 (2019)

Lanzendorf, M.: Mobility biographies. A new perspective for understanding travel behaviour. In: 10th international conference on travel behaviour research (IATBR). Lucerne. (2003)

Lanzendorf, M.: Key events and their effect on mobility biographies: the case of childbirth. Int. J. Sustain. Transp. 4(5), 272–292 (2010)

McCarthy, L., Delbosc, A., Currie, G., Molloy, A.: Factors influencing travel mode choice among families with young children (aged 0–4): a review of the literature. Transp. Rev. 37(6), 767–781 (2017)

McCarthy, L., Delbosc, A., Currie, G., Molloy, A.: Parenthood and cars: a weakening relationship? Transportation 4, 1–19 (2018)

McCarthy, L., Delbosc, A., Currie, G., Molloy, A.: 'Transit Faithfuls' or 'Transit Leavers'? Understanding mobility trajectories of new parents. Transp. Policy 78, 105–112 (2019)

McDonald, N.C.: Are millennials really the "go-nowhere" generation? J. Am. Plan. Assoc. 81(2), 90–103 (2015)

McLaren, A.T.: Families and transportation: moving towards multimodality and altermobility? J. Transp. Geogr. 51, 218–225 (2016)

Morgan, D.L.: Paradigms lost and pragmatism regained: methodological implications of combining qualitative and quantitative methods. J. Mixed Methods Res. 1(1), 48–76 (2007)

Müggenburg, H., Busch-Geertsema, A., Lanzendorf, M.: Mobility biographies: a review of achievements and challenges of the mobility biographies approach and a framework for further research. J. Transp. Geogr. 46, 151–163 (2015)

Oakil, A.T.M., Ettema, D., Arentze, T., Timmermans, H.: Changing household car ownership level and life cycle events: an action in anticipation or an action on occurrence. Transportation 41(4), 889–904 (2014)

Oakil, A.T.M., Manting, D., Nijland, H.: Determinants of car ownership among young households in The Netherlands: the role of urbanisation and demographic and economic characteristics. J. Transp. Geogr. 51, 229–235 (2016a)

Oakil, A.T.M., Manting, D., Nijland, H.: Dynamics in car ownership: the role of entry into parenthood. Eur. J. Transp. Infrastruct. Res. 16(4), 661–673 (2016b)

Plyushteva, A., Schwanen, T.: Care-related journeys over the life course: thinking mobility biographies with gender, care and the household. Geoforum 97, 131–141 (2018)

Prillwitz, J., Harms, S., Lanzendorf, M.: Impact of life-course events on car ownership. Transp. Res. Rec. 1, 71–77 (2006)

Rosenbloom, S.: Understanding Women's and Men's Travel Patterns: The Research Challenge, Research on Women's Issues in Transportation. National Academy of Sciences, Washington, DC (2006)

Ryley, T.: Use of non-motorised modes and life stage in Edinburgh. J. Transp. Geogr. 14(5), 367–375 (2006)

Scheiner, J., Holz-Rau, C.: A comprehensive study of life course, cohort, and period effects on changes in travel mode use. Transp. Res. Part A Policy Pract. 47, 167–181 (2013)

Schoenduwe, R., Mueller, M.G., Peters, A., Lanzendorf, M.: Analysing mobility biographies with the life course calendar: a retrospective survey methodology for longitudinal data collection. J. Transp. Geogr. 42, 98–109 (2015)

Schwanen, T.: Car use and gender: the case of dual-earner families in Utrecht, The Netherlands. In: Lucas, K., Blumenberg, E., Weinberger, R. (eds.) Auto Motives: Understanding Car Use Behaviours, pp. 39–62. Emerald Group Publishing Ltd, Bingley (2011)

Statistics, A. B. O.: Census of Population and Housing. A. B. O. Statistics. (2016)

Taylor, B.D., Ralph, K., Smart, M.: What explains the gender gap in schlepping? Testing various explanations for gender differences in household-serving travel. Soc. Sci. Q. 96(5), 1493–1510 (2015)

United Nations, D. O. E. A. S. A., Population Division: World Population Prospects: The 2015 Revision. D. O. E. A. S. A. United Nations, Population Division, United Nations, Department of Economic and Social Affairs, Population Division. (2015)

Zwerts, E., Janssens, D., Wets, G.: How the presence of children affects parents' travel behavior Transportation Research Board 86th Annual Meeting. Washington DC, USA. (2007)
Acknowledgements
The authors would like to thank three anonymous reviewers for their constructive feedback during the peer review process. The authors would also like to acknowledge Transport for Victoria, The Public Transport Research Group and the Monash University Institute of Transport Studies for their support with this work.
Ethics declarations
Conflict of interest
On behalf of all authors, the corresponding author states that there is no conflict of interest.
Additional information
Publisher's Note
Springer Nature remains neutral with regard to jurisdictional claims in published maps and institutional affiliations.
About this article
Cite this article
McCarthy, L., Delbosc, A., Currie, G. et al. Trajectories and transitions: mobility after parenthood. Transportation 48, 239–256 (2021). https://doi.org/10.1007/s11116-019-10051-5
Keywords
Travel behaviour change

Life transitions

Mobility biographies

Car orientation

Children's travel