Abstract
The long run viability of stable multiethnic residential integration is perennially in question. This study compares the intergenerational reproduction of racially segregated residential contexts to the reproduction of multiethnic contexts to provide new insight into the social processes that influence residential integration. The data for this study come from the Panel Study of Income Dynamics and the U.S. Census. Conditional logit models analyze patterns of residential reproduction and mobility for white and black families across a comprehensive typology of racially segregated and integrated neighborhoods. The results provide some support for the premise of a "diversity effect," that children raised in integrated settings are more likely to attain diverse neighborhood environments in adulthood. The results also demonstrate a far stronger propensity to reproduce predominantly white and predominantly black neighborhood contexts than multiethnic contexts. The comparative ease through which racially segregated contexts are reproduced presents a challenge to the future growth and stability of multiethnic residential integration. The implications for theories of spatial incorporation that frame debates about race and ethnic relations are discussed.
This is a preview of subscription content, log in to check access.
Access options
Buy single article
Instant access to the full article PDF.
US$ 39.95
Price includes VAT for USA
Subscribe to journal
Immediate online access to all issues from 2019. Subscription will auto renew annually.
US$ 99
This is the net price. Taxes to be calculated in checkout.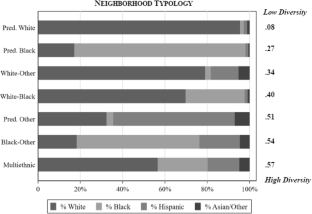 Notes
1.

The 22 percent figure is determined by Wright's et al. (2018) using the same operationalization for multiethnic neighborhoods employed in this study, which is the same used in Crowder et al. (2012), Ellen (2000), Fasenfest et al. (2004), Friedman (2008), and Lee (2017), among others. Triangulating with several other operationalizations for neighborhood diversity, Wright et al. (2018, p. 5) conclude that "instability rather than stability characterizes these types of places regardless of how they are defined." A discussion of the operationalization is provided in the methods and conclusion sections.

2.

Construction of the sampling weights follows Sharkey (2008, p. 943, footnote #6).

3.

In supplemental analysis, I compared the representation of neighborhood types using the NCDB against an alternative data source, the Longitudinal Tract Database (LTDB). I did not observe any noteworthy discrepancies.

4.

Census data prior to 1980 does not straightforwardly publish counts on the non-Hispanic white population below the state level. In 1970, white population counts at the census tract level include those that also identify as Hispanic. To remedy this non-exclusivity problem, I subtract out the Hispanic counts from the white counts for 1970. This is a reasonable assumption given that in 1970 approximately 94% of the Hispanic population identified as white (see Gibson and Jung 2005). To address the issue of no Hispanic data for the 1970 LTDB, I downloaded the summary file data on 1970 Hispanics from the NHGIS website and then used the crosswalk/weighting program provided by LTDB to get 1970 estimates in 2010 boundaries.

5.

No typology is without critics. Wright et al. (2018) argue that diverse neighborhoods should not have greater than a 45 percent share of any one ethnoracial group. Using this criteria, they report fewer than half the number ethnoraically diverse census tracts than the number of diverse tracts based on the typology used in this study. Thus, for sample-based study, the 45 percent criteria is deemed too restrictive as it would limit coverage and constrain inferences about multiethnic residential reproduction to a unique selection of white families. I will return to the discussion of neighborhood typology in the conclusion.

6.

Average neighborhood income is converted into real 2000 dollars using the Consumer Price Index. Note that median neighborhood income is not available for 1970, but average neighborhood income is available for all censuses. The difference between the mean and median income at the census tract level is inconsequential as the skew is minimal and income is also logged.

7.

A direct comparison of logits across equations is ill-advised because of the identifying constraint used in estimation (Allison 1999).
References
Alba, R. D., Denton, N. A., Leung, S. J., & Logan, J. R. (1995). Neighborhood change under conditions of mass immigration: The New York City region, 1970–1990. International Migration Review,29(3), 625.

Alba, R. D., & Nee, V. (2003). Remaking the American mainstream: Assimilatioon and contemporary immigration. Cambridge, MA: Harvard University Press.

Allison, P. D. (1999). Comparing logit and probit coefficients across groups. Sociological Methods and Research,28, 186–208.

Allport, G. W. (1979). The Nature of Prejudice[1954]. Reading, MA: Addison-Wesley.

Asad, A. L., & Rosen, E. (2019). Hiding within racial hierarchies: How undocumented immigrants make residential decisions in an American city. Journal of Ethnic and Migration Studies,45(11), 1857–1882.

Bader, M. D. M., & Warkentien, S. (2016). The fragmented evolution of racial integration since the civil rights movement. Sociological Science,3, 135–166.

Berrey, E. C. (2005). Divided over diversity: Political discourse in a chicago neighborhood. City & Community,4(2), 143–170.

Breen, R. (1994). Individual level models for mobility tables and other cross-classifications. Sociological Methods & Research,23(2), 147–173.

Briggs, X. S., Popkin, S. J., & Goering, J. (2010). Moving to opportunity: The story of an American experiment to Fight Ghetto poverty. New York: Oxford University Press.

Brown-Saracino, J. (2009). A neighborhood that never changes: Gentrification, social preservation, and the search for authenticity. Chicago, IL: The University of Chicago Press.

Burnham, K. P., & Anderson, D. R. (2004). Multimodel inference: Understanding AIC and BIC in model selection. Sociological Methods & Research,33(2), 261–304.

Cameron, L., Rutland, A., Brown, R., & Douch, R. (2006). Changing children's intergroup attitudes towards refugees: Testing different models of extended contact. Child Development,77, 1208–1219.

Charles, C. Z. (2006). Won't you be my neighbor? Race, class, and residence in Los Angeles. New York: Russell Sage Foundation.

Chauhan, P., Schuck, A. M., & Widom, C. S. (2017). Child maltreatment, problem behaviors, and neighborhood attainment. American Journal of Community Psychology,60, 555–556.

Clark, W. A. V. (1992). Residential preferences and residential choices in a multiethnic context. Demography,29(3), 451–466.

Clark, W. A., Anderson, E., Östh, J., & Malmberg, B. (2015). A multiscalar analysis of neighborhood composition in Los Angeles, 2000–2010: A location-based approach to segregation and diversity. Annals of the Association of American Geographers,105(6), 1260–1284.

Clogg, C. C., & Eliason, S. R. (1987). Some common problems in log-linear analysis. Sociological Methods & Research,16(1), 8–44.

Crowder, K., Pais, J., & South, S. J. (2012). Neighborhood diversity, metropolitan constraints, and household migration. American Sociological Review,77(3), 325–353.

DeLuca, S., Wood, H., & Rosenblatt, P. (2019). Why poor families move (anwhere they go): Reactive mobility and residential decisions. City & Community,18(2), 556–593.

Denton, N. A., & Massey, D. S. (1991). Patterns of neighborhood transition in a multiethnic world: U.S. metropolitan areas, 1970–1980. Demography,28(1), 41–63.

Desmond, M. (2017). Evicted: Poverty and profit in the American city. New York: Broadway Books.

Dixon, J., Durrheim, K., & Tredoux, C. (2005). Beyond the optimal contact strategy: A reality check for the contact hypothesis. American Psychologist,60(7), 697–711.

Elder, G. H., Jr., Johnson, M. K., & Crosnoe, R. (2003). The emergence and development of life course theory. In J. T. Mortimer & M. J. Shanahan (Eds.), Handbook of the life course (pp. 3–19). New York: Springer.

Ellen, I. G. (2000). Sharing America's neighborhoods. Cambridge, MA: Harvard University Press.

Farley, R., & Frey, W. H. (1980s). Changes in the segregation of whites from blacks during the 1980s: Small steps toward a more integrated society. American Sociological Review,59(1), 23–45.

Farrell, C. R., & Lee, B. A. (2011). Racial diversity and change in metropolitan neighborhoods. Social Science Research,40, 1108–1123.

Fasenfest, D., J. Booza, & K. Metzger. (2004). Living together: A new look at racial and ethnic integration in metropolitan neighborhoods. Washington, DC: Brookings Institution. https://www.brookings.edu/research/reports/2004/04/demographics-fasenfest.

Frey, W. H. (2015). Diversity explosion: How new racial demographics are remaking America. Washington, DC: Brookings Institution Press.

Friedman, S. (2008). Do declines in residential segregation mean stable neighbor-hood racial integration in metropolitan America? A research note. Social Science Research,37(3), 920–933.

Gibson, C. & Jung, K. (2005). Historical census statistics on population totals by race, 1790 to 1990, and by Hispanic origin, 1970 to 1990. U.S. Census Bureau, Population Division, Working Paper No. 6.

Goodman, L. A. (1979). Simple models for the analysis of association in cross-classifications having ordered categories. Journal of the American Statistical Association,74(367), 537–552.

GeoLytics. 2012. CensusCD Neighborhood Change Database 1970–2010 Tract Data [Machine-readable database]. https://www.geolytics.com/USCensus,Neighborhood-Change-Database-1970-2000,Data,Geography,Products.asp.

Hall, M., Tach, L., & Lee, B. A. (2016). Trajectories of ethnoracial diversity in American communities, 1980–2010. Population and Development Review,42(2), 271–297.

Hall, M., & Stringfield, J. (2014). Undocumented migration and the residential segregation of Mexicans in new destinations. Social Science Research,47, 61–78.

Heerwig, J. A., & McCabe, B. J. (2009). Education and social desirability bias: the case of a black presidential candidate. Social Science Quarterly,90(3), 674–686.

Harris, D. R. (1999). Property values drop when blacks move in, because…racial and socioeconomic determinants of neighborhood desirability? American Sociological Review,64(3), 461–479.

Harris, D. R. (2001). Why are whites and blacks averse to black neighbors? Social Science Research,30, 100–116.

Huang, Y., South, S. J., Spring, A., & Crowder, K. (2018). A decomposition of trends in blacks' and whites' exposure to other-race neighbors, 2001–2011. City & Community,17(3), 590–614.

Humes, K. K., Jones, N. A., & Ramirez, R. R. (2011). Overview of race and Hispanic origin: 2010, 2010 census brief, C2010BR-02. Washington, DC: US Census Bureau.

Hwang, J. (2019). Gentrification without Segregation? Race, immigration, and renewal in a diversifying city. City & Community. https://doi.org/10.1111/cico.12419.

Iceland, J. (2009). Where we live now: Immigration and race in the United States. Oakland, CA: University of California Press.

Jackman, M. R. (1978). General and applied tolerance: Does education increase commitment to racial integration? American Journal of Political Science,22(2), 302–324.

Jost, L. (2006). Entropy and diversity. Oikos,113, 363–375.

Krysan, M., & Crowder, K. (2017). Cycle of segregation: Social processes and residential stratification. New York: Russell Sage Foundation.

Krysan, M., Couper, M. P., Farley, R., & Forman, T. (2009). Does Race Matter in Neighborhood Preferences? Results from a Video Experiment. American Journal of Sociology, 115(2), 527–559.

Lee, K. O. (2017). Temporal dynamics of racial segregation in the United States: An analysis of household residential mobility. Journal of Urban Affairs,39(1), 40–67.

Lichter, D. T. (2013). Integration or fragmentation? Racial diversity and the American future. Demography,50, 359–439.

Logan, J. A. (1983). A multivariate model for mobility tables. American Journal of Sociology,89(2), 324–349.

Logan, R., & Alba, R. D. (1993). Locational returns to human capital: Minority access to suburban community resources. Demography,30, 243–252.

Logan, J. R., & Zhang, C. (2010). Global neighborhoods: New pathways to diversity and separation. American Journal of Sociology,115(4), 1069–1109. https://doi.org/10.1086/649498.

Maly, M. (2008). Beyond segregation: Multiracial and multiethnic neighborhoods. Philadelphia, PA: Temple University Press.

Massey, D. S., & Denton, N. A. (1985). Spatial assimilation as a socioeconomic outcome. American Sociological Review,50(1), 94–106.

Pais, J., South, S. J., & Crowder, K. (2009). White flight revisited: A multiethnic perspective on neighborhood out-migration. Population Research and Policy Review,28, 321–346.

Pais, J. (2017). Intergenerational neighborhood attainment and the legacy of racial residential segregation: A causal mediation analysis. Demography,54(4), 1221–1250.

Paolini, S., et al. (2014). Positive and extensive intergroup contact in the past buffers against the disproportionate impact of negative contact in the present. European Journal of Social Psychology,44(6), 548–562.

Parisi, D., Lichter, D. T., & Taquino, M. C. (2019). Remaking Metropolitan America? Residential mobility and racial integration in the suburbs. Socius,5, 1–18.

Philpott, T. L. (1978). The Slum and the Ghetto: Neighborhood deterioration and middle-class reform, Chicago, 1880–1930. New York: Oxford University Press.

Quillian, L., & Devah, P. (2001). Black neighbors, higher crime? The role of racial stereotypes in evaluations of neighborhood crime. American Journal of Sociology,107, 717–767.

Rosen, E. (2017). Horizontal immobility: How narratives of neighborhood violence shape housing decisions. American Sociological Review,82(2), 270–296.

Sharkey, P. (2008). The intergenerational transmission of context. American Journal of Sociology,113, 931–969.

Sharkey, P. (2012a). Residential mobility and the reproduction of unequal neighborhoods. Cityscape,114, 9–32.

Sharkey, P. (2012b). Temporary integration, resilient inequality: Race and neighborhood change in the transition to adulthood. Demography,49(3), 889–912.

South, S. J., Crowder, K., & Pais, J. (2008). Inter-neighborhood migration and spatial assimilation in a multiethnic world: Comparing Latinos, Blacks, and Anglos. Social Forces,87(1), 415–443.

South, S. J., Huang, Y., Spring, A., & Crowder, K. (2016). Neighborhood attainment over the adult life course. American Sociological Review,81, 1276–1304.

Sugrue, T. J. (1996). The origins of the urban crisis: Race and inequality in postwar detroit: race and inequality in postwar detroit. Princeton: Princeton University Press.

Torche, F. (2015). Analyses of intergenerational mobility: An interdisciplinary review. Annals of the American Political and Social Sciences,357, 37–62.

Vartanian, T. P., Buck, P. W., & Gleason, P. (2007). Intergenerational neighborhood-type mobility: Examining differences between blacks and whites. Housing Studies,22, 833–856.

Wilson, W. J. (1997). When work disappears: The World of the new urban poor. New York: Vintage.

Wilson, W. J., & Taub, R. P. (2011). There goes the neighborhood: Racial, ethnic, and class tensions in four chicago neighborhoods and their meaning for America. New York: Knopf Doubleday.

Wright, R., Ellis, M., Holloway, S. R., & Catney, G. (2018). The instability of highly racially diverse residential neighborhoods in the United States. Sociology of Race and Ethnicity. 2332649218819168.

Zhang, W., & Logan, J. R. (2016). Global neighborhoods: Beyond the multiethnic metropolis. Demography,53(6), 1933–1953.
Acknowledgements
This research was supported by an internal faculty grant to the authors from the University of Connecticut.
Additional information
Publisher's Note
Springer Nature remains neutral with regard to jurisdictional claims in published maps and institutional affiliations.
About this article
Cite this article
Pais, J. The Intergenerational Reproduction of Multiethnic Residential Integration. Popul Res Policy Rev (2020). https://doi.org/10.1007/s11113-020-09589-5
Received:

Accepted:

Published:
Keywords
Intergenerational mobility

Immigration

Migration

Neighborhood change

Diversity

Life course

Residential integration