Abstract
Shifting racial dynamics in the U.S. have heightened the salience of White racial identity, and a sense that Whites' social status and resources are no longer secure. At the same time, the growing size of non-White populations has also renewed attention to skin color-based stratification and the potential blurring of racial boundaries. We theorize that Whites with darker skin will be motivated to protect the boundaries of Whiteness due to the loss of status they would face from blurring racial boundaries. Consistent with growing evidence of skin color's importance for Whites, we demonstrate that darker-skinned Whites—measured via a light-reflectance spectrophotometer—identify more strongly with their White racial identity and are more likely to hold conservative political views on racialized issues than lighter-skinned Whites. Together, these findings offer new insights into the evolving meaning of race and color in American politics.
Access options
Buy single article
Instant access to the full article PDF.
USD 39.95
Price excludes VAT (USA)
Tax calculation will be finalised during checkout.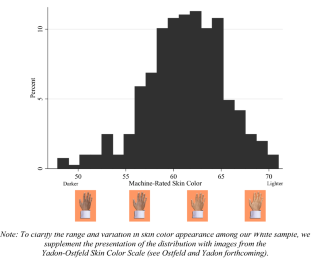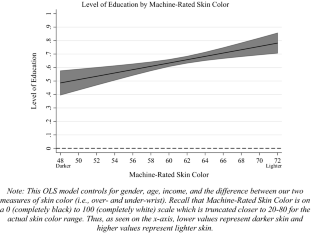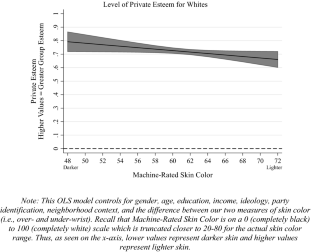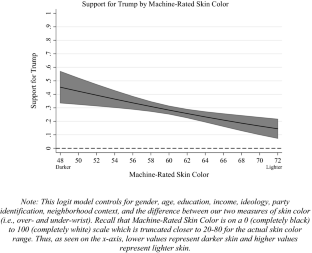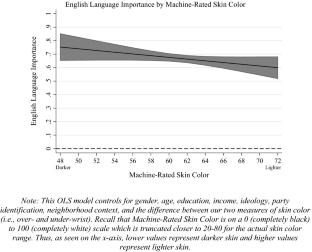 Notes
For purposes of brevity, we will use "White" to refer to individuals who identify only as White and do not identify as Hispanic, Latino, Middle Eastern or North African (or any other non-White group).

Human assessments of skin color are valuable in that they capture the social associations with skin color that are at the core of the American race and color constructs, while light-reflectance measures are unable to do so. Yet, while we know that skin color assessments are shaped by both physiological and social considerations, it becomes difficult to disentangle the role of each of these when using only one measure of skin color. In turn, our focus in this paper is on identifying the social and political associations with just the physiological (and not the social) element of skin color. In other work, we explore both the physiological and social elements of the skin color construct and the relationship between them (see Ostfeld and Yadon forthcoming).

For more information on machine-rated skin tone measurement, see Shriver and Parra (2000).

King and Johnson's data does not separate out Hispanic and non-Hispanic Whites, however. Through Hispanic surname matching, they find that the effects of skin tone weaken when taking likely Hispanic background into account, but the effects of Afrocentric features do not.

Further, our data collection occurs solely in the Detroit and Chicago metropolitan regions where these enclaves are not as persistently identified as those in the Northeast.

The analyses presented below do not control for the survey site because we have a large number of sites (n = 24) and a relatively small dataset. However, if we re-estimate the models with additional controls for site locations, the results remain consistent. Moreover, our results are consistent when using robust standard errors in our regression estimates.

To assess whether there was a selection bias, we had interviewers estimate the skin color of respondents as well as non-respondents (those who were invited to participate but refused). We found no significant difference (p = 0.35).

While we focus on the significance of the physiological element of skin color in this paper, we focus on the social elements of the skin color construct in other work (Ostfeld and Yadon forthcoming).

Additional details on the color measurement can be found in the product manual (X-Rite 2013).

Spectrophotometers are commonly used by public health scholars, interior designers, and dermatologists, as well as in cosmetics stores.

This lack of association between skin color and income is surprising. We believe this may be due in part to the student populations in some areas in which we collected data, as well as question wording which asked for one's annual (as opposed to monthly) income. We observed uncertainty on-site when individuals sought to convert their weekly or monthly income into yearly income.
References
Abrajano, M., & Hajnal, Z. (2017). White Backlash: Immigration, race, and American politics. Princeton: Princeton University Press.

Alba, R. D. (1990). Ethnic identity: The transformation of White America. New Haven: Yale University Press.

Bailey, S. R., Saperstein, A., & Penner, A. M. (2014). Race, color, and income inequality across the Americas. Demographic Research, 31, 735–756.

Baumgartner, F. R., Epp, D. A., & Shoub, K. (2018). Suspect citizens. Cambridge: Cambridge University Press.

Beck, S. A., & Stevenson, A. D. (2016). Shifting racialized identities among Mexican heritage women of the rural south: Brown faces in black and white places. Hispanic Journal of Behavioral Sciences, 38(1), 31–54.

Blumer, H. (1958). Race prejudice as a sense of group position. Pacific Sociological Review, 1(1), 3–7.

Bobo, L., & Hutchings, V. L. (1996). Perceptions of racial group competition: Extending Blumer's theory of group position to a multiracial social context. American Sociological Review, 61(6), 951.

Bobo, L. D. (2017). Racism in trump's America: Reflections on culture, sociology, and the 2016 US Presidential Election. The British Journal of Sociology, 68(S1), S85–104.

Bonilla-Silva, E. (2004). From bi-racial to tri-racial: Towards a new system of racial stratification in the USA. Ethnic and Racial Studies, 27(6), 931–950.

Branigan, A. R., Freese, J., Patir, A., McDade, T. W., Liu, K., & Kiefe, C. I. (2013). Skin color, sex, and educational attainment in the post-civil rights era. Social Science Research, 42(6), 1659–1674.

Branigan, A. R., Wildeman, C., Freese, J., & Kiefe, C. I. (2017). Complicating colorism: Race, skin color, and the likelihood of arrest. Socius Sociological Research for a Dynamic World, 3, 237802311772561.

Breshears, T. (2017). The Insidious Racism of Drugstore Beauty. Racked, retrieved at https://www.racked.com/2017/9/28/16368722/makeup-racism-fenty-beauty.

Bynum, M. S., Best, C., Barnes, S. L., & Burton, E. T. (2008). Private Regard, identity protection and perceived racism among African-American males. Journal of African-American Studies, 12(2), 142–155.

Cornell, S., & Hartmann, D. (1998). Ethnicity and race: Making identities in a changing world. Thousand Oaks, CA: Pine Forge Press.

Craig, M. A., & Richeson, J. A. (2014). More diverse yet less tolerant? How the increasingly diverse racial landscits white Americans' racial attitudes. Personality and Social Psychology Bulletin, 40(6), 750–761.

Davenport, L. D. (2016). The role of gender, classiigion in biracial Americans' racial labeling decisions. American Sociological Review, 81(1), 57–84.

Davenport, L. D. (2020). The fluidity of racial classifications. Annual Review of Political Science, 23, 221–240.

Dowling, J. A. (2014). Mexican Americans and the Question of Race. University of Texas Press.

Eberhardt, J. L., Davies, P. G., Purdie-Vaughns, V. J., & Johnson, S. L. (2006). Looking deathworthy: Perceived stereotypicality of Black defendants predicts capital-sentencing outcomes. Psychological Science, 17(5), 383–386.

Ellemers, N., & Jetten, J. (2013). The many ways to be marginal in a group. Personality and Social Psychology Review, 17(1), 3–21.

Garcia-Bedolla, L. (2005). Fluid borders: Latino power, identity, and politics in Los Angeles. Berkeley: University of California Press.

Gilens, M. (1996). 'Race coding' and white opposition to welfare. American Political Science Review, 90(03), 593–604. https://doi.org/10.2307/2082611.

Gilens, M. (2009). Why Americans hate welfare: Race, media, and the politics of antipoverty policy. Berkeley: University of Chicago Press.

Gimpel, J. G., & Cho, W. K. T. (2004). The persistence of white ethnicity in New England politics. Political Geography, 23(8), 987–1008.

Glenn, E. N. (2008). Yearning for lightness: Transnational circuits in the marketing and consumption of skin lighteners. Gender & Society, 22(3), 281–302.

Goldsmith, A. H., Hamilton, D., & Darity, W. (2007). From dark to light: Skin color and wages among African-Americans. Journal of Human Resources XLII, 4, 701–738.

Gómez, L. E. (2007). Manifest destinies: The making of the Mexican American race. New York: NYU Press.

Haney-Lopez, I. (1997). White by law: The legal construction of race. New York, NY: NYU Press.

Hannon, L. (2014). Hispanic respondent intelligence level and skin tone: Interviewer perceptions from the American National Election Study. Hispanic Journal of Behavioral Sciences, 36(3), 265–283.

Hannon, L., & DeFina, R. (2016). Reliability concerns in measuring respondent skin tone by interviewer observation. Public Opinion Quarterly, 80(2), 534–541.

Harburg, E., Gleibermann, L., Ozgoren, F., Roeper, P., & Schork, M. A. (1978). Skin color, ethnicity, and blood pressure II: Detroit whites. American Journal of Public Health, 68(12), 1184–1188.

Heckman, C. J., Coups, E. J., & Manne, S. L. (2008). Prevalence and correlates of indoor tanning among US adults. Journal of the American Academy of Dermatology, 58, 769–780.

Hersch, J. (2006). Skin-tone effects among African-Americans: Perceptions and reality. American Economic Review, 96(2), 251–255.

Higgins, E. T. (1997). Beyond pleasure and pain. American Psychologist, 52, 1280–1300.

Higgins, E. T., Shah, J. Y., & Friedman, R. (1997). Emotional responses to goal attainment: Strength of regulatory focus as moderator. Journal of Personality and Social Psychology, 72, 515–525.

Hill, M. E. (2000). Color differences in the socioeconomic status of African-American men: Results of a longitudinal study. Social Forces, 78(4), 1437–1460.

Hill, M. E. (2002). Race of the interviewer and perception of skin color: Evidence from the multi-city study of urban inequality. American Sociological Review, 67(1), 99.

Hochschild, J. L. (2005). Looking ahead: Racial trends in the United States. Daedalus, 134(1), 70–81.

Hochschild, J. L., & Weaver, V. M. (2007). The skin color paradox and the American racial order. Social Forces, 86(2), 643–670.

Hochschild, J. L., Weaver, V. M., & Burch, T. R. (2012). Creating a new racial order: How immigration, multiracialism, genomics, and the young can remake race in America. Princeton: Princeton University Press.

Hornsey, M. J. (2008). Social identity theory and self-categorization theory: A historical review. Social and Personality Psychology Compass, 2(1), 204–222.

Hughes, M., & Hertel, B. R. (1990). The significance of color remains: A study of life chances, mate selection, and ethnic consciousness among Black Americans. Social Forces, 68(4), 1105–1120.

Hunter, M. L. (2002). 'If you're light you're alright': Light skin color as social capital for women of color. Gender & Society, 16(2), 175–193.

Hutchings, V., Jefferson, H., Lewis Jr, N., & Yadon, N. (2016). The color of our skin and content of our politics: Exploring the effects of skin tone among African Americans."

Jardina, A. (2019). White identity politics. Cambridge: Cambridge University Press.

Jost, J., Napier, J., Thorisdottir, H., Gosling, S., Palfai, T., & Ostafin, B. (2007). Are needs to manage uncertainty and threat associated with political conservatism or ideological extremity? Personality and Social Psychology Bulletin, 33(7), 989–1007.

Jost, J. T., Glaser, J., Kruglanski, A. W., & Sulloway, F. J. (2003). Political conservatism as motivated social cognition. Psychological Bulletin, 129(3), 339.

Kim, C. J. (1999). The racial triangulation of Asian Americans. Politics & Society, 27(1), 105–138.

King, R. D., & Johnson, B. D. (2016). A punishing look: Skin tone and afrocentric features in the halls of justice. American Journal of Sociology, 122(1), 90–124.

Krause, A. (2018). People are furious after beautyblender unveiled its new foundations that cater almost entirely to White People. Insider. Retrieved at https://www.insider.com/beautyblender-foundation-backlash-shade-range-2018-7.

Lewin, K. (1948). Resolving social conflicts. New York: Harper & Row.

Li, J. (2018). Beauty brawl: How inclusive are beauty brands around the World?" The Pudding. Retrieved at: https://pudding.cool/2018/06/makeup-shades.

Liu, F., Visser, M., Duffy, D. L., Hysi, P. G., Jacobs, L. C., Lao, O., et al. (2015). Genetics of skin color variation in Europeans: Genome-wide association studies with functional follow-up. Human Genetics, 134(8), 823–835.

Luhtanen, R., & Crocker, J. (1992). A collective self-esteem scale: Self-evaluation of one's social identity. Personality and Social Psychology Bulletin, 18(3), 302–318.

Massey, D. S., & Martin, J. A. (2003). The NIS Skin Color Scale.

Masuoka, N. (2011). The 'Multiracial' option: Social group identity and changing patterns of racial categorization. American Politics Research, 39(1), 176–204.

Mendelberg, T. (2001). The race card: Campaign strategy, implicit messages, and the norm of equality. Princeton: Princeton University Press.

Monk, E. (2014). Skin tone stratification among Black Americans, 2001–2003. Social Forces, 92(4), 1313–1337.

Morgan, S. L., & Lee, J. (2018). Trump voters and the white working class. Sociological Science, 5, 234–245.

Mummendey, A., & Schreiber, H.-J. (1983). Better or just different? Positive social identity by discrimination against, or by differentiation from outgroups. European Journal of Social Psychology, 13(4), 389–397.

Myrdal, G. (1996). An American dilemma: The NegIm and modern democracy (Vol. 1). London: Routledge.

Nowatzki, R. (2006). Paddy jumps jim crow: Irish-Americans and Blackface minstrelsy. Éire-Ireland, 1(3), 162–184.

Omi, M., & Winant, H. (1990s). Racial formation in the United States: From the 1960s to the 1990s (2nd ed.). New York: Routledge.

Orsi, R. (1992). The religious boundaries of an inbetween people: Street feste and the problem of the dark-skinned other in Italian Harlem, 1920–1990. American Quarterly, 44(3), 313–347.

Ostfeld, M. C., & Yadon, N. D. forthcoming. The gravity of color: Skin color and power in contemporary American Politics. Book Manuscript In-progress.

Peiss, K. (1998). Hope in a jar: The making of America's beauty culture. New York: Metropolitan Books.

Pérez, E. O. (2015). Ricochet: How elite discourse politicizes racial and ethnic identities. Political Behavior, 37(1), 155–180.

Pérez, E. O., Deichert, M., & Engelhardt, A. M. (2019). E Pluribus Unum? How ethnic and national identity motivate individual reactions to a political ideal. The Journal of Politics, 81(4), 1420–1433.

Piston, S. (2015). Divided by skin color: The partisan preferences of latinos vary by skin tone. Presented at the Midwest Political Science Association Annual Meeting, 2015. Retrieved from https://rubenson.org/wp-content/uploads/2015/10/piston-strother-tpbw.pdf.

Rasmussen, B. B., Klinenberg, E., Nexica, I. J., & Wray, M. (2001). The making and unmaking of whiteness. Durham: Duke University Press.

Ronquillo, J., Denson, T. F., Lickel, B., Lu, Z.-L., Nandy, A., & Maddox, K. B. (2007). The effects of skin tone on race-related amygdala activity: An FMRI investigation. Social Cognitive and Affective Neuroscience, 2(1), 39–44.

Schildkraut, D. J. (2010). Americanism in the twenty-first century: Public opinion in the age of immigration. Cambridge: Cambridge University Press.

Schildkraut, D. J. (2017). White attitudes about descriptive representation in the US: The roles of identity, discrimination, and linked fate. Politics, Groups, and Identities, 5(1), 84–106.

Sears, D. O., & Savalei, V. (2006). The political color line in America: Many 'peoples of color' or black exceptionalism? Political Psychology, 27(6), 895–924.

Shriver, M. D., & Parra, E. J., (2000). Comparison of narrow-band reflectance spectroscopy and tristimulus colorimetry for measurements of skin and hair color in persons of different biological ancestry. American Journal of Physical Anthropology: The Official Publication of the American Association of Physical Anthropologists, 112(1), 17–27.

Sides, J., Tesler, M., & Vavreck, L. (2019). Identity crisis: The 2016 presidential campaign and the battle for the meaning of America. Princeton: Princeton University Press.

Stanovick, K. (2018). Fans are furious after it cosmetics released foundations that cater almost entirely to lighter skin tones. Insider. Retrieved at https://www.insider.com/it-cosmetics-dark-foundation-shades-controversy-2018-1.

Stryker, J. E., Yaroch, A. L., Moser, R. P., Atienza, A., & Glanz, K. (2007). Prevalence of sunless tanning product use and related behaviors among adults in the United States: Results from a national survey. Journal of the American Academy of Dermatology, 56, 387.

Tajfel, H. (1970). Experiments in intergroup discrimination. Scientific American, 223, 96–102.

Tajfel, H. (1978). Differentiation between social groups: Studies in the social psychology of intergroup relations. London: Academic Press.

Telles, E. (2014). Pigmentocracies: Ethnicity, race, and color in Latin America. Chapel Hill: UNC Press Books.

Turner, J. C. (1991). Social influence. Milton Keynes, UK: Open University Press.

Udry, J. R., Bauman, K. E., & Chase, C. (1971). Skin color, status, and mate selection. American Journal of Sociology, 76(4), 722–733.

Valentino, N., Hutchings, V., & White, I. (2002). Cues that matter: How political ads prime racial attitudes during campaigns. American Political Science Review, 96(1), 75–90.

Wade, T. J., Romano, M. J., & Blue, L. (2004). The effect of African-American skin color on hiring preferences. Journal of Applied Social Psychology, 34(12), 2550–2558.

Waters, M. (1990). Ethnic options: Choosing identities in America. Berkeley: University of California Press.

Wetherell, M. S. (1987). Social identity and group polarization. In J. C. Turner, M. A. Hogg, P. J. Oakes, S. D. Reicher, & M. S. Wetherell (Eds.), Rediscovering the social group: A self-categorization theory (pp. 142–170). Oxford, UK: Basil Blackwell.

Williams, K. M. (2008). Mark one or more: Civil rights in multiracial America. Ann Arbor: University of Michigan Press.

Wong, C., & Cho, G. E. (2005). Two-headed coins or kandinskys: White racial identification. Political Psychology, 26(5), 699–720.

X-Rite. (2013). RM200QC user manual. Retrieved from https://www.xrite.com/-/media/xrite/files/manuals_and_userguides/r/rm2000qc_manual_en.pdf.

Yadon, N. D. (2020). The politics of skin color. Ann Arbor: University of Michigan. Dissertation Manuscript.

Yip, T., Seaton, E. K., & Sellers, R. M. (2006). African-American racial identity across the lifespan: Identity status, identity content, and depressive symptoms. Child Development, 77(5), 1504–1517.
Additional information
Publisher's Note
Springer Nature remains neutral with regard to jurisdictional claims in published maps and institutional affiliations.
We express our sincere thanks to Ted Brader, Christopher DeSante, Vince Hutchings, Ashley Jardina, Don Kinder, Spencer Piston, Deborah Schildkraut, Nick Valentino, and Cara Wong, as well as participants in the 2018 PRIEC at UC San Diego and 2019 joint UM-MSU Race and Politics Mini-Conference for constructive feedback on this project. We are indebted to the Russell Sage Foundation for their financial support to perform data collection for this project, as well as our team of research assistants: Kamri Hudgins, Daniel Lopez, Lydia Lopez, Isabel McMullen, and Crystal Robertson. Replication materials are available at https://bit.ly/3ijmHwD.
Electronic supplementary material
Below is the link to the electronic supplementary material.
About this article
Cite this article
Yadon, N., Ostfeld, M.C. Shades of Privilege: The Relationship Between Skin Color and Political Attitudes Among White Americans. Polit Behav 42, 1369–1392 (2020). https://doi.org/10.1007/s11109-020-09635-0
Published:

Issue Date:

DOI: https://doi.org/10.1007/s11109-020-09635-0
Keywords
Whiteness

White identity

Skin color

Race

Public opinion