Abstract
Assessment of genetic diversity by using metabolic and molecular markers is important for the characterization of local unexplored germplasms of garden cress (Lepidium sativum L.) and their further utilization in crop breeding programme. However, such studies are limited to garden cress, an important medicinal crop of India. In the present study, biochemical, morphological and molecular characters were used to unravel the diversity and relationship among fifteen elite genotypes of garden cress, and the volatile constituents of seed oil were also analysed by GC-MS. Here, we report the genetic differentiation of garden cress genotypes collections in India using 10 RAPD and 9 ISSR markers. Analysis of variance revealed significant mean square values for all the morphological and biochemical traits. Random amplified polymorphic DNA (RAPD) (10) and inter-simple sequence repeats (ISSR) (9) markers produced a total of 114 bands, out of which 89 showed polymorphism. The average polymorphism was 90.8% (RAPD) and 66.03% (ISSR). The mean values of RAPD and ISSR markers for polymorphism information content (PIC) were 0.37 and 0.27, effective multiple ratio (EMR) were 4.92 and 3.10, marker index (MI) were 1.84 and 1.17 and the resolving power (Rp) were 1.39 and 1.56, respectively. In the clustering based on the combined biochemical, morphological and molecular data, the 15 genotypes were divided into two main clusters ranged from 0.50 to 0.86. Based on the observed variations, it is concluded that the magnitude of morphological, biochemical and molecular variations in the garden cress genotypes studied is significant. The volatile constituents of seed oil were also analysed by GC-MS for qualitative analysis which showed 72 similar components in oil of 15 local genotypes of garden cress. The results obtained in the present study could be useful for breeding and improvement of garden cress in the future.
This is a preview of subscription content, log in to check access.
Access options
Buy single article
Instant access to the full article PDF.
US$ 39.95
Price includes VAT for USA
Subscribe to journal
Immediate online access to all issues from 2019. Subscription will auto renew annually.
US$ 99
This is the net price. Taxes to be calculated in checkout.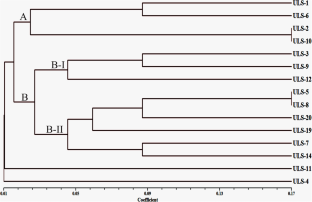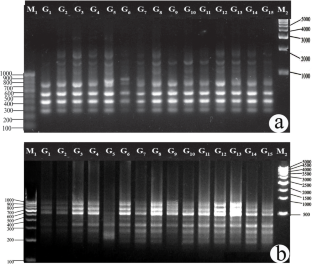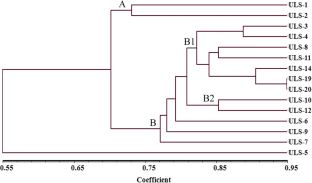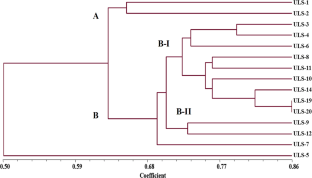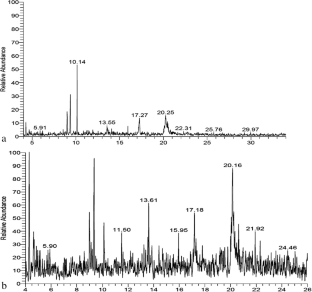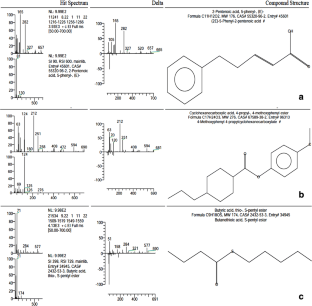 References
Afsharypuor S, Hadi M (2006) Volatile constituents of the seeds, roots and nonflowering aerial parts of Lepidium satvium L. J Essent Oil Res 18:495–496. https://doi.org/10.1080/10412905.2006.9699151

Alqahtani FY, Aleanizy FS, Mahmoud AZ, Farshori NN, Alfaraj R, Al-sheddi ES, Alsarra IA (2019) Chemical composition and antimicrobial, antioxidant, and anti-inflammatory activities of Lepidium sativum seed oil. Saudi J Biol Sci 26(5):1089–1092. https://doi.org/10.1016/j.sjbs.2018.05.007

Bedassa T, Eshete M (2013) Genetic divergence analysis of garden cress (Lepidium sativum L.). Int J Biodivers Conserv 5:770–774. https://doi.org/10.5897/IJBC2013.0626

Doke S, Guha M (2015) Identification of extraction conditions for determination of phenolic contents of garden cress seed (Lepidium sativum L.) and its milled fractions. Food Anal Methods 8:1053–1057. https://doi.org/10.1007/s12161-014-9957-9

Doyle JJ, Doyle JL (1987) A rapid DNA isolation procedure for small quantities of fresh leaf tissue. Phytochem Bull 19:11–15

Iyer AS, McCouch SR (2004) The rice bacterial blight resistance gene xa5 encodes a novel form of disease resistance. Mol Plant-Microbe Interact 17:1348–1354. https://doi.org/10.1094/MPMI.2004.17.12.1348

Janakiraman N, Johnson M, Sahaya S (2012) GC–MS analysis of bioactive constituents of Peristrophe bicalyculata (Retz.) Nees. (Acanthaceae). Asian Pac J Trop Biomed 2:S46–S49. https://doi.org/10.1016/S2221-1691(12)60128-2

Juma BA (2007) The effects of Lepidium sativum seeds on fracture-induced healing in rabbits. Medscape Gen Med 9:23

Kadam D, Palamthodi S, Lele SS (2018) LC–ESI-Q-TOF–MS/MS profiling and antioxidant activity of phenolics from L. Sativum seedcake. J Food Sci Technol 55(3):1154–1163. https://doi.org/10.1007/s13197-017-3031-8

Kaur A, Kumar R, Rani S, Grewal A (2015) Genetic diversity analysis of Lepidium sativum (Chandrasur) using inter simple sequence repeat (ISSR) markers. J For Res 26:107–114. https://doi.org/10.1007/s11676-014-0545-z

Kaur G, Joshi A, Jain D, Choudhary R, Vyas D (2016) Diversity analysis of green gram (Vigna radiata (L.)) through morphological and molecular markers. Turk J Agric For 40:229–240. https://doi.org/10.3906/tar-1508-59

Ksouda G, Hajji M, Sellimi S, Merlier F, Falcimaigne-Cordin A, Nasri M, Thomasset B (2018) A systematic comparison of 25 Tunisian plant species based on oil and phenolic contents, fatty acid composition and antioxidant activity. Ind Crop Prod 123:768–778. https://doi.org/10.1016/j.indcrop.2018.07.008

Kumar V, Yadav HK (2019) Assessment of genetic diversity in Lepidium sativum L. using inter simple sequence repeat (ISSR) marker. Physiol Mol Biol Plants 25:399–406. https://doi.org/10.1007/s12298-018-0622-4

Kumar S, Goyal R, Sheoraya A, Kajla S, Yadav OP, Mangal M (2012) Assessment of genetic diversity in Lepidium sativum using RAPD and ISSR markers. Ann Appl Biol 28:93–97

Laurentin H, Ratzinger A, Karlovsky P (2008) Relationship between metabolic and genomic diversity in sesame (Sesamum indicum L.). BMC Genomics 9:250. https://doi.org/10.1186/1471-2164-9-250

Lopez PA (2006) Phenotypic, biochemical, and molecular diversity in coriander (Coriandrum sativum L.) germplasm. Ph.D. dissertation, Iowa State University, Ames

Mantel NA (1967) The detection of disease clustering and a generalized regression approach. Cancer Res 27:209–220

Milbourne D, Meyer R, Bradshaw JE, Baird E, Bonar N, Provan J, Waugh R (1997) Comparison of PCR-based marker systems for the analysis of genetic relationships in cultivated potato. Mol Breed 3:127–136. https://doi.org/10.1023/A:1009633005390

Mohammed S, Tesfaye K (2015) Molecular genetic diversity study of Lepidium sativum population from Ethiopia as revealed by inter simple sequence repeat (ISSR) markers. Afr J Biotechnol 14:1461–1470. https://doi.org/10.5897/AJB2015.14533

Pande D, Malik S, Bora M, Srivastava PS (2002) A rapid protocol for in vitro micropropagation of Lepidium sativum Linn. And enhancement in the yield of Lepidine. In Vitro Cell Dev Biol Plant 38:451–455. https://doi.org/10.1079/IVP2002322

Pawlik A, Malinowska A, Siwulski M, Frąc M, Rogalski J, Janusz G (2015) Determination of biodiversity of Coprinus comatus using genotyping and metabolic profiling tools. Acta Biochim Pol 62:683–689. https://doi.org/10.18388/abp.2015_1102

Prevost A, Wilkinson MJ (1999) A new system of comparing PCR primers applied to ISSR fingerprinting of potato cultivars. Theor Appl Genet 98:107–112. https://doi.org/10.1007/s001220051046

Rohlf FJ (2004) NTSYS-pc. Numerical taxonomy and multivariate analysis system. Exeter software, Setauket

Sabaghnia N, Ahadnezhad A, Janmohammdi M (2014) Genetic variation in garden cress (Lepidium sativum L.) germplasm as assessed by some morphological traits. Genet Resour Crop Evol 62:733–745. https://doi.org/10.1007/s10722-014-0192-4

Smith JSC, Smith OS (1992) Fingerprinting crop varieties. Adv Agron 47:85–140

Smith JSC, Chin ECL, Shu H, Smith OS, Wall SJ, Senior ML, Mitchell SE, Kresovich S, Ziegle J (1997) An evaluation of the utility of SSR loci as molecular markers in maize (Zea mays L.): comparisons with data from RFLPs and pedigree. Theor Appl Genet 95:163–173. https://doi.org/10.1007/s001220050544

Solomon G, Aman D, Bachheti RK (2016) Fatty acids, metal composition, nutritional value and physicochemical parameters of Lepidium sativium seed oil collected from Ethiopia. Int Food Res J 23:827–831

Vavilov NI (1926) The origin of the cultivation of 'primary'crops, in particular cultivated hemp. Studies on the origin of cultivated plants, Institute of Applied Botany and Plant Breeding, Leningrad, 221–233

Zia-Ul-Haq M, Ahmad S, Calani L, Mazzeo T, DelRio D, Pellegrini N, De Feo V (2012) Compositional study and antioxidant potential of Ipomoea hederacea Jacq. And Lepidium sativum L. seeds. Molecules 17:10306–10321. https://doi.org/10.3390/molecules170910306
Acknowledgements
The authors gratefully acknowledge the Department of Soil Science, MPUAT, Udaipur for iron estimation.
Ethics declarations
Conflict of Interest
The authors declare that they have no conflict of interest.
Additional information
Publisher's Note
Springer Nature remains neutral with regard to jurisdictional claims in published maps and institutional affiliations.
Electronic supplementary material
About this article
Cite this article
Singh, B., Jain, D., Joshi, A. et al. Molecular Diversity Analysis and Metabolic Profiling of Seed Oil in Lepidium sativum L. Genotypes. Plant Mol Biol Rep (2020). https://doi.org/10.1007/s11105-020-01223-0
Keywords
Garden cress genotypes

Morphological markers

Biochemical markers

RAPD

ISSR

GCMS