Abstract
Genetic diversity and population structure were studied in 155 chickpea (Cicer arietinum L.) entries using 33 polymorphic microsatellite (SSR) markers. Molecular analysis of variance showed variations of 73% within and 27% among populations. Introduced genotypes exhibited highest polymorphism (70.27%) than the landraces (36–57%). Collections from Shewa, Harerge, W. Gojam and S. Gonder regions also showed higher polymorphism (50–57%) than the rest of the local accessions (36–45%). Analyses of pairwise population Nei genetic distance and PhiPT coefficients, expected heterozygosity (He) and unbiased expected heterozygosity (UHe), Shannon's information index (I) and percent polymorphism (% P) showed existence of high genetic variation between geographical regions. Accessions from adjoining geographical regions mostly showed more genetic similarities than those from origins far isolated apart. This could be associated with the ease and likelihood of inter-regional gene flow and seed movement particularly during times of drought. The 155 entries were grouped into five clusters following analysis of population structure. The first cluster (C1) constituted accessions from Arsi; the second (C2) from Gojam and Gonder; the third (C3) from Harerge and E. and N. Shewa; and the fourth (C4) from W. Shewa, Tigray, and Wello regions. The fifth cluster (C5) was entirely consisted of improved genotypes. Improved genotypes of both Kabuli and Desi types distinctly fell into cluster five (C5) regardless of their difference in seed types. The result has firmly established that introduction of genetic materials from exotic sources has broadened the genetic base of the national chickpea breeding program. Further implications of the findings as regards to chickpea germplasm management and its utilization in breeding program are also discussed.
Access options
Buy single article
Instant access to the full article PDF.
US$ 39.95
Tax calculation will be finalised during checkout.
Subscribe to journal
Immediate online access to all issues from 2019. Subscription will auto renew annually.
US$ 79
Tax calculation will be finalised during checkout.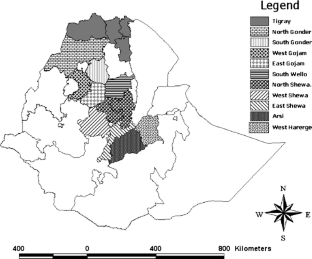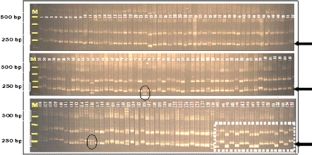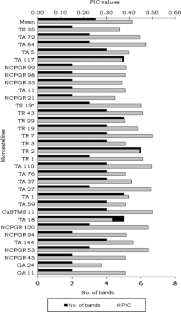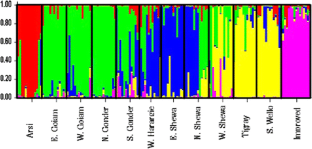 References
Abbo S, Berger J, Turner NC (2003) Evolution of cultivated chickpea: four bottlenecks limit diversity and constrain adaptation. Func Plant Biol 30:1081–1087

Baraket G, Chatti K, Saddoud O, Abdelkarim AB, Mars M, Trifi M, Hannachi AS (2011) Comparative assessment of SSR and AFLP markers for evaluation of genetic diversity and conservation of fig, Ficus carica L., genetic resources in Tunisia. Plant Mol Biol Rep 29:171–184. doi:10.1007/s11105-010-0217-x

Bowman DT, May OL, Creech JB (2003) Genetic uniformity of the U.S. upland cotton since the introduction of transgenic cottons. Crop Sci 43:515–518

Brown AHD (1989) The case for core collections. In: Brown AHD, Marshal DR, Frankel OH, Williams JT (eds) The use of plant genetic resources. Cambridge University Press, Cambridge, pp 136–156

Carvalho MA (2004) Germplasm characterization of Arachis pintoi Krap. and Greg. (Leguminosae). PhD Thesis, University of Florida, USA.

Chahal GS, Gosal SS (2002) Principles and procedures of plant breeding: biotechnological and conventional approaches. Narosa, New Delhi

Chung G, Singh RJ (2008) Broadening the genetic base of soybean: a multidisciplinary approach. Crit Rev Plant Sci 27:295–341

Dadi M (2004) Morphological and RAPD marker variation analysis in some drought tolerant and susceptible chickpea (Cicer arietinum L.) genotypes of Ethiopia. M.Sc Thesis, Addis Ababa University, Ethiopia

de Vicente MC, Guzmán FA, Engels J, Rao VR (2005) Genetic characterization and its use in decision making for the conservation of crop germplasm. The role of biotechnology. In: International workshop the role of biotechnology for the characterization and conservation of crop, forestry, animal and fishery genetic resources. FAO, FOBIOTECH, ECOGENE, SIGA, Turin, pp 121–128, 5–7 March 2005

de Wouw VM, Hintum TV, Kik C, Treuren RV, Visser B (2010) Genetic diversity trends in twenty century crop cultivars. Theor Appl Genet: http://agro.biodiver.se/2010/01/breeders-not-so-bad-after-all/

Donini P, Law JR, Koebner RMD, Reeves JC, Cooke RJ (2000) Temporal trends in the diversity of UK wheat. Theor Appl Genet 100:912–917

Doyle JJ, Doyle JL (1990) Isolation of plant DNA from fresh tissue. Focus 12:13–15

Evanno G, Regnaut S, Goudet J (2005) Detecting the number of clusters of individuals using the software Structure: a simulation study. Mol Ecol 14:2611–2620

Felsenstein J (2007) Theoretical evolutionary genetics. University of Washington, USA

Ford-Lloyd B, Jackson M (1986) Plant genetic resources: an introduction to their conservation and use. Edward Arnold, Australia, p 146

Garris AJ, Tai TH, Coburn J, Kresovich S, McCouch S (2005) Genetic structure and diversity in Oryza sativa L. Genetics 169:1631–1638

Gilbert JE, Lewis RV, Wilkinson MJ, Caligari PDS (1999) Developing an appropriate strategy to assess genetic variability in plant germplasm collections. Theor Appl Genet 98:1125–1131

Hagedorn DJ (1984) Compendium of pea diseases. University of Wisconsin—Madison, USA

He Q, Li XW, Liang GL, Ji K, Guo QG, Yuan WM, Zhou GZ, Chen KS, van de Weg WE, Gao ZS (2011) Genetic diversity and identity of Chinese loquat cultivars/accessions (Eriobotrya japonica) using apple SSR markers. Plant Mol Biol Rep 29:197–208. doi:10.1007/s11105-010-0218-9

Hüttel B, Winter P, Weising K (1999) Sequence tagged microsatellite site markers for chickpea (Cicer arietinum L.). Genome 42:210–217

Imtiaz M, Materne M, Hobson K, van Ginkel MB, Malhotra RS (2008) Molecular genetic diversity and linked resistance to Ascochyta blight in Australian chickpea breeding materials and their wild relatives. Aust J Agr Res 59:554–560

Joshi PK, Rao P, Gowda CLL, Jones RB, Silim SN, Saxena KB, Kumar J (2001) The world chickpea and pigeonpea economies: facts, trends and outlook. International Crops Research Institute for the Semi-Arid Tropics, Andhra Pradesh, p 68 pp

Kassie M, Shiferaw B, Asfaw S, Abate T, Muricho G, Ferede S, Eshete M, Assefa K (2009) Current situation and future outlooks of the chickpea sub–sector in Ethiopia. ICRISAT and EIAR (http://www.icrisat.org/tropicallegumesII/pdfs/Current_Situation.pdf)

Kong Q, Li X, Xiang C, Wang H, Song J, Zhi H (2011) Genetic diversity of radish (Raphanus sativus L.) germplasm resources revealed by AFLP and RAPD markers. Plant Mol Biol Rep 29:217–223. doi:10.1007/s11105-010-0228-7

McGuire SJ, Sperling L (2008) Leveraging farmers' strategies for coping with stress: seed aid in Ethiopia. Glob Env Change 18:679–688. doi:10.1016/j.gloenvcha.2008.07.002

Mekibeb H, Demissie A, Tullu A (1991) Pulse crops of Ethiopia. In: Engels JMM, Hawkes JG, Worede M (eds) Plant genetic resources of Ethiopia. Cambridge University Press, UK, pp 328–343

Millan T, Clarke HJ, Siddique KHM, Buhariwalla HK, Gaur PM, Kumar J, Gil J, Kahl G, Winter P (2006) Chickpea molecular breeding: new tools and concepts. Euphytica 147:81–103

Muehlbauer FJ, Tullu A (1997) Cicer arietinum L. new crop fact sheet:http://www.hort.purdue.edu/newcrop/cropfactsheets/chickpea.html#Origin

Nayak SN, Zhu H, Varghese N (2010) Integration of novel SSR and gene base SNP marker loci in the chickpea genetic map and establishment of new anchor points with Medicago truncatula genome. Theor Appl Genet 120:1415–1441

Nei M (1978) Estimation of average heterozygosity and genetic distance from small number of individuals. Genetics 89:583–590

Peakall R, Smouse PE (2006) GENALEX 6: genetic analysis in Excel. Population genetic software for teaching and research. Mol Eco Notes 6:288–295

Pritchard JK, Stephens M, Donnelly P (2000) Inference of population structure using multilocus genotype data. Genetics 155:945–959

Radhika P, Gowda SJM, Kadoo NY, Mhase LB, Jamadagni BM, Sainani MN, Chandra S, Gupta VS (2007) Development of an integrated map of chickpea (Cicer arietinum L.) using two recombinant inbred line populations. Theor Appl Genet 115:209–216

Roldan-Ruiz I, Calsyn E, Gilliand TJ, Coll R, Vaneijk MJT, de Loose M (2000) Estimating genetic conformity between related ryegrass (Lolium) varieties 2. AFLP characterization. Mole Breed 6:593–602

Rubenstein DK, Heisey P, Shoemaker R, Sullivan J, Frisvold G (2005) Crop genetic resources: an economic appraisal. United States Department of Agriculture (USDA). Economic Information Bulletin No. 2. (www.ers.usda.gov)

Saeed A, Hovsepyan H, Darvishzadeh R, Imtiaz M, Panguluri SK, Nazaryan R (2011) Genetic diversity of Iranian accessions, improved lines of chickpea (Cicer arietinum L.) and their wild relatives by using simple sequence repeats. Plant Mol Biol Rep. doi:10.1007/s11105-011-0294-5

Saxena R, Chandra A (2010) Isozyme, ISSR and RAPD profiling of genotypes in marvel grass (Dichanthium annulatum). J Environ Biol 31:883–890

Sefera T, Abebie B, Gaur PM, Assefa K, Varshney RK (2011) Characterisation and genetic diversity analysis of selected chickpea cultivars of nine countries using simple sequence repeat (SSR) markers. Crop and Pasture Sci 62:177–187

Sethy NK, Shokeen B, Bhatia S (2003) Isolation and characterization of sequence tagged-microsatellite markers in chickpea (Cicer arietinum L.). Mol Eco Notes 3:428–430

Sharma SS, Negi MS, Sinha P, Kumar K, Tripathi SB (2011) Assessment of genetic diversity of biodiesel species Pongamia pinnata accessions using AFLP and three endonuclease-AFLP. Plant Mol Biol Rep 29:12–18. doi:10.1007/s11105-010-0204-2

Singh BD (2002) Plant breeding: principles and methods. Kalyani, New Delhi

Spagnoletti PL, Qualset CO (1987) Geographical diversity for quantitative spike characters in a world collection of durum wheat. Crop Sci 27:235–241

Taddesse D, Telaye A, Bejiga G (1994) Genetic resources in Ethiopia. In: Telaye A, Bejiga G, Saxena MC, Solh MB (eds) Cool season food legumes of Ethiopia. Proceedings of the First National Cool Season Food Legumes Review Conference, 16–20 December 1993, Addis Ababa, Ethiopia. ICARDA/IAR. ICARDA, Aleppo, pp 79–96

Tanno K, Willcox G (2006) The origins of cultivation of Cicer arietinum L. and Vicia faba L.: early finds from Tell el-Kerkh, north-west Syria, late 10th millennium b.p. Veg Hist Arch 15:197–204

Tanto T, Tefera E (2006) Collection, conservation, characterization and sustainable utilization of grain legumes in Ethiopia. In: Ali K, Keneni G, Ahmed S, Malhotra R, Beniwal S, Makkouk K, Halila MH (eds) Food and forage legumes of Ethiopia: progress and prospects. Proceedings of a Workshop on Food and Forage Legumes, 22–26 Sept 2003, Addis Ababa, Ethiopia. ICARDA, Aleppo, pp 15–22

Tanya P, Taeprayoon P, Hadkam Y, Srinives P (2011) Genetic diversity among Jatropha and Jatropha-related species based on ISSR markers. Plant Mol Biol Rep 29:252–264. doi:10.1007/s11105-010-0220-2

Upadhyaya HD, Furman BJ, Dwivedi SL, Udupa SM, Gowda SLL, Baum M, Crouch JH, Buhariwalla HK, Singh S (2006) Development of a composite collection for mining germplasm possessing allelic variation for beneficial traits in chickpea. Plant Genet Res 4:3–19

Upadhyaya HD, Dwivedi SL, Baum M, Varshney RK, Udupa SM, Gowda CLL, Hoisington D, Singh S (2008) Genetic structure, diversity, and allelic richness in composite collection and reference set in chickpea (Cicer arietinum L.). BMC Plant Biol 8:doi:10.1186/1471-2229-8-106 (http://www.biomedcentral.com/1471-2229/8/106)

van der Maesen LJG (1987) Origin, history and taxonomy of chickpea. In: Saxena MC, Singh KB (eds) The chickpea. C.A.B., Wallingford, pp 11–34

Warburton M, Crossa J (2002) Data analysis in the CIMMYT Applied Biotechnology Center. Second Edition. Mexico, D.F.: CIMMYT (http://apps.cimmyt.org/english/docs/manual/protocols/dataAnalysis.pdf)

Winter P, Pfaf T, Udupa SM (1999) Characterization and mapping of sequence-tagged microsatellite sites in the chickpea (Cicer arietinum L.) genome. Mol Gen Genet 262:90–101

Winter P, Benko-Iseppon AM, Hüttel B, Ratnaparkhe M, Tullu A, Sonnante G, Pfaf T, Tekeoglu M, Santra D, Sant VJ, Rajesh PN, Kahl G, Muehlbauer FJ (2000) A linkage map of chickpea (Cicer arietinum L.) genome based on recombinant inbred lines from a C. arietinum × C. reticulatum cross: localization of resistance genes for Fusarium wilt races 4 and 5. Theor Appl Genet 101:1155–1163

Witcombe JR, Hash CT (2000) Resistance gene deployment strategies in cereal hybrids using marker-assisted selection: gene pyramiding, three-way hybrids, and synthetic parent populations. Euphytica 112:175–186

Workeye F (2002) Morphological and biochemical diversity analysis in chickpea (Cicer arietinum) landraces of Ethiopia. M.Sc Thesis, School of Graduate Studies, Addis Ababa University, Ethiopia
Acknowledgments
The first author wishes to acknowledge the International Center for Agricultural Research in the Dry Areas (ICARDA), the International Crop Research Institute for the Semi-Arid Tropics (ICRISAT), Ethiopian Institute of Agricultural Research and Addis Ababa University for material, technical and financial supports to this study as a component of his PhD thesis. The test genotypes were received from the Ethiopian Institute of Biodiversity Conservation (IBC), ICRISAT, ICARDA, and the National Chickpea Research Project in Ethiopia. The authors would like to express their gratitude to Dr Nigussie Alemayehu, FAO Expert, Agricultural Rural Capacity Building Project, Ethiopian Program, for a professional edition of the first draft of the manuscript, Dr Tesfahun Alemu for help in statistical analysis and staff members of ICARDA, especially Enass Junbaz, for intensive help in DNA finger printing.
Electronic supplementary materials
Below is the link to the electronic supplementary material.
About this article
Cite this article
Keneni, G., Bekele, E., Imtiaz, M. et al. Genetic Diversity and Population Structure of Ethiopian Chickpea (Cicer arietinum L.) Germplasm Accessions from Different Geographical Origins as Revealed by Microsatellite Markers. Plant Mol Biol Rep 30, 654–665 (2012). https://doi.org/10.1007/s11105-011-0374-6
Keywords
Chickpea

Cicer arietinum

Genetic diversity

Microsatellite markers

Molecular analysis of variance

Population structure