Abstract
Aims
Intercropping promoted land productivity and be performed worldwide. This study aimed to assess the effect of intercropping on soil dissolved organic carbon (DOC) and its nitrogen (N) regulation.
Methods
The potato was monocropped and intercropped with maize under four N levels (0, 62.5, 125 and 187.5 kg ha−1 for N0, N1, N2 and N3, respectively) in a fixed plot experiment from 2014 in subtropical China. Soil DOC concentration was determined and seasonal and interannual dynamics were analyzed from 2016 to 2018; Absorption values of specified wavelength were selected to characterize the annul DOC composition. Finally, the driving factors of DOC variation were explored using structural equation modeling (SEM).
Results
Soil DOC concentration and accumulation under N-applied treatments were higher than N0 and the increase peaked at N1. Compared with monocropping, intercropping significantly increased DOC accumulation by 20.29% only at N0. N application significantly improved the contents of amines and aromatic compounds and the average molecular weight of DOC, thus improving the degree of humification and aromatization of soil DOC. The SEM showed that the chemical composition of DOC was complicated with increasing soil temperature, aboveground and root biomass, while DOC concentration and chemical composition significantly affected the accumulation of DOC.
Conclusions
Agricultural diversified cropping affects the dynamics and composition of soil DOC, which is intensively regulated by N fertilization. This study expands the insight into the variable DOC concentration and composition and its role in soil organic carbon turnover under the varying fertilization and cropping patterns.
We're sorry, something doesn't seem to be working properly.
Please try refreshing the page. If that doesn't work, please contact support so we can address the problem.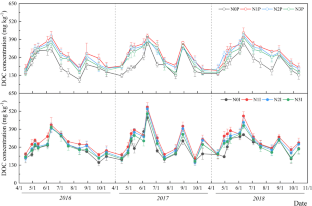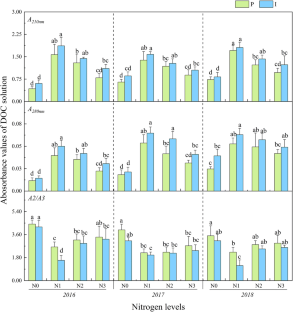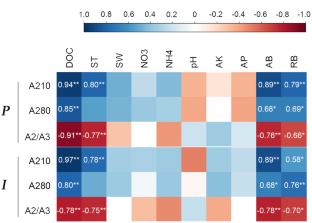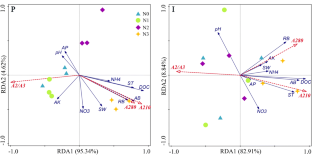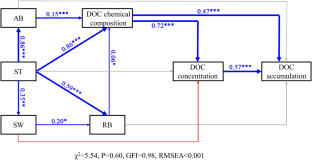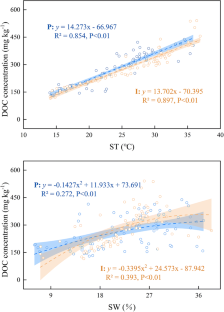 References
Chang R, Li N, Sun X, Hu Z, Bai X, Wang G (2018) Nitrogen addition reduces dissolved organic carbon leaching in a montane forest. Soil Biol Biochem 127:31–38. https://doi.org/10.1016/j.soilbio.2018.09.006

Cong WF, Hoffland E, Li L, Six J, Sun JH, Bao XG, Zhang FS, Van Der Werf W (2015) Intercropping enhances soil carbon and nitrogen. Glob Chang Biol 21:1715–1726. https://doi.org/10.1111/gcb.12738

Feng S, Huang Y, Ge Y, Su Y, Xu X, Wang Y, He X (2016) Variations in the patterns of soil organic carbon mineralization and microbial communities in response to exogenous application of rice straw and calcium carbonate. Sci Total Environ 571:615–623. https://doi.org/10.1016/j.scitotenv.2016.07.029

Gong X, Liu C, Li J, Luo Y, Yang Q, Zhang W, Yang P, Feng B (2019a) Responses of rhizosphere soil properties, enzyme activities and microbial diversity to intercropping patterns on the loess plateau of China. Soil Tillage Res 195:104355. https://doi.org/10.1016/j.still.2019.104355

Gong X, Wang S, Wang Z, Jiang Y, Hu Z, Zheng Y, Chen X, Li H, Hu F, Liu M, Scheu S (2019b) Earthworms modify soil bacterial and fungal communities through enhancing aggregation and buffering pH. Geoderma 347:59–69. https://doi.org/10.1016/j.geoderma.2019.03.043

Guan S, An N, Zong N, He Y, Shi P, Zhang J, He N (2018) Climate warming impacts on soil organic carbon fractions and aggregate stability in a Tibetan alpine meadow. Soil Biol Biochem 116:224–236. https://doi.org/10.1016/j.soilbio.2017.10.011

He X, Zhu S, Wang H, Yong X, Yan S, Dong G, Jing Y, Lin L, Li Q (2010) Crop diversity for ecological disease control in potato and maize. J Resour Ecol 1:45–51

Huang W, Hall SJ (2017) Elevated moisture stimulates carbon loss from mineral soils by releasing protected organic matter. Nat Commun 8:1774. https://doi.org/10.1038/s41467-017-01998-z

Kalbitz K, Schmerwitz J, Schwesig D, Matzner E (2003) Biodegradation of soil-derived dissolved organic matter as related to its properties. Geoderma 113:273–291. https://doi.org/10.1016/S0016-7061(02)00365-8

Li X, Mu Y, Cheng Y, Liu X, Nian H (2013) Effects of intercropping sugarcane and soybean on growth, rhizosphere soil microbes, nitrogen and phosphorus availability. Acta Physiol Plant 35:1113–1119. https://doi.org/10.1007/s11738-012-1148-y

Li W, Jin C, Guan D, Wang Q, Wang A, Yuan F, Wu J (2015) The effects of simulated nitrogen deposition on plant root traits: a meta-analysis. Soil Biol Biochem 82:112–118. https://doi.org/10.1016/j.soilbio.2015.01.001

Li M, Drosos M, Hu H, He X, Wang G, Zhang H, Hu Z, Xi B (2019) Organic amendments affect dissolved organic matter composition and mercury dissolution in pore waters of mercury-polluted paddy soil. Chemosphere 232:356–365. https://doi.org/10.1016/j.chemosphere.2019.05.234

Li C, Hoffland E, Kuyper TW, Yu Y, Zhang C, Li H, Zhang F, van der Werf W (2020) Syndromes of production in intercropping impact yield gains. Nat Plants 6:653–660. https://doi.org/10.1038/s41477-020-0680-9

Luan H, Gao W, Huang S, Tang J, Li M, Zhang H, Chen X (2019) Partial substitution of chemical fertilizer with organic amendments affects soil organic carbon composition and stability in a greenhouse vegetable production system. Soil Tillage Res 191:185–196. https://doi.org/10.1016/j.still.2019.04.009

Luo R, Kuzyakov Y, Liu D, Fan J, Luo J, Lindsey S, He JS, Ding W (2020) Nutrient addition reduces carbon sequestration in a Tibetan grassland soil: disentangling microbial and physical controls. Soil Biol Biochem 144:107764. https://doi.org/10.1016/j.soilbio.2020.107764

Ma C, Chen X, Zhang J, Zhu Y, Kalkhajeh YK, Chai R, Ye X, Gao HJ, Chu W, Mao JD, Thompson ML (2019) Linking chemical structure of dissolved organic carbon and microbial community composition with submergence-induced soil organic carbon mineralization. Sci Total Environ 692:930–939. https://doi.org/10.1016/j.scitotenv.2019.07.286

Mao R, Zhang XH, Song CC (2020) Chronic nitrogen addition promotes dissolved organic carbon accumulation in a temperate freshwater wetland. Environ Pollut 260:114030. https://doi.org/10.1016/j.envpol.2020.114030

Milroy SP, Wang P, Sadras VO (2019) Defining upper limits of nitrogen uptake and nitrogen use efficiency of potato in response to crop N supply. Field Crop Res 239:38–46. https://doi.org/10.1016/j.fcr.2019.05.011

Mushagalusa GN, Ledent JF, Draye X (2008) Shoot and root competition in potato/maize intercropping: effects on growth and yield. Environ Exp Bot 64:180–188. https://doi.org/10.1016/j.envexpbot.2008.05.008

Nurmanov YT, Chernenok VG, Kuzdanova RS (2019) Potato in response to nitrogen nutrition regime and nitrogen fertilization. Field Crop Res 231:115–121. https://doi.org/10.1016/j.fcr.2018.11.014

Nyawade SO, Karanja NN, Gachene CKK, Gitari HI, Schulte-Geldermann E, Parker ML (2019) Short-term dynamics of soil organic matter fractions and microbial activity in smallholder potato-legume intercropping systems. Appl Soil Ecol 142:123–135. https://doi.org/10.1016/j.apsoil.2019.04.015

Olsen SR, Cole C, Watanabe FS, Dean L (1954) Estimation of available phosphorus in soils by extraction with sodium bicarbonate. Circular (No. 939). USDA Press, Washington DC, pp 1–19

Ritson JP, Graham NJD, Templeton MR, Clark JM, Gough R, Freeman C (2014) The impact of climate change on the treatability of dissolved organic matter (DOM) in upland water supplies: a UK perspective. Sci Total Environ 473-474:714–730. https://doi.org/10.1016/j.scitotenv.2013.12.095

Schmidt MP, Martínez CE (2019) The influence of tillage on dissolved organic matter dynamics in a mid-Atlantic agroecosystem. Geoderma. 344:63–73. https://doi.org/10.1016/j.geoderma.2019.03.001

Schmidt-Rohr K, Mao JD, Olk DC (2004) Nitrogen-bonded aromatics in soil organic matter and their implications for a yield decline in intensive rice cropping. Proc Natl Acad Sci U S A 101:6351–6354. https://doi.org/10.1073/pnas.0401349101

Shen D, Ye C, Hu Z, Chen X, Guo H, Li J, Du G, Adl S, Liu M (2018) Increased chemical stability but decreased physical protection of soil organic carbon in response to nutrient amendment in a Tibetan alpine meadow. Soil Biol Biochem 126:11–21. https://doi.org/10.1016/j.soilbio.2018.08.008

Silverstein RM (1977) In: Phillips JP, Feuer H, Laughton PM, Thyagarajan BS (eds) Organic electron spectral data, vol XI. Wiley, New York, 1975. Microchem. J. 22, 269. https://doi.org/10.1016/0026-265X(77)90104-7

Song Y, Song C, Meng H, Swarzenski CM, Wang X, Tan W (2017) Nitrogen additions affect litter quality and soil biochemical properties in a peatland of Northeast China. Ecol Eng 100:175–185. https://doi.org/10.1016/J.ECOLENG.2016.12.025

Song C, Shan S, Yang C, Zhang C, Zhou X, Ma Q, Yrjälä K, Zheng H, Cao Y (2020) The comparison of dissolved organic matter in hydrochars and biochars from pig manure. Sci Total Environ 720:137423. https://doi.org/10.1016/j.scitotenv.2020.137423

Trivedi P, Rochester IJ, Trivedi C, Van Nostrand JD, Zhou J, Karunaratne S, Anderson IC, Singh BK (2015) Soil aggregate size mediates the impacts of cropping regimes on soil carbon and microbial communities. Soil Biol Biochem 91:169–181. https://doi.org/10.1016/j.soilbio.2015.08.034

Wu K, Fullen MA, An T, Fan Z, Zhou F, Xue G, Wu B (2012) Above- and below-ground interspecific interaction in intercropped maize and potato: a field study using the "target" technique. Field Crop Res 139:63–70. https://doi.org/10.1016/j.fcr.2012.10.002

Xu N, Saiers JE (2010) Temperature and hydrologic controls on dissolved organic matter mobilization and transport within a forest topsoil. Environ Sci Technol 44:5423–5429. https://doi.org/10.1021/es1002296

Ye Q, Wang YH, Zhang ZT, Huang WL, Li LP, Li J, Liu J, Zheng Y, Mo JM, Zhang W, Wang JJ (2020) Dissolved organic matter characteristics in soils of tropical legume and non-legume tree plantations. Soil Biol Biochem 148:107880. https://doi.org/10.1016/j.soilbio.2020.107880

Yin W, Chai Q, Guo Y, Feng F, Zhao C, Yu A, Liu C, Fan Z, Hu F, Chen G (2017) Reducing carbon emissions and enhancing crop productivity through strip intercropping with improved agricultural practices in an arid area. J Clean Prod 166:197–208. https://doi.org/10.1016/j.jclepro.2017.07.211

Zhang X, Johnston ER, Li L, Konstantinidis KT, Han X (2017) Experimental warming reveals positive feedbacks to climate change in the Eurasian steppe. ISME J 11:885–895. https://doi.org/10.1038/ismej.2016.180

Zhu QL, Xiang R, Tang L, Long GQ (2018) The effects of nitrogen application rate on photosynthetic characteristics of potato under intercropping. Chin J Ecol 37(5):1391–1397. https://doi.org/10.13292/j.1000-4890.201805.008
Acknowledgments
This work was financially supported by the National Science Foundation of China (41967004, 41201289, 41361065), the Agricultural Joint Project of Yunnan Province (2017FG001-027), Young and Middle-aged Reserve Talents Project of Yunnan Province (2017HB027) and the Key Research and Development Program of Yunnan Province (2018BB015). We are very grateful to professor Li Tang and Yi Zheng for their guidance and assistance in early implementation of field experiments. We thank Qilin Zhu, Xinling Ma and Wenbo Yi for their help in field management and physical and chemical properties determination from 2016 to 2018. Finally, we thank Yan Zhao, a visiting scholar at Cornell University, for her valuable comments on the language improvement of the article.
Additional information
Publisher's note
Springer Nature remains neutral with regard to jurisdictional claims in published maps and institutional affiliations.
Responsible Editor: Zucong Cai.
About this article
Cite this article
Wang, D., Zhao, P., Xiang, R. et al. Nitrogen fertilization overweighs intercropping in promotion of dissolved organic carbon concentration and complexity in potato-cropped soil. Plant Soil (2021). https://doi.org/10.1007/s11104-021-04876-2
Received:

Accepted:

Published:
Keywords
Soil DOC

Chemical structure

N application rates

Potato

Agricultural diversified cropping