Abstract
Background and aims
Nutrient resource utilization is essential for plant community composition and productivity. Previous studies found that an increase in resource diversity causes species losses and reduces plant diversity. Arbuscular mycorrhizal (AM) fungi can increase plant productivity and nutrient uptake, however, whether AM fungi can reduce the negative influence of nutrient resource diversity on plant composition is still not well understood.
Methods
A microcosm experiment was conducted with four phosphorus (P) sources (at five levels of P resource diversity) and two AM fungal species, and the plant community composition, aboveground biomass, and P content were measured and calculated.
Results
Plant species diversity and richness decreased with increasing soil P resource diversity in the absence of AM fungi, while the decrease was less when AM fungi were present. The biomass and P content of the aboveground plants increased with increasing AM fungal diversity and soil P resource diversity. The results of a structural equation model suggest that AM fungi could reduce the negative effects of increasing P resource diversity on plant community composition by improving plant density and P uptake.
Conclusions
Our results indicate that AM fungi can maintain higher plant species diversity and increase plant productivity by increasing P resource utilization efficiency.
Access options
Buy single article
Instant access to the full article PDF.
US$ 39.95
Tax calculation will be finalised during checkout.
Subscribe to journal
Immediate online access to all issues from 2019. Subscription will auto renew annually.
US$ 119
Tax calculation will be finalised during checkout.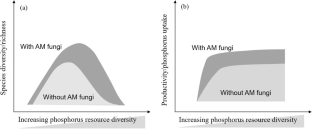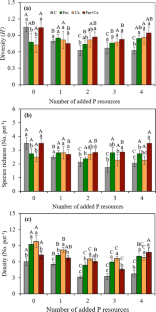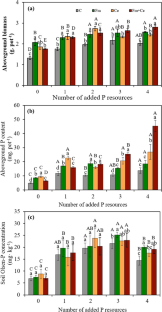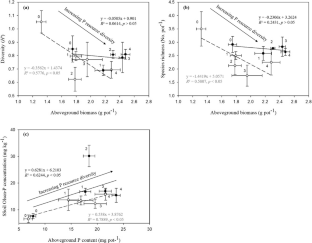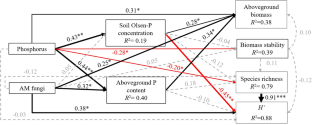 References
Anderson KA, Downing JA (2006) Dry and wet atmospheric deposition of nitrogen, phosphorus and silicon in an agricultural region. Water Air Soil Poll 176:351–374

Bever JD (2003) Soil community dynamics and the coexistence of competitors: conceptual frameworks and empirical tests. New Phytol 157:465–473

Brundrett MC (2009) Mycorrhizal associations and other means of nutrition of vascular plants: understanding the global diversity of host plants by resolving conflicting information and developing reliable means of diagnosis. Plant Soil 320:37–77

Ceulemans T, Bode S, Bollyn J, Harpole S, Coorevits K, Peeters G, Van Acker K, Smolders E, Boeckx P, Honnay O (2017) Phosphorus resource partitioning shapes phosphorus acquisition and plant species abundance in grasslands. Nat Plants 3:16224

Chesson P, Gebauer RL, Schwinning S, Huntly N, Wiegand K, Ernest MS, Sher A, Novoplansky A, Weltzin JF (2004) Resource pulses, species interactions, and diversity maintenance in arid and semi-arid environments. Oecologia 141:236–253

Chu Q, Wang XX, Yang Y, Chen FJ, Zhang FS, Feng G (2013) Mycorrhizal responsiveness of maize (Zea mays L.) genotypes as related to releasing date and available P content in soil. Mycorrhiza 23:497–505

Demiranda JCC, Harris P (1994) Effects of soil phosphorus on spore germination and hyphal growth of arbuscular mycorrhizal fungi. New Phytol 128:103–108

Elser JJ, Bracken MES, Cleland EE, Gruner DS, Harpole WS, Hillebrand H, Ngai JT, Seabloom EW, Shurin JB, Smith JE (2007) Global analysis of nitrogen and phosphorus limitation of primary producers in freshwater, marine and terrestrial ecosystems. Ecol Lett 10:1135–1142

Fridley JD (2002) Resource availability dominates and alters the relationship between species diversity and ecosystem productivity in experimental plant communities. Oecologia 132:271–277

Harpole WS, Tilman D (2007) Grassland species loss resulting from reduced niche dimension. Nature 446:791–793

Harpole WS, Sullivan LL, Lind EM, Firn J, Adler PB, Borer ET, Chase J, Fay PA, Hautier Y, Hillebrand H (2016) Addition of multiple limiting resources reduces grassland diversity. Nature 537:93–96

Hartnett DC, Wilson GWT (1999) Mycorrhizae influence plant community structure and diversity in tallgrass prairie. Ecology 80:1187–1195

Hautier Y, Seabloom EW, Borer ET, Adler PB, Harpole WS, Hillebrand H, Lind EM, MacDougall AS, Stevens CJ, Bakker JD (2014) Eutrophication weakens stabilizing effects of diversity in natural grasslands. Nature 508:521–525

Hendry C, Brezonik P, Edgerton E (1981) Atmospheric deposition of nitrogen and phosphorus in Florida. Atmospheric Pollutants in Natural Waters, Ann Arbor Science Publishers, Inc., Ann Arbor, p 199–215

Hoeksema JD, Chaudhary VB, Gehring CA, Johnson NC, Karst J, Koide RT, Pringle A, Zabinski C, Bever JD, Moore JC, Wilson GWT, Klironomos JN, Umbanhowar J (2010) A meta-analysis of context-dependency in plant response to inoculation with mycorrhizal fungi. Ecol Lett 13:394–407

Isbell F, Craven D, Connolly J, Loreau M, Schmid B, Beierkuhnlein C, Bezemer TM, Bonin C, Bruelheide H, De Luca E (2013) Nutrient enrichment, biodiversity loss, and consequent declines in ecosystem productivity. P Natl Acad Sci USA 110:11911–11916

Jakobsen I, Abbott LK, Robson AD (1992) External hyphae of vesicular arbuscular mycorrhizal fungi associated with Trifolium subterraneum L. I. Spread of hyphae and phosphorus inflow in roots. New Phytol 120:509–516

Jassby AD, Reuter JE, Axler RP, Goldman CR, Hackley SH (1994) Atmospheric deposition of nitrogen and phosphorus in the annual nutrient load of Lake Tahoe (California-Nevada). Water Resour Res 30:2207–2216

Kang FR, Yang B, Wujisiguleng, Yang X, Wang L, Guo JX, Sun W, Zhang Q, Zhang T (2020) Arbuscular mycorrhizal fungi alleviate the negative effect of nitrogen deposition on ecosystem functions in meadow grassland. Land Degrad Dev 31:748–759

Kitson R, Mellon M (1944) Colorimetric determination of phosphorus as molybdivanadophosphoric acid. Ind Eng Chem Anal 16:379–383

Klironomos JN (2003) Variation in plant response to native and exotic arbuscular mycorrhizal fungi. Ecology 84:2292–2301

Klironomos JN, McCune J, Hart M, Neville J (2000) The influence of arbuscular mycorrhizae on the relationship between plant diversity and productivity. Ecol Lett 3:137–141

Lin GG, McCormack ML, Guo DL (2015) Arbuscular mycorrhizal fungal effects on plant competition and community structure. J Ecol 103:1224–1232

Liu XB, Burslem DFRP, Taylor J, Taylor AFS, Khoo E, Majalap-Lee N, Helgason T, Johnson D (2018) Partitioning of soil phosphorus among arbuscular and ectomycorrhizal trees in tropical and subtropical forests. Ecol Lett 21:713–723

Loreau M, Naeem S, Inchausti P, Bengtsson J, Grime JP, Hector A, Hooper DU, Huston MA, Raffaelli D, Schmid B, Tilman D, Wardle DA (2001) Ecology - biodiversity and ecosystem functioning: Current knowledge and future challenges. Science 294:804–808

McKane RB, Johnson LC, Shaver GR, Nadelhoffer KJ, Rastetter EB, Fry B, Giblin AE, Kielland K, Kwiatkowski BL, Laundre JA (2002) Resource-based niches provide a basis for plant species diversity and dominance in arctic tundra. Nature 415:68–71

Midgley GF (2012) Biodiversity and ecosystem function. Science 335:174–175

Paul E, Clark F (1996) Soil microbiology and biochemistry, 2nd edn. Academic, San Diego

R Development Core Team (2011) R: A language and environment for statistical computing. R Foundation for Statistical Computing, Vienn, Austria

Reynolds HL, Packer A, Bever JD, Cla K (2003) Grassroots ecology: plant-microbe-soil interactions as drivers of plant community structure and dynamics. Ecology 84:2281–2291

Reynolds HL, Vogelsang KM, Hartley AE, Bever JD, Schultz PA (2006) Variable responses of old-field perennials to arbuscular mycorrhizal fungi and phosphorus source. Oecologia 147:348–358

Shi ZY, Zhang LY, Li XL, Feng G, Tian CY, Christie P (2006) Arbuscular mycorrhizal status of spring ephemerals in the desert ecosystem of Junggar Basin, China. Mycorrhiza 16:269–275

Shi ZY, Zhang LY, Li XL, Feng G, Tian CY, Christie P (2007) Diversity of arbuscular mycorrhizal fungi associated with desert ephemerals in plant communities of Junggar Basin, northwest China. - Appl Soil Ecol 35:10–20

Smith SE, Read DJ (2008) Mycorrhizal symbiosis, 3rd ed. Academic, Amsterdam, c2008

Tamatamah RA, Hecky RE, Duthie HC (2005) The atmospheric deposition of phosphorus in Lake Victoria (East Africa). Biogeochemistry 73:325–344

Tilman D (1982) Resource competition and community structure. Princeton Univ. Press, Princeton

Tilman D (2004) Niche tradeoffs, neutrality, and community structure: A stochastic theory of resource competition, invasion, and community assembly. P Natl Acad Sci USA 101:10854–10861

Tilman D (2007) Resource competition and plant traits: a response to Craine et al. 2005. J Ecol 95:231–234

Treseder KK, Allen MF (2002) Direct nitrogen and phosphorus limitation of arbuscular mycorrhizal fungi: a model and field test. New Phytol 155:507–515

Trouvelot A, Kough JL, Gianinazzi-Pearson V (1986) Mesure du taux de mycorhization VA d'un systeme radiculaire. Recherche de methodes d'estimation ayant une signification functionnelle. In: Gianinazzi-Pearson V, Gianinazzi S (eds) Physiological and Genetic Aspects of Mycorrhizae. INRA Press, Paris, pp 217–221

Tsukuda S, Sugiyama M, Harita Y, Nishimura K (2006) Atmospheric phosphorus deposition in Ashiu, Central Japan–source apportionment for the estimation of true input to a terrestrial ecosystem. Biogeochemistry 77:117–138

Turner BL (2008) Resource partitioning for soil phosphorus: a hypothesis. J Ecol 96:698–702

Urcelay C, Diaz S (2003) The mycorrhizal dependence of subordinates determines the effect of arbuscular mycorrhizal fungi on plant diversity. Ecol Lett 6:388–391

van der Heijden MGA, Horton TR (2009) Socialism in soil? The importance of mycorrhizal fungal networks for facilitation in natural ecosystems. J Ecol 97:1139–1150

van der Heijden MGA, Klironomos JN, Ursic M, Moutoglis P, Streitwolf-Engel R, Boller T, Wiemken A, Sanders IR (1998) Mycorrhizal fungal diversity determines plant biodiversity, ecosystem variability and productivity. Nature 396:69–72

van der Heijden MGA, Streitwolf-Engel R, Riedl R, Siegrist S, Neudecker A, Ineichen K, Boller T, Wiemken A, Sanders IR (2006) The mycorrhizal contribution to plant productivity, plant nutrition and soil structure in experimental grassland. New Phytol 172:739–752

van der Heijden MGA, Bardgett RD, van Straalen NM (2008) The unseen majority: soil microbes as drivers of plant diversity and productivity in terrestrial ecosystems. Ecol Lett 11:296–310

Vicars WC, Sickman JO, Ziemann PJ (2010) Atmospheric phosphorus deposition at a montane site: Size distribution, effects of wildfire, and ecological implications. Atmos Environ 44:2813–2821

Vogelsang KM, Reynolds HL, Bever JD (2006) Mycorrhizal fungal identity and richness determine the diversity and productivity of a tallgrass prairie system. New Phytol 172:554–562

Wagg C, Jansa J, Schmid B, van der Heijden MGA (2011) Belowground biodiversity effects of plant symbionts support aboveground productivity. Ecol Lett 14:1001–1009

Whiteside MD, Werner GDA, Caldas VEA, Van't Padje A, Dupin SE, Elbers B, Bakker M, Wyatt GAK, Klein M, Hink MA, Postma M, Vaitla B, Noe R, Shimizu TS, West SA, Kiers ET (2019) Mycorrhizal fungi respond to resource inequality by moving phosphorus from rich to poor patches across networks. Curr Biol 29:2043–2050

Wilson SD, Tilman D (1996) Plant competition and resource availability in response to disturbance and fertilization. Ecology 77:1253–1253

Yang GW, Liu N, Lu WJ, Wang S, Kan HM, Zhang YJ, Xu L, Chen YL (2014) The interaction between arbuscular mycorrhizal fungi and soil phosphorus availability influences plant community productivity and ecosystem stability. J Ecol 102:1072–1082

Zavaleta ES, Pasari JR, Hulvey KB, Tilman GD (2010) Sustaining multiple ecosystem functions in grassland communities requires higher biodiversity. P Natl Acad Sci USA 107:1443–1446

Zhang T, Sun Y, Shi Z, Feng G (2012) Arbuscular mycorrhizal fungi can accelerate the restoration of degraded spring grassland in central Asia. Rangeland Ecol Manag 65:426–432
Acknowledgements
This work was supported by the State Basic Research Program of China (2014CB954202) and the National Science Foundation of China (U1703232, 31770359). We would like to thank Jiayin Han for his help with the experimental work. We would like to thank the anonymous reviewers for their helpful comments on the manuscript.
Ethics declarations
Conflict of interest
The authors declare no conflicts of interest.
Additional information
Publisher's note
Springer Nature remains neutral with regard to jurisdictional claims in published maps and institutional affiliations.
Responsible Editor: Tatsuhiro Ezawa.
Supplementary Information
About this article
Cite this article
Zhang, T., Feng, G. Arbuscular mycorrhizal fungi alleviate the negative effects of increases in phosphorus (P) resource diversity on plant community structure by improving P resource utilization. Plant Soil 461, 295–307 (2021). https://doi.org/10.1007/s11104-020-04825-5
Received:

Accepted:

Published:

Issue Date:
Keywords
Arbuscular mycorrhizal fungi

Biodiversity

Ecosystem stability

Facilitation

Plant‐soil interaction

Resource composition