Abstract
Background and aims
Dissolved organic nitrogen (DON) has been increasingly recognized as a crucial component of the terrestrial nitrogen (N) cycle that regulates the ecosystem feedback to climate change. Yet, little information is available about the factors that control soil DON in the alpine ecosystems of the Tibetan Plateau, a region that is extremely sensitive to climate change.
Methods
Here, we examined the relationship between DON and climate, plant, and soil attributes along a precipitation gradient in five alpine ecosystems (alpine wetland, alpine meadow, alpine shrub, alpine steppe, and alpine desert) across 20 sites that were up to 4000 km apart on the Tibetan Plateau.
Results
Results showed that soil DON concentration varied significantly across these alpine ecosystems, and had a positive relationship with mean annual precipitation. Belowground biomass, soil moisture, micro biomass carbon (MBC), and soil total phosphorus (TP) explained 84% of the variation in DON concentrations. The percentage of DON in soil total dissolved N (TDN) varied with vegetation type, with the lowest percentage observed in the alpine meadow (52%) and the highest in the alpine desert (77%), indicating the slow turnover of DON into inorganic N in systems with low litter input and microbial activity.
Conclusions
Precipitation and plant biomass input determine the concentration and turnover of soil DON on the Tibetan Plateau. A warmer and wetter climate that has been predicted for the Tibetan grasslands may lead to a larger and more active DON pool.
Access options
Buy single article
Instant access to the full article PDF.
US$ 39.95
Tax calculation will be finalised during checkout.
Subscribe to journal
Immediate online access to all issues from 2019. Subscription will auto renew annually.
US$ 119
Tax calculation will be finalised during checkout.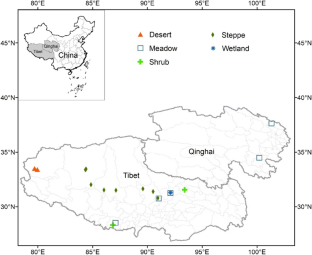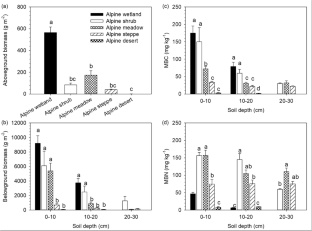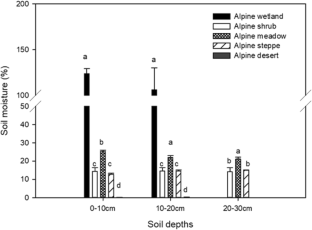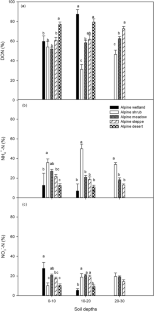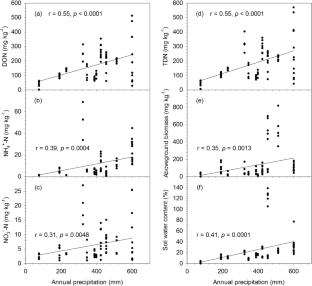 References
Bardgett RD, Streeter TC, Bol R (2003) Soil microbes compete effectively with plants for organic-nitrogen inputs to temperate grasslands. Ecology 84:1277–1287

Christou M, Avramides EJ, Jones DL (2006) Dissolved organic nitrogen dynamics in a Mediterranean vineyard soil. Soil Biol Biochem 38:2265–2277

Christou M, Avramides EJ, Roberts JP, Jones DL (2005) Dissolved organic nitrogen in contrasting agricultural ecosystems. Soil Biol Biochem 37:1560–1563

Farrell M, Hill PW, Farrar J, Bardgett RD, Jones DL (2011) Seasonal variation in soluble soil carbon and nitrogen across a grassland productivity gradient. Soil Biol Biochem 43:835–844

Gao JQ, Mo Y, Xu XL, Zhang XW, Yu FH (2014) Spatiotemporal variations affect uptake of inorganic and organic nitrogen by dominant plant species in an alpine wetland. Plant Soil 381(1–2):271–278

Guo XW, Han DR, Du YG, Lin L, Zhang FW, Li YK (2012) Methane flux of dominant species of alpine meadow on the Qinghai-Tibetan Plateat. J Mount Sci 30:470–477

He JS, Wang L, Flynn DF, Wang X, Ma W, Fang J (2008) Leaf nitrogen: phosphorus stoichiometry across Chinese grassland biomes. Oecologia 155:301–310

Hou E, Luo Y, Kuang Y, Chen C, Lu X, Jiang L, Luo X, Wen D (2020) Global meta-analysis shows pervasive phosphorus limitation of aboveground plant production in natural terrestrial ecosystems. Nat Commun 11(1):637–637

Jaeger CH, Monson RK, Fisk MC, Schmidt SK (1999) Seasonal partitioning of nitrogen by plants and soil microorganisms in an alpine ecosystem. Ecology 80(6):1883–1891

Jiang LL, Wang SP, Pang Z, Xu XL, Kardol P, Li YM, Zhang LR, Wang YF, Zhong L, Lan ZC, Hill PW, Zhang ZH, Luo CY, Rui YC, Ning D, Jones DL (2018) Plant organic N uptake maintains species dominance under long-term warming. Plant Soil 433(1–2):243–255

Jiang L, Wang S, Luo C, Zhu X, Kardol P, Zhang Z, Li Y, Wang C, Wang Y, Jones DL (2016) Effects of warming and grazing on dissolved organic nitrogen in a Tibetan alpine meadow ecosystem. Soil Till Res 158:156–164

Jiang LL, Han XG, Dong N, Wang YF, Kardol P (2011) Plant species effects on soil carbon and nitrogen dynamics in a temperate steppe of northern China. Plant Soil 346:331–347

Jiang LL, Han XG, Zhang GM, Kardol P (2010) The role of plant-soil feedbacks and land-use legacies in restoration of a temperate steppe in northern China. Ecol Res 25:1101–1111

Jones DL (1999) Amino acid biodegradation and its potential effects on organic nitrogen capture by plants. Soil Biol Biochem 31:613–622

Jones DL, Shannon D, Murphy DV, Farrar J (2004) Role of dissolved organic nitrogen (DON) in soil N cycling in grassland soils. Soil Biol Biochem 36:749–756

Jones DL, Willett VB (2006) Experimental evaluation of methods to quantify dissolved organic nitrogen (DON) and dissolved organic carbon (DOC) in soil. Soil Biol Biochem 38:991–999

Kalbitz K, Solinger S, Park JH, Michalzik B, Matzner E (2000) Controls on the dynamics of dissolved organic matter in soils: a review. Soil Sci 165:277–304

Kalbitz K, Glaser B, Bol R (2004) Clear-cutting of a Norway spruce stand: implications for controls on the dynamics of dissolved organic matter in the forest floor. Eur J Soil Sci 55:401–413

Khalid M, Soleman N, Jones DL (2007) Grassland plants affect dissolved organic carbon and nitrogen dynamics in soil. Soil Biol Biochem 39:378–381

Kuzyakov Y, Xu X (2013) Competition between roots and microorganisms for nitrogen: mechanisms and ecological relevance. New Phytol 198:656–666

Lovell RD, Jarvis SC, Bardgett RD (1995) Soil microbial biomass and activity in long-term grassland - effects of management changes. Soil Biol  Bioch 27:969–975

Luo CY, Xu GP, Chao ZG, Wang SP, Lin XW, Hu YG, Zhang ZH, Duan JC, Chang XF, Su AL, Li YN, Zhao XQ, Du MY, Tang YH and Kimball B (2010) Effect of warming and grazing on litter mass loss and temperature sensitivity of litter and dung mass loss on the Tibetan plateau. Global Change Biology 16(5):1606–1617

Ma XX, Hong JT,  Wang XD, (2019a) C:N:P stoichiometry of perennial herbs' organs in the alpine steppe of the northern Tibetan Plateau. J MT Sci-Engl 16(9):2039–2047

Ma XY, Zhang QT, Zheng MM, Gao Y, Yuan T, Hale L, Van Nostrand JD, Zhou JZ, Wan SQ, Yang YF (2019b) Microbial functional traits are sensitive indicators of mild disturbance by lamb grazing. ISME J 13:1370–1373

Murphy CJ, Baggs EM, Morley N, Wall DP, Paterson E (2015) Rhizosphere priming can promote mobilisation of N-rich compounds from soil organic matter. Soil Biol Biochem 81:236–243

Neff JC, Chapin FS, Vitousek PM (2003) Breaks in the cycle: dissolved organic nitrogen in terrestrial ecosystems. Front Ecol Environ 1:205–211

Nelson, D., Sommers, L., 1982. Dry combustion method using medium temperature resistance furnace. In: page, a.L., et al., (Eds) methods of soil analysis. Part 2. Chemical and microbial properties, 2nd edn. Soil science Society of America and American Society of agronomy book series, pp. 539-579

Niu S, Classen AT, Dukes JS, Kardol P, Liu L, Luo Y, Rustad L, Sun J, Tang J, Templer PH (2016) Global patterns and substrate-based mechanisms of the terrestrial nitrogen cycle. Ecol Lett 19:697–709

Parkinson JA, Allen SE (1975) Wet oxidation procedure suitable for determination of nitrogen and mineral nutrients in biological material. Commun Soil Sci Plan 6:1–11

Piao S, Fang J, Ji W, Guo Q, Ke J, Tao S, Woods K (2004) Variation in a satellite-based vegetation index in relation to climate in China. J Veget Sci 15:219–226

Shen M, Tang Y, Chen J, Zhu X, Zheng Y (2011) Influences of temperature and precipitation before the growing season on spring phenology in grasslands of the central and eastern Qinghai-Tibetan plateau. Agr Forest Meteor 151:1711–1722

Thompson LG, Yao T, Mosley-Thompson E, Davis ME, Henderson KA, Lin P-N (2000) A high-resolution millennial record of the south asian monsoon from himalayan ice cores. Science 289:1916–1919

Ueda MU, Muller O, Nakamura M, Nakaji T, Hiura T (2013) Soil warming decreases inorganic and dissolved organic nitrogen pools by preventing the soil from freezing in a cool temperate forest. Soil Biol Biochem 61:105–108

Vanlierop W (1988) Determination of available phosphorus in acid and calcareous soils with the Kelowna multiple-element extractant. Soil Sci 146:284–291

Vestgarden LS, Austnes K, Strand LT (2010) Vegetation control on DOC, DON and DIN concentrations in soil water from a montane system, southern Norway. Boreal Envir Res 15:565–578

Wang S, Duan J, Xu G, Wang Y, Zhang Z, Rui Y, Luo C, Xu B, Zhu X and Chang X (2012) Effects of warming and grazing on soil N availability, species composition, and ANPP in an alpine meadow. Ecology 93:2365–2376

Warren CR (2009) Uptake of inorganic and amino acid nitrogen from soil by Eucalyptus regnans and Eucalyptus pauciflora seedlings. Tree Phys 29:401–409

Warren CR (2013) Quaternary ammonium compounds can be abundant in some soils and are taken up as intact molecules by plants. New Phytol 198:476–485

Warren CR (2014) Organic N molecules in the soil solution: what is known, what is unknown and the path forwards. Plant Soil 375:1–19

Xu X, Ouyang H, Richter A, Wanek W, Cao G, Kuzyakov Y (2011) Spatio-temporal variations determine plant–microbe competition for inorganic nitrogen in an alpine meadow. J Ecol 99:563–571

Yang Y, Fang J, Guo D, Ji C, Ma W (2010) Vertical patterns of soil carbon, nitrogen and carbon: nitrogen stoichiometry in Tibetan grasslands. Biogeosci Discuss 7:1–24

Yang Y, Fang J, Tang Y, Ji C, Zheng C, He J, Zhu B (2008) Storage, patterns and controls of soil organic carbon in the Tibetan grasslands. Glob Change Biol 14:1592–1599

Yang Y, Ji C, Robinson D, Zhu B, Fang H, Shen H, Fang J (2013) Vegetation and soil 15N natural abundance in Alpine grasslands on the Tibetan plateau: patterns and implications. Ecosystems 16:1013–1024

Yang YH, Fang JY, Ji CJ, Han WX (2009) Above- and belowground biomass allocation in Tibetan grasslands. J Veg Sci 20:177–184

Yu Z, Zhang Q, Kraus TEC, Dahlgren RA, Anastasio C, Zasoski RJ (2002) Contribution of amino compounds to dissolved organic nitrogen in forest soils. Biogeochemistry 61:173–198

Zhou XQ, Chen CR, Wu HW, Xu ZH (2012) Dynamics of soil extractable carbon and nitrogen under different cover crop residues. J Soils Sediments 12:844–853

Zhou XQ, Chen CR, Wang YF, Xu ZH, Duan JC, Hao YB, Smaill S (2013) Soil extractable carbon and nitrogen, microbial biomass and microbial metabolic activity in response to warming and increased precipitation in a semiarid inner Mongolian grassland. Geoderma 206:24–31
Acknowledgements
This work was supported by the Strategic Priority Research Program of Chinese Academy of Sciences (XDA20050104), the National Key Research and Development Program of China (2016YFC0501802), the National Natural Science Foundation of China (31672474, 31872994). This research was also supported by the UK Natural Environment Research Council (NE/I012303/1), The Second Tibetan Plateau Scientific Expedition and Research (STEP) program (Grant No. 2019QZKK0302).We thank Runkui Li in the university of CAS for helping us to finish the Figures.
Additional information
Publisher's note
Springer Nature remains neutral with regard to jurisdictional claims in published maps and institutional affiliations.
Responsible Editor: Hans Lambers.
Electronic supplementary material
About this article
Cite this article
Jiang, L., Wang, S., Pang, Z. et al. Abiotic and biotic controls of soil dissolved organic nitrogen along a precipitation gradient on the Tibetan plateau. Plant Soil 459, 65–78 (2021). https://doi.org/10.1007/s11104-020-04613-1
Received:

Accepted:

Published:

Issue Date:
Keywords
Soil inorganic N

DOC

DON

Biomass

Alpine grassland