Abstract
Background and aims
DNA methylation is an important form of epigenetic modification. It has a vital role in regulating plant growth and development, and also participates in plant response to various stresses. In recent years, hydrogen sulfide (H2S) has been shown to have similar functions as DNA methylation, but crosstalk between DNA methylation and H2S in the acquisition of drought resistance is unclear. In this study, foxtail millet (Setaria italica L.), a drought-resistant model crop, was selected as the experimental material to explore the subtle relationship between H2S and DNA methylation.
Methods
The quantitative real-time (qRT)-PCR, bisulfite sequencing PCR (BSP), DNA methyltransferase (DNMT) activity detection and other techniques were used to analyze the differences of millet seedlings under osmotic stress, before and after H2S treatment.
Results
Osmotic stress induced the transcriptional expression and activity of key enzymes in H2S biosynthesis which regulated the accumulation of endogenous H2S. Physiological concentration of H2S (50 μM) can effectively alleviate the decrease of total DNMT activity and transcription level caused by osmotic stress, while the effective inhibitor of H2S biosynthesis, hydroxylamine (HA), can aggravate this change. Furthermore, transcription factors (TFs) responsive to both 'osmotic stress' and 'H2S signal' were screened. Six of them were selected to conduct further BSP analysis on seven CpG islands in their promoter regions. The results showed that, with H2S treatment, two CpG islands were hypermethylated, two were not, and three exhibited insensitivity to H2S.
Conclusion
H2S signals may improve osmotic stress tolerance of foxtail millet by mediating DNA methylation.
This is a preview of subscription content, log in to check access.
Access options
Buy single article
Instant access to the full article PDF.
US$ 39.95
Price includes VAT for USA
Subscribe to journal
Immediate online access to all issues from 2019. Subscription will auto renew annually.
US$ 199
This is the net price. Taxes to be calculated in checkout.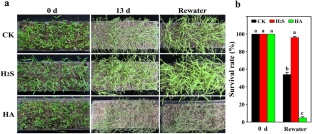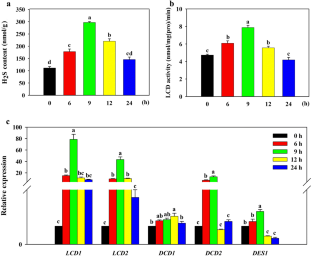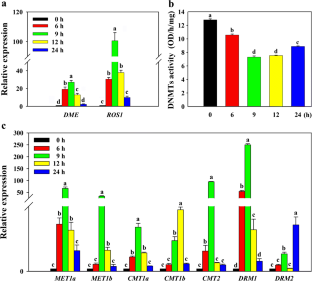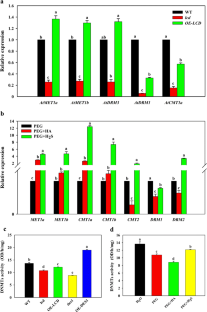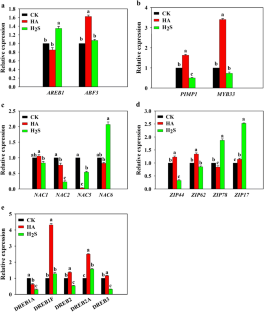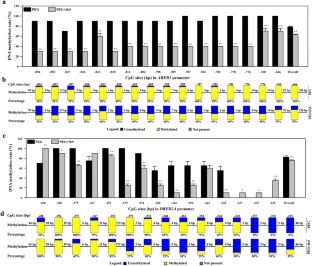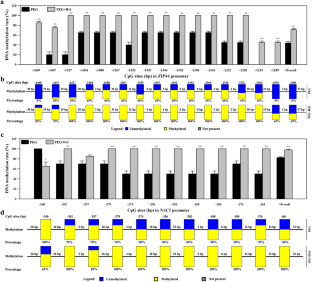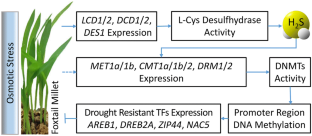 Abbreviations
H2S:

Hydrogen sulfide

PEG:

Polyethylene glycol

BSP:

Bisulfite sequencing PCR

DNMT:

DNA methyltransferase

HA:

Hydroxylamine

TF:

Transcription factor

MET:

Methyltransferase

CMT:

Chromomethylase

DRM:

Domains rearranged methyltransferase

ABA:

Abscisic acid

EDTA:

Ethylene diamine tetraacetic acid

CDes:

Cysteine desulfhydrases

LCD:

L-cysteine desulfhydrase

DCD:

D-cysteine desulfhydrase

DES:

Desulfhydrase

ROS1:

Repressor of Silencing 1

DME:

DEMETER

MS:

Murashige and Skoog
Acknowledgements
This work was funded by a grant from the National Natural Science Foundation of China (No. 31701342 to Hao X, No. 31671605 to Pei Y and 31672140 to Jin Z), University Science and Technology Innovation Project in Shanxi Province (No. 2017168 to Hao X) and Higher Education Institution Project of Shanxi Province: Ecological Remediation of Soil Pollution Disciplines Group (No. 20181401).
Ethics declarations
Conflict of interests
The authors declared no conflict of interests.
Additional information
Publisher's note
Springer Nature remains neutral with regard to jurisdictional claims in published maps and institutional affiliations.
Responsible Editor: Ian Dodd.
About this article
Cite this article
Hao, X., Jin, Z., Wang, Z. et al. Hydrogen sulfide mediates DNA methylation to enhance osmotic stress tolerance in Setaria italica L.. Plant Soil (2020). https://doi.org/10.1007/s11104-020-04590-5
Received:

Accepted:

Published:
Keywords
Hydrogen sulfide

DNA methylation

Osmotic stress

Foxtail millet (Setaria italica L.)