Abstract
Background and aims
Nutrient availability is a key regulator of soil respiration. Anthropogenic activities have dramatically accelerated the inputs of reactive nitrogen (N) and phosphorous (P) and increased the availability of N and P in soils. However, many previous studies of soil respiration have focused more on the effects of N, and less on the effects of P and its interaction with N. Therefore, the objective here was to examine the roles of N availability, P availability and their interaction in determining soil respiration.
Methods
A manipulative N addition (100 kg N ha−1 year−1), P addition (50 kg P ha−1 year−1) and NP co-addition (100 kg N ha−1 year−1 + 50 kg P ha−1 year−1) experiment was conducted in a subtropical forest in Southwest China. N and P inputs were added monthly beginning in October 2017. The soil respiration rate was measured monthly from March 2018 to February 2019, and soil properties, microbial biomass carbon (MBC), and fine root biomass were measured in July 2018 and January 2019.
Results
The soil respiration rate in the control (without fertilizer added) treatment was 13.5% higher than that in the N treatment but 1.6% and 34.7% lower than those in the P treatment and NP treatment, respectively. Soil respiration was closely associated with soil temperature and soil moisture, and soil temperature played a more important role in regulating soil respiration than did soil moisture. The temperature sensitivity of respiration (Q10 values) in the CT, N, P and NP treatments did not differ significantly. Path analysis showed that nutrient additions changed soil respiration by regulating the MBC and fine root biomass.
Conclusions
Our results highlight the divergent effects of N addition and NP co-addition on soil respiration. Ongoing N and P inputs may increase soil respiration by stimulating soil microbial and plant root activities in the subtropical evergreen broad-leaved forests of Southwest China.
This is a preview of subscription content, log in to check access.
Access options
Buy single article
Instant access to the full article PDF.
US$ 39.95
Price includes VAT for USA
Subscribe to journal
Immediate online access to all issues from 2019. Subscription will auto renew annually.
US$ 199
This is the net price. Taxes to be calculated in checkout.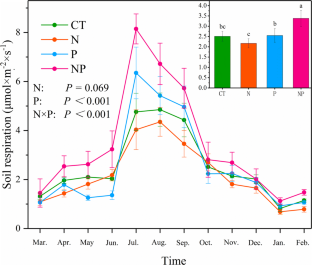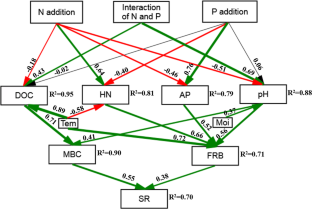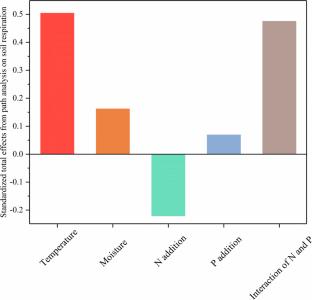 References
Andersson T, Alfredsson L, Källberg H, Zdravkovic S, Ahlbom A (2005) Calculating measures of biological interaction. Eur J Epidemiol 20:575–579

Bracken MES, Hillebrand H, Borer ET, Seabloom EW, Cebrian J, Cleland EE, Elser JJ, Gruner DS, Harpole WS, Ngai JT, Smith JE (2015) Signatures of nutrient limitation and co-limitation: responses of autotroph internal nutrient concentrations to nitrogen and phosphorus additions. Oikos 124:113–121

Brookes PC, Landman A, Pruden G, Jenkinson DS (1985) Chloroform fumigation and the release of soil nitrogen: a rapid direct extraction method to measure microbial biomass nitrogen in soil. Soil Biol Biochem 17:837–842

Castle SC, Sullivan BW, Knelman J, Hood E, Nemergut DR, Schmidt SK, Cleveland CC (2017) Nutrient limitation of soil microbial activity during the earliest stages of ecosystem development. Oecologia 185:513–524

Chang SX, Shi Z, Thomas BR (2016) Soil respiration and its temperature sensitivity in agricultural and afforested poplar plantation systems in northern Alberta. Biol Fertil Soils 52:629–641

Chen F, Niklas KJ, Liu Y, Fang X, Wan S, Wang H (2015) Nitrogen and phosphorus additions alter nutrient dynamics but not resorption efficiencies of Chinese fir leaves and twigs differing in age. Tree Physiol 35:1106–1117

Chen LL, Wang D, Ye Q, Liu KP (2017) Characteristic wavelet analysis of precipitation variation in Yaan in recent 50 years. J Southwest China Normal Univ (Nat Sci Ed) 42:25–30 in Chinese, with English abstract

Chen F, Yan G, Xing Y, Zhang J, Wang Q, Wang H, Huang B, Hong Z, Dai G, Zheng X, Liu T (2019) Effects of N addition and precipitation reduction on soil respiration and its components in a temperate forest. Agric For Meteorol 271:336–345

Cleveland CC, Townsend AR (2006) Nutrient additions to a tropical rain Forest drive substantial soil carbon dioxide losses to the atmosphere. P Natl Acad Sci USA 103:10316–10321

Davidson EA, Janssens IA (2006) Temperature sensitivity of soil carbon decomposition and feedbacks to climate change. Nature 440:165–173

Falk M, Paw UKT, Wharton S, Schroeder M (2005) Is soil respiration a major contributor to the carbon budget within a Pacific northwest old-growth forest? Agric For Meteorol 135:269–283

Falkowski P (2000) The global carbon cycle: a test of our knowledge of earth as a system. Science 290:291–296

Franklin O, Näsholm T, Högberg P, Högberg MN, Sveriges L (2014) Forests trapped in nitrogen limitation – an ecological market perspective on ectomycorrhizal symbiosis. New Phytol 203:657–666

Hallqvist J, Ahlbom A, Diderichsen F, Reuterwall C (1996) How to evaluate interaction between causes: a review of practices in cardiovascular epidemiology. J Intern Med 239:377–382

Holt JA, Hodgen MJ, Lamb D (1990) Soil respiration in the seasonally dry tropics near Townsville, North Queensland. Aust J Soil Res 28:737–745

Janssens IA, Dieleman W, Luyssaert S, Subke J, Reichstein M, Ceulemans R, Ciais P, Dolman AJ, Grace J, Matteucci G, Papale D, Piao SL, Schulze E, Tang J, Law BE (2010) Reduction of forest soil respiration in response to nitrogen deposition. Nat Geosci 3:315–322

Jia B, Zhou G, Wang Y, Wang F, Wang X (2006) Effects of temperature and soil water-content on soil respiration of grazed and ungrazed Leymus chinensis steppes, Inner Mongolia. J Arid Environ 67:60–76

Jiang J, Zong N, Song M, Shi P, Ma W, Fu G, Shen Z, Zhang X, Ouyang H (2013) Responses of ecosystem respiration and its components to fertilization in an alpine meadow on the Tibetan plateau. Eur J Soil Biol 56:101–106

Jing X, Yang X, Ren F, Zhou H, Zhu B, He J (2016) Neutral effect of nitrogen addition and negative effect of phosphorus addition on topsoil extracellular enzymatic activities in an alpine grassland ecosystem. Appl Soil Ecol 107:205–213

Kang H, Fahey TJ, Bae K, Fisk M, Sherman RE, Yanai RD, See CR (2016) Response of forest soil respiration to nutrient addition depends on site fertility. Biogeochemistry 127:113–124

Li Y, Sun J, Tian D, Wang J, Ha D, Qu Y, Jing G, Niu S (2018) Soil acid cations induced reduction in soil respiration under nitrogen enrichment and soil acidification. Sci Total Environ 615:1535–1546

Lin D, Lai J, Muller-Landau HC, Mi X, Ma K (2012) Topographic variation in aboveground biomass in a subtropical evergreen broad-leaved forest in China. PLoS One 7(10):e48244

Liu L, Gundersen P, Zhang T, Mo J (2012) Effects of phosphorus addition on soil microbial biomass and community composition in three forest types in tropical China. Soil Biol Biochem 44:31–38

Liu X, Yang Z, Lin C, Giardina CP, Xiong D, Lin W, Chen S, Xu C, Chen G, Xie J, Li Y, Yang Y (2017) Will nitrogen deposition mitigate warming-increased soil respiration in a young subtropical plantation? Agric For Meteorol 246:78–85

Lloyd J, Taylor JA (1994) On the temperature dependence of soil respiration. Funct Ecol 8:315–323

Lu M, Zhou X, Luo Y, Yang Y, Fang C, Chen J, Li B (2011a) Minor stimulation of soil carbon storage by nitrogen addition: a meta-analysis. Agric Ecosyst Environ 140:234–244

Lu M, Yang Y, Luo Y, Fang C, Zhou X, Chen J, Yang X, Li B (2011b) Responses of ecosystem nitrogen cycle to nitrogen addition: a meta-analysis. New Phytol 189:1040–1050

LY/T1228-2015 (2015) Nitrogen determination methods of Forest soils. The State Forestry Administration of the People's Republic of China

LY/T1232-2015 (2015) Phosphorus determination methods of Forest soils. The State Forestry Administration of the People's Republic of China

Mo J, Zhang W, Zhu W, Gundersen P, Fang Y, Li D, Wang H (2008) Nitrogen addition reduces soil respiration in a mature tropical forest in southern China. Glob Chang Biol 14:403–412

Onipchenko VG, Makarov MI, Akhmetzhanova AA, Soudzilovskaia NA, Aibazova FU, Elkanova MK, Stogova AV, Cornelissen JHC (2012) Alpine plant functional group responses to fertiliser addition depend on abiotic regime and community composition. Plant Soil 357:103–115

Peng Y, Chen G, Li S, Hu H, Hu T, Liu L, Tang Y, Tu L (2018) Nitrogen additions reduce rhizospheric and heterotrophic respiration in a subtropical evergreen broad-leaved forest. Plant Soil 431:449–463

Peng Y, Song S, Li Z, Li S, Chen G, Hu H, Xie J, Chen G, Xiao Y, Liu L, Tang Y, Tu L (2019) Influences of nitrogen addition and aboveground litter-input manipulations on soil respiration and biochemical properties in a subtropical forest. Soil Biol Biochem. https://doi.org/10.1016/j.soilbio.2019.107694

Poeplau C, Bolinder MA, Kirchmann H, Kätterer T (2015) Phosphorus fertilisation under nitrogen limitation can deplete soil carbon stocks – evidence from Swedish meta-replicated long-term field experiments. Biogeosci Discuss 12:16527–16551

Potthast K, Hamer U, Makeschin F (2012) In an Ecuadorian pasture soil the growth of Setaria sphacelata, but not of soil microorganisms, is co-limited by N and P. Appl Soil Ecol 62:103–114

Ren F, Yang X, Zhou H, Zhu W, Zhang Z, Chen L, Cao G, He J (2016) Contrasting effects of nitrogen and phosphorus addition on soil respiration in an alpine grassland on the Qinghai-Tibetan plateau. Sci Rep 6:34786

Tian D, Du E, Jiang L, Ma S, Zeng W, Zou A, Feng C, Xu L, Xing A, Wang W, Zheng C, Ji C, Shen H, Fang J (2018) Responses of forest ecosystems to increasing N deposition in China: a critical review. Environ Pollut 243:75–86

Tu L, Hu T, Zhang J, Li X, Hu H, Liu L, Xiao Y (2013) Nitrogen addition stimulates different components of soil respiration in a subtropical bamboo ecosystem. Soil Biol Biochem 58:255–264

Tu L, Chen G, Peng Y, Hu H, Hu T, Zhang J, Li X, Liu L, Tang Y (2014) Soil biochemical responses to nitrogen addition in a bamboo forest. PLoS One 9:e102315

VanderWeele TJ (2013) Reconsidering the denominator of the attributable proportion for interaction. Eur J Epidemiol 28:779–784

Wang Y, Li Q, Wang H, Wen X, Yang F, Ma Z, Liu Y, Sun XYG (2011) Precipitation frequency controls interannual variation of soil respiration by affecting soil moisture in a subtropical forest plantation. Can J For Res 41:1897–1906

Wang Q, Zhang W, Sun T, Chen L, Pang X, Wang Y, Xiao F (2017) N and P fertilization reduced soil autotrophic and heterotrophic respiration in a young Cunninghamia lanceolata forest. Agric For Meteorol 232:66–73

Wang J, Wang G, Fu Y, Chen X, Song X (2019a) Short-term effects of nitrogen deposition on soil respiration components in two alpine coniferous forests, southeastern Tibetan plateau. J Forestry Res 30:1029–1041

Wang Q, Zhao X, Chen L, Yang Q, Chen S, Zhang W (2019b) Global synthesis of temperature sensitivity of soil organic carbon decomposition: latitudinal patterns and mechanisms. Funct Ecol 33:514–523

Wu J, Joergensen RG, Pommerening B, Chaussod R, Brookes PC (1990) Measurement of soil microbial biomass C by fumigation-extraction—an automated procedure. Soil Biol Biochem 22:1167–1169

Xu Z, Tu L, Hu T, Schädler M (2013) Implications of greater than average increases in nitrogen deposition on the western edge of the Szechwan Basin. China Environ Pollut 177:201–202

Yao X, Yu K, Wang G, Deng Y, Lai Z, Chen Y, Jiang Y, Liu J (2019) Effects of soil erosion and reforestation on soil respiration, organic carbon and nitrogen stocks in an eroded area of southern China. Sci Total Environ 683:98–108

Yuan ZY, Chen HYH (2012) A global analysis of fine root production as affected by soil nitrogen and phosphorus. Proc R Soc B Biol Sci 279:3796–3802

Zeng W, Wang W (2015) Combination of nitrogen and phosphorus fertilization enhance ecosystem carbon sequestration in a nitrogen-limited temperate plantation of northern China. Forest Ecol Manag 341:59–66

Zeng W, Zhang J, Wang W (2018) Strong root respiration response to nitrogen and phosphorus addition in nitrogen-limited temperate forests. Sci Total Environ 642:646–655

Zhalnina K, Dias R, de Quadros PD, Davis-Richardson A, Camargo FAO, Clark IM, McGrath SP, Hirsch PR, Triplett EW (2015) Soil pH determines microbial diversity and composition in the park grass experiment. Microb Ecol 69:395–406

Zhang X, Xu H, Chen G (2001) Major factors controlling nitrous oxide emission and methane uptake from forest soil. J For Res 12:239–242

Zhou S, Huang C, Han B, Xiao Y, Tang J, Xiang Y, Luo C (2017) Simulated nitrogen deposition significantly suppresses the decomposition of forest litter in a natural evergreen broad-leaved forest in the rainy area of Western China. Plant Soil 420:135–145

Zhou S, Xiang Y, Tie L, Han B, Huang C (2018) Simulated nitrogen deposition significantly reduces soil respiration in an evergreen broadleaf forest in western China. PLoS One 13:e204661
Acknowledgments
This study was supported by the Sci-tech Project of the'12th Five-year Plan' of China (2010BACO1A11) and the Crop Breeding Research Project of the '12th Five-year Plan' of Sichuan Province (2011NZ0098-10). We would like to thank Fuzhong Wu, Dr. Shixing Zhou, the editor Dr. Elizabeth M Baggs and the three anonymous reviewers, whose constructive comments have greatly improved the quality of the paper.
Additional information
Publisher's note
Springer Nature remains neutral with regard to jurisdictional claims in published maps and institutional affiliations.
Responsible Editor: Elizabeth M Baggs.
Electronic supplementary material
About this article
Cite this article
Wei, S., Tie, L., Liao, J. et al. Nitrogen and phosphorus co-addition stimulates soil respiration in a subtropical evergreen broad-leaved forest. Plant Soil 450, 171–182 (2020). https://doi.org/10.1007/s11104-020-04498-0
Received:

Accepted:

Published:

Issue Date:
Keywords
N addition

P addition

Soil respiration

Q10 values

The relative excess risk due to interaction

The attributable proportion of interaction

Path analysis