Abstract
Purpose
Craniopharyngiomas are rare benign brain tumors originating from errors in differentiation during embryogenesis. Given current interest in treatments that target genetic and molecular signatures of specific craniopharyngioma subtypes, updated and comprehensive epidemiologic data of these subtypes are necessary to inform and direct resources.
Methods
We utilized data from the Central Brain Tumor Registry of the United States (CBTRUS), which represents 100% of the US population. Incidence by demographics was calculated only for histologically-confirmed cases. Age-adjusted annual incidence was calculated and is reported per 100,000 persons. Annual percent change (APC) in incidence rates from 2004 to 2016 was calculated to assess trends.
Results
From 2004 to 2016, 7441 craniopharyngiomas were diagnosed in the United States, representing approximately 620 new cases each year. The incidence for histologically-confirmed cases was 0.16 per 100,000 persons. The age distribution was bimodal, with one peak in 5- to 9-year-olds and another in 55- to 69-year-olds. Compared with adamantinomatous tumors, papillary craniopharyngiomas only represented 5.5% of the histologically diagnosed craniopharyngiomas in 0- to 29-year-olds, 30.6% in 30- to 59-year-olds, and 30.4% in 60 + year-olds. Incidence was highest amongst Blacks (0.22), followed by Whites (0.15), Asians or Pacific Islanders (0.14), and American Indians/Alaska Natives (0.10). No significant difference was discovered in incidence rates between males and females or Hispanic and non-Hispanic ethnicities.
Conclusions
Craniopharyngiomas are rare tumors with a bimodal age distribution and an equal male-to-female incidence. Black patients had the highest incidence, and adamantinomatous craniopharyngiomas were significantly more common than papillary tumors in adolescent, adult, and elderly populations.
Access options
Buy single article
Instant access to the full article PDF.
US$ 39.95
Tax calculation will be finalised during checkout.
Subscribe to journal
Immediate online access to all issues from 2019. Subscription will auto renew annually.
US$ 79
Tax calculation will be finalised during checkout.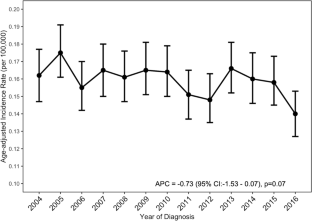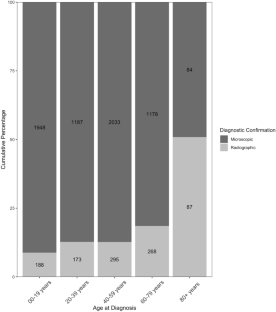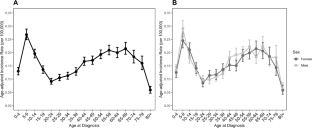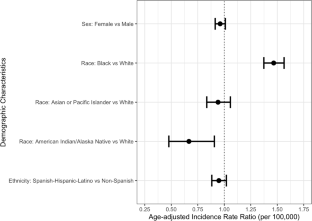 References
1.

Müller HL, Merchant TE, Warmuth-Metz M et al (2019) Craniopharyngioma. Nat Rev Dis Prim. https://doi.org/10.1038/s41572-019-0125-9

2.

Ostrom QT, Cioffi G, Gittleman H et al (2019) CBTRUS statistical report: primary brain and other central nervous system tumors diagnosed in the United States in 2012–2016. Neuro Oncol 21:v1–v100. https://doi.org/10.1093/neuonc/noz150

3.

Cossu G, Jouanneau E, Cavallo LM et al (2020) Surgical management of craniopharyngiomas in adult patients: a systematic review and consensus statement on behalf of the EANS skull base section. Acta Neurochir (Wien) 162:1159–1177. https://doi.org/10.1007/s00701-020-04265-1

4.

Bunin GR, Surawicz TS, Witman PA et al (1998) The descriptive epidemiology of craniopharyngioma. J Neurosurg 89:547–551. https://doi.org/10.3171/jns.1998.89.4.0547

5.

Zacharia BE, Bruce SS, Goldstein H et al (2012) Incidence, treatment and survival of patients with craniopharyngioma in the surveillance, epidemiology and end results program. Neuro Oncol 14:1070–1078. https://doi.org/10.1093/neuonc/nos142

6.

Gupta S, Bi WL, Giantini Larsen A et al (2018) Craniopharyngioma: a roadmap for scientific translation. Neurosurg Focus 44:E12. https://doi.org/10.3171/2018.3.FOCUS1861

7.

Aylwin SJB, Bodi I, Beaney R (2015) Pronounced response of papillary craniopharyngioma to treatment with vemurafenib, a BRAF inhibitor. Pituitary 19:544–546

8.

Brastianos PK, Shankar GM, Gill CM et al (2016) Dramatic response of BRAF V600E mutant papillary craniopharyngioma to targeted therapy. J Natl Cancer Inst. https://doi.org/10.1093/jnci/djv310

9.

Sorva R, Heiskanen O (1986) Craniopharyngioma in Finland. A study of 123 cases. Acta Neurochir (Wien) 81:85–89. https://doi.org/10.1007/BF01401226

10.

Weiner HL, Wisoff JH, Rosenberg ME et al (1994) Craniopharyngiomas: a clinicopathological analysis of factors predictive of recurrence and functional outcome. Neurosurgery 35:1001. https://doi.org/10.1227/00006123-199412000-00001

11.

Crotty TB, Scheithauer BW, Young WFJ et al (1995) Papillary craniopharyngioma: a clinicopathological study of 48 cases. J Neurosurg 83:206–214. https://doi.org/10.3171/jns.1995.83.2.0206
Ethics declarations
Conflict of interest
Pablo F. Recinos (consultant, Stryker); Varun R. Kshettry (consultant, Stryker, Integra).
Additional information
Publisher's Note
Springer Nature remains neutral with regard to jurisdictional claims in published maps and institutional affiliations.
Supplementary Information
Below is the link to the electronic supplementary material.
About this article
Cite this article
Momin, A.A., Recinos, M.A., Cioffi, G. et al. Descriptive epidemiology of craniopharyngiomas in the United States. Pituitary (2021). https://doi.org/10.1007/s11102-021-01127-6
Keywords
Craniopharyngiomas

Epidemiology

Adamantinomatous

Papillary

CBTRUS