Abstract
Purpose
Aggressive pituitary adenomas (APAs) and pituitary carcinomas (PCs) are challenging for their invasive nature, resistance to treatment and recurrences. Temozolomide (TMZ) is used with benefit and well-tolerated toxicity profile in APAs and PCs. In most studies patients received ≤ 12 cycles but the best length of treatment is debated since other options after discontinuation are scarce and a second course is mainly unsuccessful.
Methods
We report outcomes of 8 patients with APAs and PCs treated with TMZ for more than 12 continuous cycles with a literature review. Data were retrospectively collected from Padua and Milan University Hospitals. TMZ was used as a single agent (150–200 p.o. mg/m2 daily, 5/28 days) for 14 to 45 cycles.
Results
Eight patients (7 M), 7 APAs and 1 PC. Previous treatments included neurosurgery and radiotherapy in all cases except two giant masses (ACTH-silent APA and prolactinoma). No patient had progression disease (PD) during long-term treatment nor toxicities. No one had complete response (CR) but four had partial response (PR). Four ACTH+ tumors maintained stable disease (SD) but the secretion pattern improved in all. After drug withdrawal, three had delayed PD (2 after 18 and one after 29 months, all ACTH+); two are still in SD.
Conclusions
TMZ may be useful and well-tolerated in APAs and PCs as a long-term therapy. PR appears within the first cycles with no escape throughout the treatment; most patients achieve SD. We suggest extended protocols particularly in responsive ACTH+  PAs and PCs, when further therapies may be unsuccessful.
This is a preview of subscription content, log in to check access.
Access options
Buy single article
Instant access to the full article PDF.
US$ 39.95
Price includes VAT for USA
Subscribe to journal
Immediate online access to all issues from 2019. Subscription will auto renew annually.
US$ 99
This is the net price. Taxes to be calculated in checkout.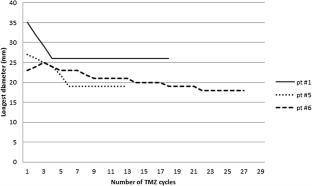 References
1.

Raverot G, Burman P, McCormack A, Heaney A, Petersenn S, Popovic V et al (2018) European Society of Endocrinology Clinical Practice Guidelines for the management of aggressive pituitary tumours and carcinomas. Eur J Endocrinol 178(1):G1–24

2.

Mccormack A, Dekkers OM, Petersenn S, Popovic V, Trouillas J, Raverot G (2018) Treatment of aggressive pituitary tumours and carcinomas : results of a European Society of Endocrinology ( ESE ) survey 2016. Eur J Endocrinol 3:265–276

3.

DeLellis R. Pathology and Genetics of Tumours of Endocrine Organs. WHO classification of tumors, ed. IARC Press Lyon; 2004 pp 9–45

4.

Trouillas J, Roy P, Sturm N, Dantony E, Cortet-Rudelli C, Viennet G et al (2013) A new prognostic clinicopathological classification of pituitary adenomas: a multicentric case-control study of 410 patients with 8 years post-operative follow-up. Acta Neuropathol 126(1):123–135

5.

Inoshita N, Earls P, Saeger W, Karavitaki N, Casar-Borota O et al (2017) From pituitary adenoma to pituitary neuroendocrine tumor (PitNET): an International Pituitary Pathology Club proposal. Endocr Relat Cancer 24(4):C5–8

6.

Baldeweg SE, Pollock JR, Powell M, Ahlquist J (2005) A spectrum of behaviour in silent corticotroph pituitary adenomas. Br J Neurosurg. 19(1):38–42

7.

Raverot G, Castinetti F, Jouanneau E, Morange I, Figarella-Branger D, Dufour H et al (2012) Pituitary carcinomas and aggressive pituitary tumours: merits and pitfalls of temozolomide treatment. Clin Endocrinol 76:769–775

8.

Losa M, Bogazzi F, Cannavo S, Ceccato F, Curtò L, De Marinis L et al (2016) Temozolomide therapy in patients with aggressive pituitary adenomas or carcinomas. J Neurooncol 126(3):519–525

9.

Lasolle H, Cortet C, Castinetti F, Cloix L, Caron P, Delemer B et al (2017) Temozolomide treatment can improve overall survival in aggressive pituitary tumors and pituitary carcinomas. Eur J Endocrinol 176(6):769–777

10.

Fadul CE, Kominsky AL, Meyer LP, Kingman LS, Kinlaw WB, Rhodes CH et al (2006) Long-term response of pituitary carcinoma to temozolomide Report of two cases. J Neurosurg 105:621–626

11.

Knosp E, Kitz K, Steiner E, Matula C (1991) Pituitary adenomas with parasellar invasion. In: Koos W, Richling B (eds) Processes of the cranial midline acta neurochirurgica supplementum, vol 53. Springer, Vienna

12.

Ceccato F, Lombardi G, Albiger N, Mazzai L, Pambuku A, Rolma G et al (2019) Temozolomide cytoreductive treatment in a giant cabergoline-resistant prolactin-secreting pituitary neuroendocrine tumor. Anticancer Drugs 30(5):533–536

13.

Casanueva FF, Barkan AL, Buchfelder M, Klibanski A, Laws ER, Loeffler JS et al (2017) Criteria for the definition of Pituitary Tumor Centers of Excellence (PTCOE): a pituitary society statement. Pituitary 20(5):489–498

14.

Halevy C, Whitelaw BC (2017) How effective is temozolomide for treating pituitary tumours and when should it be used? Pituitary 20(2):261–266

15.

Gatenby RA (2009) A change of strategy in the war on cancer. Nature 459(7246):508–509

16.

Annamalai AK, Dean AF, Kandasamy N, Kovacs K, Burton H, Halsall DJ et al (2012) Temozolomide responsiveness in aggressive corticotroph tumours: A case report and review of the literature. Pituitary 15(3):276–287

17.

Hirohata T, Asano K, Ogawa Y, Takano S, Amano K, Isozaki O et al (2013) DNA mismatch repair protein (MSH6) correlated with the responses of atypical pituitary adenomas and pituitary carcinomas to temozolomide: The national cooperative study by the Japan society for hypothalamic and pituitary tumors. J Clin Endocrinol Metab 98(3):1130–1136

18.

Takeshita A, Inoshita N, Taguchi M, Okuda C, Fukuhara N, Oyama K et al (2009) High incidence of low O6-methylguanine DNA methyltransferase expression in invasive macroadenomas of Cushing's disease. Eur J Endocrinol. 161(4):553–559

19.

Curtò L, Torre ML, Ferraù F, Pitini V, Altavilla G, Granata F et al (2010) Temozolomide-induced shrinkage of a pituitary carcinoma causing cushing's disease—Report of a case and literature review. ScientificWorldJournal 10:2132–2138

20.

Ilie MD, Lasolle H, Raverot G (2019) Emerging and novel treatments for pituitary tumors. J Clin Med 8(8):1107

21.

Bengtsson D, Schrøder HD, Andersen M, Maiter D, Berinder K, Rasmussen UF et al (2015) Long-term outcome and MGMT as a predictive marker in 24 patients with atypical pituitary adenomas and pituitary carcinomas given treatment with temozolomide. J Clin Endocrinol Metab 100(4):1689–1698

22.

Philippon M, Morange I, Barrie M, Barlier A, Taieb D, Dufour H et al (2012) Long-term control of a MEN1 prolactin secreting pituitary carcinoma after temozolomide treatment. Ann Endocrinol (Paris). 73(3):225–229. https://doi.org/10.1016/j.ando.2012.03.001

23.

Bruno OD, Juárez-Allen L, Christiansen SB, Danilowicz K (2015) Long-lasting complete remission after therapy with temozolomide in two patients with macrocorticotropinoma causing cushing's disease. Clin Endocrinol 83(1):143–145

24.

Chen C, Yin S, Zhang S, Wang M, Hu Y, Zhou P et al (2017) Treatment of aggressive prolactinoma with temozolomide. Med (United States) 96(47):e8733
Ethics declarations
Conflict of interest
The authors declare that they have no conflict of interest.
Informed consent
Informed consent was obtained from all individual participants involved in the study.
Ethical approval
All procedures performed in studies involving human participants were in accordance with the ethical standards of the institutional and/or national research committee and with the 1964 Helsinki Declaration and its later amendments or comparable ethical standards.
Additional information
Publisher's Note
Springer Nature remains neutral with regard to jurisdictional claims in published maps and institutional affiliations.
About this article
Cite this article
Lizzul, L., Lombardi, G., Barbot, M. et al. Long-course temozolomide in aggressive pituitary adenoma: real-life experience in two tertiary care centers and review of the literature. Pituitary 23, 359–366 (2020). https://doi.org/10.1007/s11102-020-01040-4
Keywords
Temozolomide

Aggressive pituitary adenoma

Pituitary carcinoma

Pituitary tumors

PitNETs