Abstract
Many terpenoids are biosynthesized after a cascade of cyclizations and rearrangements of carbocations mediated by terpenoid synthases, as exemplified in the biosynthesis of lanosterol. Although several reports of organisms or purified enzymes catalyzing this cascade of reactions in the laboratory have been described, the development of chemical transformations capable of mimicking such tandem cyclizations and rearrangements constitute a formidable challenge for organic chemists. From the very early works of Van Tamelen in the 1960s to our time, we present the Lewis or Brønsted acids-mediated cyclization–rearrangements of carbocations cascades aimed to mimic the action of enzymes. From all the achievements herein presented, the hypothesis of minimal enzymatic participation is reinforced, and this, if confirmed, promises new achievements in this area in the next future.
This is a preview of subscription content, log in to check access.
Access options
Buy single article
Instant access to the full article PDF.
US$ 39.95
Price includes VAT for USA
Subscribe to journal
Immediate online access to all issues from 2019. Subscription will auto renew annually.
US$ 99
This is the net price. Taxes to be calculated in checkout.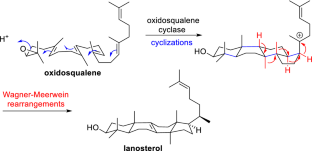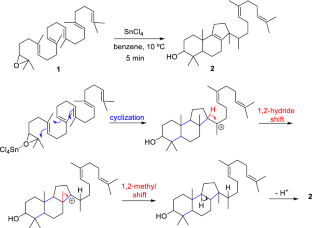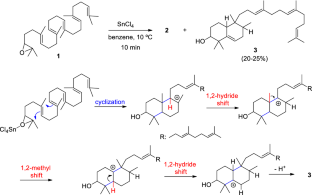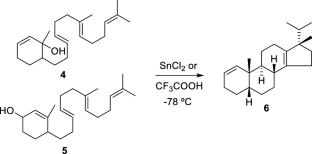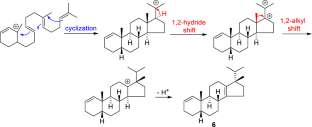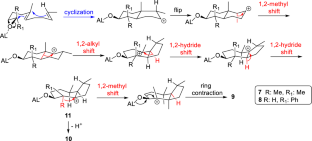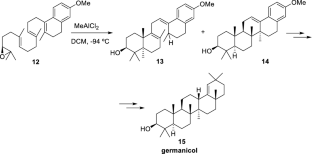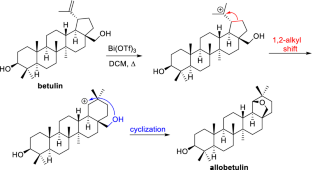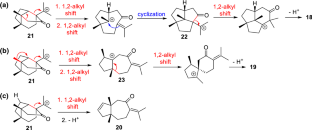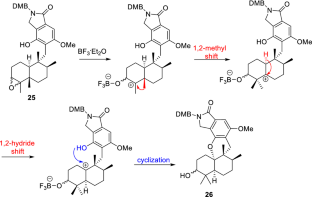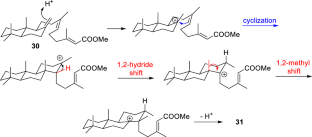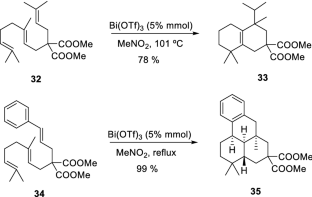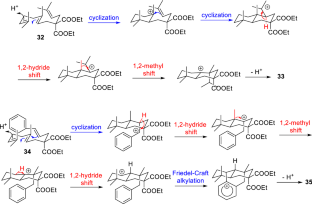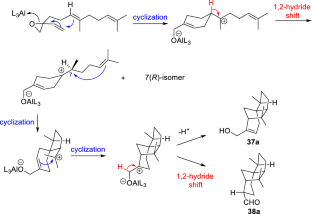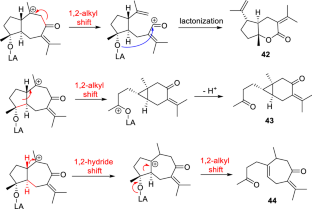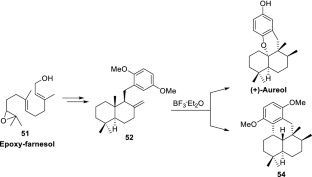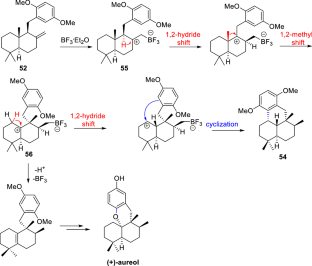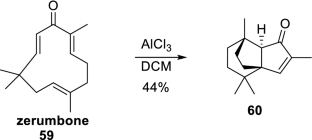 References
Ardkhean R, Caputo DFJ, Morrow SM et al (2016) Cascade polycyclizations in natural product synthesis. Chem Soc Rev 45:1557

Barkhash VA, Polovinka MP (1999) Cationic molecular rearrangements of natural terpene compounds in superacidic media: reality and predictions. Russ Chem Rev 68:393–414

Barrero AF, Quílez del Moral JF, Lara A (2000) Sesquiterpenes from Juniperus thurifera L. stereochemistry in unusual cedrane and duprezianane series. Tetrahedron 56:3717–3723

Barrero AF, Cuerva JM, Herrador MM et al (2001) A new strategy for the synthesis of cyclic terpenoids based on the radical opening of acyclic epoxypolyenes. J Org Chem 66:4074–4078

Barrero AF, Quílez del Moral JF, Lara A (2005) Antimicrobial activity of sesquiterpenes from the essential oil of Juniperus thurifera wood. Planta Med 71:67–71

Barrero AF, Herrador MM, López-Pérez JL et al (2009) New pathways in transannular cyclization of germacrone [germacra-1(10),4,7(11)-trien-8-one]: evidence regarding a concerted mechanism. Org Lett 11:4782–4785

Barret AGM, Ma T-K, Mies T (2019) Recent developments in polyene cyclizations and their applications in natural product synthesis. Synthesis 51:67–82

Cane DE (1999) Isoprenoids including carotenoids and steroids. In: Barton D, Nakanishi K, Meth-Cohn O (eds) Comprehensive natural products chemistry, vol 2. Pergamon, Oxford

Christianson DW (2017) Structural and chemical biology of terpenoid cyclases. Chem Rev 117:11570–11648

Collado IG, Hanson JR, Macías-Sánchez AJ (1998) Recent advances in the chemistry of caryophyllene. Nat Prod Rep 15:187–204

Cordel GA (1976) Biosynthesis of sesquiterpenes. Chem Rev 76:425–460

Corey EJ, Roberts BE (1997) Remarkably complex and unpredictable cyclization and rearrangement reactions of cations derived from unsaturated oxiranes. Tetrahedron Lett 38:8921–8924

De la Torre MC, Sierra MA (2004) Comments on recent achievements in biomimetic organic synthesis. Angew Chem Int Ed 43:160–181

Dehaen W, Mashentseva AA, Seitembetov TS (2011) Allobetulin and its derivatives: synthesis and biological activity. Molecules 16:2443–2466

Dewick PM (2009) The mevalonate and methylerythritol phosphate pathways: terpenoids and steroids. In: Dewick PM (ed) Medicinal natural products: a biosynthetic approach, 3rd edn. Wiley, Chichester, pp 187–310

Endo J, Nagasawa M, Itokawa H et al (1979) Two new sesquiterpenoids from Asarum caulescens. Chem Pharm Bull 27:275–278

Gatilova VP, Korchagina DV, Gatilov YV et al (1991) Molecular rearrangements of α-humulene and its 6,7-epoxide in superacids. Zh Org Khim 27:2301–2318

George JH, Baldwin JE, Adlington RM (2010) Enantiospecific, biosynthetically inspired formal total synthesis of (+)-liphagal. Org Lett 12:2394–2397

Godeau J, Olivero S, Antoniotti S et al (2011) Biomimetic cationic polyannulation reaction catalyzed by Bi(OTf)3: cyclization of 1,6-Dienes, 1,6,10-Trienes, and aryl polyenes. Org Lett 13:3320–3323

Godeau J, Fontaine-Vive F, Antoniotti S et al (2012) Experimental and theoretical studies on the bismuth-triflate-catalysed cycloisomerisation of 1,6,10-trienes and aryl polyenes. Chem Eur J 18:16815–16822

Hess BA Jr, Smentek L, Noel JP et al (2011) Physical constraints on sesquiterpene diversity arising from cyclization of the Eudesm-5-yl carbocation. J Am Chem Soc 133:12632–12641

Hu YL, Wang XB, Chen DD et al (2016) Germanicol induces selective growth inhibitory effects in human colon HCT-116 and HT29 cancer cells through induction of apoptosis, cell cycle arrest and inhibition of cell migration. J BUON 21:626–632

Ireland RE, Baldwin SW, Dawson DJ et al (1970) The total synthesis of an unsymmetrical pentacyclic triterpene. DL-germanicol. J Am Chem Soc 92:5743–5746

Kalantari K, Moniri M, Moghaddam AB et al (2017) A review of the biomedical applications of zerumbone and the techniques for its extraction from ginger rhizomes. Molecules 22:1645–1669

King JF, Mayo P (1968) Terpenoid rearrangements. Molecular rearrangements. Wiley-Interscience, New York, pp 771–840

Kuroyanagi M, Shirota O, Sekita S et al (2012) Transannular cyclization of (4S,5S)-germacrone-4,5-epoxide into guaiane and secoguaiane-type sesquiterpenes. Nat Prod Commun 7:441–446

Lam HC, Spence JTJ, George JH (2016) Biomimetic total synthesis of hyperjapones A-E and hyperjaponols A and C. Angew Chem Int Ed 55:10368–10371

Lidia PA, Caballero MBA, Ortega A et al (1994) New sesquiterpene lactones from Montanoa tomentosa subsp. Xanthiifolia. Planta Med 60:263–266

Longley RE, McConnell OJ, Essich E et al (1993) Evaluation of marine sponge metabolites for cytotoxicity and signal transduction activity. J Nat Prod 56:915–920

Marco JA (2009) Terpenos. In: Marco JA (ed) Química de los productos naturales. Síntesis, Madrid, pp 171–233

Marion F, Williams DE, Patrick BO et al (2006) Liphagal, a Selective inhibitor of PI3 kinase alpha isolated from the sponge akacoralliphaga: structure elucidation and biomimetic synthesis. Org Lett 8:321–324

Minassi A, Pollastro F, Chianese G et al (2017) Carbonyl activation in electrophilic polyene cyclizations: a toolbox for the design of isoprenoid libraries. Angew Chem Int Ed 56:7935–7938

Morikawa T, Matsuda H, Ninomiya K et al (2002) Medicinal foodstuffs. XXIX. Potent protective effects of sesquiterpenes and curcumin from Zedoariae rhizoma on liver injury induced by d-galactosamine/lipopolysaccharide or tumor necrosis factor-α. Biol Pharm Bull 25:627–631

Navarro-Rocha J, Barrero AF, Burillo J et al (2018) Valorization of essential oils from two populations (wild and commercial) of Geranium macrorrhizum L. Ind Crops Prod 116:41–45

Ognyanov I, Ivanov D (1958) On terpenes. LXXXVIII. The structure of germacrone, the crystalline constituent of bulgarian "zdravets" oil. Perfum Essent Oil Rec 49:617–623

Parker KA, Johnson WS (1974) The Synthesis and cyclization of 4-(trans, trans-7,12-dimethyl-3,7,1 l-tridecatrienyl)-3-methyl-2-cyclohexen-l-ol and of its allylic isomer. J Am Chem Soc 96:2556–2563

Pemberton RP, Hong YJ, Tantillo DJ (2013) Inherent dynamical preferences in carbocation rearrangements leading to terpene natural products. Pure Appl Chem 85:1949–1957

Pérez Morales MC, Catalán JV, Domingo V et al (2013) Structural diversity from the transannular cyclizations of natural germacrone and epoxy derivatives: a theoretical–experimental study. Chem Eur J 19:6598–6612

Plesniak MP, Huang H-M, Procter DJ (2017) Radical cascade reactions triggered by single electron transfer. Nat Rev Chem 1:77–93

Pronin SV, Shenvi RA (2012) Synthesis of highly strained terpenes by non-stop tail-to-head polycyclization. Nat Chem 4(13):915–920

Quílez del Moral JF, Perez A, Herrador MM et al (2019) Access to natural valparanes and daucanes: enantioselective synthesis of (−)-valpara-2,15-diene and (+)-isodaucene. J Nat Prod 82:9–15

Rosales A, Muñoz-Bascón J, Roldán-Molina E et al (2015) Synthesis of (±)-aureol by bioinspired rearrangements. J Org Chem 80:1866–1870

Salvador JAR, Pinto RMA, Santos RC et al (2009) Bismuth triflate-catalyzed Wagner–Meerwein rearrangement in terpenes. Application to the synthesis of the 18a-oleanane core and A-neo-18a-oleanene compounds from lupanes. Org Biomol Chem 7:508–517

Schulze H, Pieroh K (1922) Zur Kenntnis des Betulins. Chem Ber 55:2332–2346

Sharma PK, Singh V, Ali M (2016) Chemical composition and antimicrobial activity of fresh rhizome essential oil of Zingiber officinale Roscoe. Pharmacogn J 8:185–190

Sharpless KB, Van Tamelen EE (1969) Terpene terminal epoxides. Skeletal rearrangement accompanying bicyclization of squalene 2,3-oxide. J Am Chem Soc 91:1848–1849

Snyder SA, Levinson AM (2014) Comprehensive organic synthesis II, vol 3. Elsevier, Oxford, p 268

Surendra K, Corey EJ (2008) Rapid and enantioselective synthetic approaches to germanicol and other pentacyclic triterpenes. J Am Chem Soc 130:8865–8869

Tantillo DJ (2017) Importance of inherent substrate reactivity in enzyme-promoted carbocation cyclization/rearrangements. Angew Chem Int Ed 56:10040–10045

Tolstikov GA, Flekhter OB, Shul'ts EE et al (2005) Betulin and its derivatives. Chemistry and biological activity. Khim Interes Ust Razv 13:1–30

Ungur N, Kulciţki V (2009) Occurrence, biological activity and synthesis of cheilanthane sesterterpenoids. Tetrahedron 65:3815–3828

Ungur N, Kulciţki V, Gavagnin M et al (2002) Studies towards the synthesis of cheilanthane sesterterpenoids: superacidic cyclisation of methyl 13Z,17Z and 13Z,17E-bicyclogeranylfarnesoates. Tetrahedron 58:10159–10165

Van Tamelen EE, Willet J, Schwartz M et al (1966) Nonenzymic laboratory cyclization of squalene 2,3-oxide. J Am Chem Soc 88:5937–5938

Watanabe K, Sakurai J, Abe H et al (2010) Total synthesis of (+)-stachyflin: a potential anti-influenza A virus agent. Chem Commun 46:4055–4057

Wendt KU, Schulz GE, Corey EJ et al (2000) Enzyme mechanisms for polycyclic triterpene formation. Angew Chem Int Ed 39:2812–2833

Xiao-Ming Z, Yong-Qiang T, Fu-Min Z et al (2017) Recent applications of the 1,2-carbon atom migration strategy in complex natural product total synthesis. Chem Soc Rev 46:2272–2305

Yang X-W, Li Y-P, Su J et al (2016) Hyperjapones A-E, terpenoid polymethylated acylphloroglucinols from Hypericum japonicum. Org Lett 18:1876–1879

Yoder RA, Johnston JN (2005) A case study in biomimetic total synthesis: polyolefin carbocyclizations to terpenes and steroids. Chem Rev 105:4730–4756

Yoshihara M, Shibuya H, Kitano E et al (1984) The absolute stereostructure of (4S, 5S)-(+)-germacrone 4, 5-epoxide from Zedoariae rhizoma cultivated in Yakushima island. Chem Pharm Bull 32:2059–2062

Yoshimoto J, Yagi S, Ono J et al (2000) Development of anti-influenza drugs: II. Improvement of oral and intranasal absorption and the anti-influenza activity of stachyflin derivatives. J Pharm Pharmacol 52:1247–1255

Zweig JE, Kim DE, Newhouse R (2017) Methods utilizing first-row transition metals in natural product total synthesis. Chem Rev 117:11680–11752
Acknowledgements
Funding was provided by Ministerio de Economía y Competitividad (Grant No. CTQ-2015-64049-C3-3-R).
Additional information
Publisher's Note
Springer Nature remains neutral with regard to jurisdictional claims in published maps and institutional affiliations.
About this article
Cite this article
Quílez del Moral, J.F., Pérez, Á. & Barrero, A.F. Chemical synthesis of terpenoids with participation of cyclizations plus rearrangements of carbocations: a current overview. Phytochem Rev 19, 559–576 (2020). https://doi.org/10.1007/s11101-019-09646-8
Received:

Accepted:

Published:

Issue Date:
Keywords
Biomimetic synthesis of terpenoids

Tandem reactions

Polyprene cyclizations

Wagner–Meerwein rearrangements

Lewis and Brønsted acids